So It Begins! Duncan's Nurse Becomes Second Victim to Test Positive
On the heels of patient zero Thomas Eric Duncan succumbing to Ebola, a nurse who treated him has now tested positive for the deadly virus.
The nurse who had extensive contact with Mr. Duncan in the hospital just came down with Ebola. She did wear protective gear including a gown, gloves, mask and a shield during her multiple visits to Thomas Eric Duncan's room, however health officials are claiming there was a breach in protocol.
The Centers for Disease Control performed testing on the blood sample, and confirmed the results Sunday, making this the first known transmission of Ebola in America and the second diagnosis in the country.
This nurse who had worn protective gear during her "extensive contact" at a Dallas hospital with an Ebola patient who died tested positive during a preliminary blood test, officials said Sunday.
The US Centers for Disease Control and Prevention has confirmed that a Texas health care worker has tested positive for Ebola, the first case contracted on US soil.
"This development is understandably disturbing news for the patient, the patient's family and colleagues and the greater Dallas community," the CDC said in a statement.
"The CDC and the Texas Department of State Health Services remain confident that wider spread in the community can be prevented with proper public health measures."
Earlier, health officials said the health care worker, who had treated a Liberian man who died of Ebola, was wearing full protective gear but was infected with the virus anyway.
CDC director Dr Thomas Frieden said a breach in safety protocols, possibly while removing protective gear, may have caused the health care to contract the virus.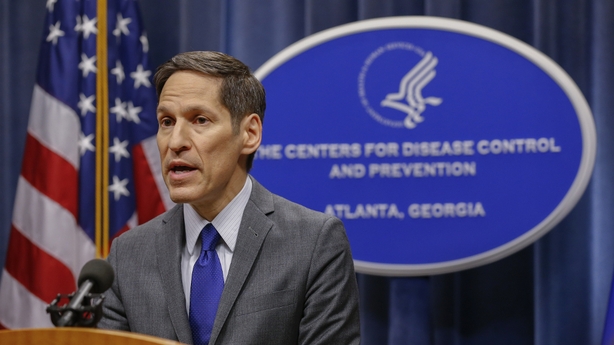 He warned that all of the Dallas healthcare workers who helped care for Thomas Eric Duncan, who died last week at the Texas Health Presbyterian Hospital, were potentially exposed to the virus.
"Another (area) that we'll be looking at closely in the investigation is the interventions that were done to try desperately to keep (Duncan) alive," Dr Frieden said.
"This included dialysis and intubation. These are two procedures which can result in the spread of infectious material," Dr Frieden said.
He also said that other healthcare workers who came into contact with Mr Duncan could be at risk of contracting the disease.
"If this individual was exposed, which they were, it is possible that other individuals were exposed," he told a news conference.
"The level of her symptoms and indications from the test itself suggest that level of virus that she has was low," Dr Frieden said of the infected worker.
He said there was one person who may have had contact with the infected health worker when she could possible transmit the disease and that person is being monitored.
The worker's family has requested total privacy.
President Barack Obama wants federal authorities to take additional steps to ensure the US medical system is prepared to follow correct protocolsin dealing with Ebola following news of an apparent breach in Dallas, the White House said in a statement.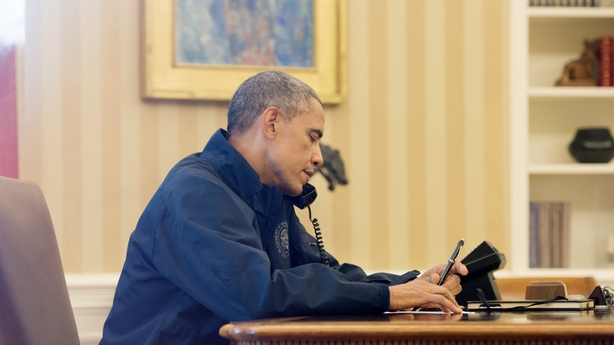 Mr Obama said federal authorities should "take immediate additional steps to ensure hospitals and healthcare providers nationwide are prepared to follow protocols should they encounter an Ebola patient."
Earlier, Dan Varga, the chief clinical officer for Texas Health Resources, said officials were "very concerned" that the worker had apparently contracted the virus despite following safety protocol.
"This individual was following full CDC precautions," he said, noting that the gear would have included a mask, gown, and gloves.
Mr Duncan arrived from Liberia on 20 September, and began feeling sick about four days later.
He was initially sent home from a Dallas hospital on 25 September when he sought treatment for a fever an abdominal pain, even though he also told staff of his recent travel to Africa.
He returned by ambulance on 28 September to the same hospital.
Mr Duncan was estimated to have come in contact with about 100 people, and officials narrowed that pool down to 48 in the days after his infection was diagnosed.
The health care worker was not in the high risk group of people, Dr Varga said, but had been asked to check his or her temperature twice daily and report back if any signs of fever, according to a protocol approved by the CDC.
"This health care worker had been under the self-care monitoring regimen recommended by the CDC," said Dr Varga.
The person is the second case of Ebola diagnosed in the United States, as an epidemic spreads in West Africa that has killed more than 4,000 people since the beginning of this year.
Those who are paying close attention to the 2nd Ebola case just announced in Dallas point to the brand new video below and the remarks of Dallas Judge Clay Jenkins, who entered the home of Dallas Ebola victim Thomas Duncan UNPROTECTED, to warn that something much more can be learned in watching the body language, and listening to the fear in their voices, than we are being told in words. One comment from the thread.:
"Sometimes when you guys say someone looks frightened, I don't see it. NOBODY could miss the fear in that man this morning."
Jenkins joins the news conference at 2 minutes 10 seconds and proceeds to not only stumble over his words but appears to be ill, wiping his nose and appears to have a red rash visible on his face. As commenters mention, he appears to be in a state of shock! Listen to his words; this is a direct contrast to the somewhat cocky attitude he displayed just a week ago after visiting the Duncan family, totally unprotected.
With the admission that the latest Ebola patient in Dallas WAS wearing FULL protective gear and experts having NO IDEA how she contracted Ebola, are the words of Judge Jenkins (and later on Dallas Mayor Mike Rawlings), signs that they know MUCH MORE about this Ebola outbreak in Texas then they're telling us in words in the video below?
By the end of this video, the doctor speaking it seems is nearly pulled off the stage…for speaking too much truth?
Conclusion:
I think we can safely say – the virus has a mind of it's own (or a patent of its own), and its able to circumvent the protection mechanism, which is now clearly doing an unsatisfactory job, the simple conclusion that last week when a Deputy Sherriff went to Duncan's apartment without protective gear, he caught the virus
The leak can only come from a virus which is now airborne.
---
Sources:
Before its news Official Announcement