THE flow of more than a million migrants into Europe has been shown in these amazing interactive maps.
07:24, Fri, Oct 30, 2015 | UPDATED: 07:53, Fri, Oct 30, 2015
---
In the last three years more than 1.3million people have arrived in the Eurozone to seek asylum.
The majority of those who make it to Europe are coming from countries like Syria, Iraq and Afghanistan which have been devastated by conflict.
The eye-opening graphics show the true scale of the exodus, with movements plotted daily and each dot representing 25 to 50 people.
Perhaps even more shocking is that the numbers seen streaming into Germany and other Western European countries represent only a small fraction of those displaced.A majority of refugees fleeing ISIS and Assad in Syria will not make it to the EU. There are four million registered Syrian refugees in Turkey, Lebanon, Jordan, Iraq, Egypt and North Africa.Lucify, who created the map working with developer Ville Saarinen, said: "We recognized that such a visualization does not only show the scale of the numbers, but also beautifully tells the story of what those numbers mean"
Missing data from Austria, Belgium, Denmark, Spain, Finland, United Kingdom and 2 other countries
Only a fraction makes it to Europe
The United Nations estimates that half a million Syrian refugees have sought asylum in Europe between April 2011 and September 2015. Standing very tighly together, they would fit on 8 soccer fields.
Only a small fraction of refugees fleeing their homes make it to Europe. The UN has registered four million Syrian refugees in Turkey, Lebanon, Jordan, Iraq, Egypt and North Africa. Most of them live in refugee camps close to the border. They would fit on 59 soccer fields.
Overun French Port of Calais, Mayor calls on army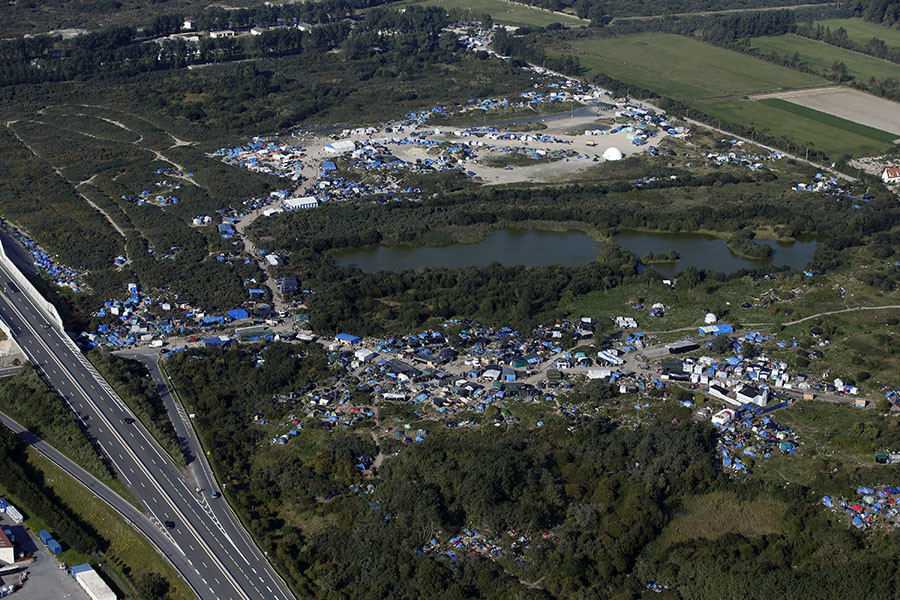 An aerial picture taken on October 8, 2015 shows the "New Jungle" migrants camp where some 3,500 people live while they attempt to enter Britain, near the port of Calais, northern France. © Denis Charlet / AFP
Aerial images of France's 'New Jungle' refugee camp show the surging number of people currently living in makeshift tents in the port of Calais hoping to move on to the UK. Meanwhile, the city's mayor is considering calling in the army to maintain order.
The number of migrants camping in tents outside Calais has doubled to 6,000, according to a French government official. "I do not know what comes next, but 6,000 is the most we can take," Fabienne Buccio told Reuters. "Migrants and people smugglers need to learn that Calais is a dead-end street." 
The 'New Jungle' migrants' camp is the fastest growing refugee "town" in France, as boats ferrying migrants continue to arrive in the port city.
The influx of refugees has been blamed on higher security measures that are making it more difficult for migrants to cross the Channel and enter the UK. Most of the people living at the camp have fled conflicts in the Middle East or Africa.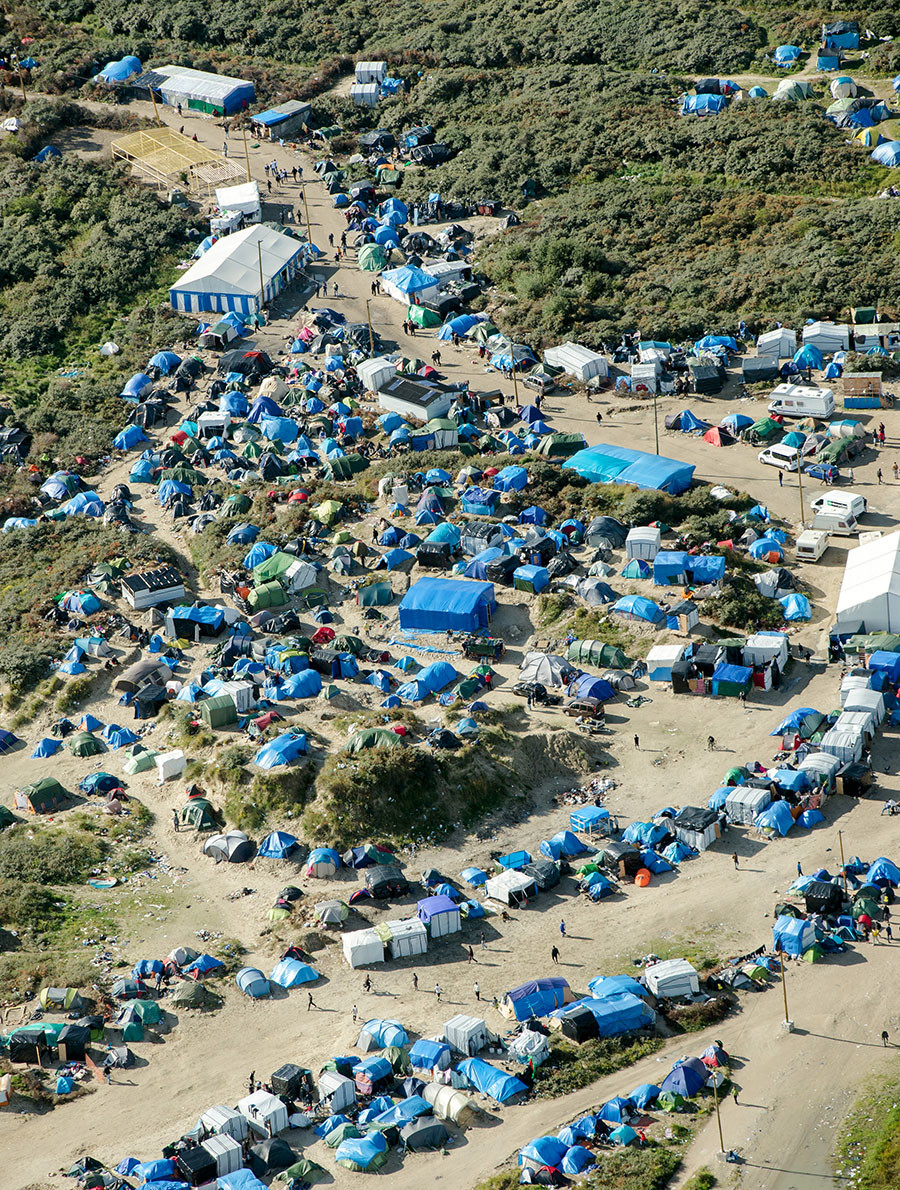 © Denis Charlet / AFP
The French port of Calais is a popular destination for migrants who want to try their luck at illegally entering England via the Eurotunnel. Up to 16 migrants have been killed near the tunnel since June while trying to cross the border.
Over 80% of asylum seekers in Germany unqualified – report
RT News:
  Published time: 29 Oct, 2015 11:57Edited time: 29 Oct, 2015 16:20
---
Over 80 percent of the asylum seekers recently arrived in Germany have no formal qualifications, and only eight percent have a college degree, local media reported citing research by the country's Federal Employment Agency.
Germany (population 80 million) may receive 1.5 million asylum seekers this year alone. It has already accepted more asylum applications than any other European nation, with a number of critics pointing to a high number of uneducated and illiterate people coming to the country.
The Federal Employment Agency has stated that 81 percent of asylum seekers are "without formal qualifications,"the Junge Freiheit daily reported, citing a nine-page report entitled "Refugees in Germany: Take responsibility, identify opportunities."
The agency has reportedly calculated that due to the looming asylum crisis there will be at least 400,000 additional welfare recipients in the coming year.
Earlier this year, about 60 German universities offered refugees a chance to attend courses as guest students for free.
In the past, asylum seekers had to pay a fee, unaffordable for most of them.
Having become the main destination for refugees fleeing conflict zones in the Middle East and North Africa, Germany has seen a new wave of Islamophobic and anti-migrant violence in recent months. The refugee crisis has driven a wedge between those who support asylum seekers and those strongly against them.
There has been a spike in hate crimes against refugees, with much far-right anger and criticism directed at Chancellor Angela Merkel's decision to suspend the Dublin Regulation, which stipulates that migrants and refugees can only claim asylum at a German port of entry.
READ MORE: Post-anniversary PEGIDA rally draws over 10,000 'anti-Islamization' protesters in Dresden
The migration crisis has given fresh impetus to the PEGIDA movement (Patriotic Europeans Against the Islamization of the Occident), whose activists took to the streets of Dresden earlier this week, in the wake of the latest plan to establish an additional 100,000 places in refugee reception centers in the EU and the Balkans. The demonstration was met by around 1,500 counter-protesters.
The protest on Monday came just one week after thousands of PEGIDA supporters flooded central Dresden to mark the anniversary of the organization's founding.
Muslim Migrants March Through Hannover and Claim Germany For Allah
Last week in the town of Hannover in Germany, Muslim migrants, no longer pretending to be "refugees", marched through the city streets waving the black flag of ISIS and claiming the land for Allah. I don't know how many times we have to say it – but – they are not refugees and they are notmigrants. They are Islamic jihadis who are acting en masse to claim Europe for Allah and Islam. They are not assimilating and they will not assimilate into the culture of their host nations. They will demand that you submit to the Sharia, and guess what? That's exactly what's happening.
In England, it has already happened.
If you ever wanted to know what it was like to watch the downfall of a major nation, you're looking at it. This is what they desperately want to do in America, and Obama is helping them to do it.
SEE VIDEO BELOW.
Blog Editor's Comment
Although I don't necessarily agree with all the sentiments of the women, you get the point. Europe is imploding!!
This video was unloaded in Sept 2015