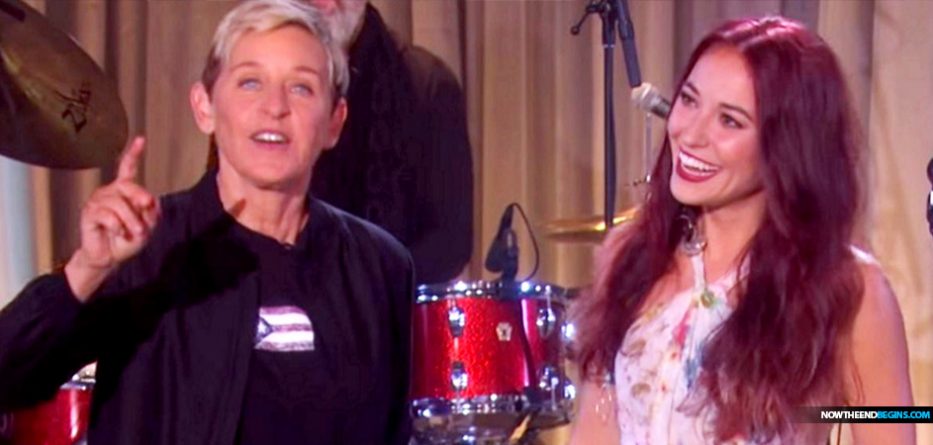 Now the End begins/ Pulpit & Pen
---
There's been no shortage of former CCM artists who have admitted that they aren't believers and most of their peers in CCM aren't believers. The industry is about making music and money, not glorifying God.
Funny thing about most Christian recording artists. At the start of their career, when they desperately need fans, it seems they can't help but talk about God and Jesus. Some even lead large group prayer at their concerts. Then they get famous, and Hollywood comes calling, and they run away from Christianity faster than Joseph did from Potiphar's wife.
"From that time many of his disciples went back, and walked no more with him. Then said Jesus unto the twelve, Will ye also go away?" John 6:66,67 (KJV)
Such is the case with burgeoning start Lauren Daigle. On a radio show recently, when asked about gay marriage and the Bible, she was presented with an awesome chance to lovingly witness to her audience about the truth from the Bible. The Bible has a lot to say about gay marriage. Instead, Daigle ummed and arred, saying that she "didn't know enough about the Bible" to say if homosexuality was a sin or not. Hmm.
However, since the scripture is quite clear in such places as Lev 18, Romans 1:27 to the end, and in 1Cor 6:9, Daigle is proving herself inept to know what God thinks on certain matters, rather to stay in the limelight in a neutral position so that her career is not hindered. Since Ellen, she has appeared on other secular shows as well. Is this a sign that she has fallen, is it just a blindness in her maturity, or was she ever what she claimed to be as a believer in Jesus Christ? That is for her to come to grips with.
Had she simply said she agrees with the Bible, but doesn't want to argue over the issue as she is intending to just love, that would have maybe been plausible. And if she had merely admitted that she wasn't intending on getting on the CCM bandwagon, but stumbled there, perhaps that would have been more forthright. But to have been "promoted" as such Christian artist, using the industry to market her recognition, then crossing over, to now abandon it says a lot about her character.
Remember good Christian girl Amy Grant, and wonder what's she's been up to lately? She's been busy promoting her wine brand, partnering with pro-abortion groups and having same-sex couples kissing on her music videos.
Now Lauren Daigle is officially launching her full-fledged secular career, and it is all but certain she will follow Grant's lead and begin embracing the LGBTQ culture and the Hollywood lifestyle.
Sadly, it doesn't look like she'll be taking Jesus with her as she goes. I hope Lauren will remember that her amazing singing voice was given to her by God for God's glory. If she won't use it for that, don't be surprised if God asks for it back at some point.
Lauren Daigle Rebrands Image as Non-Christian Artist
Pulpit and pen writes, Lauren Daigle writhes seductively with her midriff exposed in her Christian music videos, while singing about Jesus in tones that make you wonder if he's her boyfriend. The Contemporary Christian Music (CCM) industry and its fans love it, as they look for a genre as close to godlessness as possible while still occasionally alluding to Jesus. It sells.
However, when CCM artists hit "the big time" they go secular. It happens over and over and overagain. Jessica Simpson started out as an aspiring CCM star, before becoming a serial marrier whose fornicative sexual exploits were detailed by an ex-lover in Playboy Magazine. Bands like Jars of Clay, Switchfoot, Skillet, POD, and Amy Grant all tried crossover careers. Lecrae found mainstream success and has moved on to rap thuggery with some pretty ungodly secular artists, calling himself an "artist who is a Christian, rather than a Christian artist."
The opposite is also true. Burned out secular stars go CCM (or Southern Gospel). The reason for this is simple; CCM is a "softer market" and it's easier to become a star in that genre than in the public at large. It serves for many as an express lane to wider popularity, and most CCM artists – at least according to former CCM artists – aren't even Christians.
There's been no shortage of former CCM artists who have admitted that they aren't believers and most of their peers in CCM aren't believers. The industry is about making music and money, not glorifying God. This is something Steve Camp pointed out in his 1997 107 Theses.
Daigle recently writhed seductively on Ellen's program, and then claimed she didn't know enough about the Bible to say whether or not homosexuality was a sin (Andy Stanley is her pastor, so that makes sense). In spite of that, Charisma News, comedian John Crist, and many others have come out to support her as a well-meaning but innocently ignorant believer.
Now, Daigle says that she's not really a Christian star after all. She is repositioning herself as a mainstream star, predictibly.
According to Reformation Charlotte, "Amid the controversy in her celebrity life, she's now facing the reality of the consequences of her influence. She was recently interviewed on 104.3 MYFM where she was asked if she considered herself to be a "Christian artist."
I feel like those labels get put on you by other people…I was reading articles, I read them here in there, and one of them said Christian artist and the other ones said just artist. But I think part of me is just an artist because it encompasses everything. That's kind of how I see myself.
You can watch the video below.
Lauren Says She 'Doesn't Like Labels' Like 'Christian Artist'
Lauren In Her Own Words On Homosexuality
Latest
Lauren Daigle to Perform at 2019 Billboard Music Awards
Ahead of the Billboard Music Awards on Wednesday (May 1), nominee and performer Lauren Daigle caught up with Billboard during show rehearsals to chat about her three nominations, her "stripped-down" and "intimate" performance, and the continuing success of her song "You Say."
Daigle, who is up for top Christian artist, top Christian album, and top Christian song, tells Billboard that while she doesn't clearly remember the exact moment she found out the good news, she reckons she was likely on tour and that she recalls her manager filling her in.
Asked what fans can expect from her performance during the show, Daigle teases that it will be "very intimate and low-key," explaining that it will be stripped down with just her, some background vocalists, and a piano.
"I'm just so excited for it to be…so simple and intimate," she says. "That's something I'm really looking forward to."
In the interview, Daigle also opens up about the continued success of her song "You Say," revealing that when her manager told her that the song reached 40 weeks on the Billboard Hot 100, she couldn't believe it.
"I think, honestly, people just want that message of hope," Daigle says of why she thinks the song resonates so well with listeners. "They just want something truthful to hold onto and to believe about themselves, and there's so many different ways that the world can cut you down and hurt you." She adds that "You Say" is a song to "build people back up."