Comment: Bolton's ties to the cult-like, violent, exiled Iranian group the MEK, are extremely alarming, writes Behnam Gharagozli, Jon Roozenbeek and Adrià Salvador Palau.
When it comes to Iran, John Bolton has always been one of the most hawkish figures in the US foreign policy establishment.
In July 2017 for example, he told a group of Mujahedeen Khalq (MEK) supporters in Paris that 
"before 2019, we here will celebrate in Tehran!"
. In that same speech, Bolton declared that the official policy of the United States should be regime change in Iran.
Bolton, a long-time proponent of American-sponsored regime change in Iran and new national security adviser to the Trump administration, is now better placed than ever to fulfill his long-standing dream of toppling the Islamic Republic of Iran. It is a dream, however, that would in fact be a nightmare for the United States, Iran and the rest of the region.
But recently we have learned that Bolton's dream might have come with a price tag: MEK expert Joanne Stocker asserts that the MEK likely paid Bolton at least $180k in "speaker fees", making him more a lobbyist than a statesman.
To appreciate the significance of Bolton's ties with this shadowy group, it is important to understand the MEK's history.
After its founding in 1965, the MEK morphed into an Islamist-Marxist organisation that sought to overthrow the Shah of Iran through armed conflict.
The MEK's original alliance with Ayatollah Khomeini, who shared this goal of overthrowing the Shah, quickly fell apart after the Shah's departure in 1979, as the two forces had sharply different visions for post-revolutionary Iran.
| | | | | |
| --- | --- | --- | --- | --- |
| | | The group's ideology has also shifted tremendously according to its political needs | | |
The MEK and Khomeinists soon found themselves in open civil war in Iran from 1979-1983. The conflict came to an end when, as the result of a number of factors including greater popular support, the Khomeinists prevailed against the MEK and pushed the group into exile.
Subsequently, the MEK, in what is considered by most Iranians as an act of treason, sided with Saddam Hussein against Iran during the eight year war in the 1980s. Unfortunately for them, this alliance would merely lead to yet another military defeat for the MEK at the hands of the Iranian armed forces.
During Operation Mersad in 1988, Iranian forces defeated an invading MEK force that had support from Saddam Hussein. Not only did the MEK fail to make any military gains against the Iranian regime with this move, siding with Saddam Hussein during the war destroyed any widespread support the group had left in Iran.
#JohnBolton 8 months ago among MEK supporters tells them they will overthrow #Iran's regime and celebrate in #Tehran with Bolton himself present, "before 2019"

CLICK ON JOHN BOLTON TO SEE HIM SPEAKING AT MEK MEETING
226 people are talking about this
Despite this string of military losses, the MEK never ended its quest to gain power in Iran. The group enjoyed continued support from Saddam even after 1988 as they were housed at Iraq's Camp Ashraf.
Mujahadeen-e-Khalq (MEK)
The Mujahedeen-e-Khalq, an exiled Iranian resistance group, continues to stir controversy despite its removal from a U.S. terrorism list.
The People's Mujahedeen of Iran, more commonly known as the Mujahedeen-e-Khalq or MEK, is a controversial Iranian resistance group; it was once listed as a Foreign Terrorist Organization (FTO) by the United States for its alleged killing of U.S. personnel in Iran during the 1970s, and for its ties to former Iraqi leader Saddam Hussein. Recognizing the group's rejection of violence, the State Department delisted the MEK in late 2012 but voiced ongoing concerns about its alleged mistreatment of its members.
Today, it functions as a fringe exiled group with characteristics of a cult that works for regime change in Iran, though it has little visible support inside the country. It portrays itself as a democratic political institution although its own internal structure is anything but.
Eli Clifton, a fellow at the Nation Institute, said the MeK's influence in the US is multilayered. "When [MeK] members go and swarm Capitol Hill and seek meetings with the members of Congress," Clifton said, "they're very often the only voices that are heard, because there is simply not a lot of Iranian-American presence on Capitol Hill."
Clifton said the MeK, which operates under a set of front groups, writes very large cheques to those speaking at their events. Estimates are in the range of $30,000 to $50,000 per speech. Bolton is estimated to have received upwards of $180,000 to speak at multiple events for MeK.His recent financial disclosure shows that he was paid $40,000 for one speech at an MeK event last year, 2017.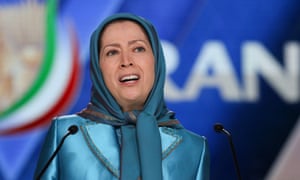 Maryam Rajavi, leader of the Mujahedin-e-Khalq, also wants regime change in Tehran. Photograph: Zakaria Abdelkafi/AFP/Getty Images
The group continued to carry out assassination plots against Iranian officials and even supported Saddam Hussein's violent suppression of Shia and Kurdish rebellions in Iraq. The group earned a reputation as a cult as its members would set themselves on fire, reportedly under orders from the leadership.
The MEK hasn't exclusively targeted the Shah and the Islamic regime. Its bombing campaign against the Shah, which killed Americans, earned the group a terrorist organisation designation from 1997 to 2012.
This ghastly past however, has not stopped individuals such as John Bolton from reportedly receiving money from the group, despite MEK members and supporters facing criminal prosecution in the United States.
The group's ideology has also shifted tremendously according to its political needs. Initially anti-Israeli and anti-American, the group now enjoys support from both states. What's more, many reports indicate that the group gets funding from Saudi Arabia as part of the ongoing cold war between Saudi Arabia and Iran.
Academics and policymakers alike state that the MEK does not enjoy widespread support inside Iran. Indeed, most Iranians who do not support the current clerical regime also vehemently oppose the MEK.
Bolton cosying up to the group in his quest to overthrow the clerical regime in Iran is incredibly troublesome.
Not only would regime change in Iran potentially cost the United States trillions of dollars, tasking a group such as the MEK to carry out such a goal is downright foolish.
Read more: Can Europe defend Iran?
By supporting a group that is viewed so unfavourably (even by those opposed to the clerical regime), Bolton is working against himself: The Iranian leadership will use Bolton's MEK links to rally the Iranian people behind the flag.
There are yet more troubling issues: With such close ties to a cultish organisation that the Department of State officially labelled as a terrorist organisation for approximately 15 years, how could Bolton have possibly received a security clearance to work at such a high level in the White House?
| | | | | |
| --- | --- | --- | --- | --- |
| | | It's highly doubtful that regime change would serve American interests | | |
Even those who support regime change in Iran should be skeptical of Bolton's ties with this group.
Given the MEK's constantly shifting ideology, its cultish behaviour, history of violence and support for actors like Saddam Hussein, it's highly doubtful that such a result would serve American interests even if Bolton's plans for regime change in Iran via the MEK were successful.
Even if the Iranian public were to simply forget that this organisation supported its arch nemesis in an eight year war that killed hundreds of thousands of Iranians and caused hundreds of billions of dollars of damage to both sides, the United States and Israel would have no guarantee that the MEK would not revert back to its original anti-American and anti-Israeli ideology upon assuming power in Iran.
The Middle East is a constant reminder that just because a group welcomes American support to achieve its objectives one day, does not mean that they will remain pro-American the next.
Why Bolton's MEK Connection Matters
Jason Rezaian comments on Bolton's enthusiasm for the Mujahideen-e Khalq (MEK) and what it means for U.S. Iran policy:
The MEK is the type of fringe group that sets up camp across the street from 1600 Pennsylvania Avenue and hands out fliers filled with unsubstantiated claims. This is America — we let crazy people talk. That's their right, and I would never suggest that they be prohibited from doing that. But giving the MEK a voice in the White House is a terrible idea.

In John Bolton they have someone who will do it for them.
Now that Bolton is in such an influential position in the Trump administration, his connection with and support for the MEK pose some real dangers for the U.S.
He could use his position to funnel misinformation from the MEK to the president to distort U.S. policy in their favor. He might use his position to advocate publicly on behalf of the MEK, and that would give them a de facto endorsement from the administration. Worse still, he could persuade the president that this totalitarian cult is the "real" Iranian opposition, which would simultaneously harm Iranian dissidents and saddle the U.S. with a discredited, deranged cult as its preferred alternative to the Iranian government.
Bolton's connection with the MEK is not the only disqualifying thing in his record, but it is one of the more egregious red flags that should have prevented the president from ever offering him the job in the first place.
If any other group had been removed from the list of foreign terrorist organizations a few years earlier, anyone publicly advocating on their behalf while they were still on the list would have tremendous difficulty getting work with the U.S. government, much less serving as one of the most important officials in the White House. Because the MEK hates the Iranian government, shilling for them is probably considered a plus in this administration. It is a measure of how warped the debate over Iran policy is that Bolton and others like him could openly shill for such a group without becoming pariahs.
Rezaian reminds us just what the MEK is:
But it is the group's activities in the decades since that have cemented its reputation as a deranged cult. For decades its command center was a compound in Iraq's Diyala province, where more than 3,000 members lived in virtual captivity. The few who were able to escape told of being cut off from their loved ones, forced into arranged marriages, brainwashed, sexually abused and tortured.

All this was carried out under the supervision of the group's leaders, Massoud and Maryam Rajavi, the husband and wife at the top of the organization's pyramid. He has been missing since the U.S. invasion in 2003 and is presumed dead. She now runs the group and makes regular public appearances with her powerful friends from the West — such as Bolton.
There has been a shameful parade of former U.S. officials, retired military officers, and has-been politicians making their annual pilgrimage to pay tribute to Maryam Rajavi in Paris every year. Bolton has been a faithful devotee for the last decade, and when he was just a former Bush administration official few people cared that he was disgracing himself with his appearances there.
Now that he is going to be the next National Security Advisor, his horrible judgment and sketchy ties to awful groups should receive extensive scrutiny and they should make us extremely skeptical about everything he says and does in that position.
---
Opinions expressed in this article remain those of the author and do not necessarily represent those of The New Arab, its editorial board or staff.