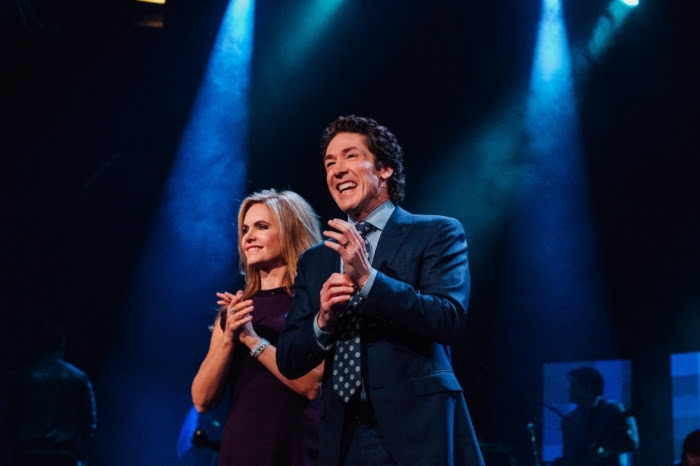 Joel and Victoria Osteen at the Night of Hope Event in Brooklyn, New York City on Oct. 16, 2015.
 | 
(Photo: Courtesy of Joel Osteen Ministries)
Victoria Osteen, Alex Seeley say role of women in church leadership is changing
By 
Jeannie Law
, Christian Post Reporter| Wednesday, May 15, 2019
---
New York Times best-selling author Victoria Osteen and women's leader Alex Seeley believe the role of women in ministry is changing as more of their peers become pastors and leaders.
Osteen is co-pastor of Lakewood Church in Houston, Texas, along with her husband, Joel Osteen. Together they reach millions worldwide through radio, television and their "Night of Hope" events held across the United States. The mother of two is at the forefront of Christian women in leadership in America and says she sees a shift taking place concerning the role of a female in ministry.
"I do see more women taking the [leadership] role, whether they're with their husbands as co-pastors or women who speak a lot at women's meetings. Women who are really going to take their influence, with good responsibility, and steward that well," Osteen told The Christian Post in a recent interview.
Although a partner with her husband in ministry, Osteen says she is in no way competing with him. The Osteens model their ministry after her in-laws, who set a precedent for both husband and wife playing a prominent role in the church.
"When Joel's father passed and we became the leaders of the church, it was kind of something that was already inbred in us, we had already seen it played out. That's when Joel said to me, 'You know when you do your part, then this whole thing is going to come together and the church is really going to grow,'" Osteen told CP.
"I knew in my heart that God wanted me to minister alongside my husband and I knew in my heart that he needed me to be his best cheerleader and so we were never in competition," she continued. "If it's up to me, I think Joel's the greatest so he's got it covered but I know that he needs me to be at my best."
Editor: if you are your husband's cheerleader, how is that any different from the role that women have always had, that of helpmate?
Alex Seeley, co-pastor of The Belonging Co. church alongside her husband, Henry, in Nashville, Tennessee shared with CP in April that her hometown Australia has always championed the position of women in leadership.
"Australia really does have a better take on women in ministry. It was a lot more evident in my growing up, we were celebrated as a woman in ministry," Seeley noted, and as a result, she felt the call of God to do full-time vocational ministry at just 11-years-old.
Bishop Lindsay Urwin with his sister, Bishop Katie Prowd, outside St Paul's Cathedral in Melbourne on Saturday.
Photo Credit: Janine Eastgate / Anglican Media Melbourne
Does Alex Seely mean something like this??
Jude Davis has become the UK's youngest priest at the age of 24 and is part of a growing trend of young people joining the clergy
Editor: This is nothing more than feminism dressed up as progress 
The Anglican Archbishop of Brisbane Australia , Phillip Aspinall, ordained several women priests and deacons on December 1. 2018
The vicar of the St. Matthew and St. Luke's church in Darlington, England had invited Muslims attending a nearby mosque to commemorate the holy month of Ramadan in her church, The Times reports.
"Rebellion is as the sin of witchcraft" — 1 Sam 15:23
"I'm so grateful that I had a youth group in a church that champions women on the pulpit in ministry," she added.
Seeley took a full-time pastoral position at 21 years of age and it wasn't until she moved to America that she noticed there was prejudice against female leaders in church.
"I found that when I moved to America, that's when I had to really see how far it needs to change," she shared. "It's changing because I co-pastor our church with my husband. I was doing most of the preaching because my husband is a worship leader. I live in Nashville, Tennessee and some people found that quite hard to take."
Henry and Alex Seely – Began with Planetshakers in Australia
In the past five years, however, Seely has also seen a shift.
"In the five short years of leading that church, seeing the beautiful display of women in ministry has been a sight to behold and I think people are getting a hold of it. We need to have both voices, just like in a healthy family, you have a mother and a father raising a family and helping out," Seeley maintained. "I think you need a female perspective of the heart of God."
Inspired by the change they are seeing in ministry, Seeley and Osteen are constantly hearing from women who are inspired by their position in the church.
"Women they're just like, 'you don't know, how you inspire me.' That touches my heart because I feel honored and I feel humbled because of that," Osteen revealed about what she thinks of the feedback she's getting while on her book tour. "I think that makes me feel even a greater responsibility and so I want to do the best job that I can. I want to be a great wife and a great mother and a great leader."
"I do see that with women, the time is changing," Osteen declared.
Editor: Time is Changing? Osteen, Seely and others are living in their little bubble of western thinking, but it's not biblical thinking.