Update 2:
Iran has seized a second tanker, as ship-tracking data used by Bloomberg has identified a second oil tanker, the Mesdar, which has turned toward the Iranian Coast.
According to Bloomberg, the Mesdar is Liberian-flagged, 315,800 dwt crude tanker, which was Headed to Ras Tanura from Malaysia before turning toward Iran coast Friday.
Clipper Data has slightly conflicting data, noting that the tanker was discharged in China in April and sat empty off Singapore. In early July, it left for the Arab Gulf. Then at about 16:30 UTC, it made an turn north and is now in Iranian waters.
And while there is no confirmation yet, moments ago during a press briefing, Trump said that Iran may indeed have seized a second tanker:
TRUMP SAYS IRAN MAY HAVE SEIZED TWO TANKERS
And sure enough, Iran has done just that:
IRAN CONFIRMS THEY HAVE SEIZED MESDAR TANKER: TELEGRAPH
And now we await the White House's response.
* * *
Update 1: ABC News reports the UK is now convening a high level national security meeting after British flagged tanker, the Stena Impero, was seized by the IRGC in the Strait of Hormuz. The vessel's owner and ship manager 'Stena Bulk' says it is unable to contact the vessel.
A company press release said 23 are on board, with no reported injuries. The statement said the vessel "was approached by unidentified small crafts and a helicopter during transit of the Strait of Hormuz while the vessel was in international waters".
A US statement called the seizure the "latest episode of escalatory violence." The White House National Security Council stated further it will continue working with allies and partners in the region to "defend against Iran's maligned behavior".
Given the rapidly escalating events only over the past week, and with now two foreign tankers captured by Iran, war is no doubt on the horizon.
* * *
A British flagged tanker has been seized by Iran as it was heading toward Saudi Arabia in the Persian Gulf. The vessel has been identified as the 'Stena Impero' which according to public tracking data was expected at the port of Al Jubail in Saudi Arabia; however, on Friday it dramatically veered off course and began sailing directly into Iranian waters.
Iran state media has confirmed the IRGC announced it has "captured a British tanker in the Persian Gulf" because the vessel was "violating international regulations". CNN is reporting that US officials have confirmed Iran captured the British vessel in the Strait of Hormuz.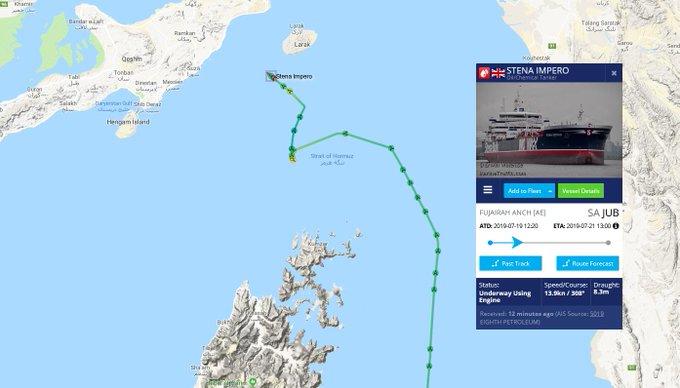 The UK Defence Journal first reported based on satellite tracking: "The British flagged 'Stena Impero' has taken a very sudden turn into Iranian waters despite her original destination being Saudi Arabia, according to data relayed by maritime tracking services."
is this provocation?
"The vessel is now apparently heading to Qeshm in Iran but had been originally sailing towards Al Jubail in Saudi Arabia," according to the breaking report.
Crucially, this comes just as UK officials have announced authorties in Gibraltar will detain the tanker 'Grace 1' – first seized early this month by UK Royal Marines – for another 30 days.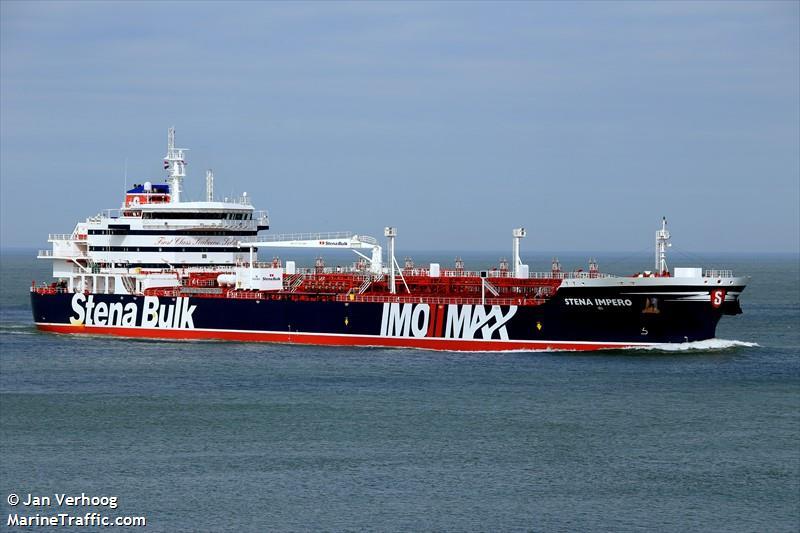 Iran had promised to retaliate in kind, following the continuing detention of a UAE-based Panamanian flagged vessel, the Riah, this week.
Oil prices spiked on the news…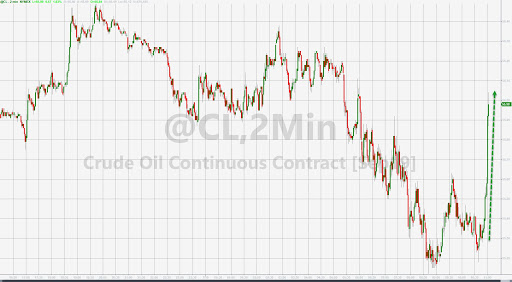 Currently the Royal Navy frigate HMS Montrose and at least one other UK warship are active in providing maritime security to British vessels and allies in the region.
According to the monitoring publication Aurora Intel the UK Ministry of Defense is "aware of the tanker's movement towards Iran…"
The Foreign Office said it is currently "urgently seeking further information" on the diverted tanker. The vessel has also reportedly stopped transmitting its maritime tracking signal.
ns and increasing "tanker wars" related to US oil sanctions and the UK detention of the Grace 1, which had reportedly been bound for Syria on a sanctions busting run, Iran's elite IRGC had promised that should they come upon a British vessel in the Strait of Hormuz, it would seize it "without delay, with firmness and with speed," according to a prior statement.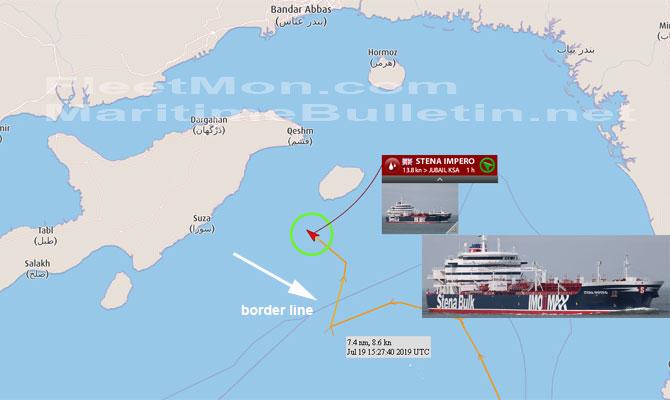 The Russian-based monitoring group Maritime Bulletin has also released the following information on the vessel:
It looks like the UK-flagged product tanker STENA IMPERO was forced to move into Iranian waters while transiting Strait of Hormuz en route to Al Jubayl Saudi Arabia, Persian Gulf. Tanker turned hard a starboard at around 1527 UTC Jul 19, and moved straight into Iranian waters, as of 1620 UTC tanker continued sailing in Iranian waters, south of Bandar Abbas, at some 13.5 knots speed.

It does look like a hijack on the high seas, and if it is so, it's an act of piracy, absolutely unlawful seizure of a foreign tanker in international waters…
developing…