bbc
bloomberg
24 Jan 2020
---
Wuhan may not be a well-known Chinese mega-city like Beijing or Shanghai.
But the place where the coronavirus outbreak emerged is, in fact, a crowded metropolis with connections to every part of the globe.
Estimates vary on the exact size of the population, with local government officials putting the figure at 11 million, though UN data from 2018 says 8.9 million people live in the central Chinese city.
Either way, the city is around the same size as London, but much bigger than Washington DC.
One estimate makes it the 42nd biggest city in the world, and the seventh biggest in China.
And it's the size – and economic clout – of Wuhan that explains why the virus has travelled quickly across Asia, and even to the US.
In short, the virus has spread so widely because lots of people visit Wuhan and take the virus home with them.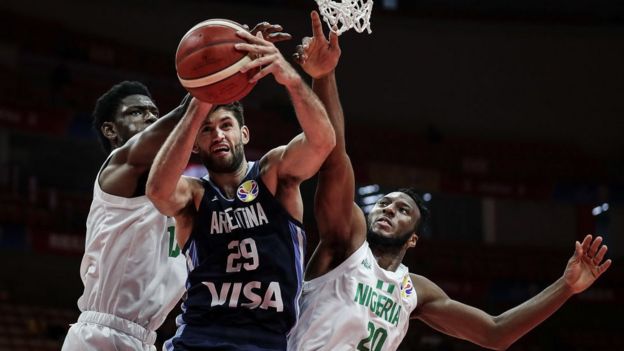 Wuhan international airport handled 20 million passengers in 2016, and offers direct flights to London, Paris, Dubai, and other cities around the world.
The city is built along the Yangtze river and, according to its website, it is a "foundation of in both hi-tech manufacturing and traditional manufacturing".
It has a series of industrial zones, 52 "institutions of higher learning", and claims more than 700,000 students – including, reportedly, the largest number of undergraduates in the country.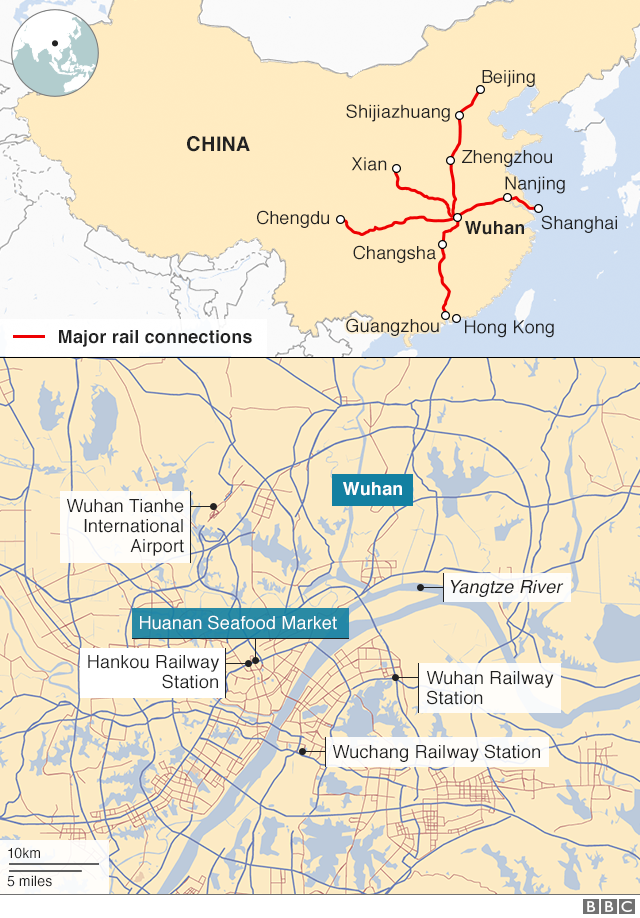 Some 230 of the world's 500 biggest companies (as measured by the Fortune Global list) have invested there.
There is also notable investment from France – which had a foreign concession in Hankou, in today's Wuhan, between 1886 and 1943. More than 100 French firms have invested in the city and Peugeot-Citroen has a Chinese joint-venture plant there.
Wuhan can also serve as a gateway to the Three Gorges – a tourist region and home to a huge hydroelectric dam.
So, although it appears the coronavirus originated in a local seafood market, the flow of people in and out of Wuhan has ensured its spread.
The US patient, for example, had recently visited Wuhan, as had both Japanese patients. The Korean patient lived there. The case in Thailand is a Chinese tourist from Wuhan.
The huge flow of people in and out of Wuhan will only increase as Chinese New Year approaches, and millions of people return home to celebrate.
China's National Health Commission said travellers should avoid Wuhan, and that Wuhan residents should not leave the city.
But Wuhan's status as one of the biggest – and most connected – places in the world means international cases will almost certainly continue to emerge.
Wuhan virus lockdown casts economic cloud over Chinese manufacturing hub
BLOOMBERG
BEIJING – Wuhan's status as a transport and manufacturing hub have fueled its economic rise and drawn comparisons with Chicago's role as a pivotal city in the center of a giant economy.
Now the fallout from its lockdown to contain the spread of a new SARS-like virus is set to be amplified if logistics networks and the auto industry are interrupted across the city of about 11 million people.
"Complicated supply chains and just-in-time production could mean that production outages in Wuhan factories have broader spillover effects," according to Shaun Roache, Asia-Pacific chief economist at S&P Global Ratings.
Wuhan had been making progress in its push to shift into higher-technology industries. In a 2019 report, the Milken Institute ranked it as China's ninth-best-performing city, up seven from the previous annual report. The city was moving into areas from chipmaking to biomedicine and had attracted investments from 230 Fortune Global 500 firms, according to the report.
The central and local government have invested heavily in Wuhan's high-tech industries, especially optoelectronics and semiconductors, says Barry Naughton, a professor at the University of California at San Diego who specializes in the Chinese economy.
"For these reasons, it's a pretty big deal," he said. "Its economy is somewhat artificial in the sense of being propped up by government investment, but it has got a substantial high-tech sector and a substantial heavy industrial sector."
Now the city is being closed off as China races to halt a new virus that has killed over two dozen and infected hundreds. The coronavirus, which first appeared last month in one of Wuhan's so-called wet markets, has spread from the mainland to Hong Kong, Japan, the U.S. and elsewhere.
Most of those who have died had other health conditions, including diabetes and heart disease, that weakened their immune systems. Symptoms include fever, cough or chest tightness, and difficulty breathing.
"With the emergence of a new virus in China rattling financial markets and disrupting Lunar New Year travels, there's potential for a broader hit to growth — just as the economy was stabilizing," said Chang Shu, Bloomberg's chief Asia economist.
Wuhan's economy grew 7.8 percent last year and 8 percent in 2018, according to the city government, with output of 1.48 trillion yuan ($213 billion) making it bigger than New Zealand. S&P estimates it makes up about 1.6 percent of national GDP.
"If the lockdown continues after the Lunar New Year, it will affect industrial production, one of the key growth drivers" for China, according to a note from Raymond Yeung, chief China economist at Australia & New Zealand Banking Group Ltd. in Hong Kong.
The capital city of Hubei province, Wuhan is the biggest water, land and air transportation hub in inland China, according to the Ministry of Commerce. It is also a major rail hub with multiple lines linking it to major cities and a renowned education center. The city has 89 universities and 1.2 million university students, Mayor Zhou Xianwang said in an interview Tuesday with state television.
While it is not a place that is often prioritized on the itineraries of foreign visitors, it is a key stop on Yangtze River cruises. Former leader Mao Zedong brought the city to fame in the summer of 1966 when he plunged into the Yangtze to join thousands in an annual swim. Seen as signaling Mao's rising political power, it was followed by his Cultural Revolution.
Restaurants are already taking a hit as fearful locals avoid gatherings.
Across China, if spending on things including discretionary transport and entertainment dropped by 10 percent, overall GDP growth would fall by about 1.2 percentage points, according to "back-of-the-envelope" estimates from Roache at S&P.