In February of 2003, Christian apologist Mike Gendron was invited by Francis Chan to give a presentation at Cornerstone Community Church in Simi Valley, CA where Chan was the pastor.
Gendron is a former Catholic and founder of the ministry Proclaiming The Gospel, which is devoted to explaining why Catholic teachings and traditions are unbiblical, and simply do not line up with Scripture.
After giving his presentation at Cornerstone Church, Gendron was about to go into the Q&A section of his talk when Chan came onto the stage and prevented this from happening. He also expressed to the audience his concern over having invited Gendron to speak at his church, and that he thought parts of Gendron's presentation were "cold" and "sarcastic."
The reason I'm covering a story that is ten years old is because Mike Gendron went on a radio show to discuss what happened. From the program notes:
(WVW 5/13/13) Mike Gendron joins (host) on this program. Topic: Francis Chan apologizes to his church, visiting Catholics and the secular media after former Catholic Mike Gendron finishes a message on the Biblical gospel. Chan shut down the meeting and stopped any question and answer time from taking place and then publicly announced his regret for inviting Mike to speak at his church. The apology was covered in the secular news the next day. Topic: What message was Chan sending to the unsaved followers of the false gospel of the Church of Rome? Can Chan be trusted as a minister of the gospel? (source)
This topic was also discussed by Dave Hunt and Tom McMahon in The Berean Call back in January of 2012, before Dave Hunt passed away. From the article, More Sparks Between Catholics and Evangelicals:
Tom McMahon: (H)e had this experience of going to this church and then, he was about to give a Q and A, and say, "All right, now let's have an interaction." (Pastor Francis Chan) stood up and said, "No!"

He was offended by what Mike had to say, and he began ten minutes of apology to the audience! Wow!
Dave Hunt: It's sad that political correctness seems to rule the day. When it comes to Islam, we must be politically correct; when it comes to Catholicism, we must be politically correct. Rather let someone go to hell than offend their feelings. There is something really sad out there, Tom. Christians don't think—we don't recognize that truth is truth. It is black and white; you can't compromise, you don't dialogue with God, you don't re-negotiate with God. The Bible has made it very clear exactly what the gospel is. It's a matter of justice. God is the one who makes the rules. He created this universe; He created us. We're going to have to go His way, and Jesus said, "I am the way, the truth, and the life; no man comes to the Father but by me." But these people think that's too narrow minded.
The Catholic Church is not true to the gospel of Jesus Christ, as you know, but we don't want to point that out because that might offend someone. Let's let them go to hell. (source)
On a personal note, I have heard Mike Gendron's presentation which contrasts Christianity and Catholicism many times, and it is hard to imagine Gendron being perceived as "cold" and "sarcastic."
I'm not saying he is infallible and might not ever sin in this way, I'm just saying it's very hard for me to imagine it. As I said, I've heard Mike's presentation a number of times, and I've also listened to him be interviewed many, many times on the same topic.
But please don't take my word for it: if you follow this link, you will find a number of interviews that Mike has given. Judge for yourself if he is cold and sarcastic.
What you will find, I believe, is that Mike's heart genuinely is to labor lovingly, graciously, earnestly and biblically for the truth.
His desire truly is to help Roman Catholics see the futility of their beliefs, and their need for the all sufficient Savior of the Bible, not the "Jesus" of the Roman Catholic teachings who give a nod to Jesus, but not his all-sufficiency. It's not enough that they claim belief in Jesus, the question is: which Jesus? The Jesus of the Bible who made full payment for our sins on the Cross? or the Catholic "Jesus" who couldn't quite get the job done, and needs us to add our works to his work on the Cross to get us to heaven?
In closing, shouldn't we all, as Christians, be doing as Mike does, and laboring earnestly with the lost? After all, it is Bible believing Christians alone who have the life-giving truth that all the world so desperately needs.
"Beloved, although I was very eager to write to you about our common salvation, I found it necessary to write appealing to you to contend for the faith that was once for all delivered to the saints." (Jude 1:3)
 Additional Resources 
Proclaiming The Gospel (Mike Gendron)
Catholicism is Not Just Another Christian Denomination
Berean Beacon (former Roman Catholic priest Richard Bennett)
Explaining The Heresy of Catholicism (John MacArthur)
Francis Chan's Spiritual BlindnessThe children gather wood, and the fathers kindle the fire, and the women knead dough to make cakes for the queen of heaven; and they pour out drink offerings to other gods in order to spite Me. (Jeremiah 7:18)

"Let us, then, pass through the Holy Door of Mercy knowing that at our side is the Blessed Virgin Mary, the Holy Mother of God, who intercedes for us." — Pope Francis [1]

Those who yearn for spiritual unity with the Catholics are foolish, wicked, arrogant or deceived. Why are people like Mike Bickle,Francis Chan, Beth Moore, and others so eager to expose Christians to this false system?

This is not about disparaging the people who are Catholic, who are simply following what they have been taught. Catholics are our friends, neighbors, even relatives. They are by and large just average, everyday citizens, just like you and me.

That being said, there is a vast difference between Roman Catholicism and biblical Christianity. Those Catholics who are truly saved are saved in spite of  Catholic teaching, not because of it. And even then, the question must be asked, if a Catholic is saved, and the Holy Spirit resides within, would this not result in a departure from Catholicism? (2 Corinthians 6:14-17)

Francis Chan was apparently not concerned with this as he effusively praised Matt Maher and Audrey Assad, Catholic musicians who led the worship team during Chan's session at IHOP-KC's Onething 2015 conference.

As transcribed in   Francis Chan: I just gotta say, man, I still love Mike Bickle  there is also a lot of love and acceptance from Chan for Catholic musicians Matt Maher and Audrey Assad.

Chan stated,  "Man, I see in Matt, I see in Audrey this love for Jesus, the Spirit of God, and I see in them a stance for righteousness, what's right according to God's Word." (15:55 in video)

Several times he acknowledged theological differences. "I love what God is doing here and I understand there's differences and I don't know how to get through some of those. I just know I have to." (16:50 in video)

No, Francis, you don't have to. (Galatians 1:8-9)

According to Chan, "And I think it's time for us to get beyond, okay, I'll sing with them, okay, I'll worship with them, y'know, okay, I'll admit that they're Christians, and go to a biblical stance which says I can't live without them. I need them. They're indispensable." (17:29 in video)

That is a shocking call for unity. Chan is spiritually blind, always a dangerous impediment for a man with so much influence.

Ironically, warning about the tough times to come, Chan said he was worried about how many Christians were casual about some of God's commands. He read from 2 Timothy 3:

But realize this, in the last days difficult times will come. For men will be lovers of self, lovers of money, boastful, arrogant, revilers, disobedient to parents, ungrateful, unholy, unloving, irreconcilable, malicious gossips, without self-control, brutal, haters of good, treacherous, reckless, conceited, lovers of pleasure rather than lovers of God, holding to a form of godliness, although they have denied its power. Avoid such men as these. (2 Tim 3:1-5)

Although by now he had validated both Mike Bickle and Catholicism, Chan claimed:

See, I'm not giving a talk that's saying, oh, we should love everyone no matter what they believe, no matter how they live or whatever else. No, there's a time for disassociating with people. And Paul says it to Timothy right there. (19:25 in video)

But Francis Chan is doing the opposite of Paul's command to Timothy. He is not urging disassociation. He is encouraging biblical Christians that they can drink from the same spiritual cup as the Catholics. We cannot, at least not if we want to obey the Word of God.
Francis Meets Francis
Francis Chan talked to a group of Roman Catholics at IHOP about his recent visit to see the pope back around April 2019. On tonight's programme we critique what he said about Roman Catholics at the Onething 2018 event called the 'Catholic Ecumenical Track'. This is described as "a gathering of Catholic young adults (18+) during the Onething […]
Chan has taken it a step further. Chan has teamed up with Catholic leaders and is giving full approval to Roman Catholicism as he sits, takes his shoes off, and allows Catholic priests to pray over him at the OneThing ecumenical conference.
The OneThing Conference is held annually at IHOPKC, the charismatic church run by Mike Bickle out of Kansas City…..??
When Chan invited the priests up on to the stage to pray for him, they spoke of each other as "brothers" who partake together in the Eucharist (a Roman Catholic perversion of the Lord's Supper) and discussed the desire to be united in their "common faith."
Holy Communion Is the Real Presence
Well-known pastor Francis Chan is raising questions after comments he made recently about the history of Holy Communion.
The pastor, preaching on the "Body of Christ and Communion," pointed out that the way Catholics view communion, a sacrament evoking Jesus at the Last Supper and part of Mass, hasn't received the same attention and devotion in Protestant churches.
Instead, it has been reduced to "just a symbol," Chan complained. Traditionally, Catholics view it as Jesus' literal body and blood, whereas Protestants view it as a symbol.
"I didn't know that for the first 1,500 years of church history, everyone saw it as the literal body and blood of Christ," Chan, author of "Crazy Love," remarked in a sermon posted online this week by nonprofit SermonIndex.net.
"And it wasn't until 500 years ago that someone popularized a thought that it's just a symbol and nothing more. I didn't know that. I thought, 'Wow, that's something to consider.'"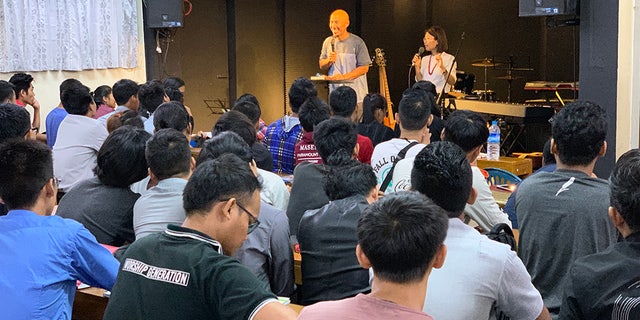 Chan wants the body of Christ — not the pastor, pulpit or the sermon — at the center of the church once again in the United States. He said this would unite churches once again, instead of having tens of thousands of denominations.
"What if this was at the center of every Christian gathering in America?" Chan concluded. "I think we'd start seeing the divisions slowly disappear and people start coming together again."
Many on social media said it appears Chan is on his way to converting to Catholicism, but others point out that many Christians believe the same thing even though they don't call themselves Catholic.
Joseph Prince, a Singapore-based megachurch pastor, told Fox News he believes "the Lord gave me a mission to teach on the health-giving, life-imparting, healing power of the Communion," discussing his latest book, "Eat Your Way to Life and Health: Unlocking the power of the Holy Communion." He also said he takes communion daily, sometimes multiple times.
While Christians have disagreed on whether or not it is a symbol of Jesus' body or the transformation of the bread into his actual flesh, they do agree it's the cornerstone of the faith, and essential to being a believer and follower of Christ.
Though Chan opened his sermon saying he is "not making any grand statements," he typically does not shy away from radical statements or drastic moves in the name of his faith.
In 2010, he famously stepped down from his previous megachurch in Southern California, which he started out of his house. He and his family travelled to India, Thailand and China before settling in San Francisco, where they started "We Are Church," a house church movement that has grown to 25 pastors.