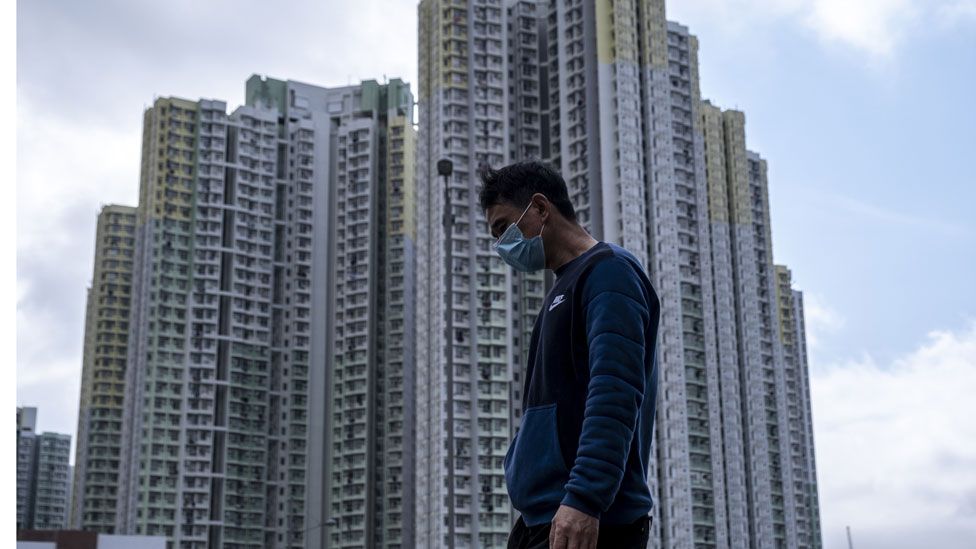 ---
A fast-moving virus originating in China and known as the "new coronavirus" has infected tens of thousands of Chinese citizens and spread to more than 50 countries. It has claimed nearly 3,000 lives so far.
More than 83,000 cases of the COVID-19 disease have now been confirmed in more than 50 countries. While about 36,000 of those people have recovered, fast-growing outbreaks in South Korea, Italy and Iran — along with the first case confirmed in Nigeria — show the battle to contain the virus is still in its early stages. Officials have worried the disease could spread widely in countries with weaker public health systems, specifically in Africa and Latin America.
Here are some maps and charts that will help you understand what is going on.
1. New infections outside China top those within
Almost 80,000 people in China have been infected with the coronavirus – known officially as Covid-19 – since the virus's discovery in the city of Wuhan, Hubei province, in December.
Although the vast majority of cases of the respiratory infection, which causes pneumonia-like symptoms, remain in China, the virus is now spreading faster outside the country than inside.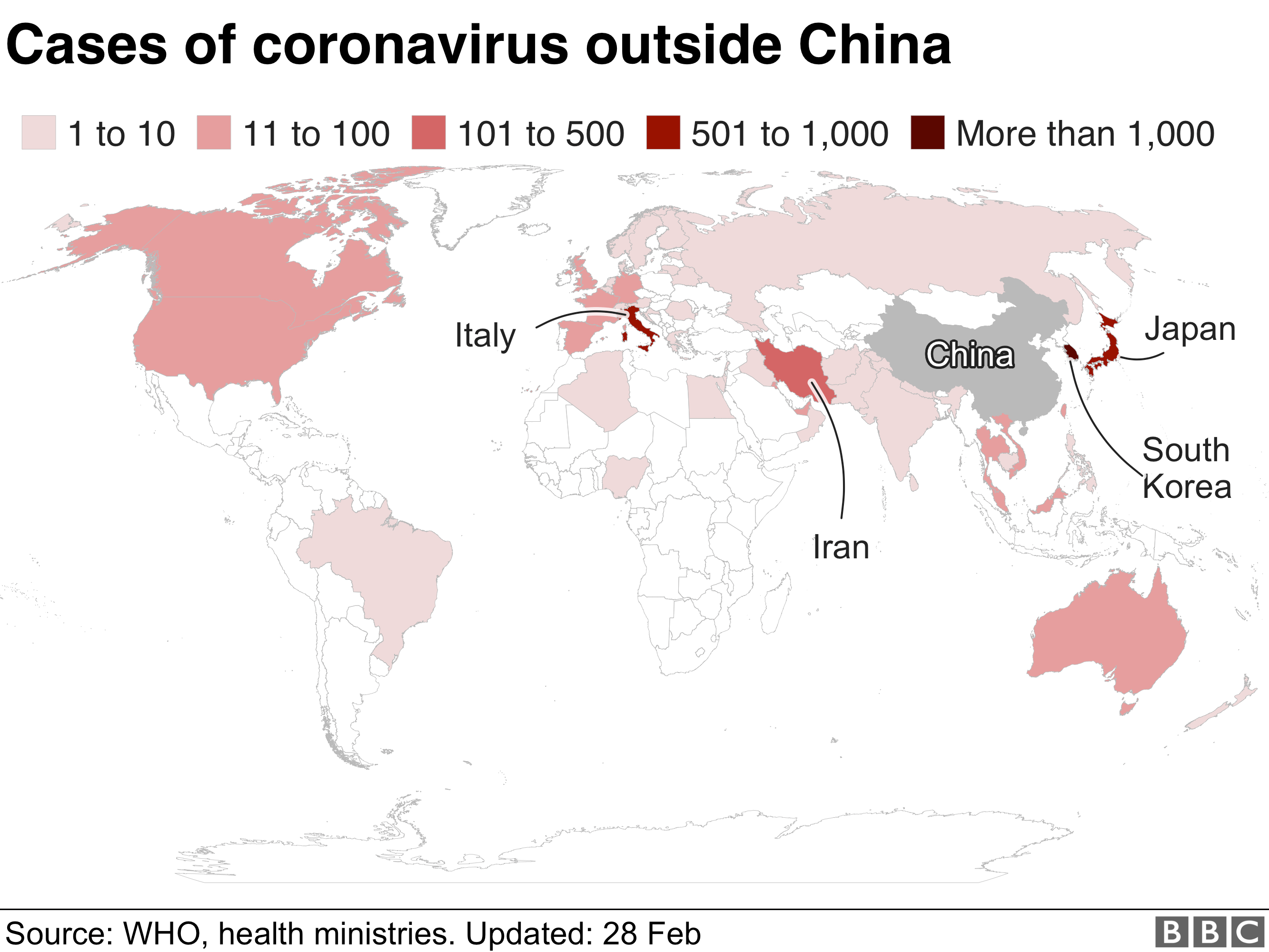 Coronavirus has infected more than 4,500 people across the globe, according to World Health Organization (WHO) figures.
However, infectious disease specialists at Imperial College London estimate about two thirds of COVID-19 cases originating in mainland China remain undetected worldwide.
This could mean "multiple chains of as yet undetected human-to-human transmission" internationally, they say.
The three biggest international outbreaks detected so far have been in South Korea, with more than 2,300 cases, on board the British-registered Diamond Princess cruise ship docked in Yokohama, Japan, which has seen more than 700 people infected, and Italy, with more than 640 confirmed cases.
In a sign the disease is spreading further afield, Brazil announced Latin America's first case on Thursday and the first cases in Africa have been confirmed in Algeria, Egypt and Nigeria. New Zealand has also confirmed its first case.
Within Europe, Austria, Croatia, Greece, Norway, Switzerland, Georgia and North Macedonia have reported their first cases, while more infections have been announced in Spain, France and Germany.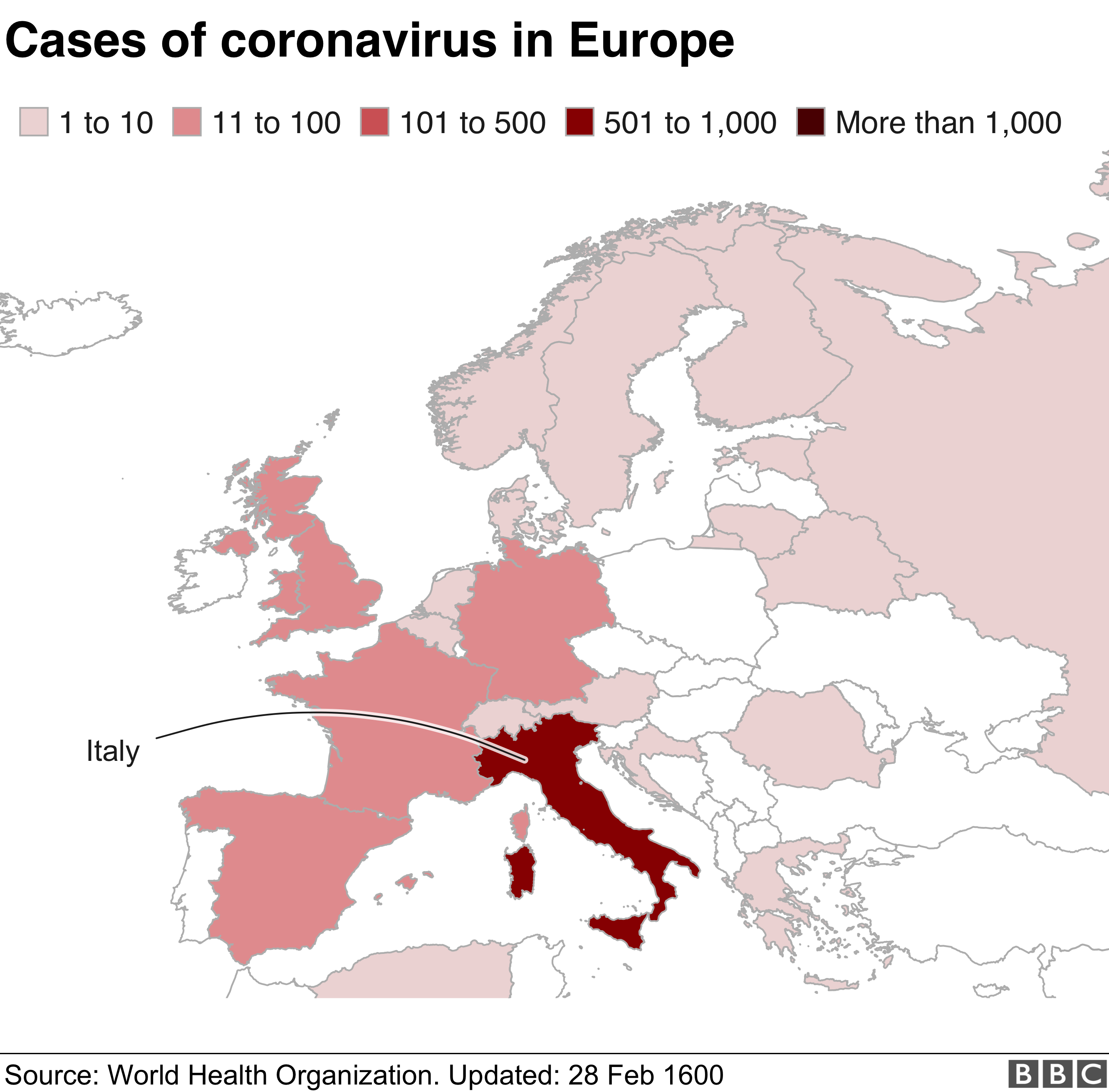 On the Spanish island of Tenerife, up to 1,000 guests have been locked down in a hotel after an Italian doctor and his wife tested positive.
Governments across Europe are stepping up preparations, as more cases are detected.
French President Emmanuel Macron has warned that a coronavirus epidemic in France is inevitable.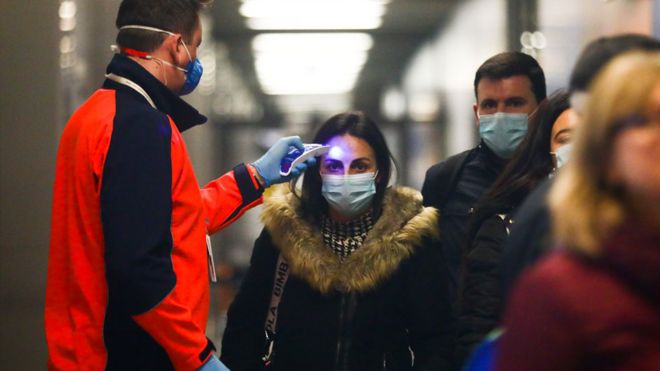 Stock markets around the world have fallen sharply amid fears that such increased travel restrictions will prevent business activity.
A number of international conferences and sporting events have also been cancelled, including Six Nations rugby matches with Italy in Dublin that were to be held on 7 and 8 March.
The US has declared the outbreak a public health emergency, the UK has deemed it a "serious and imminent threat" to public health and Japan has closed all its schools.
The WHO declared the crisis a global health emergency on 30 January.
The organisation has confirmed it will not formally "declare" a pandemic for the new coronavirus, though the term may still be used "colloquially".

3. South Korea, Italy and Iran are among the worst-affected countries
South Korea, Italy and Iran have all seen significant outbreaks of cases in recent days, with South Korea the worst-affected country after China.
South Korea's biggest virus clusters have been linked to a religious group near the south-eastern city of Daegu, which has a population of around 2.5m.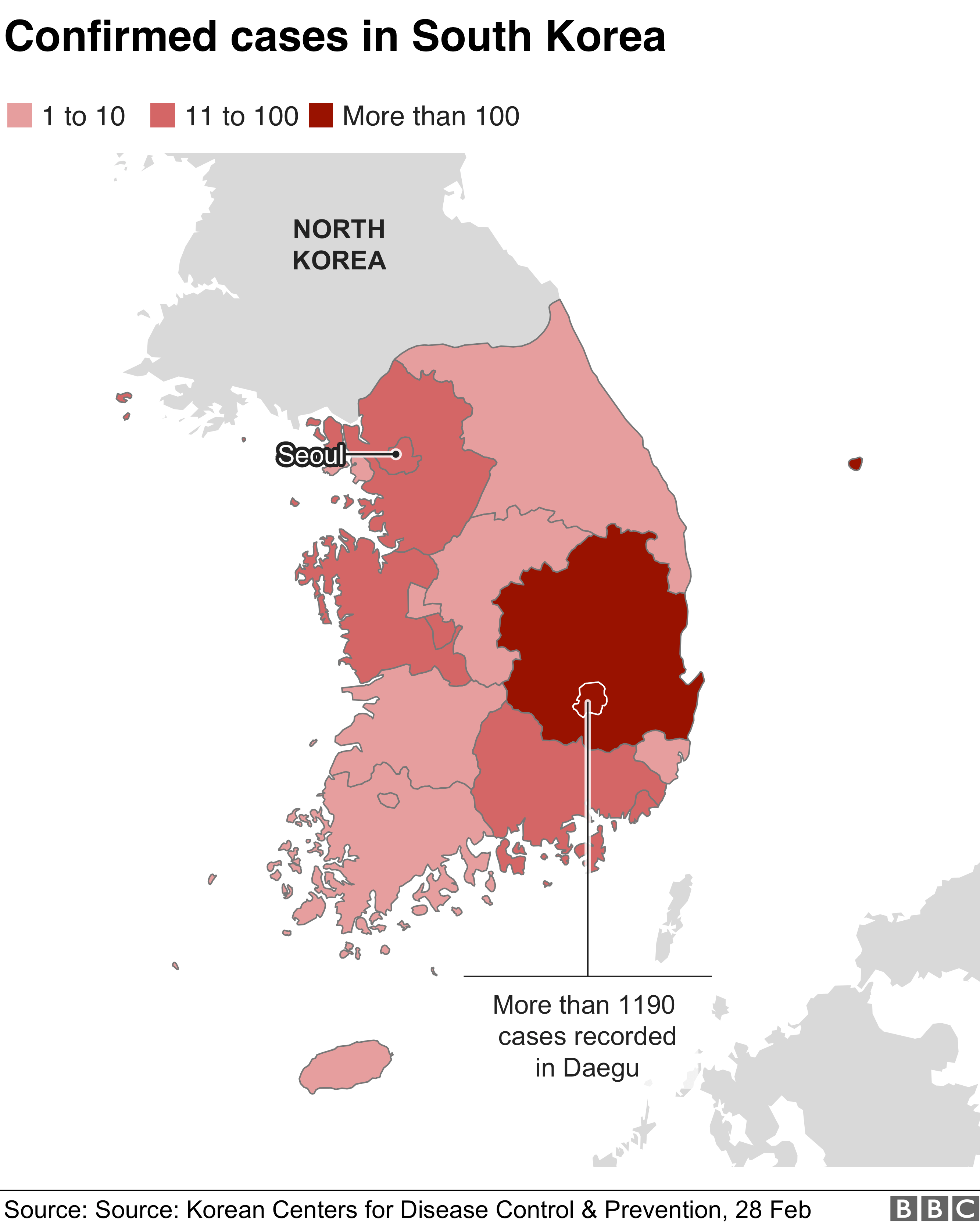 Meanwhile in Italy, the country's authorities have announced a series of measures to try to halt the virus's spread. It is not yet clear how it entered the country.
Eleven towns in northern Italy at the centre of the outbreak – home to a total of 55,000 people – have been quarantined. Schools, universities and cinemas have been closed and several public events cancelled.
The UK has advised against travelling to the region.
Several countries including Algeria, Denmark, Romania and Spain have reported infections linked to Italy.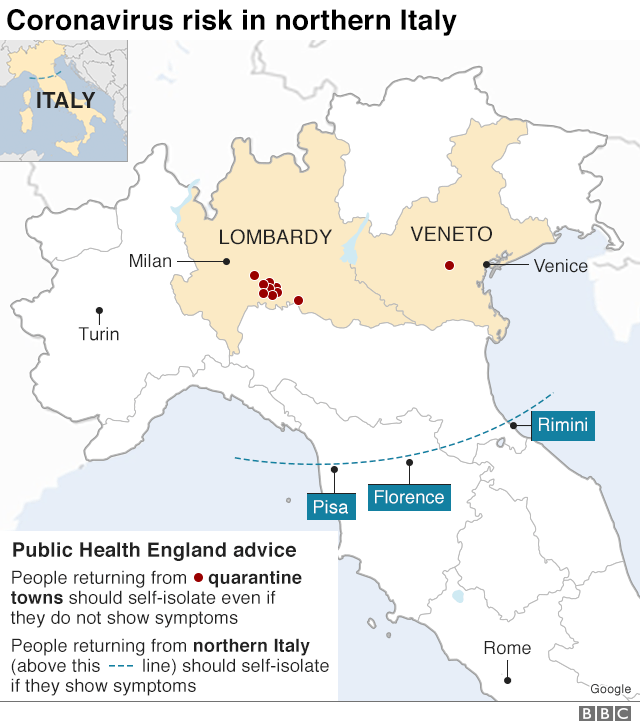 Iran confirmed it has seen a number of cases of the virus, most of them in the holy city of Qom, south of Tehran.
Iranian officials have asked people not to go to Qom, but have not shut a shrine in the city that attracts millions of Shia pilgrims each year.
The government also said it had no plans to quarantine any cities and towns. despite fears of a regional epidemic.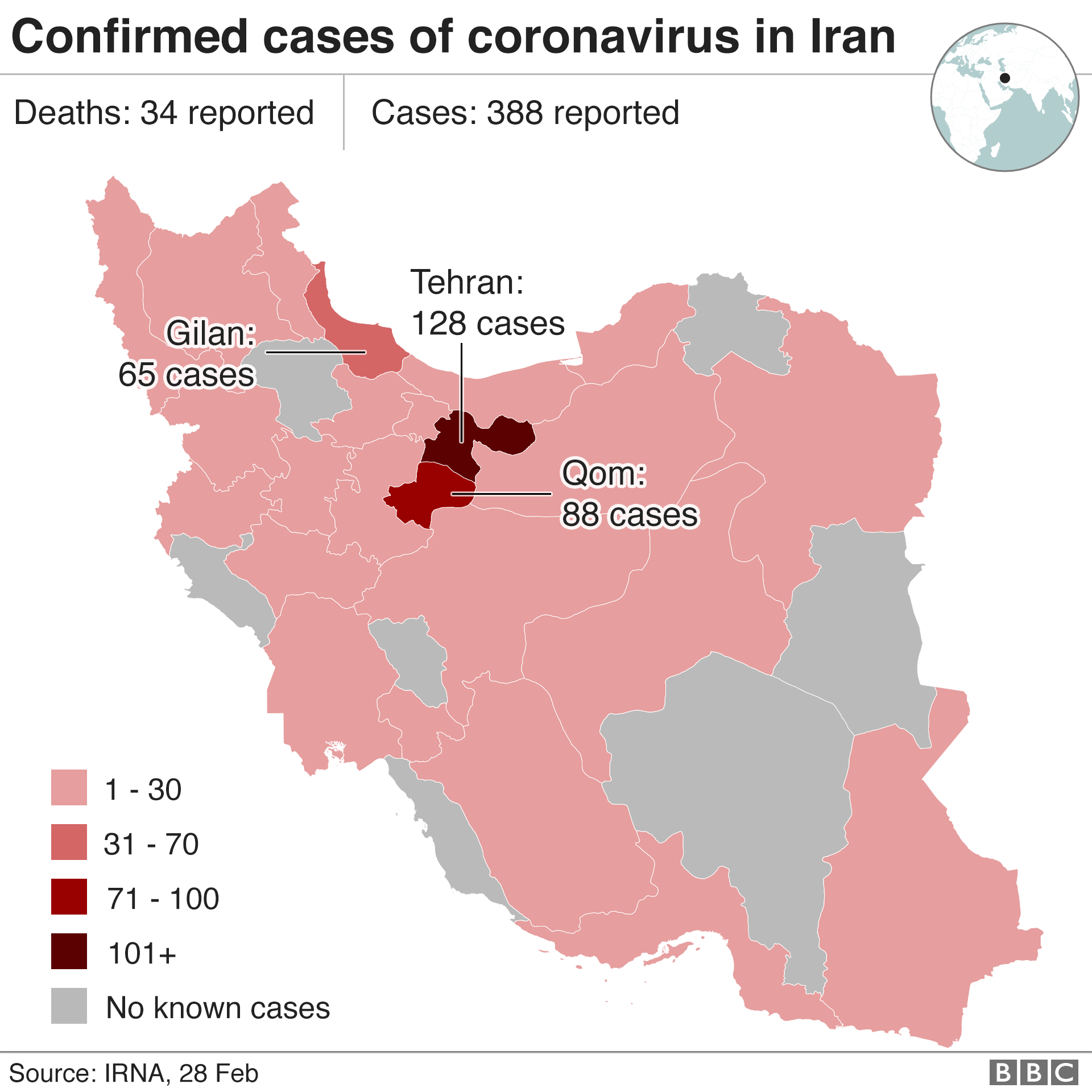 Note: Map based on Iran's Ministry of Health figures, given on state TV, which may differ from WHO numbers

Iran has been the source of dozens of cases in neighbouring countries, including Afghanistan, Bahrain, Iraq, Kuwait, Oman and Pakistan.
In response, many of Iran's neighbours have announced the temporary closure of their borders with the country.
Saudi Arabia has also temporarily banned pilgrims from entering the country to visit the holy sites of Mecca and Medina and suspended visas for tourists from countries with confirmed cases of the virus.