Lance Goodall 14 April 2020
---
I have been following this Coronavirus contagion like a hounddog. Like many of you I want to believe the authorities and government have your back, and have your best interests at heart.
But as each day passes the rhetoric of 'social distancing' and 'wash your hands' has been taken on a wearisome white noise, and the propaganda and misinformation is astounding.
For example Sky News host Chris Kenny says the "over the top policing" of strict social distancing measures will not significantly aid the push to flatten the coronavirus curve in Australia.
"I first told you there were tentative signs of a flattening curve 10 days ago, and since the evidence has become strong and clear," Mr Kenny said. "Shutting pubs and restaurants, banning crowd events, having people work from home, banning overseas visitors and putting those coming home into isolation … that's what's worked and good on us for delivering it".
However, he said now is the time to "get more strident about some of the overreach" which is occurring across Australia in relation to strict social distancing measures.
He said it was "unnecessary" to push for a rush for schools to be shut while the "ridiculous situation" has arisen of beaches being closed in parts of New South Wales but open in others. "This stuff is over the top". "It is over the top policing that obviously can add little if anything to the downward pressure on infections and could even be counterproductive by building up our resistance, not to the disease but to the social distancing measures".
The tiny country of New Zealand who has put the foot on the brakes with Level 4 restrictions has meant job losses by the bucket load after just 4 weeks in lockdown.
On 23 March New Zealand committed to an elimination strategy. Both Australia and New Zealand had relatively low case numbers at that time: New Zealand had reported 102 cases and no deaths and Australia had reported 1396 cases and 10 deaths. On that day the prime minister, Jacinda Ardern, announced that New Zealand was going to rapidly escalate levels of physical distancing and travel restrictions, reaching the level of a full national lockdown on 26 March (level four on the alert scale).
Taking an elimination approach is very different from mitigating pandemic influenza. With mitigation, the response is increased as the pandemic progresses, and more intensive interventions such as school closures are often held in reserve to "flatten the curve". By contrast, disease elimination partly reverses the sequence by using vigorous interventions early to interrupt disease transmission.
New Zealand needed this lockdown for several reasons. By effectively putting the country into mass home quarantine for a month it extinguished many chains of Covid-19 transmission. This period gave us much needed time to ramp up the critical measures required for elimination to work (more rigorous quarantine at the borders, expanded testing and contact tracing, and additional surveillance measures to provide assurance for when elimination had been achieved). It was probably also the only way to ensure the population would swiftly adhere to the physical distancing behaviours needed to extinguish chains of viral transmission. This is a population that has never experienced a major pandemic and had been barely affected by Sars, unlike many countries in Asia.
What are the alternatives?
A major driver of the New Zealand decision to pursue elimination was the increasing evidence that this was the least bad option. A turning point for some of us was reading the report on the WHO Mission to China showing that, in contrast to influenza, this disease was more like Sars and could be eliminated even after community transmission had been established. We also observed the relative success of a number of Asian jurisdictions in containing the Covid-19 pandemic, notably Singapore, South Korea, Taiwan and Hong Kong.
In western countries it was also becoming apparent that the mitigation strategy of "flattening the curve" was failing, as health services were being overwhelmed across Europe. Increasingly, these countries were switching to a suppression strategy, which would reduce cases to manageable levels but at the likely cost of a prolonged lock-down while waiting for an effective vaccine or antivirals.
Why to save a population of 5 Million from a virus that affects mainly the elderly? And this is the cost? Their national carrier off loading staff including 350 pilots.
Air New Zealand has rushed into poorly made plans to cut nearly 1500 people's jobs, the union says.
The national carrier plans to lay off 1460 cabin crew staff as it burns through $14 million a month in crew salaries with almost no revenue.
E tū head of aviation Savage said the airline had sped into a redundancy process despite having access to the wage subsidy, the government loan, and its cash reserves.
He said union members accepted the scale of the problem but wanted a fair transition.
The airline was risking its good reputation by rushing into this, he said, and risked destroying the company.
Last week Air NZ said Covid-19 had slashed its revenue by more than $5 billion.
In a message to staff, chief executive Greg Foran said international travel made up two-thirds of the company's revenue and that was gone now for the forseeable future.
The airline is now expecting to earn less than $500m year. Before Covid-19, Air New Zealand had annual revenue of around $5.8 billion and a profit of $374m.
Neither the government's $900 million loan nor the wage subsidy scheme was enough to stave off cutting 12,500 jobs by at least a third, Foran had said.
Citing a 99 percent drop in domestic travel demand, the airline announced only a handful of return services a day would from Auckland, Wellington, Christchurch, Nelson and Dunedin.
And all this for a virus that has affected 1349 cases and 5 Deaths.
Has all this been driven by a vague memory of the Spanish Flu, Sars, Mers and Ebola?
Australia is "many weeks away" from easing coronavirus restrictions, PM says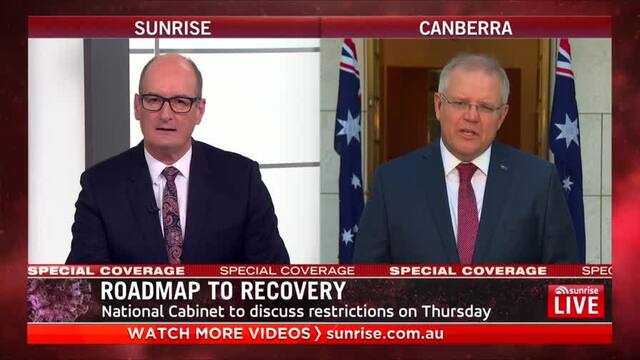 Australia's coronavirus infection curve may be flattening but it is still too early to lift restrictions and end the economy-crippling COVID-19 lockdown, the Prime Minister says.
"Patience has got to be our virtue here," Scott Morrison said on Sunrise. "We can't get ahead of ourselves."
"We are hopeful that at some point we can move from the phase that we're currently in to a new phase." "But I do want to caution Australians that we are many weeks away from that."
Comment:
If I can interject here. We have been flattening the curve for some days now, sitting around at home, playing Scrabble and playing the 10th game of monopoly, eating more than a dozen Easter eggs, watching Netflix or anything else that may takeaway the boredom, and the move from this current phase of blind boredom and economic apocalypse, to a new phase [ Yayyy!!!], but that's some undefined timeline…err, some weeks away!??
National Cabinet will meet on Thursday to discuss easing social distancing rules and travel restrictions after Australia's rate of new coronavirus cases dropped to below two per cent a day.
More than 6,350 Australians had been infected with COVID-19 as of Monday afternoon and 61 people had died.
Two more deaths were recorded overnight but there were only 46 new cases nationwide in 24 hours.
"Australia is in a better position than most countries and we want to keep it that way – and that means being patient and careful in our planning and listening to the medical and economic advice," Morrison continued.
Why are we listening to the WHO? This is the organisation that called it an 'emergency' for weeks.Now the Premier of Queensland in Australia wants to smash the curve not just flatten it?
Comment: 
Australia is in a better position than most countries, and yet we still can't sit on a park bench minding our own business without  receiving a warning or a fine from a zealous police officer.
"Before we can start easing up, we need to lock in the control that we're currently exercising against this virus."
Comment: 
Prime Minister, you mean the complete control of the populous!
1.4 Million people unemployed, to avoid 61 deaths? Is this worth it?
"You need to have the tools in place to keep on top of it and deal with any outbreaks that come."
"When we have greater confidence in that then we'll be able to look at easing restrictions."
Comment:
Because you and many others had not prepared weeks ago to provided respirators, gloves, masks and other needed equipment to help assist the health care providers we all have to sit around on our hand hoping it will all be ok.
Morrison said authorities had seen countries such as Singapore and Japan ease restrictions early only to have to reintroduce them.
"We can't be complacent here, we've seen what's happened in Singapore recently – you take your eye off of this thing and it gets away from you."
Comment:
Countries like Denmark, Norway, Austria, Czech Republic, and even Spain are looking to lift the restrictions on people's movements.
We can learn alot from these countries as well.