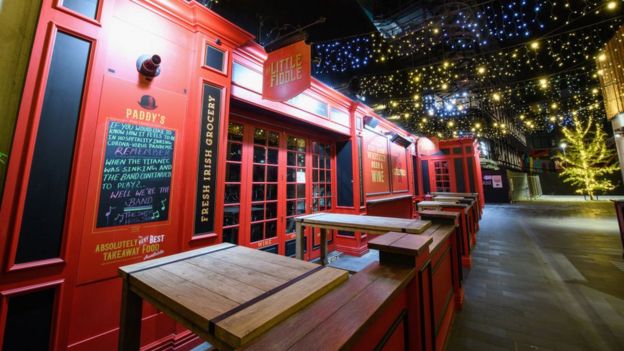 Image copyright GETTY IMAGES Image caption
New Zealand brought in tough restrictions, such as closing pubs and bars, early on in the pandemic
---
New Zealand brought in some of the toughest restrictions in the world on travel and activity early on in the pandemic, when it only had a few dozen cases.
It closed its borders, started enforcing quarantine of all arrivals in the country, brought in a stringent lockdown and mounted an extensive testing and contact tracing operation.
Beaches, waterfronts and playgrounds were shut on 26 March, as were offices and schools. Bars and restaurants were also closed, including for takeaway and delivery.
Ms Ardern said modelling indicated New Zealand could have had more than 1,000 cases a day if it had not brought in the lockdown so early.
She said the country could never know how bad it would have been but that "through our cumulative actions we have avoided the worst".
New Zealand's remote location and easily sealable borders played in its favour when the virus broke out, experts say.
But the government has also been praised for the clarity of its messaging throughout the crisis.
At midnight local time (12:00 GMT on Monday), New Zealand moved from Level Four lockdown to Level Three. That means most businesses will be able to reopen – including restaurants for takeaways – but not those involving face-to-face contact.
New Zealanders are being told to stick to their "bubble" – a small group of close friends or family – and to stay 2m (6ft) away from people.
Mass gatherings are still banned, shopping centres remain closed and most children will remain away from school. New Zealand's border will remain closed.
And yet with all this, the number of cases continue to rise