Much of the talk about the coronavirus over the last couple of months has been about antibodies.
They are looked at as part of the key to unlocking questions about immunity to the virus. Specifically, researchers have looked at how vaccines induce antibody responses and how long antibody protections last after someone has had the virus. In the answers to those questions lies the answer to another: how and when will we achieve herd immunity?
There had been worries about coronavirus antibodies over the past few months, as several studies showed they may only last several months. This had led to a litany of questions about how often one would require a vaccination and whether or not we would ever become immune to the "novel" virus.
But on Friday, a new study highlighted by Business Insider shifted focus away from antibodies and onto memory T cells – the cells that identify and destroy infected cells and inform B cells how to craft antibodies. 
The study, published in Cell, now suggests that everyone who gets COVID-19 develops T cells that may offer long term immunity by hunting down the coronavirus at later dates. "Memory T cells will likely prove critical for long-term immune protection against COVID-19," the study says.
The study looked at blood from 206 people in Sweden who had been exposed to COVID-19 in varying degrees of severity. 
Regardless of a person's exposure, they developed a "robust" T cell response, according to the study. And even those who tested negative to antibodies developed memory T cells, the study found. 
Even Dr. Anthony Fauci even called T cell studies like this one "good news" for fighting the virus.
"People who don't seem to have high titers of antibodies, but who are infected or have been infected, have good T-cell responses," he said during a Facebook interview last Thursday.
Similarly, a study performed in July found that in 36 COVID-19 patients who recovered, all produced memory T cells that "recognize and are specifically engineered to fight the new coronavirus." A third study, published in Nature, found that out of 18 people studied, more than 80% developed these T cells.
These previous studies also found that many people who never had COVID-19 seem to have memory T cells that can recognize the new virus.
This, of course, would mean that the virus isn't a "novel" as we once thought. In the July study, more than half of people already had the T cells and in the Nature study, more than one third already had the T cells.
Another study published earlier in August showed that 25 people who never had COVID-19 had memory T cells that could recognize it. In other words, they had some form of pre-existing immunity. 
The lifespan of such T cells can be immense. For example, in the July study, T cells in blood samples from 23 people who survived SARS were still there 17 years later. The same T cells "could recognize the new coronavirus".
Alessandro Sette, a coauthor of that study, said: "This could help explain why some people show milder symptoms of disease while others get severely sick."
"You're starting with a little bit of an advantage — a head start in the arms race between the virus that wants to reproduce and the immune system wanting to eliminate it," he concluded.
We wonder if this could be part of the reason why Covid-19 numbers in the U.S. are starting to roll over, as we noted yesterday.
Back on July 14 when a wave of new Covid cases was sweeping the sunbelt states, prompting many to speculate if a new round of shutdowns was imminent, we took the other side of the argument and said that the pandemic peak had hit, and that in Arizona – an early recent outbreak state, "the worst was over for the COVID breakout."
We were right, and as Bank of America wrote yesterday, Arizona has seen a 66% decline since its peak on July 14th, while the US excl. the four major recent outbreak states (AZ, CA, FL, TX) experiencing a 13% decline since the peak on July 30th.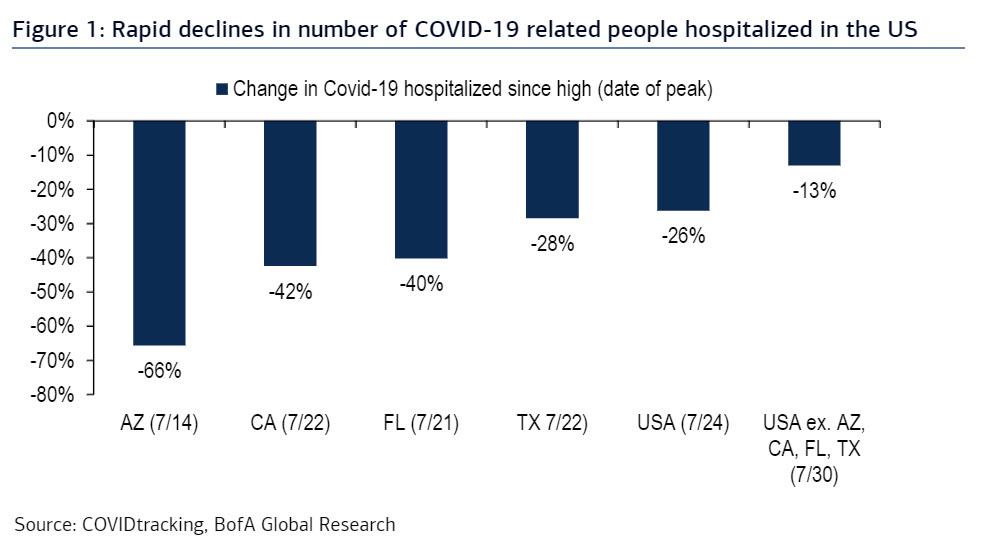 There's more: as BofA also points out, "we continue to see clear signs the Coronavirus is rolling over in the US as the number of people hospitalized due to COVID-19 declines at a rapid pace of about one percent a day (26% in 23 days)."
Extrapolating, this rate of decline means that there could be zero Covid-related hospitalizations around the Nov 3 election day, a feat that if marketed properly, could mean the difference for Trump between victory and defeat.
---