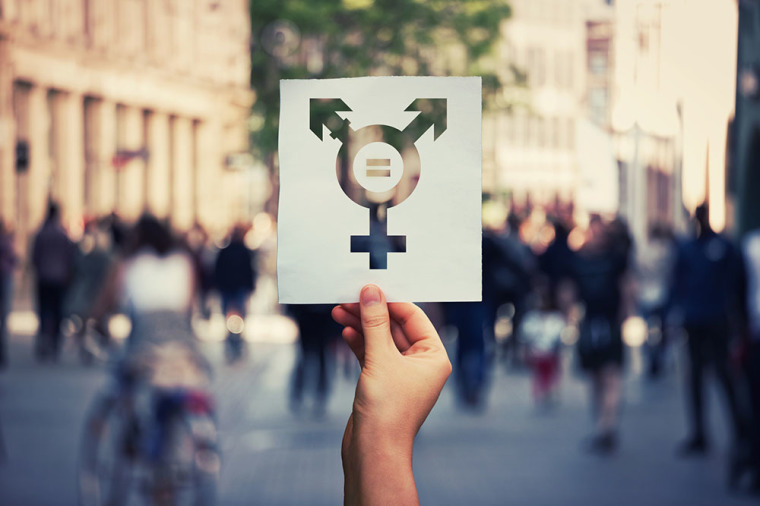 By Anugrah Kumar, Christian Post Contributor FOLLOW| Sunday, September 13, 2020
A new study has revealed that 22% of U.S. evangelicals appear to reject the Bible's teaching that the gender of a person as male or female is given by God, the Creator, and instead believe in "gender fluidity."
While 73% of American evangelicals disagree that "gender identity is a matter of choice," 22% say they believe in that statement, according to the LifeWay Research "State of Theology" poll released Sept. 8.
The survey, sponsored by Orlando-based Ligonier Ministries, and conducted by surveying more than 3,000 Americans in March, also showed that Americans with evangelical beliefs (73%) are more likely to disagree that "gender identity is a matter of choice" than those without evangelical beliefs (47%).
The survey found that Americans in the Northeast are the most likely to agree with gender fluidity, at 44%, and so are those in the age group of 18 to 34, at 50%. However, Americans age 50-64 are the most likely to disagree (64%).
Further, the poll reveals that Americans in a rural area (56%) are more likely to disagree with gender fluidity than those in a large city (45%).
Attending religious service also matters, as the study found that Americans who attend a service at least once or twice a month are more likely to disagree that gender identity is a choice than those who do not (57% vs. 47%).
LifeWay also asked respondents if they believe "the Bible's condemnation of homosexual behavior doesn't apply today." The study found that evangelicals are the most likely to disagree, at 72%. It also revealed that Americans with evangelical beliefs are more likely to disagree than those without evangelical beliefs (81% vs. 34%).
Last week, a survey by the Pew Research Center said half of Christians say sex between consenting adults who are in a committed dating relationship is sometimes or always acceptable, and over half — with the exception of evangelical Protestants — said casual sex is OK.
Some 62% of Catholics, 56% of Protestants in the historically black tradition, 54% of mainline Protestants, and 36% of evangelical Protestants say casual sex between consenting adults is sometimes or always acceptable, according to the Pew survey.
Among those who are religiously unaffiliated, as many as 84% say casual sex is sometimes or always acceptable, Pew added. And the percentage increases to 94% among atheists and 95% among agnostics.
Pew clarified that the survey "did not ask respondents if they themselves would engage in any of these practices. Instead, the questions asked if they found the practices acceptable 'regardless of whether you would do it yourself.'"
However, Americans, in general, do not tend to accept a range of other sex and dating practices, for example, having sex on a first date, exchanging sexually explicit photographs with other consenting adults, and having an open relationship, according to Pew.
Conversation
|
All Comments
JW17 DAYS AGO
It appears that evangelicals have created another bad reputation on top their existing bad reputation for being liberal minded and presenting a social gospel all around the world.. This latest move has been reduced from gutter level to cesspit level: Read on.by Geoffrey GriderSeptember 19, 2020NOW THE END BEGINS SHARE:FacebookTwitterMeWeRedditEmailShareThe Evangelical Lutheran Church of Iceland has raised eyebrows with a Sunday School advert depicting a trans Jesus Christ sporting a long beard and apparently bouncing breasts.There is an idea that Jesus Christ is all things to all people, and depending on your frame of reference, He changes to adapt to your level of understanding and life experiences. That is 100% false, not true on any level, in any manner, of any kind. Jesus Christ is the only begotten Son of God, He is perfect, righteous and holy. He died and rose again to save sinners, but in no wise approves of sin or excuses it. The only place a trans Jesus exists is in the mind of unrepentant sinners who want Heaven without holiness, redemption without repentance, and salvation without sacrifice.Please notice that these 'EVANGELICALS' profess to be Christians… which brings Christianity into disrepute big time… Am I judging? .. Too true I am, by the authority of scripture, not my own authority.Do they believe in Jesus? .. Possibly… Which Jesus is a mystery.
GD19 DAYS AGOClues from the Apostle PaulPaul supplies us with some strong clues as to why the end times Church will be weak, vacillating, and full of apostasy. One of those clues can be found in 2 Timothy 4:3-4 which says that "the time will come when they [Christians] will not endure sound doctrine; but wanting to have their ears tickled, they will accumulate for themselves teachers in accordance to their own desires; and will turn away their ears from the truth, and will turn aside to myths."ADVERTISEMENThttps://0c5bebe0704b94918f298943fe3cc933.safeframe.googlesyndication.com/safeframe/1-0-37/html/container.html
MJ19 DAYS AGOSo now you are attacking people who follow the social justice teachings of Jesus. Really? So it is just fine to finance conservative evangelicals with Koch money but should anyone fund progressive social issues that is prohibited? This is what we believe about Diversity, all annotated with Biblical verses. You are throwing stones at Jesus. From Sojourners:In accordance with Sojourners' mission to articulate the biblical call to social justice:We affirm the biblical truth of every human being's inherent dignity and worth, as all people are created in the image of God. (Genesis 1:27)We affirm that in the Body of Christ there is no distinction or hierarchy according to racial, ethnic, gender, sexual orientation, or social identity and economic status. (Galatians 3:28)We seek not to deny or erase the uniqueness manifest in God's creation, but celebrate this diversity as essential to the unity and strength of Christ's Body. (1 Corinthians 12:12-31)We believe that unity in diversity is not only desirable, but essential to fulfilling God's ultimate desire for God's people, as expressed in scripture (Acts 2, Revelation 7:9), and thus an essential element of seeking God's will on earth as it is in heaven.We confess that both personal prejudice and systemic oppression are sin. We lament that we all have been both individually and corporately damaged by these sinful patterns, whether as perpetrators, victims, or both. (James 2:1-9; Isaiah 10:1-2)We humbly seek forgiveness, restoration, accountability, and healing through Christ, as we seek to be peacemakers answering God's call to the ministry of reconciliation. (2 Corinthians 5:16-19)
MJ19 DAYS AGOI am ending this discussion with final comments. I was born again at Billy Graham crusade at age 31. I listened to Christian radio and all I heard on Focus on the Family was hatred to LGBT. My friend was deeply Christian, and gay. It was not a choice; science has proven that. My United Methodist Churche in St. Louis found me where I worship with others who follow the social justice teachings of Jesus.I see that any mention of our current president's infidelity or other damaging policies are disabled. Yet outright lies (that are easily refuted by going to reputable sources) are promoted. No, Democrats did not take out "Under God" from the Pledge. No we do not support abortion up to birth. The small fraction of 20-24 week abortions are for severe birth defects, most will not support life outside the womb. No Joe Biden is not in his basement. Yes we know now that our current President knew all along how easily transmisable and deadly COVID-19 across age groups was back in early Feb yet downplayed it: and this is in his own words on tapes to Bob Woodward. How prolife is letting 200,000 people die square with your prolife beliefs?If you go to Sojourners (Rev Jim Wallis) sojo.net/about you will see what we who follow Jesus' social just justice teachings believe; and yes they are based on Biblical phrases. I am done with all of you and your lies about Biden and Democrat platform. I am done with Christianity Today. What started out as a comment explaining why this Christian is voting for Biden, I was attacked and even called a troll or not a real Christian. I am done with all of you. You can read for yourself In accordance with Sojourners' mission to articulate the biblical call to social justice at SoJo.net

WA19 DAYS AGOSojo is NOT biblical. It only claims to be. Your friend and all gay people should be loved. God loves the whole world, but it doesn't mean He endorses our choices. And those choice have nothing to do with our sexuality, but everything to do with our nature….. our sin nature.
VS19 DAYS AGOJust look at the source, Sojourners. Soros funding is just the tip of the Iceberg. It is a left-wing group. I guess you're unaware of St. Paul's conversion or St. Augustine's shady past. The bulk of abortions are not done for so-called "severe birth defects" it is a lie. And I have known many babies who were diagnosed as having so-called defects who when born, were not that way at all. Justifying killing because of a disability is shameful. Now let's see if Biden were President, tens of millions of Americans would be dead because of Trump's travel restrictions from China which he opposed and even labeled him "xenophobic" or Nancy's China Town visit, remember??? The lies are from the fake news and Sojourners is one of them are intentional and sorry to say but the work of the enemy. They are celled "wolves in sheep's clothing". Killing children and same-gender disorders is not something Christians can believe and embrace. Love the sinner but always hate the sin.

SS20 DAYS AGOSo we learn that 22% of "Evangelicals" are so only nominally.
2020 The Christian Post, INC. All Rights Reserved.