At least six people killed as energy and other infrastructure damaged in biggest Russian missile attack in weeks
Ukraine war live – latest updates
Lorenzo Tondo in Kyiv – Fri 10 Mar 2023 04.17 AEDT
Russia launched six hypersonic missiles able to evade air defences in the early hours of Thursday morning as it unleashed its largest missile barrage against Ukraine in three weeks.
Critical infrastructure and residential buildings in 10 regions had been hit, the Ukrainian president, Volodymyr Zelenskiy, said. At least six people were killed in a missile strike on a residential area in the western Lviv region, 440 miles (700km) from the frontline, according to emergency services. Three buildings were destroyed by fire after the strike and rescue workers were combing through rubble looking for more possible victims.
"The occupiers can only terrorise civilians. That's all they can do. But it won't help them. They won't avoid responsibility for everything they have done," Zelenskiy said in a statement.
In the capital, Kyiv, the seven-hour alert through the night was the longest of Russia's five-month air campaign.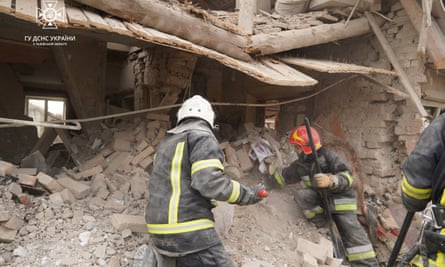 Ukrainian officials said Moscow had fired six of its Kinzhal hypersonic missiles, an unprecedented number, which Ukraine has no way of shooting down. Russia is believed to have only a few dozen of the missiles, which the president, Vladimir Putin, regularly touts in speeches as a weapon for which Nato has no answer.
For much of Thursday the Zaporizhzhia nuclear power plant – Europe's largest – was forced to rely on diesel-powered generators after Ukrainian authorities said missile attacks had damaged power lines. The plant, which Russia has held since capturing it early in the war, is near the frontline and both sides have warned of a potential for nuclear accidents there caused by fighting.
The power grid operator Ukrenergo said in the afternoon that the power supply had been restored and the plant was switching away from generators. Russian-installed officials called the temporary cutoff a Ukrainian provocation.
The UN nuclear watchdog chief, Rafael Grossi, urged again for a protection zone around the plant. "Each time we are rolling a dice. And if we allow this to continue time after time then one day our luck will run out," he told the International Atomic Energy Agency's 35-nation board of governors.
Ukraine's air force said the attack comprised, in total, "81 missiles of various types", launched from Russian aircraft and carriers in the Black Sea. Defence forces destroyed 34 cruise missiles and four drones, it added.
"Unfortunately, a missile of the Kinzhal type hit an infrastructure object," said Serhiy Popko, the head of Kyiv region's military administration.
The military administration said 40% of people in the capital were without heating on Thursday morning. The city's mayor, Vitali Klitschko, said explosions were reported in the Holosiivskyi district, and two people were wounded in the Sviatoshynskyi district. Smoke could be seen rising from a facility in Holosiivskyi and police cordoned off all roads leading to it.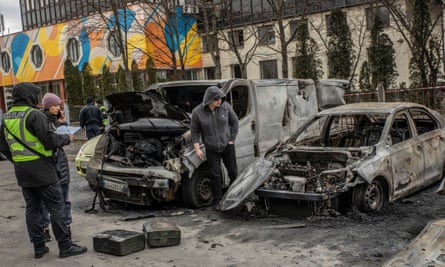 The governor of Odesa region said a mass missile attack hit an energy facility in the port city, cutting power. Residential areas were also struck.
Kharkiv was left without electricity as a result of the overnight attack, according to Suspilne, Ukraine's state broadcaster. The regional governor, Oleh Synyehubov, said the city and region had been hit by 15 strikes, with targets including infrastructure.
Synyehubov said two women in their 70s were injured in Pisochyn and an agricultural facility was damaged in Slobozhanske. Multiple settlements were shelled on Wednesday, damaging houses and commercial buildings, he added.
Other blasts were reported in the central city of Dnipro and regions throughout Ukraine.https://interactive.guim.co.uk/uploader/embed/2023/03/ukrainmissiles-zip/giv-13425u52a6AkfnZHi/
The Russian defence ministry said the strikes were in response to what Moscow called a terrorist attack in Bryansk region last week, when members of a group called the Russian Volunteer Corps staged an incursion from Ukraine. Russia said two civilians were killed in the incident, which Ukraine accused Moscow of staging as a false "provocation".
The missile barrage came after Ukraine's military said late on Wednesday it had managed to push back intense Russian attacks on the city of Bakhmut, despite a Russian claim of control over its eastern half. As one of the bloodiest battles of the year-long war ground on in the small city's ruins, Ukrainian defenders – who last week appeared to be preparing for a tactical retreat – remained defiant.https://interactive.guim.co.uk/uploader/embed/2023/03/bakhmut-zip/giv-13425RpB9mYAeO9z7
"The enemy continued its attacks and has shown no sign of a letup in storming the city of Bakhmut," the general staff of the Ukrainian armed forces said on Facebook. "Our defenders repelled attacks on Bakhmut and on surrounding communities."
The battle for Bakhmut, which is still under Kyiv's control, has raged for seven months, with thousands of people killed and hundreds of buildings collapsed or charred. The few remaining civilians have been confined to basements for months with no running water, electricity or gas.
Russia-Ukraine war: Zaporizhzhia nuclear plant reconnected to energy grid as UN warns 'one day our luck will run out' – as it happenedRead more
Ukrainian military and political leaders now speak of hanging on to positions and inflicting as many casualties as possible on the Russians to grind down their fighting capability.
Despite rumours of an imminent retreat of his troops, Zelenskiy said during an address on Wednesday evening that he had instructed the Ukrainian army to find forces to bolster the defence of the city. "I told the chief of staff to find the appropriate forces to help the guys in Bakhmut. There is no part of Ukraine about which one can say that it can be abandoned," Zelenskiy said. Zelenskiy said the battle for Bakhmut and the surrounding Donbas region was "our first priority".