---
The day after the night before — here's how key stakeholders and the world have reacted to the rise of Malcolm Turnbull as Australia's 29th Prime Minister, our fourth in four years.
BUSINESS
The Australian economy could get a shot in the arm from the change in prime minister even before Malcolm Turnbull talks policy.
Industry bodies have welcomed the arrival of a PM with a track record in business, and analysts say the former investment banker could lift consumer and business confidence through his popularity with voters and ability to explain the need for economic reforms.
The nation's peak group for big business urged Mr Turnbull to maintain momentum on "vitally important" trade pacts with Asia and to leave all reform options on the table.
Following the lead of other business groups in welcoming Mr Turnbull's leadership, Business Council of Australia president Catherine Livingstone pointed to Mr Turnbull's comments on the importance of a growth agenda.
"The Business Council welcomes Mr Turnbull pledging a positive and inclusive leadership style which explains our national challenges and seeks to seize the opportunities they present, while respecting the intelligence of the community to embrace change for the better," Ms Livingstone said.
"The National Reform Summit made it very clear that the community will respond to a positive vision for the country, and that all options need to be left on the table so the community can see the trade-offs and be prepared to make the necessary adjustments over time."
Australian Chamber of Commerce and Industry chief executive Kate Carnell warmed to a promise of more collegiate and co-operative government, and urged Mr Turnbull to undertake reforms to boost productivity and competitiveness.
"Mr Turnbull has a track record in business and we look forward to that informing his approach as prime minister," Ms Carnell said.
"Australia needs leadership that understands the country must live within its means and prepare its economy for the challenges ahead."
The Australian Industry Group's chief executive Innes Willox said Mr Turnbull was "a world class advocate well able to restart our stalled national reform agenda".
"We look forward to a constructive and positive working relationship with the new Prime Minister and his team as they take a fresh approach to the substantial challenges and opportunities before us,'' he said.
"Mr Turnbull's first statements as leader focusing on the importance of strong economic management, including by encouraging innovation, sends a positive signal to business and the broader community.
"Both sides of politics have become overly cautious and risk averse in recent years and business will be looking to the new Prime Minister and his team to argue the case for reform effectively and to enlist the support of business and the broader community.
"Business is ready to work with Mr Turnbull to deliver the steps we need to take to put ourselves in the best possible position for the years ahead. These steps include tax reform; injecting greater flexibility into our workplace relations arrangements; lifting the pace of innovation; developing our workforce and management skills and investing in the infrastructure required for the broad-based economy that we need.
"We also sincerely thank the outgoing Prime Minister Tony Abbott for his service, willingness to listen to the business community's views and his efforts to build a strong and resilient economy," Mr Willox said.
Prominent economist Shane Oliver says he "won't be rushing" to change his views on the Australian economy because of the move to Malcolm Turnbull, reports Annabel Hepworth.
But the AMP Capital chief economist does expect Australia's economy could get a short-term fillip from Mr Turnbull's rise as he is popular among Labor and swinging voters.
"The change in PM does nothing to change Australia's current economic reality flowing from the end of the resources boom and the resulting soft economic growth, which in turn has been playing a role in driving the political instability in recent times … As a result I won't be rushing to change any forecasts/views on the Australian economy and investment markets," Mr Oliver said.
But he said Mr Turnbull is likely to focus more on articulating Australia's challenges.
IG market analyst Angus Nicholson also said Mr Turnbull's promise of a more collegiate and considered style of governing would go over well.
"If it does provide a boost to confidence, that can also boost the real economy," Mr Nicholson said.
THE MARKETS
The sharemarket has passed judgment on whether a government led by a republic-loving, pro gay marriage, business-friendly former merchant banker will be superior to that presided over by an ex pugilist Rhodes scholar with a penchant for blue ties and rhyming slogans, writes Tim Boreham. 
Turnbull promises a change of direction and a more consensual approach to decision making, which raises hopes he will be better able to sell a reform agenda to the Senate, the crossbenchers and the public.
But by noon the bourse had lost 1 per cent, exacerbating following Wall Street's soft lead.
But the Aussie dollar rose slightly overnight, which IG markets says, reflected the "potential for a business friendly and strong government that has the potential to lift consumer and business confidence".
Global ratings agency Moody's has sent out a clear warning to incoming Prime Minister Malcolm Turnbull, saying that further uncertainty could dampen business confidence and add to the challenges facing Australia.
Moody's associate managing director Atsi Sheth said today that while leadership challenges are part of the democratic process, "if political uncertainty leads to economic policy uncertainty or dampens business sentiment, it would add to the challenges facing the Australian economy".
The Australian share market opened slightly lower. At 10.10 AEST, the benchmark S&P/ASX200 index was down 5.1 points, or 0.10 per cent, at 5,091.4, while the broader All Ordinaries index was down 5.5 points, or 0.11 per cent, at 5,115.0. On the ASX 24, the September share price index futures contract was down four points at 5,087, with 37,164 contracts traded
The Australian dollar hit a two-week high, getting a boost after Mr Turnbull became the new leader of the Liberal party and prime minister designate.
The dollar was higher despite dipping on the Reserve Bank's negative outlook for the local economy. At noon (AEST) today, the currency was trading at US71.27 cents, up from US70.90 cents yesterday.
The dollar surged clear of US71 cents in offshore trade overnight as investors appeared to welcome news that Malcolm Turnbull will replace Tony Abbott as prime minister.
OM Financial senior client adviser Stuart Ive said the Australian dollar came under pressure when the leadership spill was announced, but rose after Mr Turnbull won.
He said it's hoped that the new prime minister will be a bit more proactive in getting the Australian economy going.
"The market decided that this was a good thing. Hence, the good performance in the Australian dollar despite stock markets coming off and metals being a little bit weaker overnight," Mr Ive said. "Abbott was performing poorly in the polls, there was no real momentum behind the economy during his term, so a fresh person gives fresh thinking." BK Asset Management managing director Kathy Lien said Australian dollar traders cheered Mr Abbott's defeat.
"However, Turnbull won by a very small margin and internal divisions within his party could lead to continued political uncertainty," she said.
Markets on Tuesday will focus on the release of the minutes of the Reserve Bank of Australia's September board meeting, as well as the Bank of Japan's monetary policy statement.
SOCIAL MEDIA
As you'd expect, Tony Abbott being ousted as prime minister has caused an absolute ruckus on social media. The Australian's social media editor Brighette Ryan says so far there have been 580,000 tweets relating to the leadership spill, with #libspill trending worldwide by 5pm last night.
It wasn't all serious commentary though, with #putyouronionsout and #putyourbudgiesmugglers also emerging as popular hashtags.
THE UNIONS:
Unions moved quickly this morning to switch their campaign against changes to penalty rates from Tony Abbott to Malcolm Turnbull, reports Elizabeth Coleman.
The ACTU tweeted this morning that "one thing is for certain — the attacks on penalty rates will continue under Malcolm Turnbull", citing comments the Prime Minister-elect made in 2014.
Mr Turnbull reportedly told the ABC last year that "businesses particularly hospitality businesses, like cafes and restaurants and so forth, (are) closed on weekends when they should be doing brisk business because the penalty rates are so high the owner cannot make ends meet.
"Now that's nuts."
The ACTU is yet to make an official statement after last night's ballot delivered the Prime Ministership to Mr Turnbull.
Last night unions moved to downplay the damage to their anti-government campaignsfrom a change in the Liberal leadership, despite millions of dollars spent targeting Tony Abbott.
SHOCK JOCKS
Australia's right-wing shock jocks are furious Mr Turnbull has ousted Mr Abbott. The whole affair replicated the disgrace of Labor and was entirely un-Australian, 2GB's Ray Hadley said this morning. "There are people with blood on their hands," he also told the Nine Network.
Deputy leader Julie Bishop, who precipitated a late-night leadership ballot by tapping Mr Abbott on the shoulder, was singled out as one of those people. Mr Turnbull was unelectable and would hand the next election to Labor, Hadley warned. "We have a lot of listeners across Australia and a lot are filthy about this," he said.
Hadley was also upset with Services Minister Scott Morrison, someone he regards as a personal friend. "He told me he supported the prime minister. He will get the job as treasurer because obviously he had a conversation with Malcolm Turnbull prior to the vote last night."
Hadley called it "one of the great acts of political treachery in our history".
The Liberal Party has learned nothing from the former Labor government, he said.
Hadley described the 53 Liberal MPs who voted for Turnbull as "numbskulls".
"Bronwyn Bishop, my god, … you should retire from politics today Bronwyn — fall on your sword — that bloke (Abbott) supported you up hill and dale and then your last act of treachery, because he had to show you the door, you show him the door. What a terrible thing to do," he told 2GB listeners.
Hadley went to name other Liberal MPs who he said had betrayed Mr Abbott, including Mal Brough, George Brandis, Christopher Pyne, Julie Bishop, Peter Hendy, Scott Ryan, Craig Laundy and Arthur Sinodinos. "I have 22 names in front of me, that we are told voted for Turnbull.
"Given that he (Turnbull) voted for himself — we need another 31 names."
Hadley's colleague Alan Jones also vented his displeasure as listeners to 2GB called in to say they weren't happy with the switch to Mr Turnbull.
Conservative commentator Andrew Bolt condemned Mr Turnbull as a "wrecker'' who won the leadership because the Liberals let his bull weaken their nerve and bury their judgment.
"He stole the prime ministership he could not have won in an election,'' Bolt wrote on his Herald Sun blog this morning.
"He stole it by boasting of superior communication skills he does not have. He will now campaign on successes by Abbott he could not have achieved himself. And he will now be the leader of a party he cannot unite.
"What have the Liberals done? Many of their members will be distraught and disgusted. Whether Turnbull wins the next election or loses, conservative Liberals will feel they have lost already, now that a man of such 'progressive' views has snatched the leadership of their party.''
The New York Times, which recently published an editorial slamming Mr Abbott's asylum seeker policy, noted that Mr Turnbull "is likely to be more open to the outside world and less conservative in approach than Mr Abbott".
WORLD MEDIA COVERAGE
The leadership change was big news around the world with front page stories on The Guardian and prominent coverage on websites including The New York Times andThe Washington Post.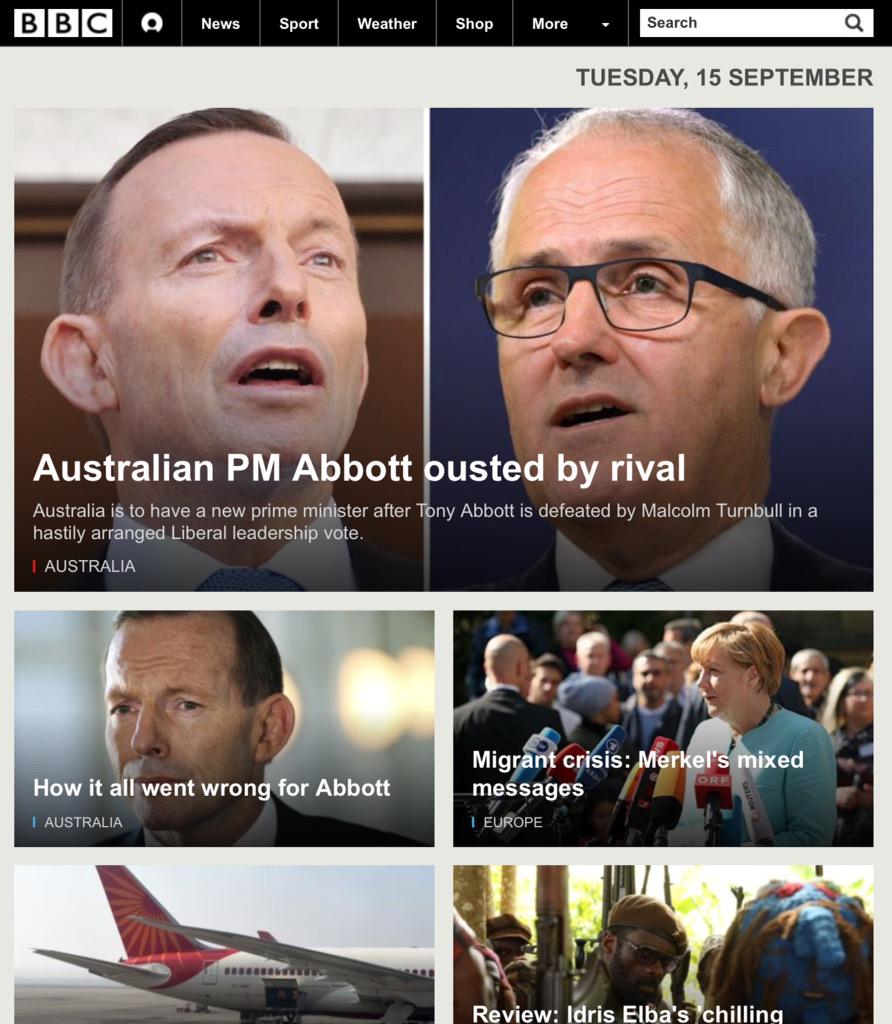 The Wall Street Journal reported the coup to install Mr Turnbull as Australia's fourth prime minister in just over two years has "exposed deep unease about the resource-dependent country's sharply slowing economy and a political system that lets small groups of politicians oust elected leaders''. Its coverage inlcuded an At a Glance andFive Things to Know about Australia's political leadership battle.
The Times in London headlined its story: "Republican seizes power in Australia''.
The BBC's Nick Bryant labelled Australia "the coup capital of the democratic world''.
"A quarter century of Australian reform under Bob Hawke, Paul Keating and John Howard has been followed by an era of revenge,'' Bryant wrote. "Malcolm Turnbull, the new prime minister, was once knifed by the leader he deposed, Tony Abbott. Kevin Rudd was ousted by Julia Gillard but then exacted vengeance by overthrowing her. It is now over a decade since an Australian prime minister managed to serve out his or her first term.
"Covering Australian politics feels more like conducting a triage of the wounded and slain. The bloodletting has become so brutal that party rooms have come to resemble abattoirs. Were a movie to be made of Australian politics over the past decade it would have to be X-rated, and, as I have said before, be directed by Quentin Tarantino. It could be modelled on those gory Ozploitation movies from the 1970s and 1980s that actually inspired the young Tarantino.''
WORLD LEADERS
New Zealand Prime Minister John Key was among the first to congratulate his new Australian counterpart, comparing his own ideological standpoint to that of Australia's "moderate" new leader.
"I'm in the fortunate position to have a very good relationship with Malcolm and I had a very good relationship with Tony," Mr Key said. "He's quite a different personality to Tony. I guess he's much more from the moderate camp so if you sort of consider me to be very more at the centre of the National Party (in New Zealand), Malcolm Turnbull is very much at the centre of the Liberal Party in Australia.
"Politics is a brutal business and in the end you're there to deliver and to win elections."
Mr Turnbull last night cited Mr Key as an example of a "great leader" who has achieved "very significant economic reforms … by explaining complex issues and then making the case for them"
Mr Key said Mr Turnbull's praise was "flattering".
"He's got strong economic credentials; he's got a very strong understanding of the economy," he said.
Mr Key said Australia remained New Zealand's closest bilateral partner.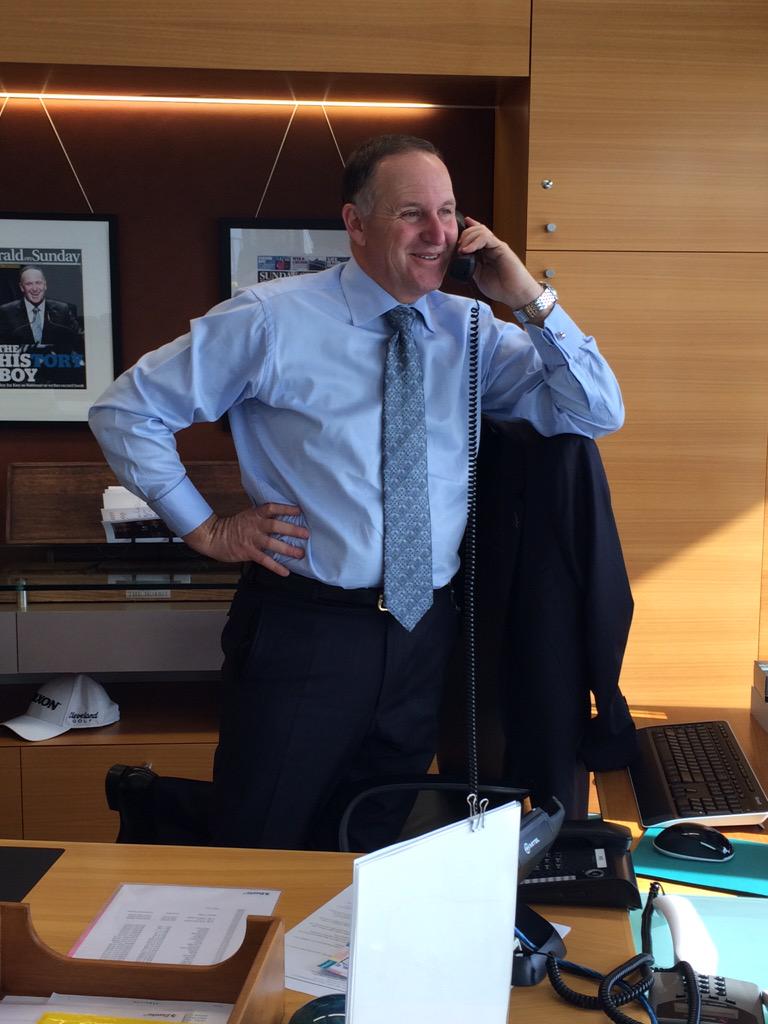 "We enjoy close ties in all areas of our relationship, including in the trade, economic, defence and sporting areas, and I am looking forward to working with Mr Turnbull to advance that.
Mr Key also made special mention of his positive relationship with Mr Abbott, who was Australian leader for nearly two years. "He has been a good friend to New Zealand. He has visited twice this year and our discussions have always been productive.
"I am confident that the close relationship between New Zealand and Australia will continue under Mr Turnbull's leadership."
The US State Department spokesman John Kirby said Secretary of State John Kerry looked forward to working with Mr Turnbull on climate change, Islamic State and other issues.
Former US vice president Al Gore says a new prime minister gives Australia the chance to take leadership on international climate change.
"New PM offers fresh opportunity for Australia to stand beside the US and China in a leadership position going into #COP21," Mr Gore tweeted, after the Liberal party room voted to replace Tony Abbott with Malcolm Turnbull.
Mr Abbott had been criticised for a lack of action on climate change by world leaders in the lead up to the UN Climate Change Conference in Paris, which kicks off on November 30.
SAME-SEX MARRIAGE
Gay marriage campaigners will pressure Malcolm Turnbull to allow a free vote in parliament this year. Australian Marriage Equality director Rodney Croome will seek an urgent meeting with the prime minister designate, arguing there's no reason to delay action on marriage reform.
"Our preferred path forward remains a free vote in parliament this year which can be achieved by a vote on Warren Entsch's co-sponsored bill," he said.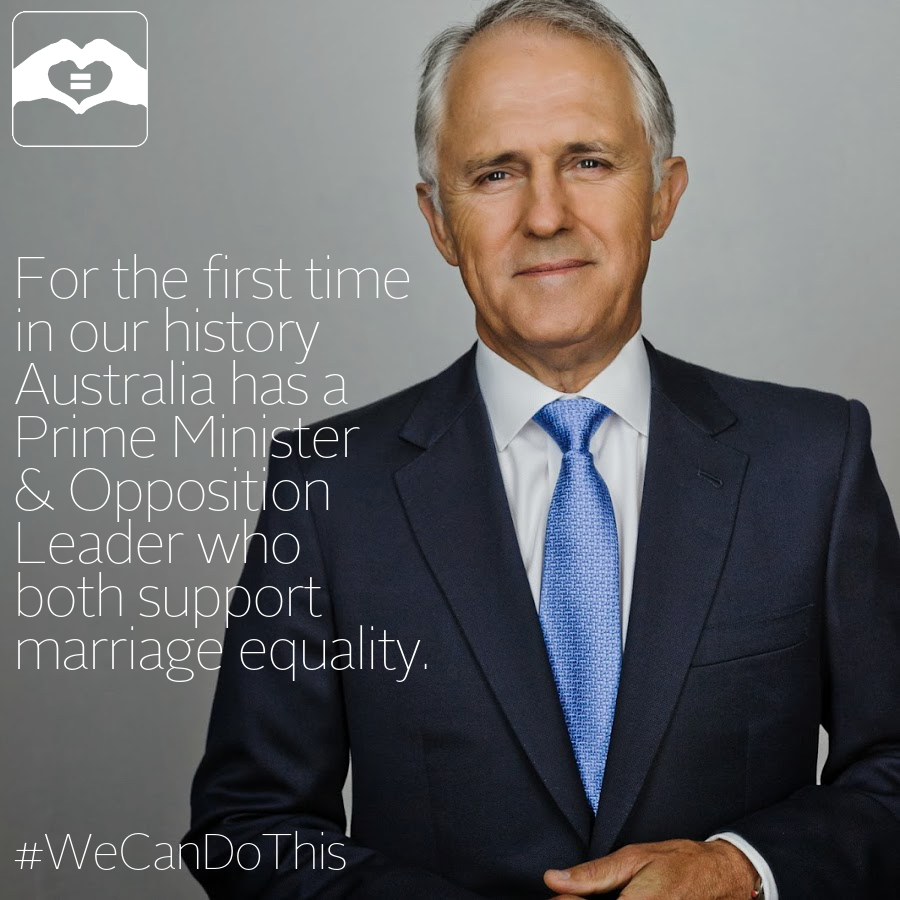 Mr Turnbull has indicated he'll stick by the government's current policy to hold a plebiscite on the issue.
But Mr Croome says it's time for Mr Turnbull to prove he is a leader who stands for individual freedoms.
"I hope he'd allow freedom for individual members of the Coalition, including himself, to not only support marriage equality but to vote for it," he said this morning.
"But if Australia is going down the path of a plebiscite, we want it sooner rather than later, preferably at the election so whichever party wins government has a mandate to act on those reforms."
Leichhardt MP Warren Entsch said he doesn't think Mr Turnbull will overturn a party room decision to have a national vote on marriage equality rather than a free vote in parliament. He said the party room had made it "very very clear" that there would be a plebiscite and he would offer to work with Mr Turnbull on the wording and timing of the vote.
The Gay and Lesbian Rights Lobby said marriage reform must be dealt with as a priority by the parliament. "We know Malcolm Turnbull supports marriage equality and we also know he supports a conscience vote within the Liberal party. We'd encourage him to make good on those convictions," convenor Justin Koonin said.
"There should be a vote in the parliament as soon as possible. Australia wants this off the table and frankly Malcolm Turnbull wants this off the table."
MUSLIM COMMUNITY
Muslim leaders have called on Malcolm Turnbull to bring an end to the politics of blame they believe impacted their communities under the prime ministership of Tony Abbott.
Keysar Trad, spokesman for the Islamic Friendship Association of Australia, says he is hopeful Mr Turnbull will serve the interests of all Australians. "Certainly the last period of the Abbott government saw more brazen attitudes from groups like Reclaim Australia and attacks on Islam, the Senate inquiry into halal certification; all these things that were very, very divisive in Australian society and seemed to find their nurturing grounds in the last few months of the Abbott government," Mr Trad said.
Mr Trad said he would write to Mr Turnbull in the coming days to congratulate him and to also seek a dialogue. "Malcolm Turnbull does come across as progressive and as pragmatic, and let's just hope that within this pragmatism there's a good appreciation for a diverse nation," Mr Trad said. "Our diversity is part our tremendous wealth, it's part of our richness, and let's hope he can nurture that positively." Mr Trad said he had been contacted by Muslims "expressing a sense of relief that we may have a chance now of moving forward and moving away from the politics of blame".
"We hope Australia will go in a direction that serves the interests of all Australians, a direction that will unite us as a nation and make us more cohesive, a direction that exhibits respect for difference in attitudes and difference in cultures that allows us use our differences for the benefit of Australia, rather than making us feel that we have to be defensive about our differences." Muslim leaders have previously shown sensitivity towards comments on their communities.
In his landmark national security address in February, Mr Abbott suggested the Muslim community wasn't doing enough to combat the spread of Islamic extremism.
"I've often heard Western leaders describe Islam as a religion of peace," Mr Abbott said at the time. "I wish more Muslim leaders would say that more often and mean it." The comments were criticised by the Lebanese Muslim Association and the Arab Council of Australia.
HIGHER EDUCATION
The change in leadership could spell the end of the Abbott government's higher education reform package that has been voted down in the Senate twice, reports The Australian's higher education editor Julie Hare. Education minister Christopher Pyne has vowed to reintroduce the package for a third time in the current session of Parliament, but that now looks like it might not eventuate.
Belinda Robinson, chief executive of Universities Australia, acknowledged Mr Pyne's "tenacity" adding that change in leadership provides "the opportunity to draw breath, review and bring all stakeholders into the Government' confidence in pursuing a bipartisan approach to properly investing in higher education and research."
MEDIA INDUSTRY
The media sector looks set for a fresh bout of infighting with chief executives bracing for renewed efforts to overturn the media laws after Mr Turnbull won the leadership ballot from Tony Abbott, reports Darren Davidson.
One media boss said "everything is up in the air now" after the issue appeared to be dead and buried. Another chief executive seized on Mr Turnbull's promise to review and adapt policies in his first comments as leader of the Liberal Party as evidence he could open the door to scrapping the population reach rule and two out of three cap.
But one media boss cautioned Mr Turnbull had "bigger priorities" like the economy, pointing out the position of the National Party is "critical" to any move.
Mr Abbott put changes to the media laws on hold after Mr Turnbull advanced the prospect of sweeping changes in March by making a policy recommendation to Mr ­Abbott's office.
HEALTH
Australian Medical Association president Brian Owler said the Abbott government was "plagued" by poor health policy and urged Mr Turnbull to rebuild the Coalition's "severely damaged" credibility.
"The ill-fated GP co-payment and the scrapping of public hospital funding to the states severely damaged the government's health policy credentials," Dr Owler said.
"The management of the health portfolio has improved, but there is still so much to be done to strengthen the health system to meet the needs of a growing and ageing population."
Dr Owler said the government needed to immediately lift the freeze on Medicare rebates.
"Other priorities include a genuine, transparent consultative approach to the Medicare Benefits Schedule Reviews; the restoration of public hospital funding; a review of the private health insurance system; significant new investment in general practice; and coordinated medical workforce planning."
The AMA acknowledged Tony Abbott's personal commitment to indigenous health and his decision to reverse his policy of imposing a co-payment on GP visits.