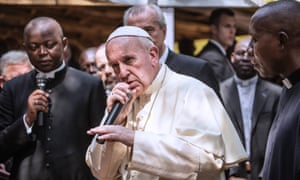 Pope Francis gestures as he gives his blessing in Bangui – in an image that has sparked a new career in hip-hop. Photograph: Gianluigi Guercia/AFP/Getty Images
December 2, 2015 4:40pm
FUNDAMENTALISM is a "disease of all religions" including the Roman Catholic Church, Pope Francis has declared in a series of rousing speechs about terrorism.
On the final leg of his first tour to Africa, the figurehead of the Roman Catholic Church dismissed the perception that violent extremists are restricted to the Islamic faith.
"We Catholics, we have a few, even many fundamentalists. They believe they know absolute truth and corrupt others," he said.
"I can say this because this is my Church."
He called on his Christian and Muslim "brothers and sisters" to end religious unrest.
While visiting a mosque in the Muslim neighbourhood of Bangui in Central African Republic, Pope Francis was met with a thunderous welcome from thousands of locals.
Editorial Comment:
What…No Terrorist attack?? Of course not.
Welcome to the One World Religion, except fundamentalists!