---
On 22 May 2017, a suicide bombing was carried out at the Manchester Arena in Manchester, England, after a concert by American singer Ariana Grande. The attacker, identified by police as Salman Abedi,[6][9] a 22-year-old Briton of Libyan descent, detonated an improvised explosive device as concertgoers were leaving the arena. The explosion killed 22 people, including Abedi, and injured 59 others.[1)
Manchester false flag: "Man, 22, kills 22 on May 22". Terror attacks on the 22nd day
Islamic State supporting accounts tweeted about an attack on Manchester arena – four hours before a suicide bomber killed at least 22 people and injured 59 others at an Ariana Grande concert.
Manchester Arena was rocked by a huge explosion as children and their parents made their way towards the exit after the pop singer's final performance.
Families are still searching for their loved ones as police confirm children are among the dead.
Reports are beginning to emerge there were warnings on Twitter – four hours before the attack.
Less than 24 hours removed from the latest horrific ISIS inspired terrorist attack in the UK, a talking head on CNN programming has suggested that the bombing could actually be a 'right wing false flag' in order to 'frame Islamists'.
While admitting that the attack was most likely an Islamist plot, the analyst claimed that there have been multiple instances in Europe of "right wing extremists" plotting to carry out attacks to make it appear that Muslims were to blame.The comments appear to have been made on CNN in the first couple of hours of coverage of the attack.Meanwhile, BBC anchor Katty Kay told viewers that Europeans must "get used to terror attacks because we are never going to be able to totally wipe this out."Kay made the comments on MSNBC's Morning Joe:https://twitter.com/JackPosobiec/status/866988283615641600"As ISIS gets squeezed in Syria and Iraq, we're going to see more of these kinds of attacks taking place in Europe and Europe is starting to get used to that." Kay added, with the caveat that no one is "used to having children targeted."

Kay's comments echo those of London Mayor Sadiq Khan, who before the Westminster attack in March said that terrorist attacks are 'part and parcel' of living in a major city.

Police have now arrested a suspect, and named the suicide attacker as 23-year-old Salman Abedi, who was known to British authorities prior to the attack.

British Prime Minister Theresa May said that there is an ongoing investigation to determine if the attacker "was acting alone, or was part of a wider group."

"This attack stands out for it's appalling, sickening cowardice, deliberately targeting innocent, defenseless children and young people who should have been enjoying one of the most memorable nights of their lives." May said.

"This was among the worst terrorist incidents we have ever experienced in the United Kingdom." The Prime Minster added.

Breitbart reported that Monday as the news developing about the Manchester terror bombing after the completion of an Ariana Grande concert, CNN terrorism analyst Paul Cruickshank laid out for host Anderson Cooper the likelihood that the explosion was the result of a suicide bomber motivated by radical Islamic extremism.

However, Cruickshank did say "it must also be noted" there had been a number of "false flag plots" orchestrated by "right-wing extremist" in Europe.

"Well, obviously a suicide bomber, that would be the hallmarks of an Islamist terrorist plot attack," Cruickshank replied. "So, they'll be looking in that direction tonight if they indeed do confirm there was a suicide bomber involved. There eyewitnessed interviewed in the last few minutes on BBC Radio talking about what they're describing as nuts all over the floor. And that would be consistent with a kind of shrapnel-type of device, which we've seen groups like al-Qaeda and ISIS encourage their recruits to build. So that's the only way this is pointing tonight. We cannot conclude that for sure at this stage. We are going to have to wait for police to tell us much more in the hours ahead."

"But given the fact that they're looking into this real possibility, and it is there would appear some evidence that this was a suicide bombing– that certainly takes you down the Islamist terrorist direction," he continued. "It must also be noted that in recent months in Europe, there have been a number of false flag plots where right-wing extremists have tried frame Islamists for terrorism. We have seen that in Germany in recent weeks. But a suicide bomber does take you down the direction of Islamist terror."

BOMB TIMED TO INFLICT 'MAXIMUM CARNAGE'

British Prime Minister Theresa May said Abedi deliberately chose to detonate an explosive at the end of the show to inflict "maximum carnage."

Islamic State has claimed responsibility for the bombing, but Chief Constable Ian Hopkins said it was not clear yet how many other people were involved in the planning.

"Our priority, along with the police counterterrorist network and our security partners, is to continue to establish whether he was acting alone or working as part of a wider network," he said Tuesday afternoon.

Theresa May said the attack was among "the worst terrorist incidents" in UK history.

"A single terrorist detonated his improvised explosive device near one of the exits of the venue, deliberately choosing the time and place to cause maximum carnage and to kill and injure indiscriminately," she said outside her official residence at 10 Downing St, London.

IS SAYS BOMBER TARGETED CONCERT 'GATHERING'

Meanwhile Islamic State released a statement to sympathetic news agency Amaq, praising the bomber.

"With Allah's grace and support, a soldier of the Khilafah (Caliphate) managed to place explosive devices in the midst of the gatherings of the crusaders in the British City of Manchester, in revenge of Allah's religion, in an endeavour to terrorise the mushrikin, and in response to their transgressions against the lands of the Muslims," the statement read.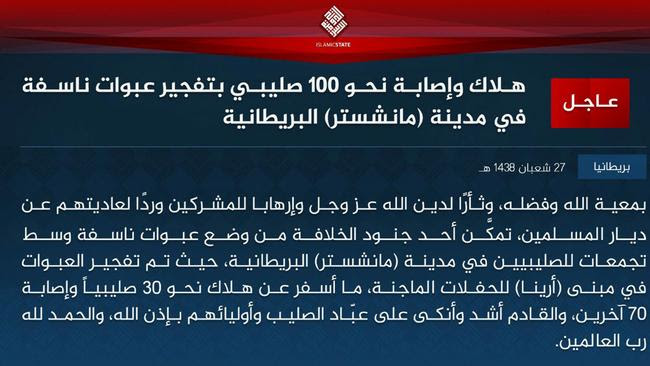 "Mushrikin" refers to people who do not worship Allah, who fundamentalist Muslims believe is the one and only god. (Which should be ALL muslims)
"The explosive devices were detonated in the shameless concert arena, resulting in 30 (sic) crusaders being killed and 70 others being wounded," the statement continued.
"And what comes next will be more severe on the worshippers of the Cross and their allies, by Allah's permission. And all praise is due to Allah, Lord of creation."
The US singer is devastated following the attack and yesterday tweeted how sorry she was that it took place.
As usual Police have now arrested a suspect, and named the suicide attacker as 23-year-old Salman Abedi, who was known to British authorities prior to the attack.