---
KEY LARGO, Fla. (AP) —
Hurricane Irma is the strongest hurricane ever recorded in the Atlantic Ocean outside of the Caribbean Sea and the Gulf of Mexico.
A Category 5, it is currently heading toward Southern Florida; the Florida Keys announced a mandatory visitor and resident evacuation will begin Wednesday morning. Miami-Dade County's emergency management Twitter posted a list of evacuation centers today, and Miami's mayor has saidevacuations for the city will begin Wednesday.
Irma is expected to reach Florida by this weekend, and if you could be affected, begin preparing now. If there is an order to evacuate, do not ignore the order. If there is an order to stay at home, sometimes that can be safer than leaving.
Hurricane Irma's size and strength put the entire state of Florida on notice Tuesday, and residents and visitors prepared to leave in anticipation of catastrophic winds and floods that could reach the state by this weekend.
Throughout South Florida, officials readied evacuation orders and people raided store shelves, buying up water and other hurricane supplies. Long lines formed at gas stations and people pulled shutters out of storage and put up plywood to protect their homes and businesses.
Parker Eastin filled up his gas tank at a busy fuel station. He and his girlfriend said they decided to plan well in advance after seeing what Hurricane Harvey did to Texas.
"We ordered water off Amazon because the stores were out and also ordered food," said Eastin, a 43-year-old lawyer who has lived in Florida for 12 years. "Seeing the devastation in Texas is a sad reminder that you have to take the events very seriously."
Irma's winds were 185 mph (297 kph) Tuesday, a strong Category 5 storm, and forecasters say it could strengthen more as it neared the eastern-most Caribbean islands, according to the National Hurricane Center in Miami.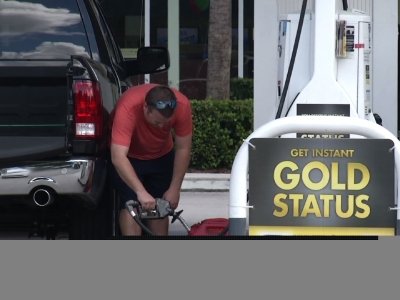 The storm had the most powerful winds ever recorded for a storm in the Atlantic Ocean and posed an immediate threat to the small islands of the northern Leewards, including Antigua and Barbuda, as well as the British and U.S. Virgin Islands and Puerto Rico.
The last major storm to hit Florida was 2005′s Wilma, its eye cutting through the state's southern third as it packed winds of 120 mph (193 kph). Five people died.
Florida Gov. Rick Scott declared a state of emergency in all 67 counties to give local governments "ample time, resources and flexibility" to prepare for the storm. President Donald Trump also approved a federal emergency declaration for the state ahead of the storm, according to the Federal Emergency Management Agency.
Scott warned that although officials don't know the storm's exact path, winds are likely to be "extreme and life-threatening" and the impacts could be felt inland, away from the coast. He said Floridians need to follow any evacuation orders.
"This storm has the potential to devastate this state, and you have to take this seriously," Scott said from the state's emergency operations center in Tallahassee, the state capital. "Remember: We can rebuild your home; we cannot rebuild your life."
In the Florida Keys, a chain of 42 low-lying islands that includes Key West, government officials said visitors would be told to leave Wednesday and residents should be out by the next day.
"This is not one to fool around with," said Monroe County spokeswoman Cammy Clark, whose county contains the Keys.
Under a mandatory evacuation order, no one is forced by police or other government agencies to leave, but anyone who stays should not expect to be rescued if they are in danger, officials said. The island chain has only one highway connecting it to the mainland.
Keys residents are famous for riding out hurricanes, but Randy Towe, who owns a recreational fishing company in the Keys, said Irma is different.
"I've talked to a lot of Conchs (Keys natives) whose families have lived here a hundred years, and they say this certainly might be a big one," said Towe, who has lived in the Keys 36 years.
TO STAY OR GO?
If the storm is heading your way but there is no evacuation order, consider the following in deciding whether to stay:
If you live in a mobile home or are concerned about the structural integrity of your home, you should evacuate to a public shelter or stay with family or friends, even if you are in a low-risk area.
Check if you are residing in a Storm Surge Planning Zone via your city or county's website or by calling 311. Storm Surge zones indicate areas at risk for a rise of at least 1.5 feet of water and that risk is marked with a ranking of A_E. (Here is a map of Miami's Storm Surge Planning Zones.) Every area in a surge zone is at risk for at least one possible storm scenario.
If you or a loved one is elderly, has special needs, or medical concerns, you should evacuate.