---
New Zealand's new government has been put in the hands of Winston Peters, a cantankerous, anti-immigration politician, after vote counting finished in the general election.
Neither of the major parties – National, led by the incumbent prime minister, Bill English, or Jacinda Ardern's Labour – secured enough seats to form a majority government in a frustrating poll on Saturday. National secured 46% of the vote, giving it 58 seats in parliament, while Labour took home 35.8% and 45 seats.
Both parties were scrambling to form coalitions with the minor parties in order to reach 61 seats and the ability to govern in the 120-seat parliament.
Peters, the unpredictable leader of the populist New Zealand First party, became kingmaker after gaining 7.5% of the vote and nine seats, although not his own seat of Northland. The 72-year-old lawyer made a teasing statement to the media about his intentions before rushing to board the last ferry home on Saturday night.
"As it stands I believe we hold the balance of responsibility and we are not going to be hasty with that and we are not going to rush out and make a decision tonight," said Peters, speaking from the pub in Russell where he held his election party, hundreds of kilometres north of Auckland, where the major parties were staging their events.
"I will not make a decision tonight or tomorrow until I have talked to all of New Zealand First … that will take us some time.We invite you to be patient: don't ask us who we are going to go with."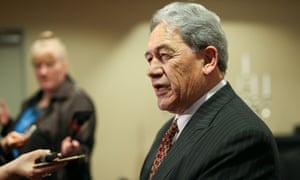 In their own election night speeches, English and Ardern immediately started courting Peters, with the latter making explicit references to Labour policies that would appeal to Peters, such as pulling more New Zealanders out of poverty. Labour has already pledged to cut immigration by up to 30,000 if it forms the next government.
"When it comes to any conversations about potential future governments, that's a conversation for tomorrow," said Ardern, from a packed Labour HQ in Aotea Square, Auckland, where she was mobbed by supporters.
"There are special votes to come … I'm hopeful that we'll see a little bit of a lift. I'll certainly reach out [to Peters] tomorrow. We'll all be working to resolve this as quickly as we can."
English said he was in a strong position to negotiate, as National needed only three or four more seats to form a government, while Labour needed the support of both the Greens – who are set to take seven seats – and NZ First.
"We negotiate from a pretty strong position, a pretty good endorsement from the public," English said.
"The voters of New Zealand have given New Zealand First a role in forming the next government. In the next few days we will begin discussions with NZ First finding common ground and most importantly taking on the responsibility of forming the kind of government that will enable New Zealand to get on with the job of success – a strong and stable government for all New Zealanders."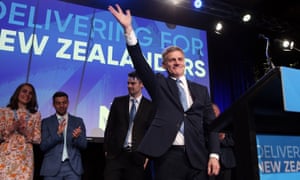 The official election results – including special votes, such as those cast overseas and by people outside their home constituency – will not be known for two weeks. It is not out of the question that negotiations between Peters and the major parties could continue until the second week of October.
Provisional result
100.0% of results counted
NZ First has previously worked with both major parties, entering into a coalition with National after the 1996 election, with Peters serving as deputy prime minister, and forming a confidence-and-supply agreement with Labour in 2005, which saw him appointed foreign minister.
But he is a controversial figure in New Zealand politics. In 1996 he campaigned to close borders to what he called the "Asian invasion", and since then he has continued to call for a crackdown on immigration, which he says is the cause of New Zealand's housing and social problems.
To move towards 61 seats, National can count on the support of David Seymour, the sole MP elected for ACT, a rightwing libertarian party.