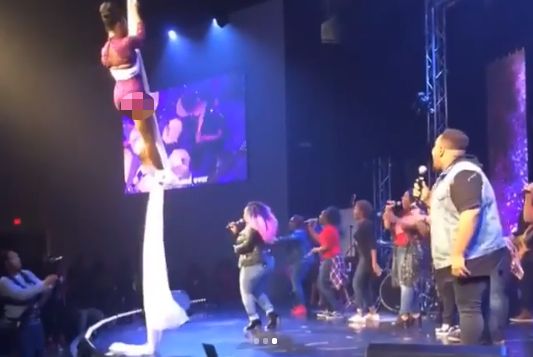 Christiannews 3 May 2018
---
ATLANTA, Ga. —
Concerns are being raised as Atlanta's Embassy Church has announced that it plans on making aerialists a "full part" of its "normal worship experience."
Bryan Meadows, who leads Embassy, recently posted photographs and a video from the CreativeCon Conference, which included a time of worship that incorporated a female aerialist suspended from the ceiling.
"@EmbassyCity fully plans on making aerialists a FULL PART of our normal worship experience!" he wrote. "We endeavor to create a culture driven by the creativity and character of Christ! This was one of my favorite highlights!!!"
The post, while generating over 300 likes, has also both garnered applause and raised eyebrows.
"So cool! So out the box!" one commenter wrote.
"This is HOT!!" another stated.
"I'm all for using all our gifts in the house of God, but how about she covers up her lower body? It can be as distracting as a male worshipper topless," a third asked.
"The church is the gathering of God's children to worship, not for a form of entertainment. This shouldn't be taking place at church," another said.
Meadows responded to some of the comments, including one follower who asked why having an aerialist is even necessary during worship.
"Because they shouldn't have to go to the circus to use the gifts that God gave them!" he said.
"The church should be able to create space so that everyone can use their gifts to glorify God. People may be distracted for a couple weeks, but they will get used to it!"
"If people can get used to all of the other foolery that happens in church, I'm sure they can get used to somebody genuinely trying to use their gifts to worship God," Meadows stated.
Editor: This is their logic?! The Pastor has just said 'other foolery', equating that with the trapeze aerial act in HIS own church?
According to the Embassy Church website, Meadows believes that Christians should be active in "various world systems and sectors, such as government, business, entertainment, family, arts and media, and education."
Editor: This is New Apostolic Reformation (NAR) thinking. Instead of influencing the world, the leaven of the world is corrupting the church.
"This is how this generation will rise and establish the Throne of our God, the Lord Jesus Christ," it states.
However, David Whitney, pastor of Cornerstone Evangelical Free Church in Pasadena, Maryland, told Christian News Network that he believes having an aerialist suspended from the ceiling during the time of worship is a distraction from focusing on the Lord and "illustrates how great the need is for revival, repentance and restoration in our land."
"Biblical worship is conducted for an audience of One, even the One True God."
In His Word He tells us what worship is acceptable to Him. For example, 1 Chronicles 16:28 [says], 'Give unto the Lord the glory due unto His name: bring an offering and come before him: worship the Lord in the beauty of holiness,'" he said.
"Thus, an aerialist would seem to detract from the whole purpose of a worship service, which is to focus on giving the glory and praise to God alone," Whitney stated. "The claim made that this is simply 'somebody genuinely trying to use their gifts to worship God' is disingenuous. The worship of the One True God must conform to what pleases Him as He has spoken in His Word."
He pointed to Christ's lament in Matthew 15:8-9 as a reminder that God's people must be careful how they worship.
"This people draweth nigh unto me with their mouth, and honoreth me with their lips, but their heart is far from Me," Jesus said. "But in vain they do worship me, teaching for doctrines the commandments of men."
Whitney likewise remarked that the aerialist's attire was concerning, and pointed to 1 Timothy 2:9, which says that women are to "adorn themselves in modest apparel with shamefacedness and sobriety." Meadows told a concerned commenter that the issue of clothing can be discussed.
"We need to pray for our land, that a revival would break forth and the people would return to the true worship of the One True God," Whitney said.
Editor:
This is not the first time
Taken from the book —  Hellsong – The Music of Hillsong
God wants and desires worship on his terms. Not all worship is accepted by God even though we might label it worship.
A young woman suggested that there is nothing wrong with dancing, singing and having a party to praise Jesus. She went onto say, 'I don't think God has a problem with people partying and getting excited and happy if they are doing it for Him.'
This is the error of Israel wrapped in modern thinking and sophistication. The Israelites danced around the golden calf, and thought they were worshipping YHWH, and today's worshippers party, thinking that in their concerts and conferences they are worshipping Jesus.
The Christian music industry is now celebrity driven. The song is irrelevant. The focus is on the person, and the songs have become disposable. Most of our ills can be directed at this circus of Christian entertainment, which is giving a generation a palatable Christianity, a people who know nothing of seeking after God. We are now seeing a crisis among today's Christian youth.
The Bible commands Christians to separation, to stand against the world, the flesh, and the devil. Yet these three are accommodated and even embraced by most Christian 'evan-jellyfish'.
We no longer fight the good fight of faith, but we enjoy the great god entertainment and join forces to market the church. Religious entertainment is now the mainstay of church life and is 'crowding out the serious things of God.'
God's word is NOT silent when it comes to principles and pieces of evidence of biblical music! Who, after all, is supposed to be the focus in worshipful music? God!
Here are just a few passages to show this is obvious:
And they sang together by course in praising and giving thanks unto the Lord; because he is good, for his mercy endureth for ever toward Israel. And all the people shouted with a great shout, when they praised the Lord, because the foundation of the house of the Lord was laid. (Ezra 3:11)
Sing to the LORD, For He has done excellent things; This is known in all the earth. (Isa. 12:5, see also 2 Chron. 20:21)
What principles do you see? Music should speak of God's holy character. Music should communicate who God is and what He is like.
Who should be exalted in words of song? Again, God.
But not in the seeker-sensitive emergent evangelical hybrid megachurch!
Notice that Moses knew right away that the music that he was hearing from down in the valley was NOT associated with worship to YHWH. Joshua wasn't so sure, but Moses knew it was music associated with pagan worship. It's the same today. There are certain types of music that are associated with the world and are in outright rebellion against God. It's because leaders have not sought God on the mountaintop, that they have established churches on the basis of the wisdom of the valley, on the philosophy of men.
Can you envisage the Rolling Stones song 'Start Me Up' made into some sort of makeshift Christian anthem? The idea is monstrous!
No greater crime has been meted out by the evangelical church than a god that is malleable and conforms to our choices, wants, and desires. The God of Abraham, Isaac, and Jacob, shaped and molded by modern-day culture, the worship of the eternal God, marketed through worldly concepts.
Charles H. Spurgeon once said, 'The devil has seldom done a cleverer thing than hinting to the Church that part of their mission is to provide entertainment for the people, with a view to winning them. From speaking out as the Puritans did, the Church has gradually toned down her testimony, then winked at and excused the frivolities of the day. Then she tolerated them in her borders. Now she has adopted them under the plea of reaching the masses.'7
Rock music, chart-topping hits, multimedia, and charismatic Cirque du Soleil* are common place in the house of God on any given Sunday in this present godless era.
The current 'ministers' in God's house cry out, 'These be your gods, O Israel' and happily the people rise up to play.