Lance Goodall 20 Oct 2018
---
Abortion will no longer be a crime in Queensland, after state MPs voted last Wednesday night to remove the procedure from the criminal code.
The historic reforms were passed in the Queensland Parliament on Wednesday night via a conscience vote.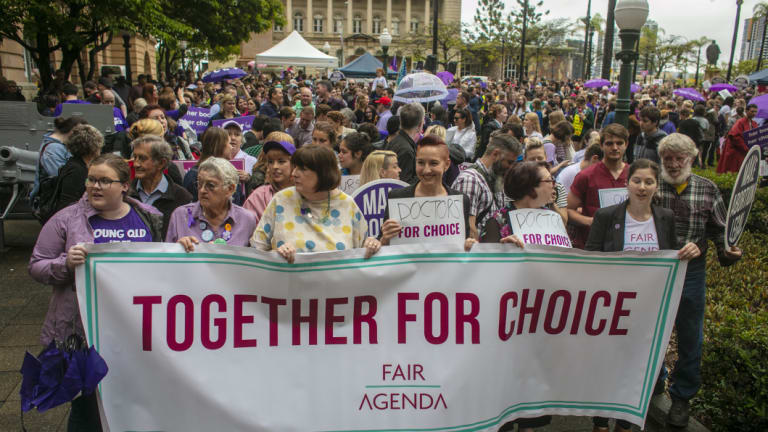 The Termination of Pregnancy Bill removes the procedure from the criminal code, allows abortion on request up to 22 weeks and introduces safe access zones of 150 metres around clinics to shield women from harassment.
It also allows abortion after 22 weeks with consent from two doctors, and requires conscientious objectors to refer women to a medical practitioner who will perform a termination.
The bill passed its second reading with 51 votes to 41 in favour.
Premier Annastacia Palaszczuk said the Termination of Pregnancy Act 2018 will ensure women can access services and health professionals can provide these services without fear or stigma.
"It's taken a century to get to this point," Ms Palaszczuk said.
"I think [the debate] has been very considered, most of the time. People were able to have their say and they were able to get more information."
Question: Why does a parliament get to vote on our behalf on such an important topic?
Remember the plebiscite on same-sex marriage that went to a national vote?
AUSTRALIAN ABORTION STATISTICS
It is estimated that half of all pregnancies in Australia are unplanned and that half of those are terminated [1]; also that between one quarter and one third of Australian women will experience an abortion in their lifetime [2].
There is no standardised national data collection on unplanned pregnancy and abortion in Australia, and different states have different laws and regulations – and therefore different reporting mechanisms – regarding abortion procedures.
The 2005 estimate found that 83 210 induced abortions were performed in a year, with women aged 20-29 years the most likely to present for abortion 
[3]
While this estimate is widely used, however, the abortion rate could have altered considerably in ten years (as it has in South Australia, see below); additionally, the ability to calculate this using the methods in that report has changed with the increasing availability of medication abortion.
The Number of Abortions In Australia
In Australia it is guesstimated that some 80,000 abortions are performed annually, of which 14,000 are currently performed in Queensland
In 2015 two public health students on placement attempted to pull together all the available data on abortion in Queensland. Their conclusion was that, due to a number of contributing factors, 'a statistically significant estimate could not be made'.
It is generally accepted that somewhere between 10,000 and 14,000 abortions take place each year in Queensland, but without standardised data collection and reporting it is impossible to narrow that broad estimate down any further.
South Australia is Benchmark
III. Terminations of Pregnancy
1. Numbers and rates
There were 4,439 terminations of pregnancy notified in South Australia in 2015, 211 fewer than in 2014.
There were 13.5 terminations of pregnancy per 1,000 women aged 15-44 years. Following the introduction of specific legislation
in 1970, the pregnancy termination rate rose to a peak of 13.9 in 1980, followed by a period of relative stability in the
1980s.  Another increase commenced in 1991 reaching a peak of 17.9 in 1999 (Table 60 and Figure 11), from which
time there has been a steady decline.
2. Age of women
The age distribution of women who had pregnancies terminated in 2015 is shown in Table 61. Among the five-year
age groups, the highest pregnancy termination rate was among women aged 20-24 years (21.3 per 1,000 women),
followed by women aged 25-29 years (19.4 per 1,000 women).
Pregnancy termination rates continued to fall for teenage women, from 10.3 per 1,000 women in 2014 to 8.6 per 1,000 women aged 15-19 years in 2015.
The teenage pregnancy rate (including live births and induced abortions) continued to decline, and in 2015 was the lowest
on record for the state at 19.4 per 1,000 women aged 15-19 years compared with 22.1 in 2014 (Figure 13).
The'abortion proportion' (induced abortion as a proportion of induced abortions and live births) was 0.18.
It was highest among teenagers (0.40), and was also high among women aged 20-24 years (0.31) and women aged 40-44 years (0.26).
This indicated that about 40% of known teenage pregnancies were terminated.
This proportion was highest for younger teenagers (0.82 for those aged <15 years).
The 80,000  national figure was from the 2005 paper by the Australian Institute of Health and Welfare (AIHW), which pulled together a complex web of medical statistics to estimate terminations around the country.
It was based on figures from the year 2003 — 14 years ago — and suggested a rate of 19.7 abortions for every 1,000 women of childbearing age.
Violent Unprovoked Attack
The next morning after the abortion laws were passed, police are seeking to solve a violent attack on a young girl who was slashed 20 times on the face on her way to school.
Police are investigating what they've described as a "vicious and cowardly" attack in Logan, south of Brisbane.
Key points
A 12-year-old girl was walking to school at 7:40am through a pedestrian tunnel
She was approached randomly by a man armed with a knife
He slashed her approximately 20 times before fleeing the scene
The 12-year-old was walking to school at Kingston State College this morning, when she was approached by a young man in a pedestrian tunnel under the Logan Motorway, just before 8:00am.
He repeatedly slashed her across the face with what's believed to have been a box cutter.
Detective Acting Inspector Grant Ralston said it was a random, unprovoked incident.
"The young girl is very brave," he said.
"She fought as best she could and after being struck approximately 20 times across the face. Incredibly she managed to pick herself up and run towards her school at Kingston … and the offender ran off in the other direction."
'It's hard to believe this has happened': Police
Detective Acting Inspector Ralston said it was a violent attack.
"The assault could only be described as vicious and cowardly," he said.
"The young girl was minding her own business on her own walking to school with her school bag and this male offender had struck the victim for no reason."
Mr Ralston said the offender said nothing to the victim during the assault.
"It's quite amazing nothing was said by the offender, he approached this young girl and simply started striking her in the face. It's hard to believe this has happened, it's horrific."
Police said there was a man aged between 50 and 60 walking two dogs outside the tunnel who may have witnessed the attacker and officers were eager to talk to him.
"I'd like to appeal to the public for dashcam footage or eyewitness accounts, if there was anyone in or around the Princess Street, Kingston area between 7:30am to 7:50am please come forward," he said.
The student was undergoing surgery on Thursday afternoon.
Her attacker was described as Caucasian in appearance, about 18 years old, with a proportionate build, narrow face and short, light brown hair that was flicked back off his forehead.
He was wearing a fluorescent yellow  collared shirt and pants or jeans.
Acting Inspector Ralston said he had NEVER heard of such a severe attack on a young girl in the area before.
"We want to catch this person, we want the public to please help us. We hope it won't happen again, we don't believe it will."
Domestic Violence In Australia – The Breakdown of the family
Notably, while the ABS statistics have remained relatively stable, calls on services have increased significantly over recent years.
Applications for domestic violence protection orders in Queensland have jumped from 23,794 in 2012-13 to 32,221 in 2015-16 – a 26% rise.
Similarly in Victoria, 74,551 family violence and personal safety matters were heard by the Victorian Magistrates Court in 2015–16.
This was a 27% increase since 2011–12.
In Queensland, reports to police of breach of domestic violence protection orders have more than doubled between 2012 and 2017 and these have also increased significantly in Victoria.
According to annual reports, calls for support to Queensland's domestic violence support line, DVConnect, have tripled between 2012 and 2016.
Safesteps, Victoria's domestic violence support line, has seen a similar increase.
Australian police deal with an estimated 657 domestic violence matters on average every day of the year. That's one every two minutes.
Overall, the count is 239,846 per year around the country.
Young attend a pro choice rally in 2016 
Note that in the earlier South Australian statistics above that the sexually active teens and women in their mid-twenties accounts for the highest percentage of abortions.
These laws are purely a resignation to the reality that we want no restriction, and therefore no moral accountability when it comes to our sexual urges.
So Premier Palaszczuk's  Pregnancy protocol to ensure women can gain full access to services and health professionals is but a smokescreen, and is nothing more than acquiescing to a feminine agenda, to a culture of corruption and convenience.
Abortion may no longer be a crime in Queensland, but violence in the womb, will bring violence to the streets