---
California Democrat Nancy Pelosi has again been elected as Speaker – the third most powerful role in Washington – in the US House of Representatives.
She reclaimed the gavel after the most diverse class of lawmakers were sworn in and as Democrats took control of the House after mid-term elections gains.
As outlined on Wikipedia, in mid-November 2006 it was reported that Keith Ellison, the first Muslim ever elected to the United States Congress (as a representative for Minnesota's 5th congressional district), would take his oath of office with his hand on the Qur'an.[1][2]
In reaction to the news, conservativemedia pundit Dennis Prager criticized the decision in his November 28, 2006, column titled "America, not Keith Ellison, decides what book a Congressman takes his oath on."[3]
The column attracted national attention from supporters of both Ellison and Prager. Presented with the fact that all members of the House swear in (or affirm) en masse without the use of any religious text, and that such works are only used in ceremonial reenactments afterwards, Prager stated "that's the whole point: it's exactly because it's ceremonial that it matters."[4]
The controversy became more heated when Rep. Virgil Goode (R–VA) issued a letter to his constituents stating his view that Ellison's decision to use the Qur'an is a threat to "the values and beliefs traditional to the United States of America…[and] if American citizens don't wake up and adopt the Virgil Goode position on immigration there will likely be many more Muslims elected to office and demanding the use of the Koran."[5] Goode's foray into the controversy caused many other members of Congress to weigh in.
Ellison went on to use the English translation of the Qur'an owned by Thomas Jefferson for the swearing-in ceremony.[6][7]
                                                 Ellison's photo-op reenactment of his swearing in ceremony with Thomas Jefferson's Quran
Pelosi's victory came as the US government remained partly shut down in a row over funds for the president's border wall.
Ms Pelosi has said she wants to end the shutdown but will not support the wall.
"I'm particularly proud to be a woman Speaker of the house of this Congress, which marks the 100th year of women having the right to vote," she said.
"And, that we all have the ability and the privilege to serve with over 100 women members of Congress – the largest number in history. "
Ms Pelosi, 78, seized the gavel as the House welcomed more women than ever before in the 116th Congress.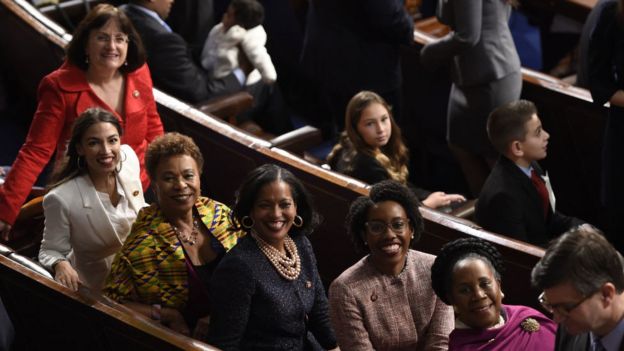 A historically diverse Congress
As of Thursday, 102 women serve in the House, an all-time high, including 36 newly elected members and a record 43 women of colour.
While Republican women marked some firsts this past election season – like Marsha Blackburn becoming the first female Tennessee senator – the vast majority of these new lawmakers are Democrats.
Among them are the first Muslim congresswomen – Michigan's Rashida Tlaib and Minnesota's Ilhan Omar – and the first Native American women to serve – New Mexico's Debra Haaland and Kansas' Sharice Davids.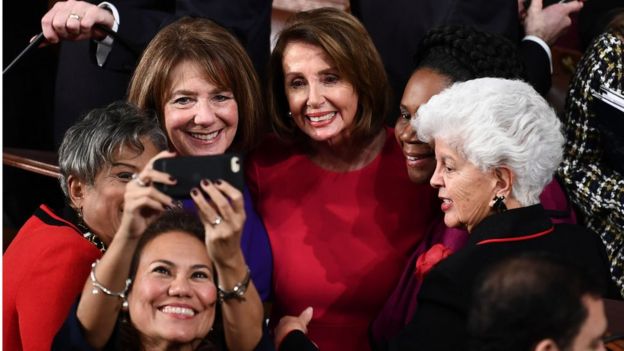 Alexandria Ocasio-Cortez of New York also became the youngest woman ever elected to Congress.
While celebrating the Democratic diversity during the swearing-in ceremonies, some on social media highlighted the contrast to the Republican members, who are mostly white men.
Congresswoman overcomes 181-year headwear ban while Rashida Tlaib takes oath on Qur'an that belonged to Thomas Jefferson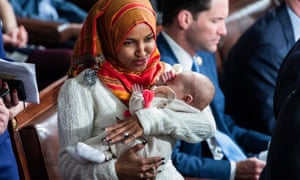 Twenty-three years after leaving a refugee camp in Kenya, Ilhan Omar on Thursday became the first member of the US Congress to wear a hijab.
Rules were changed to allow Omar, a Muslim sworn in on the Qur'an, to wear a religious head covering on the floor of the House. There had been a 181-year ban on headwear of any type in the chamber.
"No one puts a scarf on my head but me," she tweeted last November. "It's my choice – one protected by the first amendment. And this is not the last ban I'm going to work to lift."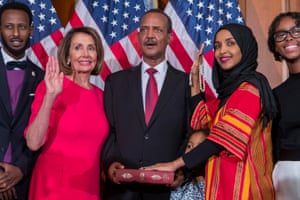 Omar, a Democrat, was part of a historically diverse freshman class in the 116th Congress sworn in amid cheers and jubilation.
The House now has a record 102 women and a new generation of Muslims, Latinos, Native Americans and African Americans, more closely resembling the US population and set to take on Donald Trump in a new era of divided government. But on the Republican side, the House still consists mostly ofwhite men.
Omar, 36, from Minnesota, tweeted: "As a kid, I acted as my grandfather's translator at our caucuses and he was the one who first sparked my interest in politics. I wish he could be here to witness this historic moment, but he was here in spirit as I placed my hand on his Quran for the ceremonial swearing in."
She was one of the first two Muslim women elected to Congress. The other was Rashida Tlaib, who did not wear a hijab. Tlaib took the oath on a Qur'an – a 1734 English translation that belonged to the former president Thomas Jefferson.
Tlaib wore a traditional thobe stitched by her Palestinian-born mother.
When she stood to cast her vote for Nancy Pelosi as speaker, Tlaib's sons, Adam, 13, and seven-year-old Yousif, were standing by her side.
Pelosi was comfortably returned to the post of House speaker, making her once again the most powerful woman in American politics. The 78-year-old invited at least two dozen children to join her on the dais as she was sworn in, calling the House to order "on behalf of all of America's children".
When incoming U.S. congresswoman Rashida Tlaib is sworn into office Thursday, she will use Thomas Jefferson's centuries-old Quran.
Some might be shocked that Jefferson owned an English-translated Quran that dates back to 1734. But Tlaib — one of the two first Muslim women elected to Congress in November — said she's okay with that reaction, according to CNN.
"I like that," the Democrat told CNN. "I like that it's kind of pushing against the stereotype that somehow we're new to this country."
Jefferson's Quran was also used by Democratic U.S. Rep. Keith Ellison in 2007 when the Minnesota congressman took his own oath of office, according to The Washington Post.
As noted by The Washington Post, the historic Quran includes an opening from George Sale, who translated it into English, that sheds a less-than favorable light on Islam.
"Whatever use an impartial version of the Koran may be of in other respects, it is absolutely necessary to undeceive those who, from the ignorant or unfair translations which have appeared, have entertained too favourable an opinion of the original, and also to enable us effectually to expose the imposture," the opening says, according to The Washington Post.
But for Tlaib, using the Quran sends an unmistakable message after she and incoming Rep. Ilhan Omar, a Democrat from Minnesota, made history in the 2018 midterms as the first two Muslim women elected to Congress.
"It's important to me because a lot of Americans have this kind of feeling that Islam is somehow foreign to American history," Tlaib told The Detroit Free Press. "Muslims were there at the beginning. … Some of our founding fathers knew more about Islam than some members of Congress now."
Along with using the Quran, Tlaib "has said she will wear a Palestinian gown called a thobe for her swearing-in ceremony," CNN reported. The Detroit Free Press reported that Tlaib will wear a thobe that her mother specifically created for her during the swearing.
Some on social media have started to post pictures of their own thobes in a show of solidarity with Tlaib.
"Every child of immigrant parents knows what it means," Tlaib told CNN. "Their biggest hope is that they want us to succeed, but they also don't want us to lose a part of who we are."
In an interview with The Detroit Free Press, Tlaib emphasized that she wanted to use the Quran because she "believe(s) in secular government."
"My swearing in on the (Quran) is about me showing that the American people are made up of diverse backgrounds and we all have love of justice and freedom," she told the newspaper. "My faith has centered me. The prophet Mohammed was always talking about freedom and justice."
Omar also made history as the first member of Congress who is a Somali American, while Tlaib is the first Palestinian-American woman to do the same.