Lance Goodall 17 February 2019
---
I had previously produced an article called — Brian Houston Hillsong Homosexuality and how we handle the fallout almost a year ago, which showed the erroneous and dangerous course Hillsong is on.
In the article I explain how Hillsong by trying to tread the middle ground are now drifting away from biblical thinking and biblical standards.
Now a year later, Hillsong Church has issued another statement Thursday afternoon, Feb. 14, 2019 clarifying its position on same-sex attraction and its welcoming of LGBT attendees. The statement emphasizes that Hillsong Church "loves all people," following critical comments made against the denomination over the last week.
Hillsong's full statement reads:
We would like to clarify and correct the following misinformation that has appeared in several media outlets recently:

Hillsong Church does not preach against anyone or any group; we are not "anti-anyone." We are an inclusive Christian church that loves, values and welcomes all people, regardless of their background, ethnicity, beliefs, values or personal identity.

We are also a church that adheres to mainstream biblical values shared by the overwhelming majority of evangelical Christian churches around the world, and millions of Christians across the USA. Believing the teachings of the Bible and loving all people—including those who have different perspectives—are not mutually exclusive. In fact, this is the very definition of tolerance and inclusiveness.

Hillsong Church was founded in 1983 by our senior pastors, Brian and Bobbie Houston, and in all those years, Pastor Brian has been a vocal opponent of gay conversion therapy and has made it clear to our pastors that we do not support that approach.

At Hillsong, we want to be known by who we are for. We are for people finding hope in Jesus; we are for people finding love and acceptance; and we are for helping people in any way we can. Our focus is on pointing people to Jesus as "the way, the truth and the life." No matter where you are in the world, when you enter our doors, you will be greeted with a sign that says, "Welcome Home." That is the heartbeat of Hillsong Church. Indeed, that is the heartbeat of God.
Just minutes before the statement's release, Hillsong founder and senior pastor Brian Houston tweeted, "It is completely false that Hillsong Church practice, recommend, or suggest 'gay conversion therapy' to anyone. I have always been a vocal opponent in fact. Again, it's built on a false narrative."
Read the official Hillsong Church statement below on how they "don't preach against any group", something they call the "heartbeat of God". Funny thing, though, when you read the Bible you see God preaching against all sorts of people and against all kinds of groups that have aligned themselves against the revealed word of God.
"Woe unto you, scribes and Pharisees, hypocrites! for ye shut up the kingdom of heaven against men: for ye neither go in yourselves, neither suffer ye them that are entering to go in.

14 Woe unto you, scribes and Pharisees, hypocrites! for ye devour widows' houses, and for a pretence make long prayer: therefore ye shall receive the greater damnation.

15 Woe unto you, scribes and Pharisees, hypocrites! for ye compass sea and land to make one proselyte, and when he is made, ye make him twofold more the child of hell than yourselves." — Matt 13:13- 15 
To be clear God loves all men and there is no argument here
" For God so loved the world, that he gave his only begotten Son, that whosoever believeth in him should not perish, but have everlasting life." — Jn 3:16
Yet Apostle Paul shows how way off course Hillsong are now when he appealed to the men in Athens;
29 Forasmuch then as we are the offspring of God, we ought not to think that the Godhead is like unto gold, or silver, or stone, graven by art and man's device.
30 And the times of this ignorance God winked at; but now commands all men every where to repent:
31 Because he hath appointed a day, in the which he will judge the world in righteousness by that man whom he hath ordained; whereof he hath given assurance unto all men, in that he hath raised him from the dead. — Acts 17:30,31
Can I ask where is this part of the gospel in Hillsong's 'We are an inclusive Christian church that loves, values and welcomes all people'?
You may accept and welcome everyone but you cannot have a true God fearing, biblical church if you embrace everyone  "regardless of their background, ethnicity, beliefs, values or personal identity."
Hillsong Affirms Their Pro-LGBT Stance In Statement Released Yesterday
FROM REFORMATION CHARLOTTE: In the wake of a recent attack by celebrity Ellen Page against Chris Pratt, an attendee of Hillsong Church, who called Pratt's church "infamously anti-LGBTQ," Hillsong released a statement denying this.
Of course, Hillsong isn't anti-LGBTQ — "we are an inclusive Christian church that loves, values and welcomes all people, regardless of their background, ethnicity, beliefs, values, or personal identity" — says the church who allowed open homosexuals to lead their choir. READ MORE
Official Hillsong Church Statement On LGBTQ Inclusion:
HILLSONG CHURCH LOVES ALL PEOPLE.

WE WOULD LIKE TO CLARIFY AND CORRECT THE FOLLOWING MISINFORMATION THAT HAS APPEARED IN SEVERAL MEDIA OUTLETS RECENTLY:

HILLSONG CHURCH DOES NOT PREACH AGAINST ANYONE OR ANY GROUP; WE ARE NOT 'ANTI-ANYONE'. WE ARE AN INCLUSIVE CHRISTIAN CHURCH THAT LOVES, VALUES AND WELCOMES ALL PEOPLE, REGARDLESS OF THEIR BACKGROUND, ETHNICITY, BELIEFS, VALUES, OR PERSONAL IDENTITY.

WE ARE ALSO A CHURCH THAT ADHERES TO MAINSTREAM BIBLICAL VALUES SHARED BY THE OVERWHELMING MAJORITY OF EVANGELICAL CHRISTIAN CHURCHES AROUND THE WORLD, AND MILLIONS OF CHRISTIANS ACROSS THE USA. BELIEVING THE TEACHINGS OF THE BIBLE AND LOVING ALL PEOPLE – INCLUDING THOSE WHO HAVE DIFFERENT PERSPECTIVES – ARE NOT MUTUALLY EXCLUSIVE. IN FACT THIS IS THE VERY DEFINITION OF TOLERANCE AND INCLUSIVENESS.

HILLSONG CHURCH WAS FOUNDED IN 1983 BY OUR SENIOR PASTORS, BRIAN AND BOBBIE HOUSTON AND IN ALL THOSE YEARS PASTOR BRIAN HAS BEEN A VOCAL OPPONENT OF GAY CONVERSION THERAPY AND HAS MADE IT CLEAR TO OUR PASTORS THAT WE DO NOT SUPPORT THAT APPROACH.

AT HILLSONG WE WANT TO BE KNOWN BY WHO WE ARE FOR. WE ARE FOR PEOPLE FINDING HOPE IN JESUS, WE ARE FOR PEOPLE FINDING LOVE AND ACCEPTANCE, AND WE ARE FOR HELPING PEOPLE IN ANY WAY WE CAN. OUR FOCUS IS ON POINTING PEOPLE TO JESUS AS "THE WAY, THE TRUTH, AND THE LIFE". NO MATTER WHERE YOU ARE IN THE WORLD, WHEN YOU ENTER OUR DOORS, YOU WILL BE GREETED WITH A SIGN THAT SAYS, 'WELCOME HOME'. THAT IS THE HEARTBEAT OF HILLSONG CHURCH. INDEED, THAT IS THE HEARTBEAT OF GOD.
If that wasn't enough…
Hillsong want to forge kingdom relationships with all christian denominations for greater unity including the Roman Catholic Church. Their intention is they  want to (not preach the gospel or reach sinners, but) RESHAPE the future church.
Hillsong Church Phoenix Conducted a Roman Catholic Mass and Hosted a Catholic Priest at Alpha Conference 2019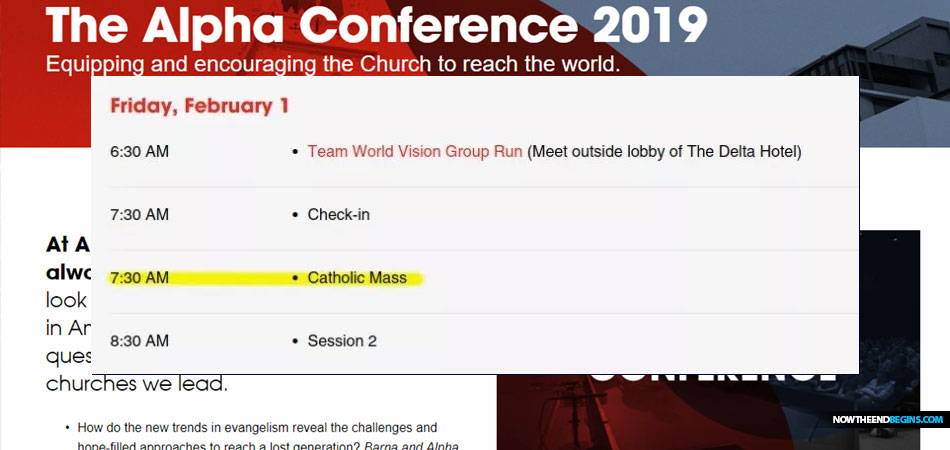 This year, the Phoenix campus of Hillsong church hosted the apostate Alpha Conference — an ecumenical, emergent conference that seeks to unify all the various faiths under one umbrella — and it isn't Biblical truth.
According to the conference website, the event being hosted at Hillsong is featuring Mike Schmitz is a Catholic priest, author, and speaker in the Diocese of Duluth, MN who is " the author of the Belonging study program and is the primary personality in Ascension Presents, weekly YouTube videos offering Catholic perspectives of cultural and societal issues."
If the fact that Roman Catholics partnering with so-called Protestants for "Christian unity" isn't enough, consider that — get this, at a Hillsong Church — they held a Catholic Mass. And most Protestant churches promote Hillsong on Sunday mornings without a second thought. READ MORE
The One World Religion of Hillsong's Alpha Conference
The amount of apostasy crammed into this short video is astounding. Uniting all religions to create a 'kingdom of God' as 'it is in Heaven'? If you don't know why that statement is completely and totally false, maybe you need to get saved.