---
The resignation of Pope Francis
The Vatican is preparing for the Pope's resignation in February 2019….
By Gov't Slaves on 11/15/2018
The Vatican is under profound scrutiny and criticism after Monday's shock announcement that they requested the U.S. Catholic Bishops to delay voting on new standards for survivors of sexual abuse and bishop accountability. The US Bishops, who were attending the fall meeting of the U.S. Conference of Catholic Bishops, were indeed surprised by the decision, and expressed a mixture of disappointment, acceptance, and frustration about the news. Angry victims and activists from BishopAccountability.org, which compiles data on clergy abuse in the church, were present in Baltimore outside the hotel where the Conference of US Catholic Bishops took place, and became increasingly frustrated, some shouting in despair that this was "totally unacceptable!!"
Meanwhile, on Monday morning, two survivors of clerical sexual abuse spoke to the US Conference of Catholic Bishops about their own personal experiences and their hopes for the future of the Church.  One survivor, Luis Torres, even asked the US bishops in a touching testimony, to make changes to ecclesial policies and culture that might ensure that sexual abuse or coercion by anyone in the Church, including bishops, is put to an end. "I ask,"he pled, "that you inspire me and our community to faith and hope through your courage and your action, which is needed right now. Not in three months. Not in six months. Yesterday."
Yes, the victim said "yesterday", not today, showing profound frustration, but Pope Francis doesn't care about the victims of pedophilia, or the future of the Church in the United States, he really only cares about his own future. In September 2018, Pope Francis convened all the Episcopal Conferences worldwide for a general meeting to take place in Rome in February 2019, to discuss the prevention of abuse of minors and vulnerable adults. It seems the Argentinian Pope wants to impose his own view before leaving office, not tolerating any further interference from the US Catholic Bishops.
Robert Mickens, Rome
Vatican City
February 8, 2019
(Photo by Giuseppe Lami/ANSA via AP)
It is now six years since Benedict XVI announced he was resigning from the papacy. He quietly declared his intention in Latin on Feb. 11, 2013 before a small gathering of cardinals in Rome. But it quickly sent shockwaves through the worldwide Church.
Benedict, who had been elected in 2005, later explained that he would officially step down on the following March 28 due to old age and the inability to meet the physical demands of his global office.
He was 85 years old at the time, the fourth-oldest pope in history. He was also the first Bishop of Rome in six centuries not to die in office and the first since 1294 to resign freely without being forced by external pressure.
The anniversary of Benedict's resignation announcement, and speculation over whether Pope Francis intends to be the second consecutive Roman Pontiff to retire, came to mind this past week when the current pope held a press conference on his flight home from a visit to the United Arab Emirates.
While responding to one reporter's question, Francis said he had received invitations to visit other Arab countries.
"But there's no time this year," he said. "Let's see if next year I or another Peter [i.e., pope] will go!" he said.
Not if, but when
The comment was not meant to be a cryptic message. In fact, Francis — like his predecessors — often has been cautious not to make definitive promises he'll attend events that are months or years away, conscious of his own mortality and the unpredictability of the future.
Nevertheless, there have been signs since the very beginning of his pontificate that the question is not if Francis will resign, but more likely when he will actually do so.
And the reason is simple. He is anxious that Benedict's resignation does not go down in history as just another out-of-the-ordinary, once-in-every-several-hundred-years event. Instead, he wants it to become a precedent and something normal.
"I keep coming back to this idea which may not please some theologians (and I am no theologian)… I think that a pope-emeritus should not be an exception," he said in August 2014 while speaking to journalists on a return flight from South Korea.
Retirement becomes institutional, not exceptional
"My thinking is that 70 years ago bishops-emeritus were an exception; they didn't exist. Today bishops emeritus are an institution. I think that a 'pope emeritus' has already become an institution," he continued.
"I believe that Pope Benedict XVI took this step which de facto instituted popes-emeriti," Francis said. "He opened a door which is institutional, not exceptional."
And he went even further: "You can ask me: 'What if one day you don't feel prepared to go on?' I would do the same, I would do the same! I will pray hard over it, but I would do the same thing."
Francis raised the issue of "stepping down" again on May 15, 2018 during a weekday morning Mass in the chapel of his Santa Marta Residence.
He reflected on a passage in the Acts of the Apostles where St. Paul, "compelled by the Holy Spirit," ends his service to the community in Ephesus and heads to Jerusalem. The pope said this "shows us the pathway for every bishop when it's time to take his leave and step down."
"When I read this," Francis said, "I also think about myself, because I am a bishop and I (too) must take my leave and step down."
Obviously, that can happen through a resignation or death. But one thing is absolutely certain, the Jesuit pope will not step down because of pressure from adversaries like Archbishop Carlo Maria Viganò or Cardinals Raymond Burke, Walter Brandmüller and the ghosts of the other two "doubting cardinals."
Two retired popes at one time?
However, people closest to Francis have said privately that they are convinced he will step down when he believes the time is right; that is, after he's discerned that he's done all he has been called to do and has implemented solid reforms that will be hard for a successor to undo.
That would be a way to ensure that Benedict's resignation does not remain a singular, one-off occurrence and truly does become institutional and not exceptional.
In the past, it was thought that it would not be wise to resign before Benedict's death, reasoning that it could be disruptive to simultaneously have two living, former popes with a third one actively leading the Church.
But there is a growing consensus that Francis will make his choice, freely and calmly, whether or not his predecessor is still alive.
Archbishop Victor Manuel Fernandes, an Argentine theologian who has helped draft many of the pope's major speeches and documents, says it will be clear when Francis' pontificate is in its last stages.
"If one day he should intuit that he's running out of time and he doesn't have enough time to do what the Spirit is asking him, you can be sure he will speed up," the archbishop predictednearly four years ago.
And that could also mean speeding up a resignation. Because, as some have whispered quietly, Francis would prefer to retire rather than die in office.
Much important work still to be done
Francis is a Roman outsider. He is the first pope since St. Pius X, a Northern Italian who reigned from 1903-1914, to never have studied or worked in the Eternal City.
He's also the first-ever Jesuit to be elected Bishop of Rome. And some commentators have confidently predicted that he is likely to follow the rule for all superiors of the Society of Jesus, save the Father General, and step down after six years in office. That would mean his resignation would come next March.
However, he still has to bring to conclusion a slate of unfinished business, which makes a resignation in just over a month's time seem highly unlikely.
Number one on the "to complete" list is the long and ongoing reform of the Roman Curia. That should culminate at some point in the next few months when Francis publishes a new apostolic constitution that will codify a full-scale reorganization and re-purposing of the Roman Church's central structures.
Santa Marta and the end of centralized, monarchical Church authority
The Argentine pope made the first — and what is the most significant — reform of his pontificate in the very first days following his election.
It was his decision to shun the secluded papal apartments deep inside the Apostolic Palace and make his permanent home at the Casa Santa Marta, a residence for priest-employees of the Vatican and the place where the cardinals lodge during a conclave.
The choice of address was the beginning of Francis' slow, painstaking efforts to re-dimensionalize the scope and activities of the Roman Curia and decentralize its power. It was also part of his plan to demythologize the institution of the papacy and eliminate the lingering vestiges of the old papal court.
The pope has curtailed much of the Curia's longstanding and disproportionate influence over local Churches and all of global Catholicism. He's done this principally by laying the foundation (not without difficulty and opposition) for structures of synodality, first of all by strengthening and reforming the Synod of Bishops.
He has also promulgated legislation that gives (or is aimed to give) national episcopal conferences greater decision-making and doctrinal authority that has been almost exclusively reserved to the pope and his aides in the Vatican up to now.
But this long-term project, which is only meant to unleash a process that will need years to mature, is not even fully launched yet. Pope Francis still needs to further reform a number of institution and offices in the Vatican that pertain to the all-but-dead monarchical papacy.
Most of them, like the Prefecture of the Papal Household and the Apostolic Camera, were modernized by Paul VI after the Second Vatican Council (1962-65). But they require further pruning if not a definitive consignment to history.
Facing the sex abuse crisis
Even if he completes his reform of the Roman Curia, Pope Francis cannot step down until he deals more decisively and unambiguously with the plague of clergy sex abuse and its institutional mishandling.
It is something he was careful to delegate to others in the first four or so years of his pontificate. But his initial disastrous handling of abuse allegations in Chile, and then his apparent conversion over the past several months, seem to have been the catalyst for focusing his attention on the issue of abuse.
The summit this month with presidents of the world's episcopal conferences cannot be the end of Francis' action in leading the Church on the path to dealing effectively with the abuse crisis. That's because it is a crisis yet to explode (though it surely will) in many countries where it has not been an issue up to now.
So, the pope has much to do in dealing with abuse in the Church. And he cannot resign until he sets down some significant markers in this area. Indeed, it is only the beginning. The pope will have to do more.
New legislation for the election — and resignation — of the Roman Pontiff
Most of the popes of the last hundred years, at least those who have lived more than 33 days, have updated the rules and procedures to be followed in the period from the death of the Bishop of Rome until the election of his successor. They have usually done so well into their respective pontificates.
Benedict XVI issued two letters "motu proprio," one in 2007 and another just before resigning in 2013. Those texts updated John Paul II's 1996 apostolic constitution on the vacancy of the Apostolic See and the election of the Roman Pontiff; which updated Paul VI's 1975 legislation; which updated John XXIII's 1962 "motu proprio;" which updated…
You get the point.
So far, Pope Francis has not issued such a document. And, yet, an updated version is more urgent now than ever before because of what he calls the "institutional door" that Benedict XVI has opened — the "no longer exceptional" possibility of a papal resignation.
Francis and those to whom he would entrust the preparation of such a document face a delicate task. As long as the first pope to resign in 600 years is still alive, any legislation they produce pertaining to a papal resignation risks being read as judgment against him.
Without consultation with the College of Cardinals, the Synod of Bishops or any other body representative of the universal Church, Benedict made a number of decisions regarding such things as his place of retirement, his new title and his attire.
Almost all canon lawyers have argued that a retired pope should not be called Pope Emeritus, as Benedict decided, but Bishop-emeritus of Rome.
There is a debate over the advantages and disadvantages of having a former pope living so close to his newly-elected successor, as Benedict decided. And there is a similar discussion surrounding the question of whether a former pope should still be wearing the papal cassock — again, as Benedict, and he alone, decided.
When Pope Francis finally issues an apostolic constitution to update the legislation on the vacancy of the Apostolic See (including by papal resignation) and the election of the Roman Pontiff, it may be a sign that he's beginning to clear his desk.
He will most likely be in the final stages of preparing — as he called it — to take his "leave and step down."
No longer an exception
When Polish Cardinal Karol Wojtyla was elected Bishop of Rome in 1978 he became the first non-Italian pope in more than 450 years. Many Catholic insiders believed the election of John Paul II would remain an exception to the previous long-standing tradition and the Italians would recapture the papacy at the end of his more the 26-year-long pontificate.
But it did not work out that way. When German Cardinal Joseph Ratzinger was chosen in the Conclave of 2005 and took the name Benedict XVI, the reality of having a non-Italian pope was no longer an exception or a rare phenomenon. It had become institutional.
Pope Francis has applauded Benedict for also making the reality of a papal resignation institutional. But, in the end, he knows quite well — it will actually remain a rare exception until another pope resigns.
But there is very little on the public record about the man who now holds the Catholic Church's highest post. It has been said he is modest, and prefers the local colectivos and trains in his travels to visit the large poor population of his diocese of more than 3 million people.
Yet it is his ties to the military dictatorship in Argentina that raises many questions both for Argentines and human rights campaigners globally. Argentina's famous human rights campaigners the Madres de Plaza de Mayo have come out immediately condemning the appointment of this Pope.
The Catholic Church has a strong link to the darkest days in Argentine history: the period between 1976-1983 which saw the bloody repression of anyone considered subversive.
Torture and killing was routine. In a damning book by journalist Horacio Verbitsky, El Silencio (Silence), he tells of how then Cardinal Jorge Bergoglio hid the dictatorship's political prisoners from a delegation of the Inter-American Human Rights Commission.And while many of his fellow Jesuits in the region have followed a more progressive line of liberation theology,
Francis has not. He was prominent in the church during the brutal dictatorship of the 1970s, in which more than 30,000 people "disappeared".
He has been photographed with Jorge Videla, the military leader of the time. The Catholic Church in Argentina has long held very conservative tendencies but there were members of the Jesuit order who were involved in the "theology of liberation" and opposed the military government.
Bergoglio was not. "After a war," he was heard to say, "you have to act firmly."
Argentine papers have reported that he was accused of having withdrawn his protection of two of his fellow Jesuits during the military dictatorship. Bergoglio said that shortly before the coup on March 24, 1976 he warned them of the danger and gave them both shelter in the house of the Jesuits.But the two priests, Francisco Jalic and Orlando Dorio, who did social work in poor neighbourhoods of Buenos Aires, rejected this offer, according to Bergoglio.
Two months later they were abducted by the military and held prisoner for five months in a secret detention centre.Politically, Francis I is no friend of the left and was been a vocal critic of centre-left former president Nestor Kirchner and current president Cristina Fernandez de Kirchner.
He clashed with both on issues around gay marriage (which is legal in Argentina) and Fernandez de Kirchner has famously been absent at his public speeches, as often they were directed at her.In 2010, he led the fight of what the archbishop called a "war of God" against the government, while trying by all means to prevent the passage of the law recognising marriage between same sex couples. Bergoglio led demonstrations, mobilised priests in defense of the "family unit" and called for vigils outside parliament.
"This is not just a political struggle, but it is a destructive claim to God's plan," he said.After being repeatedly shunned by the government, Bergoglio has stated there is no relation between the church and the government in Argentina. Politically, he could be identified with the Peronist right in Argentina. He is a critic of free market neo-liberalism, but with authoritarian and socially conservative tendencies.The decision by the Catholic hierarchy to move the centre of gravity away from Europe for the first time is an interesting one. Nonetheless, Bergoglio has strong connections to Italy – his parents were Italian – and the conservative wing of the Catholic Church, so the choice to move geographically may not be as much of a leap as it appears. Brazilian candidate Odilo Scherer would have been a more "centrist" candidate who has a cleaner human rights record.But without a doubt, the appointment of a Latin American Pope will put some of the pressing issues of an oft forgotten region – such as chronic poverty and inequality under an devastating global capitalist system – on the table.
"The Dirty War": Allegations directed Against Cardinal Jorge Mario Bergoglio (Pope Francis)
Condemning the military dictatorship (including its human rights violations) was a taboo within the Catholic Church.  While the upper echelons of the Church were supportive of the military Junta, the grassroots of the Church was firmly opposed to the imposition of military rule.
In 2005, human rights lawyer Myriam Bregman filed a criminal suit against Cardinal Jorge Bergoglio, accusing him of conspiring with the military junta in the 1976 kidnapping of two Jesuit priests.
Several years later, the survivors of the "Dirty War" openly accused Cardinal Jorge Bergoglio of complicity in the kidnapping of  priests Francisco Jalics y Orlando Yorio as well six members of their parish, (El Mundo, 8 November 2010)
(Image Left: Jorge Mario Bergoglio and General Jorge Videla)
Bergoglio, who at the time was "Provincial" for the Society of Jesus, had ordered the two "Leftist" Jesuit priests and opponents of military rule  "to leave their pastoral work" (i.e. they were fired) following divisions within the Society of Jesus regarding the role of the Catholic Church and its relations to the military Junta.
While the two priests Francisco Jalics y Orlando Yorio, kidnapped by the death squads in May 1976 were released five months later. after having been tortured, six other people associated with their parish kidnapped as part of the same operation were "disappeared" (desaparecidos). These included four teachers associated with the parish and two of their husbands.
Upon his release, Priest Orlando Yorio "accused Bergoglio of effectively handing them over [including six other people] to the death squads … Jalics refused to discuss the complaint after moving into seclusion in a German monastery." (Associated Press, March 13, 2013, emphasis added),
"During the first trial of leaders of the military junta in 1985, Yorio declared, "I am sure that he himself gave over the list with our names to the Navy." The two were taken to the notorious Navy School of Mechanics (ESMA) torture center and held for over five months before being drugged and dumped in a town outside the city. (See Bill van Auken, "The Dirty War" Pope, World Socialist Website and Global Research, March 14, 2013
Among those "disappeared" by the death squads were Mónica Candelaria Mignone and María Marta Vázquez Ocampo, respectively daughter of the founder of of the CELS (Centro de Estudios Legales y Sociales) Emilio Mignone and daughter of the president of Madres de Plaza de Mayo, Martha Ocampo de Vázquez. (El Periodista Online, March 2013).
María Marta Vásquez, her husband César Lugones (see picture right) and Mónica Candelaria Mignone allegedly "handed over to the death squads" by Jesuit "Provincial" Jorge Mario Bergoglio are among the thousands of "desaparecidos" (disappeared) of Argentina's "Dirty War", which was supported covertly by Washington under "Operation Condor". (See memorialmagro.com.ar)
In the course of the trial initiated in 2005:
"Bergoglio [Pope Francis I] twice invoked his right under Argentine law to refuse to appear in open court, and when he eventually did testify in 2010, his answers were evasive": "At least two cases directly involved Bergoglio. One examined the torture of two of his Jesuit priests — Orlando Yorio and Francisco Jalics — who were kidnapped in 1976 from the slums where they advocated liberation theology. Yorio accused Bergoglio of effectively handing them over to the death squads... by declining to tell the regime that he endorsed their work. Jalics refused to discuss it after moving into seclusion in a German monastery." (Los Angeles Times, April 1, 2005 emphasis added)
The Secret Memorandum
The military government acknowledged in a Secret Memo (see below) that Father Bergoglio had accused the two priests of having established contacts with the guerilleros, and for having disobeyed the orders of the Church hierarchy (Conflictos de obedecencia). It also stated that the Jesuit order had demanded the dissolution of  their group and that they had refused to abide by Bergoglio's instructions.
The document acknowledges that the "arrest" of the two priests, who were taken to the torture and detention center at the Naval School of Mechanics, ESMA, was based on information transmitted by Father Bergoglio to the military authorities. (signed by Mr. Orcoyen)
(see below).
While a former member of  the priests group had joined the insurgency, there was no evidence of the priests having contacts with the guerrilla movement.
"Holy Communion for the Dictators" 
The accusations directed against Bergoglio regarding the two kidnapped Jesuit priests and six members of their parish are but the tip of the iceberg. While Bergoglio was an important figure in the Catholic Church,  he was certainly not alone in supporting the Military Junta.
According to lawyer Myriam Bregman:  "Bergoglio's own statements proved church officials knew from early on that the junta was torturing and killing its citizens", and yet publicly endorsed the dictators. "The dictatorship could not have operated this way without this key support," (Los Angeles Times, April 1, 2005 emphasis added)
(Image right: General Jorge Videla takes communion. Date and name of priest unconfirmed)
The entire Catholic hierarchy was behind the US sponsored military dictatorship.  It is worth recalling that on March 23, 1976, on the eve of the military coup:
"Videla and other plotters received the blessing of the Archbishop of Paraná, Adolfo Tortolo, who also served as vicar of the armed forces. The day of the takeover itself, the military leaders had a lengthy meeting with the leaders of the bishop's conference. As he emerged from that meeting, Archbishop Tortolo stated that although "the church has its own specific mission . . . there are circumstances in which it cannot refrain from participating even when it is a matter of problems related to the specific order of the state." He urged Argentinians to "cooperate in a positive way" with the new government." (The Humanist.org, January 2011, emphasis added)
In an interview conducted with El Sur, General Jorge Videla, who is now [passed away in May 2013] serving a life sentence for crimes against humanity confirmed that:
"He kept the country's Catholic hierarchy informed about his regime's policy of "disappearing" political opponents, and that Catholic leaders offered advice on how to "manage" the policy. 

Jorge Videla said he had "many conversations" with Argentina's primate, Cardinal Raúl Francisco Primatesta, about his regime's dirty war against left-wing activists. He said there were also conversations with other leading bishops from Argentina's episcopal conference as well as with the country's papal nuncio at the time, Pio Laghi.

"They advised us about the manner in which to deal with the situation," said Videla" (Tom Henningan, Former Argentinian dictator says he told Catholic Church of disappeared,  Irish Times, July 24, 2012, emphasis added)
It is worth noting that according to a 1976 statement by Archbishop Adolfo Tortolo, the military would always consult with a member of the Catholic hierarchy in the case of the "arrest" of a grassroots member of  the clergy. This statement was made specifically in relation to the two kidnapped Jesuit priests, whose pastoral activities were under the authority of Society of Jesus "provincial" Jorge Mario Bergoglio. (El Periodista Online, March 2013).
In endorsing the military Junta, the Catholic hierarchy was complicit in torture and mass killings, an estimated "22,000 dead and disappeared, from 1976 to  1978  … Thousands of additional victims were killed between 1978 and 1983 when the military was forced from power." (National Security Archive, March 23, 2006).
The Role of the Vatican
The Vatican under Pope Paul VI and Pope John Paul II played a central  role in supporting the Argentinian military Junta.
Pio Laghi, the Vatican's apostolic nuncio to Argentina admitted "turning a blind eye" to the torture and massacres.
Laghi had personal ties to members of the ruling military junta including  General Jorge Videla and Admiral Emilio Eduardo Massera.
(See image left. Vatican's Nuncio Pio Laghi and General Jorge Videla)
Admiral Emilio Massera in close liaison with his US handlers, was the mastermind of "La Guerra Sucia" (The Dirty War). Under the auspices of the military regime, he established:
"an interrogation and torture centre in the Naval School of Mechanics, ESMA [close to Buenos Aires], … It was a sophisticated, multi-purpose establishment, vital in the military plan to assassinate an estimated 30,000 "enemies of the state". …  Many thousands of ESMA's inmates, including, for instance, two French nuns, were routinely tortured mercilessly before being killed or dropped from aircraft into the River Plata.

Massera, the most forceful member of the triumvirate, did his best to maintain his links with Washington. He assisted in the development of Plan Cóndor, a collaborative scheme to co-ordinate the terrorism being practised by South American military régimes. (Hugh O'Shaughnessy, Admiral Emilio Massera: Naval officer who took part in the 1976 coup in Argentina and was later jailed for his part in the junta's crimes, The Independent, November 10, 2010, emphasis added)
Reports confirm that the Vatican's representative Pio Laghi and Admiral Emilio Massera were friends.
(right: Admiral Emilio Massera, architect of "The Dirty War" received by Pope Paul VI at the Vatican)
The Catholic Church: Chile versus Argentina
It is worth noting that  in the wake of the military coup in Chile on September 11,1973, the Cardinal of Santiago de Chile, Raul Silva Henriquez openly condemned the military junta led by General Augusto Pinochet. In marked contrast to Argentina, this stance of the Catholic hierarchy in Chile was instrumental in curbing the tide of political assassinations and human rights violations directed against supporters of Salvador Allende  and opponents of the military regime.
The man behind the interfaith Comité Pro-Paz was Cardinal Raúl Silva Henríquez. Shortly after the coup, Silva, … stepped into the role of "upstander,"a term the author and activist Samantha Power coined to distinguish people who stand up to injustice—often at great personal risk—from "bystanders."

… Soon after the coup, Silva and other church leaders published a declaration condemning and expressing sorrow for the bloodshed. This was a fundamental turning point for many members of the Chilean clergy… The cardinal visited the National Stadium and, shocked by the scale of the government crackdown, instructed his aides to begin collecting information from the thousands flocking to the church for refuge.

Silva's actions led to an open conflict with Pinochet, who did not hesitate to threaten the church and the Comité  Pro-Paz. (Taking a Stand Against Pinochet: The Catholic Church and the Disappeared pdf)
Had the Catholic hierarchy in Argentina  and Jorge Mario Bergoglio taken a similar stance to that of Cardinal Raul Silva Henriquez, thousands of lives would have been saved.
Jorge Mario Bergoglio was not, in the words of Samantha Power, a "bystander". He was complicit in extensive crimes against humanity.
Neither is Pope Francis "a Man of the People" committed to "helping the poor" in the footsteps of Saint Francis of Assisi, as portrayed in chorus by the Western media mantra. Quite the opposite: his endeavors under the military Junta, consistently targeted progressive members of the Catholic clergy as well as committed human rights activists involved in grassroots anti-poverty programs.
In supporting Argentina's "Dirty War", Jorge Mario Bergoglio has blatantly violated the very tenets of Christian morality which cherish  the value of human life.  Author's message to Pope Francis: "Thou shalt not kill"
"Operation Condor" and the Catholic Church
The election of Cardinal Bergoglio by the Vatican conclave to serve as Pope Francis I will have immediate repercussions regarding the ongoing "Operation Condor" Trial in Buenos Aires.
The Church was involved in supporting the military Junta.  This is something which will emerge in the course of the trial proceedings.  No doubt, there will be attempts to obfuscate the role of the Catholic hierarchy and the newly appointed Pope Francis I,  who served as head of Argentina's Jesuit order during the military dictatorship.
Jorge Mario Bergoglio:  "Washington's Pope in the Vatican"? 
The election of Pope Francis I has broad geopolitical implications for the entire Latin American  region.
In the 1970s, Jorge Mario Bergoglio was supportive of a US sponsored military dictatorship.
The Catholic hierarchy in Argentina supported the military government. The Junta's program of torture, assassinations and 'disappearances" of thousands of political opponents was coordinated and supported by Washington under the CIA's "Operation Condor".
Wall Street's interests were sustained through Jose Alfredo Martinez de Hoz' office at the Ministry of Economy.
The Catholic Church in Latin America is politically influential. It also has a grip on public opinion. This is known and understood by the architects of US foreign policy as well as US intelligence.
In Latin America, where a number of governments are now challenging US hegemony, one would expect –given Bergoglio's track record–  that the new Pontiff Francis I as leader of the Catholic Church, will play de facto, a discrete "undercover" political role on behalf of Washington.
With Jorge Bergoglio, Pope Francis I  in the Vatican –who faithfully served US interests in the heyday of General Jorge Videla and Admiral Emilio Massera–  the hierarchy of the Catholic Church in Latin America can once again be effectively manipulated to undermine "progressive" (Leftist) governments, not only in Argentina (in relation to the government of Cristina Kirschner) but throughout the entire region, including Venezuela, Ecuador and Bolivia.
The instatement of  "a pro-US pope" occurred a week following the death of  president Hugo Chavez.
"Regime Change" at the Vatican

The US State Department routinely pressures members of the United Nations Security Council with a view to influencing the vote pertaining to Security Council resolutions.
US covert operations and propaganda campaigns are routinely applied with a view to influencing national elections in different countries around the World.
Similarly, the CIA has a longstanding covert relationship with the Vatican.
Did the US government attempt to influence the outcome of the election of the new pontiff?
Firmly committed to serving US foreign policy interests in Latin America, Jorge Mario Bergoglio was Washington's preferred candidate.
Were undercover pressures discretely exerted by Washington, within the Catholic Church, directly or indirectly, on the 115 cardinals who are members of the Vatican conclave?
Who is Pope Francis I, Interview of Michel Chossudovsky with Bonnie Faulkner, Guns and Butter, KPFA Pacifica
Global Research TV (GRTV) Interview with Michel Chossudovsky
Author's Note
From the outset of the military regime in 1976, I was Visiting Professor at the Social Policy Institute of the Universidad Nacional de Cordoba, Argentina. My major research focus at the time was to investigate the social impacts of the deadly macroeconomic reforms adopted by the military Junta. 
I was teaching at the University of Cordoba during the initial wave of assassinations which also targeted progressive grassroots members of the Catholic clergy.
The Northern industrial city of Cordoba was the center of the resistance movement. I witnessed how the Catholic hierarchy actively and routinely supported the military junta, creating an atmosphere of  intimidation and fear throughout the country. The general feeling at the time was that Argentinians had been betrayed by the upper echelons of the Catholic Church.

Three years earlier, at the time of Chile's September 11, 1973 military coup, leading to the overthrow of the Popular Unity government of Salvador Allende,  I was Visiting Professor at the Institute of Economics, Catholic University of Chile, Santiago de Chile.

In the immediate wake of the coup in Chile,  I witnessed how the Cardinal of Santiago, Raul Silva Henriquez –acting on behalf of the Catholic Church– courageously confronted the military dictatorship of general Augusto Pinochet.

---
Ninth Circle Child Sacrifice Cult
Just the Tip of the Catholic Pedophile Iceberg and MORE!
Thinking out loud here for a moment. What IF as more and more of the demon possessed perverts in the Catholic church are exposed, they start singing like song birds on a crisp and beautiful sunshiny day, and REAL criminal investigations are launched into the dealing of the Vatican??
Singing about what you might ask? Well like theft of funds. Like bribes and corruption. "God's banker" supposedly hanging himself!
And then we have the rumors of actual Satanism and human sacrifice in the Vatican as well as other places!
What IF Officials, (like Mueller going off on a side road) would divert and investigate what eyewitnesses have divulged??????
As I said, just thinking out loud and praying that it takes place!!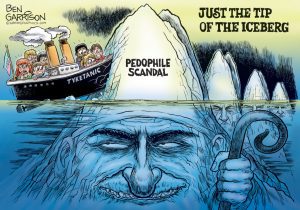 HARRISBURG, Pa. –  A Roman Catholic priest was charged on Tuesday with groping a 17-year-old girl and sending her nude images of himself, just a week after a grand jury reported the church had covered up decades of child molestation by priests across the state. Story Here
Very early in Catholic Church history, priests were allowed to marry and have children. I suspect somewhere along the line the Church realized it would be better if priests weren't allowed to marry. That way they could devote themselves full time to spreading the Gospel and interpreting it to their flocks.
It also meant more money would flow into Church coffers. The Church made a law that banned the children of priests from inheriting property,thus enriching the Church further. Then there was a call for an outright ban on marriage for priests. This was rejected during the First Counsel of Nicaea, brought about by the Roman Emperor Constantine, but over time the Church got its way and priests were ordered to be celibate.
Jesus was celibate, but He was the Son of God. For the rest of us sinners, it's a bit more difficult to pull the plug on sexuality. The Bible itself states, "If they cannot exercise self-control, they should marry. For it is better to marry than to burn with passion." (1 Corinthians 7:9). In this manner the act of sex is also ideally aligned with love and caring for another as part of God's plan. That's how it's supposed to work, but roughly 50 percent of marriages end in divorce, thus only proving, for the most part, the fallen nature of man.
The point is this: It's not natural for human beings to suppress the sex drive. Very few can do it. By not allowing Catholic priests to marry, the Church discourages family men who have a control on their libidos. Instead, too many are warped by  sexual frustration and begin molesting children. For far too long the Church has ignored or hidden a problem of epidemic proportions under their pulpits. Priest who weren't arrested and jailed were merely shuffled off to different parishes, where they continued their vile ways of abuse.
Instead of telling someone they're not a Christian if they have a gun in their house, it's time for the Pope to clean his own house. He has the power to allow priests to marry and have families. It's not only normal, but also Biblical.
It's something Martin Luther figured out centuries ago. – Ben Garrison
Posted with permission from Ben Garrison
While going through some old files I came across this article. The original source is no longer online probably due to Vatican pressure. Judy Byington May 28, 2014 Catholic Jesuit head Adolfo Panchon announced his resignation this week after the International Common Law Court of Justice in Brussels linked him to Ninth Circle Satanic Child … Click Here to Read more
While going through some old files I came across this article. The original source is no longer online probably due to Vatican pressure.
Judy Byington May 28, 2014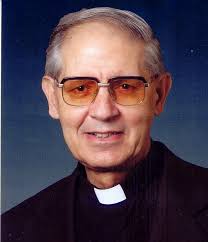 Catholic Jesuit head Adolfo Panchon announced his resignation this week after the International Common Law Court of Justice in Brussels linked him to Ninth Circle Satanic Child Sacrifice Cult ceremonies.
For the last month five judges have "examined numerous eyewitnesses and Vatican archival documentation that clearly link Pachon, Pope Francis, former Pope Ratzinger and Archbishop of Canterbury Justin Welby to the ritual rape and killing of children as recently as 2010″ according to yesterday's bulletin from the International Tribunal into Crimes of Church and State. Last month the ITCCS began prosecuting the case before the five international judges and 27 jury members.
"Pope Francis' bizarre remarks during last week's Mid East tour that 'Sex abuse is like a Satanic Mass' reveals that he understands that the rape of children within his church are linked to Satanic rituals in which he himself participates" the prosecutor said from Brussels. "We consider the Pope's remarks a tacit admission of guilt and more evidence of his involvement in this monstrous crime."
A Catholic Jesuit Order called the "Magisterial Privilege" dated Dec. 25 1967 concerning the Black Mass has been provided to the court from Vatican archives. The document was said to show that every new Pope was required to participate in Ninth Circle Satanic Black Mass ritual sacrifices of newborn children, including drinking their blood.
"Vatican documents clearly indicate that for centuries the Jesuits had a premeditated plan to ritually murder kidnapped newborn babies and then consume their blood," the Chief Prosecutor told the court. "The plan was born of a twisted notion to derive spiritual power from the lifeblood of the innocent, thereby assuring political stability of the Papacy in Rome. These acts are not only genocidal but systemic and institutionalized in nature. Since at least 1773, they appear to have been performed by the Roman Catholic Church, Jesuits and every Pope."
"The Pope's remarks about Satanic Black Masses are the lowest kind of sadistic insensitivity" agreed Ruth Leopold, a 51 year-old American who claimed to be a survivor of Catholic Satanic Black Mass torture. "Any idiot knows that even mentioning trigger words like 'Satanic Mass' will re-traumatize victims of Satanic torture. Maybe his words were deliberately designed since we are accusing him of taking part in Ninth Circle Satanic Child Sacrifice killings. It's time he stepped down."
Leopold's Against Church Terror survivors' network headed a witness delegation to the Brussels court. The 2014 court was prosecuting global elite members of the Ninth Circle Satanic Child Sacrifice Cult said to include Pope Francis, Pachon and Welby. At least eight witnesses have testified that either Pope Francis, former Pope Ratzinger or Panchon were present with them as children at child sacrifices.
The May 27 ITCCS bulletin announced that the court had received new evidence from Vatican sources that detailed Pope Francis' efforts to cover up Ninth Circle activities and "attempted to disrupt the court through covert means."
While Pachon decided to step down, Pope Francis suggested to reporters during his recent tour of the Holy Land that he might follow former Pope Ratzinger's example and retire. On Feb. 15 2013 the Brussels court found Ratzinger guilty of Crimes against Humanity. He resigned a few days later on Feb. 28. Evidence presented at that 2013 court could be found in Kevin Annett's "Hidden No Longer" available for free here.
Witnesses named Ninth Circle Satanic Child Sacrifice Cult members as Dutch Catholic Cardinal Alfrink and Prince Bernhard of the Netherlands; British, Dutch and Belgian royal family members including Queen Elizabeth, Prince Phillip, Dutch Queen Wilhemina, her family and consort King Hendrick; Pope Francis, former Pope Ratzinger, Archbishop of Canterbury Justin Welby, two British High Court Judges including Judge Fulford, a Canadian Catholic bishop and senior government ministers in Belgium and England.
Last week the court adjourned for a few days after receiving word that the Ninth Circle Child Sacrifice Cult scheduled a child sacrifice for Aug 15 2014 in the subterranean vault beneath Marie-Reine-du-Monde Roman Catholic Cathedral in Montreal, Canada. Witnesses also testified that as children they were forced to watch child sacrifices in the crypt of the Caernarfon Castle in Wales, the sub basement catacomb under the west wing of the Canadian Branton Ontario Mohawk Indian residential school and at groves in France, Holland and the US.
Some have been more recent victims of this global elite Ninth Circle Satanic Child Sacrifice Cult. Jamacian and British Soldier Vivian Cunningham remained drugged in the St. George's Hospital in Stafford England (ph: 44 01785 257888) just for asking questions about Queen Elizabeth's arrest warrant for kidnapping ten native children. British citizen David Compan and his wife were accosted, drugged, arrested and incarcerated in the London Park Royal Mental Health Center for posting Queen Elizabeth's arrest warrant on a Catholic Church. Compan's arrest and release was captured in this video.
Last October in Kitchener Ontario Canada Steve Finney was trying to expose the 2013 Ninth Circle Satanic Cult case on 50,000 missing native children that included Queen Elizabeth's kidnapping charges-conviction. Finney was arrested and held in prison for three days without charges. Protests around the globe organized by the ITCCS appeared effective in Finney's and the Compans' releases.
Former Kamloops School resident William Combes and others haven't been so lucky. The Canadian native was injected into a coma then died after a 2010 radio interview where he discussed witnessing Queen Elizabeth and Prince Phillip leave the school with his ten friends and fellow Kamloops residents. Chief Louis Daniels, Harriet Nahanee, Jonny Bingo Dawson and Ricky Lavillee also died of mysterious causes prior to their scheduled testimonies at the 2013 international trial on 50,000 missing native children.
Pope Francis Connects Pedophile Priests to the Satanic Black Mass
by the late Cris Putnam
Pope Francis recently explained that when a priest subjects a child to abuse, the priest has celebrated a "black Mass" as part of a Satanic ritual.
While the uninformed take this to be a simile "like a black Mass," readers of my former work with Thomas Horn should know better. William H. Kennedy's book, Lucifer's Lodge, provides a well-documented case that these are not simply sex crimes, rather they are also reflective of cults of ritualistic Satanism within the Roman Catholic Church driving the pedophilia. He wrote:
It follows, then, that one of the necessary elements for those who would construct the Antichrist's kingdom would be the Lucifers Lodge creation of a Satanic church, and the conversion of the world's populace to a Satanic religion. But they would not wish to create a truly "new" church, wiping the slate clean and starting over. They would not for instance push for everyone in the world to join Anton LaVey's Church of Satan. It makes sense that they would rather infiltrate and exercise control from within a church that is already in existence, and that has already solidified its power-base globally. No church fits this description more perfectly than the Catholic Church, which was for centuries the most powerful force in the world, and in many ways still is.
In that book, Kennedy cited example after example of Catholic priests involved in literal satanic worship and rituals involving sex with children. This was also confirmed by Jesuit scholar Malachi Martin who said, "Anybody who is acquainted with the state of affairs in the Vatican in the last 35 years is well aware that the prince of darkness has had and continues to have his surrogates in the court of St. Peter in Rome." With this background in mind, one can see that Pope Francis linking of the pedophile priest epidemic to Satanism is much more than figurative language.
Pope Benedict's letter on sex abuse is not an attack on Francis (or Vatican II)
---
Our church's divisions can make it hard, sometimes, to hear popes unfiltered—even when they are retired. Benedict XVI's three-part reflection on clerical sex abuse has been variously greeted as a shot across the bow of Pope Francis' anti-abuse strategy, as a vindication of Archbishop Carlo Maria Viganò's attack on Francis last summer and as a ham-fisted intervention that will feed the nostalgia for the church before the Second Vatican Council.
The optics of the release reinforced these ideas: Why is that only media outlets which have been highly critical of Pope Francis had the translated text before anyone else, each claiming it as an exclusive?
Why is it that only media outlets which have been highly critical of Pope Francis had the translated text before anyone else?
But I think the intention and nature of his text is what Benedict XVI says it is: a helpful contribution. The recent summit called by Pope Francis in Rome to tackle clerical sexual abuse got him thinking about how he could assist "in this difficult hour," he writes.
"I had to ask myself—even though, as emeritus, I am no longer directly responsible—what I could contribute to a new beginning," he writes in the article. So he came up with some thoughts, asked Pope Francis if he could publish them and sent the 6,000 words to a Bavarian clergy periodical.
The reflections are mostly unsurprising to anyone familiar with Benedict's thinking, but there are some intriguing nuggets along with some crude generalizations, and in his third part I see significant backing for Francis' approach.
The first part, seeking the origins of the abuse crisis, restates Benedict's well-known horror at the cultural and sexual "revolutions" in the West in the 1960s and their effects on the church. In linking this outbreak of permissiveness to sex abuse, he is on firm ground: The John Jay College of Criminal Justice reports of 2004 and 2011, commissioned by the U.S. bishops, locate the greatest frequency of abuse in the 1970s, coming down gradually in the 1980s. Virtually every other major study since shows the same.
What is the connection? Benedict blames a collapse in Catholic moral theology that left the church "defenseless" against these changes in wider society. This is not an attack on the theology of the Vatican II. Benedict notes approvingly that the Council had sought to root moral theology in Scripture rather than natural law, but he says that theologians never quite succeeded (at least at the time) in expressing a "systematic" morality capable of replacing the old natural-law edifice, and so the church ended up in a halfway house of morality needing to be determined by "the purposes of human action."
Benedict blames a collapse in Catholic moral theology that left the church "defenseless" against changes in wider society. But this is not an attack on Vatican II.
That account is arguable, but again it sits well with the the John Jay study's claim that pre-conciliar formation left clergy ill-prepared to deal with the sudden and open eroticization of relationships around them. Part of that eroticization was, as Benedict says, to destigmatize pedophilia. Again, he is right: It is quite astonishing to look back at 1970s television programs to find candid discussions about the legalization of sex with minors.
It is clear that Benedict believes passionately in the mission to root morality in the Gospel rather than any code of law because he concludes that first section by arguing that "the image of God and morality belong together and thus result in the particular change of the Christian attitude towards the world and human life."
The way out of sex abuse, in other words, is not a restorationist return to natural-law moral codes but a deep-seated relationship with God. This is a point Benedict returns to in the third part of his article, when he speaks of the risk of theologians being "masters of faith" rather than "renewed by faith"—that is, considering God as an abstract idea rather than "presenting" God, or inviting people to know God.
The way out of sex abuse is not a restorationist return to natural-law moral codes but a deep-seated relationship with God.
The second part of the article, on the church's evolving legal response to abuse, is also interesting. Rather than blame the lack of willingness to make use of canon law in the post-conciliar period, as he has often done in the past, he criticizes an imbalance in the law itself that he calls "guarantorism." He argues that guarantorism caused canon law to guarantee the rights of the accused to such an extent that canonical convictions were practically impossible (which may be one reason few bishops had much faith in it).
In explaining why he persuaded St. John Paul II to allow his Congregation for the Doctrine of the Faith to take over the handling of sexual abuse cases, he argues that canon law must not only protect the rights of the accused but also "protect the Faith, which is also an important legal asset." In other words, the rights of the accused are not the only "good" being weighed in a case; there is also the faith of the church that is imperiled by abuse. He expresses frustration that people (canonists? bishops? he does not say) do not readily grasp this point.
Yet clearly this was part of the jurisprudential thinking that went into the motu proprio "Sacramentorum sanctitatis tutela," (2001), which established the reforms to canon law the then-Cardinal Ratzinger created under the Vatican's chief prosecutor, Archbishop Charles Scicluna; this led to many hundreds of priests being tried and punished over the following decade. Benedict sees the same regime still in place today, and he salutes Francis' reforms to bolster the process with more staff and swifter procedures.
Benedict warns against a 'self-made church'
Benedict's third part contains to me his most important—and helpful—suggestions. Noting how the crisis has led some to see the church "as something almost unacceptable, which we must now take into our own hands and redesign," he warns that "a self-made Church cannot constitute hope."
It seems obvious that this is a riposte to many of the right-wing responses to institutional failure that treat the church as a kind of renegade corporation needing a purge of bad employees under new management. This was the kind of thing called for last October by the Napa Institute and the "Red Hat Report," inspired by the attack on Francis by Archbishop Viganò.
Benedict does not use the word, but Francis did recently on his return from Morocco, when he warned of "the church's danger today of becoming Donatist, making human regulations that are necessary, but limiting ourselves to this and forgetting the other spiritual dimensions, prayer, penitence and self-accusation." Francis similarly warned the U.S. bishops on the eve of their New Year's retreat that "many actions can be helpful, good and necessary, and may even seem correct, but not all of them have the 'flavor' of the Gospel."
Both the pope and the pope emeritus are at one in defending the freedom of the church to be redeemed by God's mercy, and in opposing any attempt at neo-Donatist reform.
Is this not Benedict's point, when he follows his master St. Augustine—who battled the Donatists of his day—in calling up Jesus' descriptions of the church as a fishing net containing both good and bad, or a field in which both wheat and darnel grow?
It is essentially a Donatist temptation—one to which many followers of Archbishop Viganò succumb—to want to create a church of the pure, to see the church as irredeemably bad and needing to be replaced by "a better Church, created by ourselves," in Benedict's words. He describes this idea as "in fact a proposal of the devil, with which he wants to lead us away from the living God, through a deceitful logic by which we are too easily duped."
Rather, he writes, "the Church of God also exists today, and today it is the very instrument through which God saves us." It persists in the "many people who humbly, believe, suffer and love, in whom the real God, the loving God, shows Himself to us."
When I read this I could not help but think of Francis' long speech to the clergy of Romeat the start of Lent, when he told them not to be discouraged by the scandals, how "the Lord is purifying his bride and is converting us all to himself…. He is saving us from hypocrisy, from the spirituality of appearances. He is blowing his Spirit to restore beauty to his bride caught in flagrant adultery."
Surprise, surprise. Both the pope and the pope emeritus are at one in defending the freedom of the church to be redeemed by God's mercy, and in opposing any attempt at neo-Donatist reform.
They are very different men, and very different popes. But on the fundamentals, there seems to be little distance between them. That is why it is not just courtesy for Benedict to sign off by thanking Francis "for everything he does to show us, again and again, the light of God, which has not disappeared, even today."
Wed Aug 29, 2018 – 3:18 pm EST
August 29, 2018 (LifeSiteNews) – A highly placed Vatican source told LifeSiteNews that Cardinal Gerhard Müller, together with his much-experienced three CDF priests, were dismissed by Pope Francis because they all had tried to follow loyally the Church's standing rules concerning abusive clergymen. In one specific case, Müller opposed the Pope's wanting to re-instate Don Mauro Inzoli, an unmistakably cruel abuser of many boys; but the Pope would not listen to Müller. In another case, the Pope decided not to give a Vatican apartment to one of Müller's own secretaries, but to the now-infamous Monsignor Luigi Capozzi, in spite of the fact that someone had warned the Pope about Capozzi's grave problems. The Vatican source also said that it was known to several people in the Vatican that some restrictions were put on Cardinal McCarrick by Pope Benedict XVI, and he thereby confirms Viganò's own claim.
When LifeSiteNews reached out to this very trustworthy and well-informed Vatican source, asking him about the then-breaking Viganò story and the archbishop's allegations that Pope Francis knew of McCarrick's habitual abuse, he answered: "Cardinal Müller [as Prefect of the Congregation for the Doctrine of the Faith (CDF)] had always decidedly and most sharply followed up on these abuse cases, and that is why he was dismissed, just as his three good collaborators [the three CDF priests] were also dismissed."
In my follow-up with this source, he again explained that Cardinal Müller, as the Prefect of the Congregation for the Doctrine of the Faith, had always been loyally following the Church's laws with regard to abuse cases, for the handling of which the CDF is responsible. According to the source, Müller also "resisted" Pope Francis in 2014 when he wanted to re-instate the serial molester of boys, the Italian priest Don Inzoli, allowing him to perform some functions of the priesthood. In opposition to Müller, "the Pope decided differently," the source continued. That is to say, Pope Francis did not follow Cardinal Müller's advice.
In 2012, Inzoli had been found guilty by an ecclesiastical court of abusing boys as young as 12 even in the confessional. He was then suspended a divinis, barring him from all priestly functions.
The historian Henry Sire says in his book The Dictator Pope that in 2014, the Pope "followed an appeal by Inzoli's friends in the Curia, Cardinal Coccopalmerio and Monsignor Vito Pinto" and he reduced the priest's penalty to a "lifetime of prayer." Inzoli, however, was then also ordered "to stay away from children, [while] giving him permission to celebrate Mass privately." In 2015, however, as Michael Dougherty reported, Inzoli was already participating again at a conference on the family in Lombardy, Italy. This scandalous case only came to public because an Italian court tried and sentenced Inzoli to four years and nine months in prison, a grave public fact that the Vatican could not responsibly ignore. Inzoli was found guilty, in 2016, of more than "a hundred episodes," explains Henry Sire. In response to this shocking news, "the Vatican initiated a new canonical trial."
As Dougherty also commented, it is obvious that the Pope bypassed the CDF, and with it Cardinal Müller, when dealing with abuse cases: "In any case, on abuse, the justice dealt out by Müller's CDF seems to be too harsh for the pope and his allies. And so, the pope hopes to render the CDF irrelevant in these cases."
It is interesting to note that Cardinal Müller himself was dismissed by Pope Francis without any advance notice at the end of June 2017, only one month after the cardinal had for the first time publicly criticized the Pope.
In a 25 May interview with EWTN's Raymond Arroyo, he had confirmed publicly an earlier report which first was published by Marco Tosatti, according to which the Pope dismissed three of Müller's best CDF priests, and this again without any prior notice or explanation. "And I am the pope, I do not need to give reasons for any of my decisions. I have decided that they have to leave and they have to leave," are the Pope's explicit words as reported by Tosatti.
Müller himself commented on 25 May upon this sudden dismissal of some of his best collaborators with the words: "This is true that I am in favor of a better treatment of our officials in the Holy See, because we cannot only speak about the social doctrine and we must also respect it, and the Pope himself said we (have) some old behaviors of the courts and I am absolutely against this treatment." The German cardinal added that "we can dismiss only people if they make a mistake and the criteria for our collaborators in our Congregation must be the orthodoxy and the integrity of moral and priestly life and the competence in the matter and other 'criterias', must speak Italian or we need people of different languages and cultures."
It was the first time that Cardinal Müller publicly rebuked the Pope, and it was not about himself, but about the sudden dismissal of three of his best collaborator-priests at the CDF.
Henry Sire comments in his book on this event, as follows:
It was rumored that Francis intended to revert competence for sex abuse cases from Cardinal Müller at the Congregation for the Doctrine of the Faith to the Rota and Congregation for Clergy. Instead, Francis merely changed personnel. He summarily removed two Congregation for the Doctrine of the Faith staffers in charge of handling sex abuse cases (declining to give any reasons to Cardinal Müller) and then dismissed  Müller himself as prefect of the Congregation for the Doctrine of the Faith in July 2017.
Quoting Associated Press' Nicole Winfield, Sire shows that Inzoli was not the only case where Pope Francis showed mercy toward grave offenders:
Winfield wrote that "two canon lawyers and a church official" told her the pope's emphasis on "mercy" had created an environment in which "several" priests under canonical sanctions imposed by the CDF had appealed successfully to Francis for clemency through powerful curial connections. The unnamed official noted that such appeals had rarely been successful with Benedict XVI, who had removed over 800 priests from ministry.
The above-mentioned well-placed source in the Vatican also confirmed that there were several curial members in high-ranking places who knew about the restrictions placed on McCarrick under the pontificate of Pope Benedict XVI. So, if they knew, Pope Francis himself also knew.
Lastly, let us consider a story that came to LifeSiteNews from another well-informed source in Rome. This source wrote to LifeSiteNews a few days ago as follows:
Cardinal Müller tried to get an apartment for one  of his secretaries at the Palazzo del Sant'Ufficio where the Congregation for the Faith is also located. There was an appartment free, and the cardinal put in a request for his secretary. But then there came from the guest house Santa Marta, from the pontifex, a note personally informing Cardinal Müller that this apartment is not available for his secretary because Cardinal Coccopalmerio needed it for his secretary Luigi Capozzi. And that is how it happened.
As the source candidly continues, "that was the same apartment which – in the summer of 2017, and after complaints from neighbours – was raided by the police, in order to end a homo party with large amounts of cocaine, which Capozzi himself – at the Palazzo del Sant'Ufficio – had organized for his homosexual friends."
This source thus tells us that it was Pope Francis himself who made sure that a homosexual secretary of his friend Cardinal Francesco Coccopalmerio would obtain a privileged apartment in the Vatican. As LifeSiteNews had reported at the time, it was this same Cardinal Coccopalmerio who, in 2014, had spoken about the "positive elements" in homosexual relationships.
As our other well-placed source in the Vatican assures us, "Pope Francis had been informed by someone about Luigi Capozzi's problems, but he gave him anyway the apartment."
Cardinal Müller: Pope Benedict's letter 'more intelligent than all' contributions at Rome Abuse Summit
April 17, 2019 (LifeSiteNews) – Cardinal Gerhard Müller has given several interviews in recent days defending Pope Emeritus Benedict XVI's April 10 letter on the roots of the abuse crisis.
The former Prefect of the Congregation for the Doctrine of the Faith told the German newspaper Die Welt that "in his letter, Benedict has pierced the boil," and his text "is more intelligent than all the contributions at the Roman 'Abuse Summit' and the know-it-all moral experts at the German Bishops' Conference."
In a new interview with LifeSiteNews, Cardinal Müller further explains his thoughts and returns to his strong rebuke of the Sex Abuse Summit in Rome. "The nebulous concept of clericalism is the wrong approach," he explained. "With a false diagnosis, one can never find the right therapy, but, rather, one will only worsen the illness."
It is about "grave sins against the Sixth Commandment," Müller points out. He mentions two prelates in Rome who know about the empirical facts: "Cardinal O'Malley and Cardinal Ladaria both know the most concretely about the causes and the conditions of clerical sexual crimes committed against adolescents."
Cardinal Müller is also looking at the role of the recent Popes with regard to the moral corruption in the Church, but especially the intellectual corruption among moral theologians. He says that, although these Popes did defend the moral teaching in different magisterial texts, when then seeing the large effects of the "sexual revolution, one did not also dare to take disciplinary actions. One restrained oneself because one does not want to play the bogeyman in public opinion."
Cardinal Müller further called out the German Bishops' Conference for publishing vitriolic articles against Benedict and his sex abuse letter. As LifeSiteNews reported, several moral theologians were indignant about Benedict's pointing to the sexual revolution of the 1960s and the laxity among moral theologians. Katholisch.de, the German bishops' news website, published these rebukes which called Benedict's text "absurd," "demeaning," and which claimed that Benedict was causing a "schism."
"It is brutal," comments the German cardinal, "when in the name of the bishops – and on a website funded by them – such obscene articles are being commissioned which demean personalities like Benedict XVI." He calls upon the German bishops to take action and to change Katholisch.de or remove its funding: "I hope that bishops will exercise their responsibility, in order to implement a change of course of this platform or otherwise to end the abusive use of Church taxes."
Cardinal Müller on Viganò: No one has right to demand a pope's resignation
Cardinal Gerhard Müller, prefect of the Congregation for the Doctrine of the Faith (2014 CNA/Daniel Ibanez)  VATICAN CITY (CNS) — People can disagree about problems and the best ways to resolve them, but no one should launch a formal accusation against a pope much less ask for his resignation,
German Cardinal Gerhard Muller said.Such public attacks put into question the church's credibility, he said in an interview with the Italian website Vatican Insider Nov. 27."I am personally convinced that Pope Francis is doing everything possible to oppose the phenomenon of abuse against minors and to foster a new spirituality among priests who must act with the heart of Christ and do what is good for all people, above all for children and young people," he said in a lengthy question-and-answer piece.Asked about Archbishop Carlo Maria Vigano's public call for Pope Francis to resign because he felt the pope knew about the alleged sex abuse involving U.S. Archbishop Theodore E. McCarrick's but still failed to act, Cardinal Muller said, "No one has a right to indict the pope or ask him to resign."
A clue to the fact that Pope Francis has already been told to resign 
Pope orders Vatican to Seize Pedophile Organization in Peru
January 16, 2018 by Jon Watkins
They don't want to help the victims of the sexual perverts, they want to completely control the news that is coming out about the Catholic church. I would bet that there were claims of child sacrifice about to be released so that devil stepped in to protect his underlings!
Peru is notorious for Human Sacrifice evidenced by the Inca people. HUMAN SACRIFICE: Ancient Peruvian tomb yields bodies of six women killed in rituals Those demonic spirits do not leave an area they have a strong hold in. The Prince over Peru and his minions are still active.
It should also be noted that everywhere the Catholic church has an influence there is much demonic activity! US Catholic Exorcists: Demonic Activity on the Rise. Why do you think they have a shortage and are trying to train more of the sexual perverts to handle the increase!
Get rid of Catholicism, get people saved by way of the True Gospel of Jesus Christ and demonic activity will decrease!
Latin Sodalitium Christianae Vitae Translated to English = I vote for Christian Life
Sodalitium Christianae Vitae (SCV), or Sodalitium of Christian Life is a Society of Apostolic Life of Pontifical Right, according to the Code of Canon Law which governs the Latin Rite branch of the Catholic Church. It was founded in Lima, Peru, by Luis Fernando Figari on 8 December 1971. It acquired its present canonical form when Pope John Paul II gave his Pontifical approval on 8 July 1997. The Sodalitium was the first male religious society in Peru to receive papal approval. By 1997 there were Sodalit communities in several countries.
The Sodalitium is composed of consecrated laymen and priests, called "Sodalits," who live in community as brothers, live the evangelical counsels through perpetual commitments of celibacy and obedience, as well as the communication of goods.
Being recognised as a lay society of apostolic life of pontifical right, the Sodalitium is under the authority of the Congregation for Institutes of Consecrated Life and Societies of Apostolic Life of the Holy See. This is the first lay society of apostolic life to be recognised with Pontifical approval.
Important Ministry and Website Info! Click Here
In 2003 there were accusations of brainwashing of young people, and of elitism, conservatism, and authoritarianism. Later there were allegations of sexual abuse by the founder Luis Fernando Figari. There were also detailed allegations about the founder's extreme right-wing and phalangist activism in his youth. Independent investigators commissioned by the Sodalitium reported that "Figari sexually assaulted at least one child, manipulated, sexually abused, or harmed several other young people; and physically or psychologically abused dozens of others." On 30 January 2017, the Vatican's Congregation for Institutes of Consecrated Life and Societies of Apostolic Life ordered that Figari be "prohibited from contacting, in any way, persons belonging to the Sodalitium Christianae Vitae, and no way have any direct personal contact with them.". Source: Wikipedia
So for 47+ years, Catholic priests have been sexually abusing children and ALL of the Popes knew! Could that be a reason why Ratzinger, Pope Benedict XVI resigned? Did he make trips to Peru to partake in the festivities?
Reuters – Pope Francis has ordered a Vatican takeover of a Catholic society in Peru whose founder is accused of sexually and physically abusing children and former group members.
The move is the latest in a saga that has damaged the reputation of the Catholic Church in Peru.
It comes a week before Francis is set to pay his first visit as Pope to that country and to Chile.
The Vatican said the Pope had appointed an administrator to run Sodalitium Christianae Vitae whose founder, Luis Figari, a layman, is scheduled to go on trial in Peru later this year for the sexual abuse of minors. Mr Figari has denied wrongdoing.
An internal report by the group last year concluded that Figari, who founded the organisation in 1971 and led it until 2010, and three other high-ranking former members, had abused 19 minors and ten adults.
The report described Figari as a charismatic, authoritarian and cult-like leader who publicly humiliated members as part of his strategy to control them.
Most of the alleged cases took place between the 1970s and 2000.
A statement on the group's website said it welcomed the Pope's intervention and promised full cooperation with his administrator.
A Vatican statement said the Pope had been following the group's situation "with worry" for years and had taken the action "after a detailed analysis of all the documentation".
It said the pope was concerned about "the gravity of information regarding the internal system, economic and financial management".Source