From left, Charge D'affaires at the US Embassy in Baghdad Joey Hood, Acting Assistant Secretary for Near Eastern Affairs at the State Department David Satterfield and Secretary of State Mike Pompeo walk together upon his arrival in Baghdad on May 7, 2019.
Mandel Ngan / AFP – Getty Images
Pompeo said the United States would ensure Iraq remained "a sovereign, independent nation."
NBC News
---
BAGHDAD – Secretary of State Mike Pompeo called off a planned visit to Germany and instead made an unannounced trip to Iraq on Tuesday, a day after the Trump administration said Iran posed a growing threat to U.S. forces and interests in the Middle East.
Pompeo spent about four hours on the ground, meeting Iraqi Prime Minister Adel Abdul Mahdi, Iraqi President Barham Salih and other officials, before departing for London.
Prior to landing in Baghdad, Pompeo told reporters he cancelled his scheduled stop in Berlin to meet German Chancellor Angela Merkel and flew to Iraq due to indications that "Iran is escalating their activity."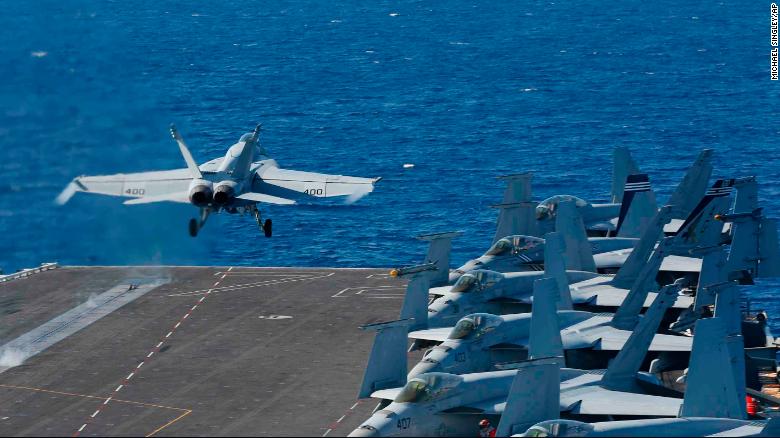 In this May 3, 2019 photo released by the U.S. Navy, An F/A-18E Super Hornet from VFA 25 launches from the flight deck of the Nimitz-class aircraft carrier USS Abraham Lincoln.
According to the Hal Turner Radio Show
EMERGENCY ACTION MESSAGES BEING TRANSMITTED TO US MILITARY AFTER IRAN FAILS TO STAND DOWN BALLISTIC MISSILES
The US may make a Pre-emptive military strike against Iran within 24 Hours due to short-range ballistic missiles being pre-positioned to hit US and Israeli targets in Middle East.
All the urgent and secret activity surrounding Secretary of State Mike Pompeo today has to do with Iranian Short-Range Ballistic Missiles being moved by boats throughout the Middle East in preparation for a likely attack against US Military Bases and maybe even against Israel.
These missiles are being shipped by boats on rivers in Iraq, in Syria, and from Freighters in the Mediterranean off the coast of Israel.  
Intelligence showing that Iran is likely moving short-range ballistic missiles aboard boats in the Persian Gulf was one of the critical reasons the US decided to move an aircraft carrier strike group and B-52 bombers into the region, according to several US officials with direct knowledge of the situation.
The concerns over the movement of the missiles was one of multiple threads of intelligence from various sources that led the US to believe Iran had a capability and intention to launch strikes against US targets.
It is not known at this time if these missiles can actually be FIRED from the boats, but all indications are that Iran is planning to strike.
The USA announced the movement of these short-range assets in the hope that the boats would return to port and disarm. They have seen NO sign of that.
So in the last few minutes they have released the news that it is ballistic missiles; to be very clear to Iran that the game is up. To give them one last chance to stand down.
The US has been using back-channels to try to convince Iran to step-back, but all efforts have FAILED.  There is no sign whatsoever that Iran is pulling the boats or missiles back.
TRADE ROUTE
Iran could tie up the Strait of Hormuz pretty rapidly if they started firing these things at supertankers, which may well be what the USA is concerned about, in addition to potential US force attacks.
Emergency Action Messages (EAM's) have now been transmitted to the Armed Forces of the United States via the Global High Frequency Communications System.   These encrypted messages are of a class of messages from "SKY-KING"  that instructs military members, "stop whatever you're doing and do this, right now."  It is the single highest priority messages issued within the US Military.
There is no way for anyone outside the US to break the encryption, so there is no way to tell what orders have been given.  But inside intelligence sources have informed me directly the US and our allies are considering engaging in pre-emptive military first-strikes against these short-range ballistic missiles.   Our strikes would use conventional weapons only; we would NOT use nuclear for this.
If we make a strike, the ball will then be in Iran's court.  Will they push back from the table and call it a day, or will they escalate?   All indications point to a showdown within 24 hours from now.
Iran has Sleeper Cells already inside the United States, awaiting orders to attack us from within in the event of war.
I am being told not to forget that this SHORT-RANGE BALLISTIC MISSILES ON BOATS is only one of the current threats. They are tracking a number of consecutive threats from the Iranians, with this just been one of a handful of concurrent threats.
———————–
Back to main story-
"I wanted to go to Baghdad to speak with the leadership there, to assure them that we stood ready to continue to ensure that Iraq was a sovereign, independent nation," Pompeo said.
He also said the United States would continue to work with other partners in the region, including Jordan, Saudi Arabia, the United Arab Emirates and other Gulf Arab states, that also "want to see a free, independent, sovereign Iraq."
Washington has long sought to counter Iran's influence in Iraq and has appealed to Arab allies to bolster their engagement with Baghdad.
The Trump administration said on Monday that it had expedited the deployment of an aircraft carrier strike group and sent an Air Force bomber squadron to the Persian gulf due to intelligence reports indicating U.S. forces were at a heightened risk from Iran and its proxies.
The U.S. secretary of state said his German counterpart, Foreign Minister Maas, was "most gracious" about his change in plans and "understood completely."
Pompeo also said he expected to discuss business deals with Iraq that would allow the country to reduce its dependence on electricity from neighboring Iran.
The State Department kept the trip to Iraq secret in advance and did not allow journalists travelling with Pompeo to report on his visit until they had departed Baghdad.
The visit came at a moment of rising tensions between Washington and Tehran, one year since President Donald Trump withdrew the United States from the nuclear agreement between Iran and world powers. The agreement imposed strict limits on Iran's nuclear program in return for easing U.S. and international sanctions. After pulling out of the deal, Trump has reimposed U.S. economic sanctions on Tehran, including measures designed to cut off Iran's oil exports.
Iranian diplomats were due to meet European foreign ministers in Brussels on Wednesday amid reports in Iranian media that the regime plans to scale back its compliance with the nuclear deal, possibly stepping up its enrichment of uranium.