Russia and Iran are planning a joint naval exercise scheduled within the next year, commander of Iran's Navy Rear Admiral Hossein Khanzadi announced Monday, according to state media. Semi-official Fars has reported it will take place by March 2020 in the Indian Ocean, and will be staged as far north as the strategic and increasingly tense Strait of Hormuz.
"A coordination meeting will be held between the two sides in this regard," he said while on a three day visit to Russia. "When we speak of the Indian Ocean, perhaps the most important part of which is the northern region where it's linked to the Sea of Oman, the Strait of Hormuz and also the Persian Gulf," Khanzadi said from Saint Petersburg.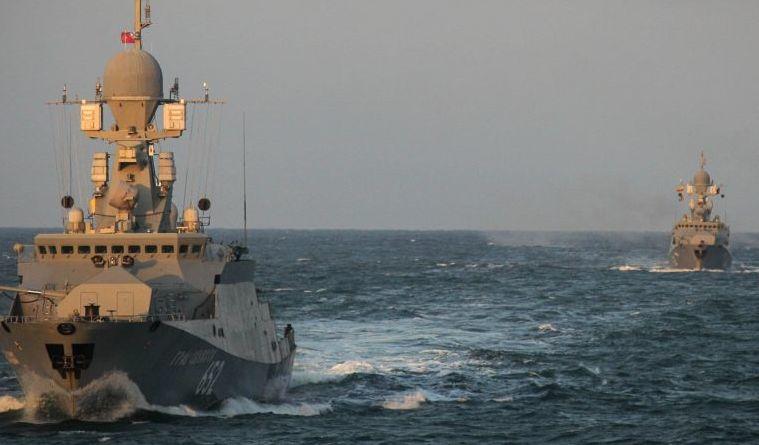 The Iranian naval chief is in Moscow to sign a 'memorandum of understanding' with the Russian Ministry of Defense for expanded mutual ties, and to observe a Russian naval parade. "This is the first MoU of its kind and can be regarded as a turning point in Tehran-Moscow military relations," Khanzadi said of the largely symbolic agreement.
This is expected to include further development of military cooperation in the Caspian Sea, though nothing specific was indicated regarding the world's largest inland body of water between Europe and Asia.
Iran is also trying to shore up the support of powerful allies as it's preparing to resist US and UK military pressures in the vital Strait of Hormuz, and as it attempts to weather Washington's economic and energy sanctions storm.
This comes further as a weekend report in UK media said London is mulling offering Russia a seat at the table on its European-led maritime coalition to safeguard tankers from Iranian attacks, something Moscow would likely rebuff, or alternately Moscow could actually consider such a proposal in order to have a hand in ensuring the avoidance of escalation.
The aircraft carrier USS Abraham Lincoln left in May on its deployment to the Gulf [Jeff Sherman/US Navy via AP]
Iran and Russia have going years back held joint naval drills in the Caspian Sea, however, wide-ranging drills in the Indian Ocean stretching up through the Persian Gulf would certainly gain the Pentagon's attention and hold the potential for conflict as the region gets increasingly crowded with western naval assets to protect international shipping lanes.