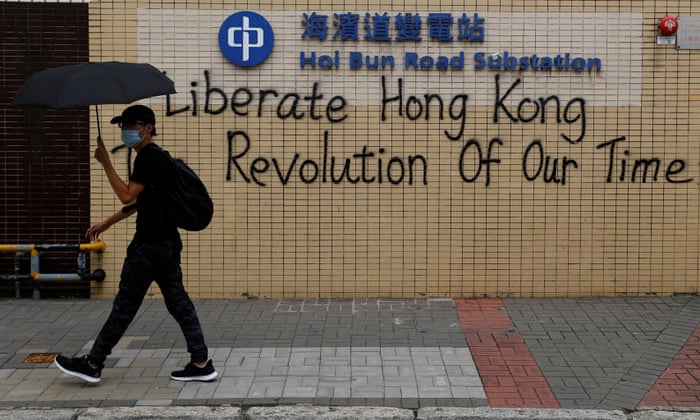 Hong Kong riot police have fired rounds of teargas, rubber bullets, pepper balls and sponge rounds, and beaten people, as protesters led them on a game of cat-and-mouse across the city. The actions took place after a peaceful afternoon march into a confrontation and split into several impromptu marches in different locations.
Tens of thousands of demonstrators took part in an anti-government rally in the Kwun Tong district in Kowloon on Saturday, marking the city's 12th week of protests. The peaceful march, sanctioned by police, turned into a tense standoff between riot police and protesters by mid-afternoon after demonstrators built barricades with bamboo rods and plastic traffic barriers outside a police station.
At about 4.40pm local time, baton-wielding riot police charged at thousands of protesters, beating them as they fled. Protesters threw bamboo rods and other objects back at the police.
At one point, objects on the ground were on fire as police chased demonstrators along the streets and into nearby buildings.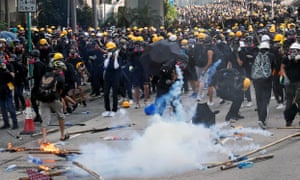 "Protesters are simply not able to defend themselves. Police are abusing their powers," said a man watching the scene.
The street was empty after the clearing operation which lasted about 15 minutes. But protesters retreated to other locations and by early evening, amid more confrontations on a side street and at a nearby residential complex, protesters threw rocks and placed soap and oil on the ground. Police fired several more rounds of teargas and rubber bullets, pepper balls and sponge rounds in return.
After police cleared the streets in Kwun Tong around 8pm, protesters moved to another district, Wong Tai Sin, and occupied the main road. They shone laser pointers at a police residential quarters in the area and police fired more rounds of teargas. Police officers charged at the crowds occupying the main road, bringing traffic to a standstill, and subdued several protesters.
By late night, some protesters moved to another area, Sham Shui Po. They set up makeshift barricades with rubbish bins and other objects on a street near the local police station and shone laser pointers into the station. Riot police descended into the area and charged at protesters and removed the road blocks. As of 11pm, protesters and riot police were still locked in a standoff.
Many demonstrators covered their faces with medical masks and wore balaclava-style scarves and dark glasses covered with tinfoil.
The key theme of the sanctioned march earlier in the afternoon was to oppose the government's installation of smart lamp posts equipped with sensors, closed-circuit cameras and data networks. The government said the lamp posts would only collect air quality, traffic and weather data, although many at the protests said they had covered themselves because of privacy concerns.
Some handed out medical masks while others gave out tinfoil to cover phones, credit cards with smart pay functions and smart identity cards that Hongkongers are mandated to carry.
"We feel unsafe, that's why we have to speak up," said Harry Yip, who said he was wearing a hat, reflective dark glasses and a black scarf over his face to avoid government surveillance.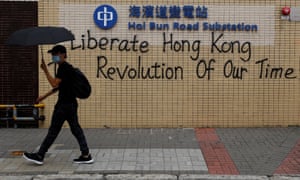 The fear of surveillance comes amid reports that many Hong Kong residents have been interrogated upon entering mainland China, being taken into rooms to have their messages and photos on their phones and computers checked.
A member of the British consulate in Hong Kong, Simon Cheng, was released on Saturday after being detained in China for 15 days while there on business.
More broadly, the city's demonstrations are aimed at pressurising the Hong Kong government into responding to protesters' political demands, including the complete withdrawal of the now suspended extradition bill – under which individuals can be sent to China for trial – the setting up of an independent body to investigate police violence, and the free election of Hong Kong's leaders and legislature.
Many protesters resented a decision by Hong Kong's metro company, MTR, on Saturday to stop operating trains along a large stretch of a line from 12pm in an apparent move to stop protesters from reaching the protest in Kwun Tong.
Resentment against the government and police has reached a dangerous level among the population after numerous violent confrontations between the police and protesters erupted during 11 weeks of protests in Hong Kong, a regional financial hub once known as one of the world's safest cities, in the past two-and-a-half months.
A Hong Kong government statement issued close to midnight on Saturday "strongly condemns" protesters for paralysing traffic, hurling suspected petrol bombs and bricks at police, setting fires and vandalising public property, including smart lamp posts. It said the government would hold them liable for illegal acts.