Pura and a range of other big name Australian dairy brands would be sold to China Mengniu Dairy under a $600 million deal.
CREDIT:
BEN RUSHTON
Hot on the heels of getting a green light to buy Bellamy's Organic for $1.5 billion, China Mengniu Dairy Company has struck a deal to buy Lion's dairy and drinks business for $600 million.
Mengniu, one of the world's biggest dairy companies, will acquire major Australian brands including Big M, Dairy Farmers, Pura, Berri and Daily Juice under the deal.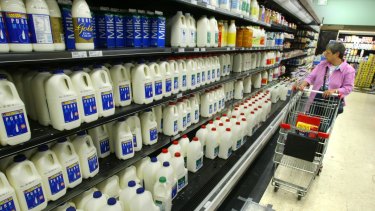 The Chinese government-owned food company COFCO holds about a 16 per cent stake in Mengniu, which itself is listed in Hong Kong.
But the proposed deal, which needs approval from both the Foreign Investment Review Board and the competition regulator, comes at an extremely delicate time in the relationship between Australia and China and will be a test of Australia's attitude to Chinese investment.
The Age and The Sydney Morning Herald have run a series of stories on China in recent days that will add to the tensions. The stories have included claims that a Chinese espionage ring attempted to install an agent for Beijing in a seat in Federal Parliament.
Australian milk has been bought by an overseas company.
Tasmanian independent MP Andrew Wilkie and Greens senator Peter Whish-Wilson expressed concern about the newly announced business deal.
There's no end in sight to the fire sale of Australian and Australian-based companies to the Chinese.

Tasmanian MP Andrew Wilkie
"There's no end in sight to the fire sale of Australian and Australian-based companies to the Chinese. Yes, Lion is already Japanese-owned. The issue here is the increasing concentration of control of Australia's leading brands … in the hands of a single country where all business enterprises have obligations to the central government," Mr Wilkie said.
"I've got concerns that they're going to be taking a big chunk of raw milk production and making a product that they're just going to sell into China. That's just going to take supply off the market," Senator Whish-Wilson said.
If the Mengniu/Lion deal is approved, as a leading dairy industry analyst predicts, it would close Lion's lengthy bid to sell its dairy and drinks business, first announced last year.
There are some important differences between Bellamy's and Lion Dairy & Drinks (D&D) that will be considered by FIRB. Bellamy's Organic is an Australian company with a small manufacturing footprint, while Lion is owned by Japan's Kirin Holdings, so is already foreign-owned.
Lion Dairy and Drinks operates 11 Australian manufacturing facilites and has another two with joint-venture partners. Mengniu said the Lion business procured the equivalent of about 825 million litres of milk per year. While Lion is a significant player in the dairy sector, it processes less milk than Saputo and Fonterra, which are also foreign-owned.
Mengniu Dairy chief executive Jeffrey Minfang Lu said the proposed acquisition would deliver real opportunities for Australian dairy farmers, fruit growers and regional communities.
"This acquisition brings together the best of the East and West, harnessing Mengniu Dairy's networks in existing markets and D&D's leading brands and production capability," he said.
"I truly believe our proposed acquisition will bring tremendous opportunity for the entire Australian dairy sector, opening up a channel to our home market in a very significant way. We have a strong track record of maintaining sustainable development in the markets we are in, which has been beneficial to local communities and the broader economy.
"It's a win-win transaction for two leading dairy companies in Australia and China and represents a compelling opportunity for all stakeholders," he said.
A sale would complete Lion's departure from the Australian dairy sector and follows the recent sale of its specialty cheese business to Saputo for $280 million.
Lion chief executive Stuart Irvine said: "We believe that Mengniu Dairy, a specialty dairy player, is an ideal owner to take Dairy & Drinks forward, given its track record of investing in the Australian dairy industry, together with its global reach and deep capabilities."
"Bringing the businesses together will help drive Mengniu Dairy's growth in the Australian domestic market, while also accelerating Dairy & Drinks' aspirations in south-east Asia and China," he said.
Senior analyst at Rabobank Michael Harvey believes the deal will be approved by Australian regulators. "It's hard to see them (ACCC) having any issue just because it's not a consolidation of retail shelf space or milk collection, or anything like that … there's no red flags," he said.
"It (Lion) is foreign-owned already, so there's every chance they'll get (FIRB) approval," he said.