---
Indonesia deploys fighter jets, warships to patrol Natuna islands at centre of spat with Beijing
The islands border the South China Sea, most of which is claimed by China although there are competing claims from other Southeast Asian nations
Indonesia does not have a claim in the South China Sea, but said it would not tolerate incursions by China – a key trading partner – into its nearby waters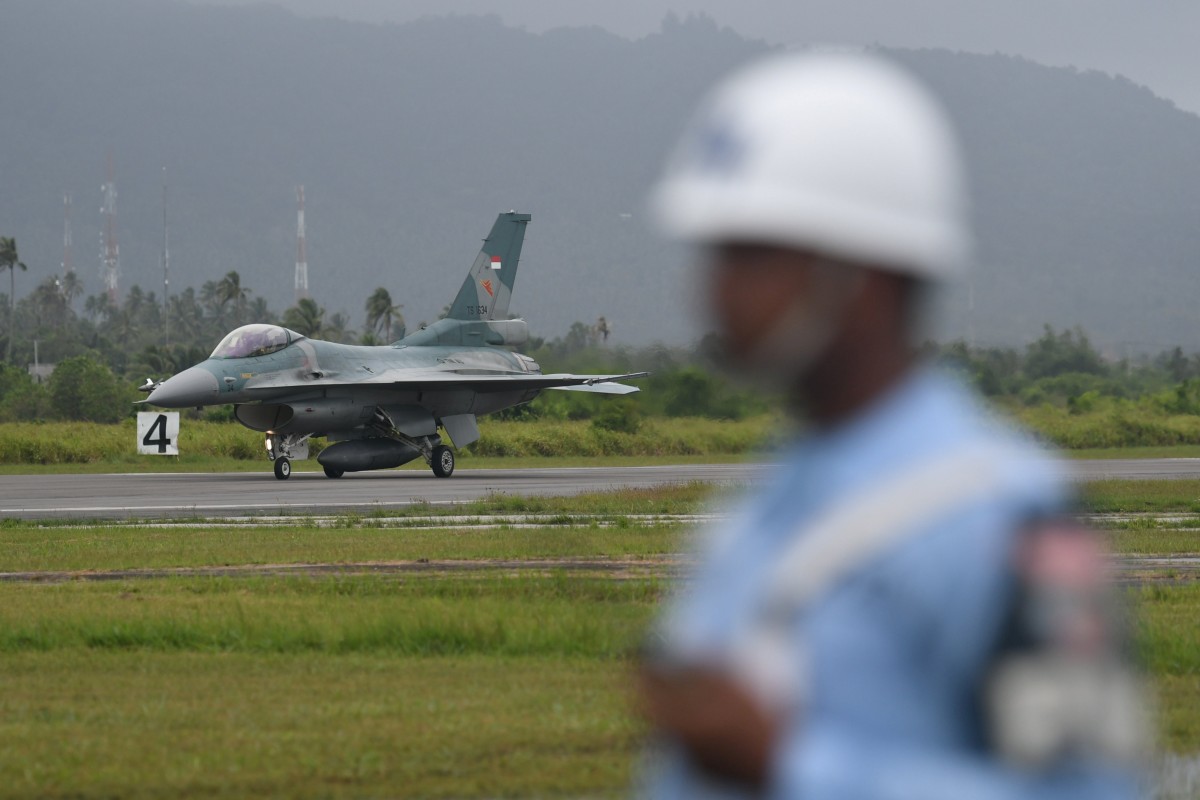 An F-16 C fighter jet arrives at Raden Sadjad military airbase on Natuna Island. Photo: Reuters
Indonesia has deployed fighter jets and warships to patrol islands near the disputed  South China Sea the military said on Wednesday, escalating tensions with Beijing after a diplomatic spat over "trespassing" Chinese vessels.
President Joko Widodo also headed to the fishing-rich waters around the Natuna islands which border the South China Sea, most of which is claimed by China despite competing claims from other Southeast Asian nations including Vietnam, the Philippines and Malaysia.
China claims the majority of the resource-rich waterway through the so-called nine-dash line, a vague delineation based on maps from the 1940s as the then-Republic of China snapped up islands from Japanese control.
Indonesia does not have a claim in the South China Sea, but has said it would not tolerate incursions by China – a key trading partner – into its nearby waters.
The Indonesian military said it had deployed eight warships and four fighter jets ahead of Widodo's visit in an apparent bid to assert its sovereignty over the region.
A Chinese coastguard vessel was spotted near the islands on Wednesday, Indonesia said.
"We have deployed eight warships," said Navy spokesman Fajar Tri Rohadi.
It follows the deployment on Friday of about 600 personnel from the navy, army and air force to Natuna as the military launched what it called a regular patrol to secure the area due to the presence of foreign vessels in Indonesian waters.
Jakarta said it would also  send hundreds of fishermen to the area to keep an eye out for foreign vessels.
The moves come after Indonesia summoned the Chinese ambassador last week and lodged a "strong protest" over a Chinese coastguard vessel escorting Chinese fishing boats around the islands in mid-December.
Beijing responded that it has "historic rights" in the region and that fishing boats had been carrying out "legal and reasonable" activities.
This week, China's foreign ministry said the dispute was being handled diplomatically.
"China and Indonesia have been communicating on this matter through diplomatic channels," ministry spokesman Geng Shuang said on Tuesday, describing the two countries as "comprehensive strategic partners".
"Both countries shoulder the responsibility of maintaining regional peace and stability," he added.
Colin Koh, a research fellow at the S. Rajaratnam School of International Studies, said it was not the first time Indonesia has made such a deployment.
In 2016, after incidents with Chinese fishing boats, the Indonesian Air Force also beefed up its presence in the Natunas, Koh said.
"This is all part of the 'standard' military posturing Indonesia undertakes against Chinese transgression," he said. "It's necessary to take this stand because eyes at home are watching how the Jokowi administration responds to this latest Chinese intrusion."
Despite the show of power, Indonesia's defence forces were not likely to further escalate matters, Koh said.
"Recent statements by [Indonesian defence] authorities point to their belief that the Chinese might be 'baiting' them to commit unlawful acts which Beijing could then use against them. What unlawful act that is, we aren't too sure," he said. "But it's clear the political and military leaderships are in sync on exercising restraint."
While the Chinese military was also not likely to scale up tensions, it would be ready to retaliate at a moment's notice, Koh said.
"The Chinese believe it's important to possess the moral high ground by insisting on employing coastguards instead of military. China has the advantage of having more numerous and more capable coastguard vessels at its disposal," he said.
"The Chinese already have plans on how the PLA could intervene in case TNI [Indonesia's armed forces] ever intervenes and overpowers the coastguard units in Natuna EEZ. And likely Beijing is daring Jakarta to do just that," he said. "And that's likely what the Indonesians are concerned about."
Indonesia's air force deployed four fighter jets to the South China Sea on Tuesday in a stand-off with Beijing after Jakarta protested over a Chinese violation of its exclusive economic zone.
The stand-off began in mid-December when a Chinese coast guard vessel, accompanying Chinese fishing boats, entered waters off the coast of Indonesia's northern Natuna islands, prompting Jakarta to summon Beijing's ambassador.
The issue has soured Indonesia's generally friendly relationship with China, its biggest trading partner and a major investor in Southeast Asia's largest country.
Fajar Adriyanto, the air force spokesman, said four F-16 jets had been conducting flights over the islands, though he also played down fears of any confrontation with Beijing.
"They're doing standard patrols to protect our sovereign area. It just so happened that they're patrolling Natuna," Adriyanto said. "We don't have the order to start a war with China."
The South China Sea is a global trade route with rich fishing grounds and energy reserves and China claims most of it based on what it says is its historic activity. But Southeast Asian countries, supported by the United States and much of the rest of the world, say such claims have no legal basis.
On Monday, Indonesia said it was mobilising fishermen to the northern Natuna region and had deployed several naval ships.
Chinese foreign ministry spokesman Geng Shuang said on Tuesday Beijing had "opened diplomatic channels" with Indonesia since the latest incident, and said "both countries shoulder responsibility for maintaining regional peace and stability".
There has been no negotiation with the Chinese vessels as of Tuesday, Nursyawal Embun, director of sea operations of Indonesia's Maritime Security Agency, said.
According to data from Maritime Traffic, a ship tracking website, at least two Chinese ships – Zhongguohaijing and Haijing 35111 – were in waters on the edge of Indonesia's exclusive economic zone on Tuesday, approximately 200km off Indonesia's Riau Islands.
The ships were within China's unilaterally-declared "nine-dash line", which marks a vast expanse of the South China Sea that it claims, including large swathes of Vietnam's continental shelf where it has awarded oil concessions.
The China Coast Guard ship Haijing 35111 is one of a handful of Chinese ships that was involved in a months-long standoff with Vietnamese ships last year near the offshore oil block in the disputed waters, which fall within Hanoi's exclusive economic zone.