Coronavirus in China: 23 Million QUARANTINED, 2.8 Million Infected; 112,000 DEAD
10 Comments
---
MULTIPLE UPDATES SINCE FIRST PUBLISHED . . . SEE BOTTOM — The outbreak of an alleged new coronavirus in China is completely out of control, and is killing THOUSANDS every day.
As of 6:00 PM eastern US time on 23 January, Covert Intelligence sources inside China confirm over 2.8 MILLION infected people with one-hundred-twelve-thousand (112,000)  DEAD so far.  Chief cause of death: Multiple Organ Failure.
This deviates wildly from the PUBLICLY reported number of 830 Infected and 25 deaths because . . .  ready for this . . . . .
A message from a frontline doctor in Wuhan has confirmed the reason for the stopped growing number of infected is because the hospitals have run out virus test kits …
The thousands of dead are being taken directly to incinerators. No funeral. No burial.  Just burned. 
Intel is getting its actual Death counts directly from the incinerator operators!!!!!!
People are literally "Dropping-Dead."
On trains (Before Quarantine):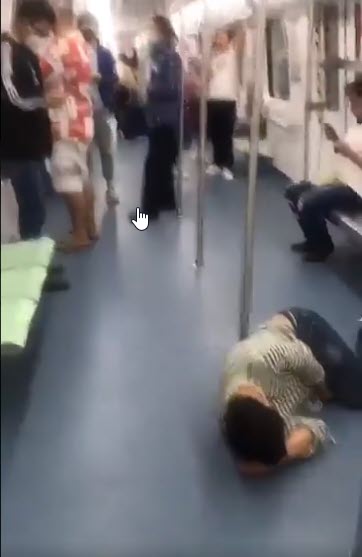 On the streets: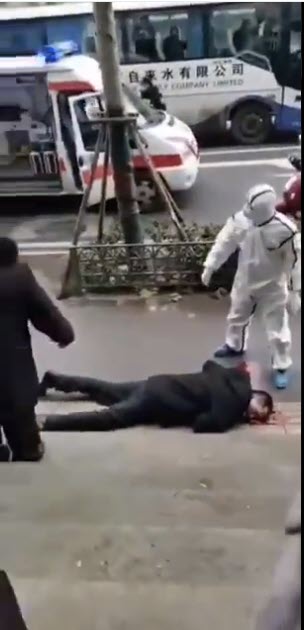 And Here: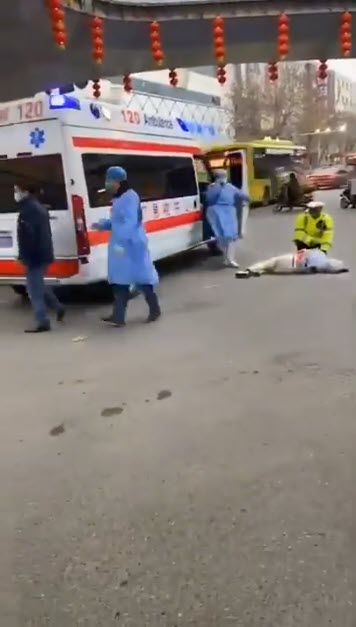 And here too: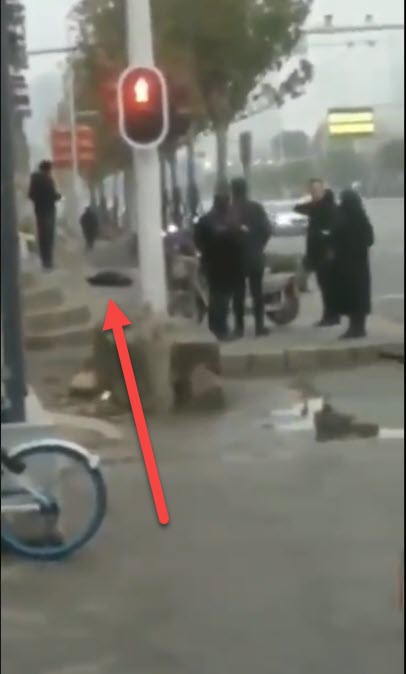 On Hospital Floors waiting for treatment: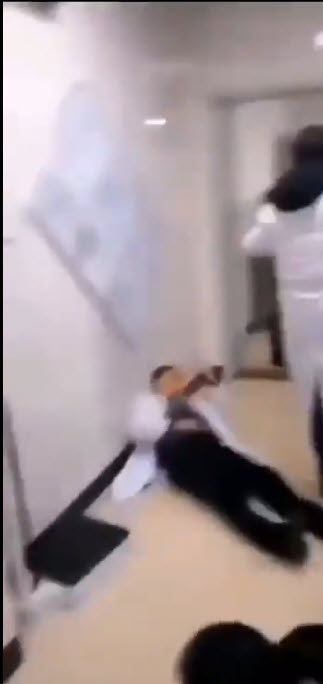 Now, even Doctors in Hospitals are literally falling down dead: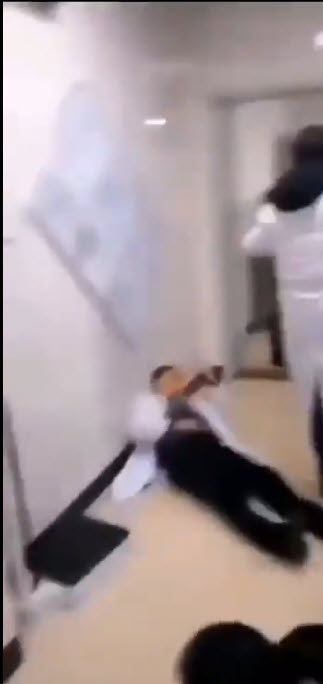 The new virus is different from SARS, in that it causes rapid kidney failure.
As of Thursday, 23 January, the government of China has QUARANTINED a total of EIGHT cities:  Wuhan, Huanggang, Ezhou, Chibi, Xiantao, Qianjiang, Zhijiang and Lichuan
20,000,000+ citizens in total.
The Chinese Military is now assisting with the lockdown of multiple Chinese cities. They're all wearing bio-protective suits.
CCP Central Military Commission has ordered Central Command to assist the Wuhan lockdown in response to social instability due to panic emotions.
The soldiers were equipped with biological protective gear and they vowed to win the campaign.
Motorized equipment will be put to use. Dongfeng EQ2050 armored vehicle, armored personnel carriers and light tanks were all put to use to defend the roadblocks.
Even more astonishing, Chinese in the entire province Zhejiang have been told to stay in their homes. 60 million people are told to stay where they are. It's not an official Quarantine (yet) but rather strongly worded advice.
The systemic failure of Chinese society has already started. 
By THIS Sunday, full panic will be unavoidable as people realize food, medicine, and doctors, are finite resources and triage is in effect.
Stores are already OUT of food:
There is literally NO FOOD LEFT in the cities under Quarantine because no trucks are allowed in to deliver!
When China collapses — and it looks very much as though it will — China's collapse will set in-motion a global economic shockwave from which the planet will be unable to recover for decades.
ELSEWHERE
 Australia:
Health authorities have confirmed a person in Sydney is in quarantine as of this morning after possibly contracting the potentially deadly coronavirus disease.
Suspected case now in Brisbane.
UPDATE: NSW Health has confirmed it is investigating four possible cases of coronavirus in the state.
Canada:
MONTREAL — Five people in Quebec who had recently traveled to China and displayed symptoms of a respiratory virus are currently being tested for coronavirus.
Colombia (South America):
Colombia is on alert for a possible case of a patient suspected of presenting the symptoms of coronavirus originating in China.
As reported by various Colombian media, it is a Chinese citizen who arrived in the city of Cali after traveling from Turkey. The man was isolated to undergo the respective exams.
England (UK)
FIFTH SUSPECTED CASE OF CORONAVIRUS FEARED IN UK AS PATIENT RUSHED TO HOSPITAL
UPDATE: Fourteen people in the UK have been tested for coronavirus with five confirmed negative and nine still awaiting the results, Public Health England said
 Italy:
In ITALY, Chinese woman who was in Wuhan has been hospitalized
 Japan:
Japan has confirmed a second case of coronavirus in a Wuhan male who was visiting Tokyo 
Malaysia:
Two suspected cases now in Quarantine, awaiting test results.
Mexico:
Three new suspected cases of coronavirus reported in Jalisco, Mexico
In Northern Ireland:
1 suspect case in Belfast, Northern Ireland
The Philippines:
Five suspected cases
UPDATE: PhillipinesDOH monitoring at least 12 people who had contact with Wuhan Coronavirus   – Positive 5yr old boy in Cebu City
In Saudi Arabia:
Several confirmed cases
In Scotland:
The Scottish Government says three people are being tested, as a precaution, for coronavirus but says there are no confirmed cases.
SOUTH KOREA:
S.KOREA GOV'T CONFIRMS SECOND CASE OF CHINESE CORONAVIRUS
In the United States:
LOS ANGELES – A passenger arriving on an American Airlines flight to Los Angeles International Airport from Mexico City was hospitalized and quarantined after showing what health officials called "disturbing" symptoms, that indicate the patient may have been exposed to the deadly coronavirus,  it was announced Thursday.
American Airlines flight 2546 arrived around 6:45 p.m. Wednesday and was met by Los Angeles firefighters and police.
The Los Angeles Fire Department conducted a deep contamination process after the patient was transported to a local hospital Wednesday night.
This development comes a day after Los Angeles County public health officials said it was "very possible" the area will see at least one patient, given the number of people traveling between the Southland and China.
Health screenings continue at LAX for passengers arriving from China amid the coronavirus outbreak. The U.S. Centers for Disease Control and Prevention began conducting health screenings of passengers arriving at Los Angeles International Airport from China on Saturday.
TEXAS – Possible case of coronavirus in Brazos County, Texas- person being tested.  the Brazos County case is in College Station.
There is also a SECOND suspected case at Baylor ICU per insiders.
UPDATE TEXAS: BrazosCoHD has confirmed it is a Texas A&M University student who is the patient health officials suspect may have the Coronavirus
OAKLAND, CALIFORNIA — A number of patients in Alameda County are being tested to see whether they have contracted the Wuhan coronavirus, according to health officials.
A spokeswoman for the Alameda County Health Department stressed Thursday that there is no confirmed case of the novel coronavirus that has led to epidemic fears and quarantines in China, as well as increased screening at San Francisco International and other airports.
COOKEVILLE, Tenn. — The Tennessee Department of Health says a Tennessee Tech student is being tested for the Coronavirus.
The student had "very mild symptoms" and had a recent travel history that met the criteria to test for the 2019 Novel Coronavirus (2019-nCoV), according to university officials.
School officials say health providers quickly recognized that the patient met the testing criteria and are awaiting the results. In the meantime, the student is being kept isolated and nothing has been confirmed.
In Vietnam:
Two Chinese nationals in Vietnam have tested positive for the SARS-like coronavirus and are being treated in hospital, officials said Thursday.
A Chinese man living in Ho Chi Minh City was infected by his father who traveled to Vietnam on January 13 from the Chinese city of Wuhan, the epicenter of the virus.
No info available yet from Thailand
UPDATE 10:55 PM EST —
China's Hubei and Guangdong provinces declare first-level public health emergency
All major hospitals in Wuhan have fallen. On the first floor of the neurosurgery, all the doctors and patients were infected, and all the wards were closed.
The director of the Department of Infectious Diseases of the Union Hospital and the director of the department of nail and breast surgery of the Central Hospital, all the recruits have been on the ventilator! Cai Xin, executive deputy editor-in-chief, said in a message:
Well over 10,000 people have become ill, and the remaining 10 million people in Wuhan are also in danger.
—
Chinese Government Official Proudly Boasts: "80000 respirators donated by Chinese members of the public that live abroad, have arrived in Wuhan.  Another 160000 respirators and 15000 sets of protective coverall are on its way to Wuhan, China"   
REMARK:  (Gee, if they only have 830 sick people and only 25 deaths, why this much gear?   Oh, wait, could it be because the numbers they've given out publicly are FALSE and the numbers being reported on the Hal Turner Show web site are true?)