Shifts Multiple Factories to Body Bag Production
---
The outbreak of pneumonia in Wuhan has greatly increased the number of infections and deaths. How serious is the epidemic? After a Wuhan Funeral Home asked for help from the society to transport the body bags, more industry exposures were revealed.
The CCP is rushing to make millions of body bags , which has attracted public attention.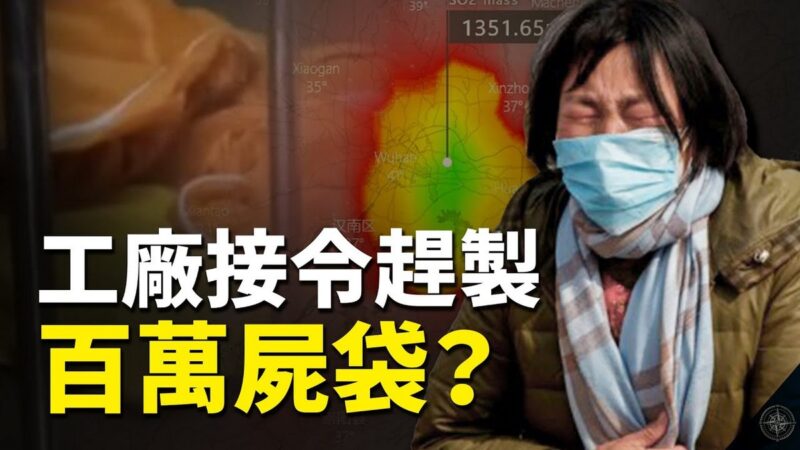 In order to cope with the increasing number of new cases of coronavirus (Wuhan pneumonia) infections and deaths, Wuhan has successively built new Vulcan Hill Hospital, Lei Shenshan Hospital and more than 10 square cabin hospitals.
Free Asia revealed on the 10th that the cabin hospital is now overcrowded. Officials in Wuhan have begun to requisition elderly homes and more than 10 Wuhan University dormitories as isolation camps. It can be seen that the severity of the Wuhan epidemic is absolutely beyond the imagination of the outside world.
On February 11, [Crossroad] host Tang Hao said that Beijing and Shanghai successively announced the implementation of "closed management" on February 10, and Beijing, which had previously declared "not closed," officially launched the closed city model. , Indicating that the new crown pneumonia epidemic cannot be effectively controlled.
At the same time, the number of deaths caused by the pneumonia epidemic continues to rise. According to the news on this channel, many factories in China have received government instructions and are rushing to make corpse bags.
Tang Hao said, "We have learned through the information channels of the two business circles that there are many textile-related factories in China. Instead of doing general business, we have switched to other special orders."
One of the executives of a Chinese textile company revealed that they received government instructions and now only make corpse bags.
Another overseas business owner also said that their partners in China are currently not accepting external orders because they "have to rush to make corpse bags, one million".
One million body bags from ONE Supplier alone!
In fact, as early as February 1st, the signed "Han Lianchao" tweeted a poster "Wuhan's Urgent Carry Bags", and left a message, " Wuhan epidemic continues to develop, the funeral industry is asking for help across the country, and urgently needs to carry corpses It seems that the number of deaths from pneumonia in Wuhan far exceeds the official figures. "
【武汉运尸袋告急】武汉疫情继续发展,殡仪行业向全国求援,急需运尸袋等物品,看来 #武汉肺炎 死亡人数远远超过官方公布的数字。希望大家支持提供急需物资!
The poster shows that the Chinese Funeral Association's Youth and Social Work Committee, together with the first-line funeral units such as Xiaoxing World Funeral, asked the country for help, asking for support for body bags, and medical supplies such as goggles, gloves, and protective clothing. The news comes from the "Magic Tomb Reference" micro-magazine.
The use of ALL Wuhan's body bags and protective materials has aroused public concern. Some netizens said that it is accurate to add a few zeros to the official death toll!?
On January 30, a netizen posted a video showing a crematorium in Wuhan (note that one of the crematoriums in Wuhan), and ten garbage bins were filled with bags containing corpses. The netizen questioned how many people had to burn all crematoriums in Wuhan this day?
武汉一个火葬场(注意是武漢其中一個火葬場)
十个垃圾桶装满了装尸体的袋子
这只是一个火葬场一天的量(注意僅僅是一天的量)
武汉市一共有五六个火葬场,这一天得烧多少人呢?
50,000 new virus infections every day (@ 1:45)  Epidemic doubling in size every 5 days (@ 2:07)
WOW!
On January 25, a source in the funeral industry revealed that the number of corpses dragged in by the Wuchang Funeral Home and Hankou Funeral Home had skyrocketed, and the morgue was no longer able to accept anymore.
The source claimed to be from the Castle Peak Funeral Home, and the unit had cancelled all holidays. But he did not have a protective suit because it was "not enough", and he claimed that he could not sustain it.
A financial commentator signed "Cold Eyes of Finance" posted a video on February 9th, and concluded that in just one day on February 3rd, a SINGLE funeral home of Wuhan burned the remains of 506 pneumonia patients.
Tencent News announced on February 1 that more than 154,000 cases and nearly 25,000 deaths have caused concern. However, Tencent quickly reduced the number to statistics approved by the Chinese government.
On February 8th, the Norwegian media CCN website reported that Professor Neil Ferguson, an expert in infectious diseases at the Imperial College of Technology and associate dean of the School of Public Health, said in an interview on February 5 that according to the infectious disease Model, currently at least 50,000 people in China are infected with Wuhan virus daily.
To make matters worse, he said, the epidemic is spreading at an alarming rate, with the number of infections doubling every five days.
Fang Fang, the former chairman of the Hubei Writers Association and a writer living in Wuhan, wrote on his personal blog on February 9th, "These days, the deceased seem to be getting closer to themselves. The neighbor's cousin is dead. The acquaintance's brother is dead. My friend's father, mother and wife died, and then he died. People couldn't cry. "
Fang Fang also said, "This disaster is not only death, but also despair. It is desperate to call for help. There is no way to seek medical treatment. There is no despair for finding medicine. There are too many patients, too few beds, and the hospital is caught off guard. The rest What can we do except wait for death? "
Current pneumonia epidemic in Wuhan continues to expand, and many western epidemiologists have said that the epidemic in Wuhan may reach its peak in mid-February. The next two weeks will be the most critical. The infection rate will be as high as 85%!
(Reporter Li Yun / Responsible Editor: Dai Ming)
 NOTE: For ALL the latest details about this virus and its impact on the United States, tune-in TONIGHT to the Hal Turner Radio Show starting at 9:00 PM eastern US time (GMT -0500) The show airs LIVE from New York City on worldwide radio stations WBCQ on 7.490 and 5.130, plus WRMI on 9.455 as well as regular AM radio KYAH -540 AM Utah.  It is also simulcast LIVE here on the net, using the LISTEN ONLINE links in the menu buttons above.  THOSE LINKS DO NOT GO ACTIVE UNTIL ABOUT 1 HOUR BEFORE THE SHOW BEGINS.  During that hour, they stream commercial-free music until the show starts.  Tune-in for info the mass media IS NOT REPORTING!
UPDATE 12:34  PM EST —
BREAKING: CDC say their test kits are "not working" exactly as intended. Several States have had "inconclusive" results. One of 3 assays is not working as expected, and is being remanufactured. This is NOT from tests on live specimens, but during "verification."