Lance Goodall 9 March 20
---
The death toll from the coronavirus outbreak in Italy has jumped by 133 to 366, by far the largest daily rise in fatalities there since the outbreak came to light last month.
Key points:
Most of Italy's deaths and cases have occurred in the northern region of Lombardy
16 million Italians are now in lockdown
The country has more coronavirus cases than South Korea
Italian authorities said the total number of cases leapt from 5,883 to 7,375 on Saturday (local time), another record jump.
Italy has overtaken South Korea to have the highest number of recorded coronavirus cases outside China.
Italy's Mortality Rate
Italy's mortality rate in the outbreak, about 3.5%, is not much above the global average of 3.4% reported by the World Health Organisation. But the virus is taking a disproportionate toll on the elderly in Italy, which has the oldest population in Europe, and the second-oldest in the world after Japan.
The number of coronavirus cases and deaths spiked again Wednesday in Italy, which has reported 3,089 people infected and 107 deaths overall. Daily jumps have become the new normal.
The increases reflect what is known about the contagion, in which each person is thought to infect about two others. That means that even as Italy locks down towns — two more were added Wednesday, bringing the total to 13 — the virus continues to spread. Italy's measures have slowed the outbreak, but not enough to allay concerns about the burdens it is placing on the health care system and the threat it poses, especially to older people.
People shop at the a weekly street market at the Piazzale Ferdinando Martini in Milan on Mar 4, 2020. The New York Times
"The measures introduced in these days have the aim of avoiding a large epidemic wave," Italy's National Health Institute said in a statement explaining its stiffening guidelines, which recommend personal separation as schools closed nationwide until at least March 15.
"In the case of the coronavirus we must take into account, moreover, that Italy has an elderly population, actually much older than the Chinese, and needs to be protected from the contagious," it said.
About 23% of Italy's population is 65 or older. The median age is 47.3, compared to 38.3 in the United States, according to the United Nations.
Many of those who have died in Italy already suffered from serious illnesses that put them in grave danger, then the virus "destabilised them," said Walter Ricciardi, an official at the World Health Organisation who is advising the Italian health ministry.
The array of preexisting conditions suffered by some victims, including cancer, diabetes and heart disease, has complicated efforts to assess the lethality of the virus.
Angelo Borrelli, the head of Italy's Civil Protection Agency who is coordinating the country's response to the crisis, said Tuesday that of the people who died, "Most were over 70, and some had preexisting conditions.''
''But for the others,'' he said, ''we still aren't sure."
Lombardy's president, Attilio Fontana, made a similar point in an interview last week. "All the deaths we've had are either very old people or very sick people," he said.
The World Health Organisation said that the case-fatality ratio was highly fluid and likely to change. Infections have probably been under-reported, it said, given that many are asymptomatic or very mild.
Some experts argued that the aggressive response by Italy's northern regions had not only slowed the spread of the virus but had also brought down the death rate.
"There was a huge expansion of the intensive care units," said Fausto Baldanti, a virologist at the San Matteo Hospital in Pavia. "That can make the difference."
But the intense focus on coronavirus in Italy is exacting a cost.
A woman wears a protective mask at a street market in Milan on Mar 4, 2020. The New York Times
Last week, an old man lost his balance and fell on a sidewalk in Casalpusterlengo, one of the northern towns quarantined to prevent the spread of the coronavirus. A neighbour, Noemi Carelli, called an ambulance, but said the usual emergency hotline automatically diverted to a recorded message about the outbreak.
As the old man bled from his face on the street, she kept trying and finally reached the police, who dispatched an ambulance from a town miles away. "We have to hope that nothing else happens to us besides the coronavirus," said Carelli, 45.
The spread of the virus and the abundance of elderly patients have worried experts, many of whom are concerned that the outbreak threatens to monopolise the attention and resources of Italy's public health system.
In the north, many hospitals have suspended all but the most urgent surgeries in order to free medical beds and other resources for acute coronavirus cases. Staff have cancelled vacations and put in overtime.
Fontana said that Lombardy is asking retired doctors and nurses to return to work. In Padova, the hospital pitched tents outside in preparation for an influx of cases. And on Wednesday, Italy's government set aside a space for patients with the virus inside a military hospital.
Raffaele Bruno, director of the infectious disease unit at San Matteo, said that a sudden burst in the number of cases would put an unsustainable strain on operations in the north. "If I have to admit 10% of them in the hospital and 2% goes to intensive care, I don't have any more spots to take care of other patients who have other illnesses," he said.
Speaking on Radio1, Alessandro Vergallo, the president of the national association of anesthetists, said that in Lombardy, "we can count the free spots in the hospitals on the fingers of two hands." The health system can't long survive under such conditions, he said.
Around Lombardy, elderly Italians expressed a mix of caution, fatalism and nonchalance.
While the men in the bocce club shrugged off the threat, they did so next to empty courts and empty tables. Most of their friends had stayed away.
"I think they're scared," said Annalisa Canato, 67, who sat by the bar. "For good reason."
A man walks through the town of Secugnago, just outside a quarantined red zone, in Lombardy, Italy on Feb 23, 2020. The New York Times
In Secugnago, a few hundred yards outside a checkpoint blocking the entrance to one of Italy's locked-down towns, old men shrugged off the threat and said they often drank with friends who slipped out of the quarantined towns via country roads.
"If it comes here and gets me, it gets me," said Domenico Coppini 79, as he stood outside the Liberty Bar in Secugnago. "Italy is old. And the virus is getting old people."
In Milan, others were more cautious.
Lucia Franceschini, 84, shopped for vegetables at a market and said it was important not to be "excessively worried" but to keep up normal routines and good hygiene and to maintain "the appropriate distance" when talking to people.
Still, she had not failed to notice that the vast majority of Italians who died were elderly.
"You become fragile," she said, and lamented that Italy, was "maybe more vulnerable."
"We're all little old people now," she said.
Those Most at Risk:
0-14 years:
13.6%
(male 4,326,862 /female 4,136,562)
15-24 years:
9.61%
(male 2,994,651 /female 2,984,172)
25-54 years:
41.82%
(male 12,845,442 /female 13,183,240)
55-64 years:
13.29%
(male 4,012,640 /female 4,261,956)
65 years and over:
21.69%
(male 5,817,819 /female 7,683,330)
(2018 est.)
Definition: This entry provides the distribution of the population according to age. Information is included by sex and age group as follows: 0-14 years (children), 15-24 years (early working age), 25-54 years (prime working age), 55-64 years (mature working age), 65 years and over (elderly). The age structure of a population affects a nation's key socioeconomic issues. Countries with young populations (high percentage under age 15) need to invest more in schools, while countries with older populations (high percentage ages 65 and over) need to invest more in the health sector. The age structure can also be used to help predict potential political issues. For example, the rapid growth of a young adult population unable to find employment can lead to unrest.
Population Pyramid
A population pyramid illustrates the age and sex structure of a country's population and may provide insights about political and social stability, as well as economic development. The population is distributed along the horizontal axis, with males shown on the left and females on the right. The male and female populations are broken down into 5-year age groups represented as horizontal bars along the vertical axis, with the youngest age groups at the bottom and the oldest at the top. The shape of the population pyramid gradually evolves over time based on fertility, mortality, and international migration trends.
Who is getting sick, and how sick? A breakdown of coronavirus risk by demographic factors
T

he new coronavirus is not an equal-opportunity killer: Being elderly and having other illnesses, for instance, greatly increases the risk of dying from the disease the virus causes, Covid-19. It's also possible being male could put you at increased risk.
For both medical and public health reasons, researchers want to figure out who's most at risk of being infected and who's most at risk of developing severe or even lethal illness. With that kind of information, clinicians would know whom to treat more aggressively, government officials would have a better idea of steps to take, and everyone would know whether they need to take special, additional precautions.Here's what research has shown three months into the outbreak:Old and young

The vast majority of cases in China — 87% — were in people ages 30 to 79, the China Center for Disease Control reported last month based on data from all 72,314 of those diagnosed with Covid-19 as of Feb. 11. That probably reflects something about biology more than lifestyle, such as being in frequent contact with other people. Teens and people in their 20s also encounter many others, at school and work and on public transit, yet they don't seem to be contracting the disease at significant rates: Only 8.1% of cases were 20-somethings, 1.2% were teens, and 0.9% were 9 or younger.

The World Health Organization mission to China found that 78% of the cases reported as of Feb. 20 were in people ages 30 to 69.

But the death toll skews old even more strongly.

Overall, China CDC found, 2.3% of confirmed cases died.

But the fatality rate was 14.8% in people 80 or older, likely reflecting the presence of other diseases, a weaker immune system, or simply worse overall health. By contrast, the fatality rate was 1.3% in 50-somethings, 0.4% in 40-somethings, and 0.2% in people 10 to 39.

The age-related death risk probably reflects the strength, or weakness, of the respiratory system. About half of the 109 Covid-19 patients (ages 22 to 94) treated at Central Hospital of Wuhan, researchers there reported, developed acute respiratory distress syndrome (ARDS), in which fluid builds up in the small air sacs of the lungs. That restricts how much air the lungs can take in, reducing the oxygen supply to vital organs, sometimes fatally; half of the ARDS patients died, compared to 9% of patients who did not develop the syndrome.

The ARDS patients had an average age of 61, compared to an average age of 49 for those who did not develop ARDS. Elderly patients "were more likely to develop ARDS," the researchers wrote, suggesting how age can make Covid-19 more severe and even fatal: age increases the risk that the respiratory system will basically shut down under viral assault.

Youth, in contrast, seems to be protective. The WHO mission reported a relatively low incidence in people under 18, who made up only 2.4% of all reported cases. In fact, through mid-January, zero children in Wuhan, the epicenter of the outbreak, had contracted Covid-19. It's not clear whether that's because children do not show signs of illness even if infected.

Even cases among children and teens aged 10 to 19 are rare. As of Feb. 11 there were 549 cases in that age group, 1.2% of the total, China CDC found. Only one had died.

One intriguing explanation for the apparent resilience of youth: in regions near Hubei province, young children seem especially likely to be exposed to other coronaviruses, scientists in China reported in 2018. That might have given them at least partial immunity to this one.

Men and women

The effect of sex on susceptibility to Covid-19 is less clear than the age effect, but preliminary data suggest men might be more susceptible. China CDC found that 106 men had the disease for every 100 women, while the WHO mission found that men make up 51% of cases. A study of 1,099 Covid-19 patients in Wuhan through Jan. 29 found a greater imbalance: 58% were male, the China Medical Treatment Expert Group for Covid-19 reported last week in the New England Journal of Medicine.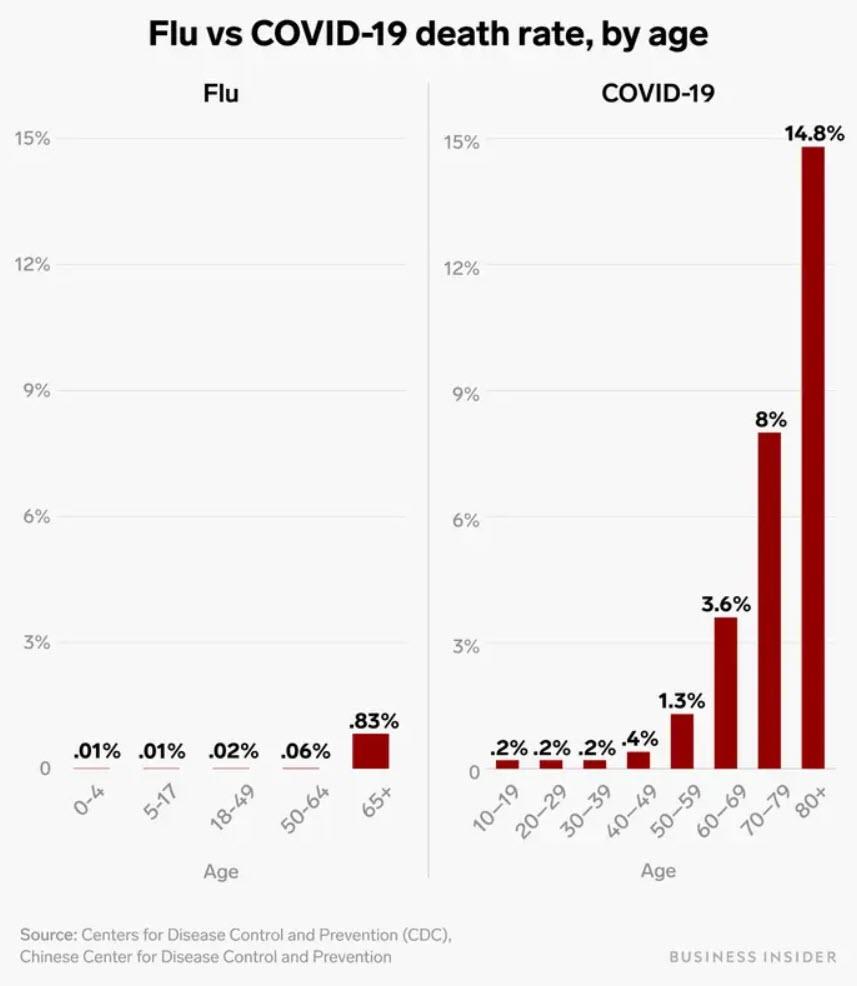 But the fatality rate was 14.8% in people 80 or older, likely reflecting the presence of other diseases, a weaker immune system, or simply worse overall health. By contrast, the fatality rate was 1.3% in 50-somethings, 0.4% in 40-somethings, and 0.2% in people 10 to 39.
So taking the population figures for Italy
55-64 years: 13.29% (male 4,012,640 /female 4,261,956) – approx 3% death rate  = 248160 deaths in this age group
65 years and over: 21.69% (male 5,817,819 /female 7,683,330) (2018 est.) – approx. 12% death rate = 1,620138 deaths in this group 
Total anticipated deaths of more than 1,868300 people in Italy from Coronavirus.
https://www.arcgis.com/apps/opsdashboard/index.html#/bda7594740fd40299423467b48e9ecf6
Tracking the COVID-19 spread in real-time