The Ruby Princess cruise ship departs the Overseas Passenger terminal in Circular Quay on March 19, 2020
Ruby Princess' makes mayday call as leaked emails reveal how NSW Health let thousands of passengers off the ship without testing them for coronavirus
Ruby Princess made desperate appeal for ambulance for two of its passengers
Emails prove NSW Health knew about the coronavirus risk on the cruise ship 
Doctor on-board confirmed passengers showing coronavirus-like symptoms 
NSW Health concluded Ruby Princess didn't require health assessment  
2,700 passengers disembarked – 600 infected with COVID-19 and seven have died  
Investigation underway which saw passengers leave before getting tests back 
---
The Ruby Princess issued an urgent mayday call for an ambulance for two of its passengers presenting with coronavirus-like symptoms 24 hours before the ship was allowed to dock in Sydney.
The cruise ship was controversially allowed to unload thousands of passengers at Sydney Harbour last month, despite the government having announced a 30-day ban on cruise arrivals just the day before.
More than 600 of its passengers have since tested positive for COVID-19, a significant amount of NSW total of 2,389 positive cases, and seven passengers have died. 
Emails have revealed NSW Health knew of the coronavirus risk on-board the cruise ship before allowing its passengers to disembark.
The emails come as an investigation gets underway into the Ruby Princess fiasco, which saw the two Australian passengers who were presenting signs of 'upper respiratory tract infections' leave the ship before their test results were known.
The debacle parked a bitter dispute between the Australian Border Force and the NSW Health Department over who is to blame game for the security blunder.
Cruise ship passengers disembark from the Princess Cruises owned Ruby Princess at Circular Quay in Sydney, Thursday, March 19, 2020
A Ruby Princess Passenger required medical attention and medics boarded the ship to take him to hospital
The email chain shows that two days before the cruise ship was due to arrive in Circular Quay, on March 17, NSW Health sent an email to the doctor on board asking if there were any passengers who were showing coronavirus symptoms.
'A list of passengers and crew presenting with fever or acute respiratory symptoms or both,' the email read.
'And list of any planned medical disembarkation.'
The doctor replied to NSW Health on March 18 at 9.39am – almost 24-hours before arriving in Sydney – confirming there were two passengers who needed urgent attention.
The male and female passengers who were both Australians were noted to have 'no travel history of significance outside of NSW and New Zealand'.
'They have upper respiratory tract infections and an ambulance transfer required.'
The ship's doctor also noted that they had collected 15 viral swabs which all tested negative for influenza.
Later that day, at 5.07pm, NSW Health informed the doctor on-board that the passengers would be free to get off the next day.
'The NSW Health expert panel has assessed the Ruby Princess as NOT requiring on board health assessment in Sydney,' the email read.
CORONAVIRUS CASES IN AUSTRALIA: 5,688
New South Wales: 2,580
Victoria: 1,135
Queensland: 907
Western Australia: 453
South Australia: 409
Australian Capital Territory: 96
Tasmania: 82
Northern Territory: 26
TOTAL CASES:  5,688
DEAD: 35
'We would however ask you to send the 15 samples to our lab for COVID testing…'
'You are free to disembark tomorrow.'
The horrific decision to allow passengers off the Ruby Princess later saw seven die from the killer virus with 300 testing positive for COVID-19.
The fiasco saw both NSW Health and the Australian Border Force blame each other for the failings.
According to The Australian, Premier Gladys Berejiklian had told a party-room meeting of Liberals that the Australian Border Force ultimately made the decision to allow the passengers ashore.
'She said it wasn't our failing – it was the feds,' an MP at the meeting was quoted to say by The Australian, which also reported that a a second MP had described Ms Berejiklian's response as an 'a**e-covering exercise'.
Australian Border Force Commissioner Michael Outram told reporters on Wednesday that the ABF and NSW Health have to work together closely to make sure things don't fall through cracks.
'The decision to allow [passengers] off in relation to the health and bio security issue was one of the New South Wales Health. Did they fail? I'm not here to apportion blame, we are all here together in Australia,' he said.
The Ruby Princess accounts for most of NSW's positive coronavirus cases
Passengers disembark from the Ruby Princess at Overseas Passenger Terminal on February 08, 2020 in Sydney
'People can make their own minds up about what went wrong and no doubt further down the track there will be lots of inquiries about what happened.'
However, the Commissioner of the Australian Border Force said NSW Health was to blame.
ABF Commissioner Michael Outram made clear that his officers are responsible for checking passengers' visas and also making sure no contraband enters Australia.
He said it is not the role of police officers to check passengers' health.
Mr Outram said NSW Health decided, after consulting with the ship's doctor, that the vessel did not require an on-board inspection.
The ship is currently floating off Sydney, with the 1,000 crew sick in isolation, waiting for their test results and for treatment in NSW Hospitals.
Staff from Aspen Medical and NSW Health boarded the Ruby Princess cruise ship on Thursday afternoon to test and treat sick crew members.
'If there is a couple of hundred people infected and they can't handle anymore then we will have to deal with that,' NSW Police Commissioner Mick Fuller told reporters on Friday.
Authorities are concerned infected crew could overwhelm NSW hospitals if even a small proportion have the virus.
Passengers disembark from the Ruby Princess at Overseas Passenger Terminal on February 08, 2020 in Sydney
The number of confirmed COVID-19 infections in NSW has reached 2,389, with 91 new cases in the past 24 hours.
Premier Gladys Berejiklian said Mr Fuller will lead an investigation into the Ruby Princess fiasco.
'I'll let the police commissioner get to the bottom of it. I don't think it helps anybody to point fingers and play the blame game,' she told reporters on Friday.
'Let him do his investigations and let him tell us who is responsible.'
Mr Fuller has in recent days urged cruise ships floating off the coast of NSW to go home rather than risk flooding the state with new infections.
Two Carnival ships are currently on their way out of NSW and five Royal Caribbean ships will refuel in Sydney before leaving on Sunday.
On Friday, Australian authorities announced they will not unleash a wave of COVID-19-positive people into the country, burdening local health services that are already scrambling to increase capacity.
'We have issued notices to all of these ships to leave Australian waters,' Australian Border Force Commissioner Michael Outram told media.
'If ever there was a time, I think, for ships to go back to where they're registered, it's probably during a time of a global pandemic like this.'
Ruby Princess Deaths
March 24 – A Queensland woman, in her 70s, died
March 28 – A 75-year-old woman died in Caboolture Hospital, Queensland.
March 29 – A woman in her 80s died in North West Regional Hospital in Burnie, Tasmania.
March 30 – Elderly man died at the Royal Hobart Hospital, Tasmania
March 30-31 – A woman in her 80s died in Canberra Hospital.
April 1 – A woman, 67, died in Orange Base Hospital.
April 2 – A man, 85, died in Toowoomba, Queensland.
Cruise ship docks in Florida with two dead and 12 testing positive for coronavirus
The Coral Princess docks at the Port of Miami in Miami, Florida on Saturday, April 4, 2020.(Pedro Portal/Miami Herald)
The Coral Princess pulls into Miami with 1,000 passengers and 878 crew, after being refused permission to dock in Fort Lauderdale
Sun 5 Apr 2020 09.45 AESTFirst published on Sun 5 Apr 2020 06.29 AEST
---
Passengers are seen aboard the Coral Princess ship as it docks in Miami, Florida Saturday. Photograph: Marco Bello/Reuters
A coronavirus-stricken cruise ship docked in Florida on Saturday, carrying two dead passengers and at least 12 people who have tested positive for Covid-19.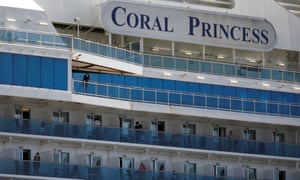 The Coral Princess pulled into Miami with 1,000 passengers and 878 crew aboard, after being refused permission to dock in Fort Lauderdale on Friday.
At least one person was rushed off the boat, put in an ambulance and taken to a nearby hospital.
The ship had been outside US waters, waiting for permission to pull into port, since two other ships overcame political objections and got permission to dock at Fort Lauderdale with four dead and many ill.
The Coral Princess, owned by Carnival, which also owns the two other ships, spent Friday floating near Puerto Rico. US coast guard officials in south Florida denied the ship the right to pull into Fort Lauderdale.
"Based on the hazardous conditions on board your vessel," the south Florida coast guard said in an order to the company obtained by the Miami Herald, "I have determined your vessel poses an unacceptable risk of medical emergency due to the inherent and high probability of transmission of Covid-19 aboard, which presents a risk to the safety of the personnel aboard your vessel, first responders and ports within the seventh district."
Southern California resident Lori Bessler, who has been trying frantically to get her mother and stepfather off the ship for weeks, told the Guardian at least one of the deaths onboard, of a woman from South Carolina, came as the coast guard was denying the right to dock. The other woman who died was from Florida, she said.
"The family members are devastated and filled with disbelief," said Bessler, who said she had been discussing the situation with other families of passengers in a private Facebook group. "How could the coast [guard] deny these people access to their own country, when they are out there dying?"
Holland America's Zandaam and Rotterdam were able to unload passengers on Friday after days of tense negotiations with politicians, including Florida governor Ron DeSantis, who said he didn't want sick passengers "dumped" in his state.
All the ships started their cruises in South America in early March. The Coral Princess was supposed to dock in Buenos Aires on 19 March but only passengers from South America were allowed to leave the ship then. It steamed north, without a port, for nearly two weeks.
"All of us at Princess Cruises are deeply saddened to report that two guests passed away on Coral Princess," said the Princess Cruise line in a release. "Our hearts go out to their family, friends, and all who are impacted by this loss."
The company said it would take several days to unload all the passengers, most of whom will be put on planes to fly home. Crew members will be required to stay onboard, as will any sick passengers who do not need hospitalization.
"Those with any respiratory symptoms, or who are still recovering from being ill previously, will remain on board until medically cleared by the ship's doctors," the company said.
Bessler said her family members were safe, though anxious to get off the ship. She said she and other families and passengers were furious at the company for failing to communicate and for apparently proceeding to bring the ship to Florida without first getting an agreement for it to dock.
"I'm relieved that they are in," she said. "I just couldn't breath last night after hearing the coast guard wouldn't let them dock."
Petty Officer Jonathan Lally, a regional spokesman for the US coast guard, said it allowed the ship to come into port as soon as an urgent request was made.
"We did not receive an at-sea medical evacuation request from Coral Princess and we cleared the ship to enter port once a request was made," he said in a statement, adding that the coast guard has "worked tirelessly" to facilitate the disembarkation of 250,000 cruise ship passengers, to help cruise lines cease operations during the pandemic and to "reduce the unique threat of COVID-19 in the maritime domain".