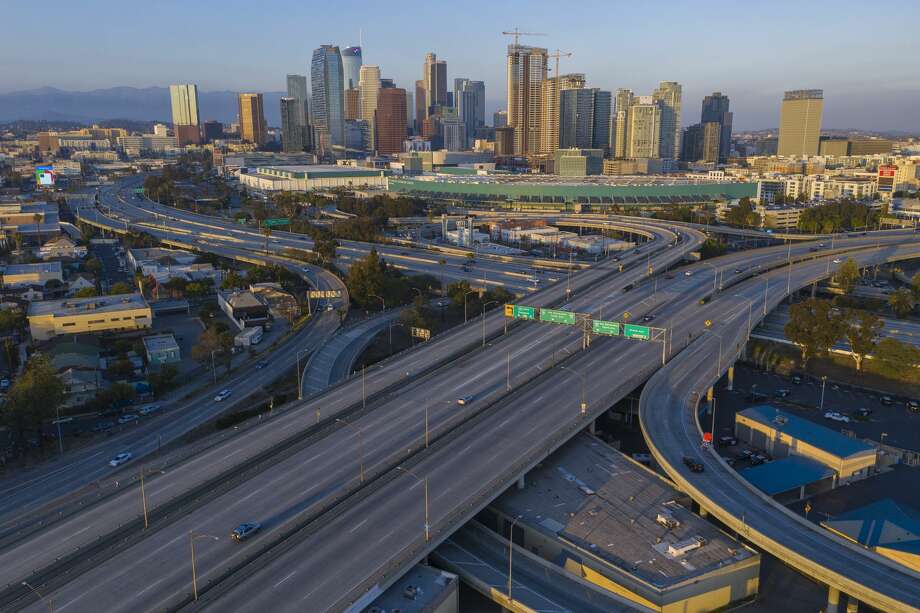 Photo: David McNew/Getty Images
Kate Dowd
---
Los Angeles County, the epicenter of California's coronavirus outbreak, is almost certain to extend its stay-at-home mandate until August, the Los Angeles Times first reported.
County Public Health Director Barbara Ferrer told the Board of Supervisors Tuesday that the quarantine order will "with all certainty" be in effect through the next two and a half months.
"Our hope is that by using the data, we'd be able to slowly lift restrictions over the next three months," she said at the supervisors meeting. Only a "dramatic change to the virus and tools at hand" would shorten the timeline.
Experts believe without widespread testing and a robust contact-tracing program to identify people who came in contact with COVID-19 patients, it will be difficult to safely reopen the state. Los Angeles County also hasn't hit a key benchmark for reopening: a decline in cases and deaths for 14 days.
Of the county's 10 million residents, 240,000 have been tested; the Times reports 12% of the tests came back positive. As of Tuesday afternoon, there have been 32,258 confirmed cases and 1,569 deaths from COVID-19 in Los Angeles County. By comparison, the nine-county Bay Area has seen about 360 deaths.
"It's safer to stay at home. COVID-19 has not changed," Ferrer said Monday.
After months in lockdown, Californians are seeing some restrictions around shopping, going to work and eating out loosen slightly. Gov. Gavin Newsom's four-stage plan to reopen the state is currently in stage two. Starting last week, most counties began allowing non-essential businesses to do curbside pickup. Alameda, Contra Costa, Marin, San Francisco, San Mateo and Santa Clara counties still have a stricter order in place and are not yet allowing non-essential businesses to operate.
Beaches in Los Angeles County are
set to open back up Wednesday
, although with rules in place. No sitting or lying in the sand is allowed, and residents must practice physical distancing and wear face coverings.
MORE CORONAVIRUS COVERAGE:
Katie Dowd is a senior digital editor with SFGATE.
====================
---
Los Angeles County's stay-at-home orders will "with all certainty" be extended for the next three months, county Public Health Director Barbara Ferrer acknowledged during a Board of Supervisors meeting Tuesday.
Ferrer later added that even if the orders remain in place through the summer, restrictions will be "gradually relaxed" under a five-step plan.
"We are being guided by science and data that will safely move us forward along the road to recovery in a measured way—one that allows us to ensure that effective distancing and infection control measures are in place," Ferrer said, adding that the county is counting on the public's compliance with the orders to be able to relax restrictions.
Testifying before the Board of Superviros, Ferrer stressed further progress will be guided by efforts to contain the virus. Los Angeles County is now the Calfornia epicenter of the coronavirus, with more than 1,300 deaths so far.
"Our hope is that by using the data, we'd be able to slowly lift restrictions over the next three months," she said. But without widely available testing for the coronavirus or rapid home kits that would allow people to test themselves daily, it seems unlikely that the social distancing directives and stay-at-home orders would be completely eased.
On Tuesday afternoon, Los Angeles County Supervisor Kathryn Barger also expressed hope there could be more easing in coming weeks.
"I am eager to reopen more of L.A. County as soon as it's safe to do so, in collaboration with our health experts, community leaders, businesses and residents, with best practices in place to ensure our overall health and well-being. These decisions will be guided by the latest science and data collected," she said in a statement."I'm confident that the more our communities continue to comply, the sooner we can resume normalcy."
L.A. Mayor Eric Garcetti echoed Barger's comments, saying that the city will continue to adjust orders to stay home gradually in order to allow more activities and more businesses to operate.
"We're not moving past COVID-19, we're learning to live with it — and we will keep taking measured steps toward a new, safer reality in the days and weeks ahead," he said in a statement.
Ferrer's comments came shortly before Gov. Gavin Newsom announced that he was modifying the state's stay-at-home orders to allow individual counties to approve the reopening of malls for curbside pickup service only. The order also allows for the reopening of some offices if teleworking is not feasible.
"We aren't out of the woods yet," Newsom reminded residents.
In L.A. County, confirmed cases and deaths have continued to rise.
When beaches reopen this week, how people can use the sand will look different. Face coverings will be required when not in the water, and sunbathing won't be allowed. Only active recreation — surfing, running, walking and swimming — will be permitted. Coolers, chairs, umbrellas and any of the other accessories that typically dot the shoreline should be left at home.
The update to L.A.'s stay-at-home orders comes as officials try to meet two needs: restarting the economy under a new normal while also ensuring that the resurgence in activity doesn't upend progress in the fight against the coronavirus.
There has been a big push in recent weeks to reopen the state's economy, which has been hurt by the stay-at-home orders. Newsom last week announced new protocols for retail stores and some workplaces to reopen.
Under the plan, some in-restaurant dining, car washes and shopping malls could also be allowed to reopen in coming weeks if public health officials in a county are able to demonstrate that the spread of the virus has stabilized and that they have adequate testing and hospital capacity.
Some rural counties that have seen relatively few cases are likely to be able to meet those benchmarks more quickly than urban counties such as Los Angeles.
A Times data analysis last week found most big California counties are not close to meeting Newsom's standards. The analysis looked at which counties could pass just the first two criteria — whether deaths have stopped in the last 14 days, and whether there is no more than one case per 10,000 residents in that same time period.
Most of California failed that test. In fact, 95% of Californians live in counties that don't meet that standard, the Times analysis found. Not a single county in Southern California nor the San Francisco Bay Area met the criteria.
Newsom suggested Friday that the guidelines would be later modified on a statewide basis, allowing larger counties hit hardest by the outbreak to also reopen more broadly. "Over the next few weeks, we'll be making subsequent announcements for the entire state, not just those that meet those more restrictive criteria," he said.
On Tuesday, he also explained the guidelines for restaurants in some counties to open for dine-in service, including disposable menus and an emphasis on outdoor seating. He also suggested that customers be screened for symptoms.
Also on Tuesday, Dr. Anthony Fauci, the nation's top infectious disease expert, warned members of the U.S. Senate that states that push too quickly to ease orders could undo progress that would trigger an outbreak. Fauci said a 14-day decline in cases is the major benchmark that states should meet before reopening.
As other California regions have seen a decline in the number of reported infections and COVID-19-related deaths, L.A. County, the state's most populous, continues to see growth on both fronts. The county reported Tuesday an additional 961 people who tested positive for the virus, and an additional 45 deaths, bringing the death toll to 1,613. L.A. County's COVID-19 deaths account for more than half of the state's total.
==============================
Tyranny and Treason! LA County Extends Lockdown for 3 Months Guaranteeing Economic Suicide!
The mayor of LA is the lapdog of the globalists and the Governor of California, Gavin Newsom!
Three more months of this tyranny and treason will make it impossible for LA to every recover and LA will bring down the rest of the State of California.
Here is the rest of the story.