---
Dr Richard Moss took hydroxychloroquine for two years.
He writes "A long time ago as a visiting cancer surgeon in Asia, in Thailand, Nepal, India, and Bangladesh.  From 1987 to 1990.  Malaria is rife there.  I took it for prophylaxis, 400 milligrams once a week for two years.  Never had any trouble.  It was inexpensive and effective.  I started it two weeks before and was supposed to continue it through my stay and four weeks after returning.  But I stopped it after two years.  I was worried about potential side effects of which there are many, as with all drugs right down to Tylenol and aspirin.  These, however, are rare.  At a certain point, I was prepared to take my chances with mosquitoes and plasmodium, and so I stopped.
Chloroquine, the precursor of HCQ, was invented by Bayer in 1934.  Hydroxychloroquine was developed during World War II as a safer, synthetic alternative and approved for medical use in the U.S. in 1955.  The World Health Organization considers it an essential medicine, among the safest and most effective medicines, a staple of any healthcare system.  In 2017, US doctors prescribed it 5 million times, the 128th most commonly prescribed drug in the country.  There have been hundreds of millions of prescriptions worldwide since its inception.  It is one of the cheapest and best drugs in the world and has saved millions of lives.  Doctors also prescribe it for Lupus and Rheumatoid arthritis patients who may consume it for their lifetimes with few or no ill effects.
Then something happened to this wonder drug.  From savior of the multitudes, redeemer and benefactor of hundreds of millions, it transformed into something else: a purveyor of doom, despair, and unspeakable carnage.  It began when President Trump discussed it as a possible treatment for COVID-19 on March 19, 2020.  The gates of hell burst forth on May 18 when Trump casually announced that he was taking it, prescribed by his physician.  Attacks on Trump and this otherwise harmless little molecule poured in.  The heretofore respected, commonly used, and highly effective medicinal became a major threat to life, a nefarious and wicked chemical that could alter critical heart rhythms, resulting in sudden cataclysmic death for unsuspecting innocents.  Trump, more than irresponsible, was evil incarnate for daring to even mention it.  While at it, the salivating media trotted out the canard about Trump's nonrecommendation for injecting Clorox and Lysol or drinking fish-tank cleaner to combat COVID.  It was Charlottesville all over again.
Before a nation of non-cardiologists, the media agonized over, of all things, the prolongation of the now infamous "QT interval," and the risk of sudden cardiac death.  The FDA and NIH piled on, piously demanding randomized, controlled, double-blind studies before physicians prescribed HCQ.  No one mentioned that the risk of cardiac arrest was far higher from watching the Superbowl. Nor did the media declare that HCQ and chloroquine have been used throughout the world for half a century, making them among the most widely prescribed drugs in history with not a single reported case of "arrhythmic death" according to the sainted WHO and the American College of Cardiology.  Or that physicians in the field, on the frontlines, so to speak, based on empirical evidence, have found benefit in treating patients with a variety of agents including HCQ, Zinc, Azithromycin, Quercetin, Elderberry supplements, Vitamins D and C with few if any complications.  Or that while such regimens may not cure, they may help and carry little or no risk.
And so, the world was aflame once again with a nonstory driven by the COVID media.  The HCQ divide within the nation is only a continuation of innumerable divides that have surfaced since the pandemic began — and before.  One will know the politics of an individual based on his position on any number of pandemic issues: lockdowns, sheltering in place, face masks, social distancing, "elective surgery," and "essential businesses."  The closing of schools and colleges.  Blue states and Red states.  Governor Cuomo or Governor DeSantis.  Nationwide injunctions or federalism.  The WHO and Red China.  Or, pre-pandemic, Brexit, open borders, DACA, and amnesty.  CBD oil, turmeric, and legalizing marijuana.  Russia Collusion, Trump's taxes, the 25th amendment, Stormy Daniels, the Ukraine non-scandal, and impeachment. Or Obamagate. And now HCQ.
HCQ is only another bellwether.  It represents the latest nonevent in a long string of fabricated media nonscandals.  If a nation can be divided over HCQ it can be divided over anything.  It shows neatly, as many of the other non-issues did, whether one embraces the U.S., our history, culture, and constitutional system, or rejects it.  Whether one believes in Americanism or despises it.  It is part of the ongoing civil war, thus far cold, but who knows?  The passions today are no less jarring than they were in 1860.  One would have thought that a man taking a medicine prescribed by his physician, even a President, would be a private matter.  But no.  Not today.
We swim in an ocean of manufactured disinformation created by a radical COVID media, our fifth column.  They inflame the nation one way or another based on political whims.  The propaganda arm of the Left, they seek victory at all costs including dismantling the economy, culture, and our governing system.  Is there a curative for the COVID media and their Democrat allies who would destroy a nation to destroy Trump?  He is all that stands between us and them.  Is there an antiviral for this, the communist virus that has infected the nation, metastasized throughout its corpus, and now threatens the republic?
Back in May of this year
In Second Blow To Hydroxychloroquine, FDA Warns Against Combining With Remdesivir
Update (1810ET): Hours after the FDA revoked its EUA on hydroxychloroquine, the agency dealt another blow to the COVID-19 treatment – warning not to combine the incredibly inexpensive anti-malarial with the incredibly expensive remdesivir; Gilead Sciences' yet-to-be-priced experimental treatment.
The agency, based on data from a recent non-clinical study, said the co-administration may result in reduced antiviral activity of remdesivir. It also added it had no such evidence from a clinical setting and that it continues to evaluate all data related to remdesivir.

* * *

FDA said it was no longer reasonable to believe that oral formulations of hydroxychloroquine and chloroquine may be effective in treating the illness caused by the novel coronavirus. –Reuters
Meanwhile, has anyone found the missing zinc?
*  *  *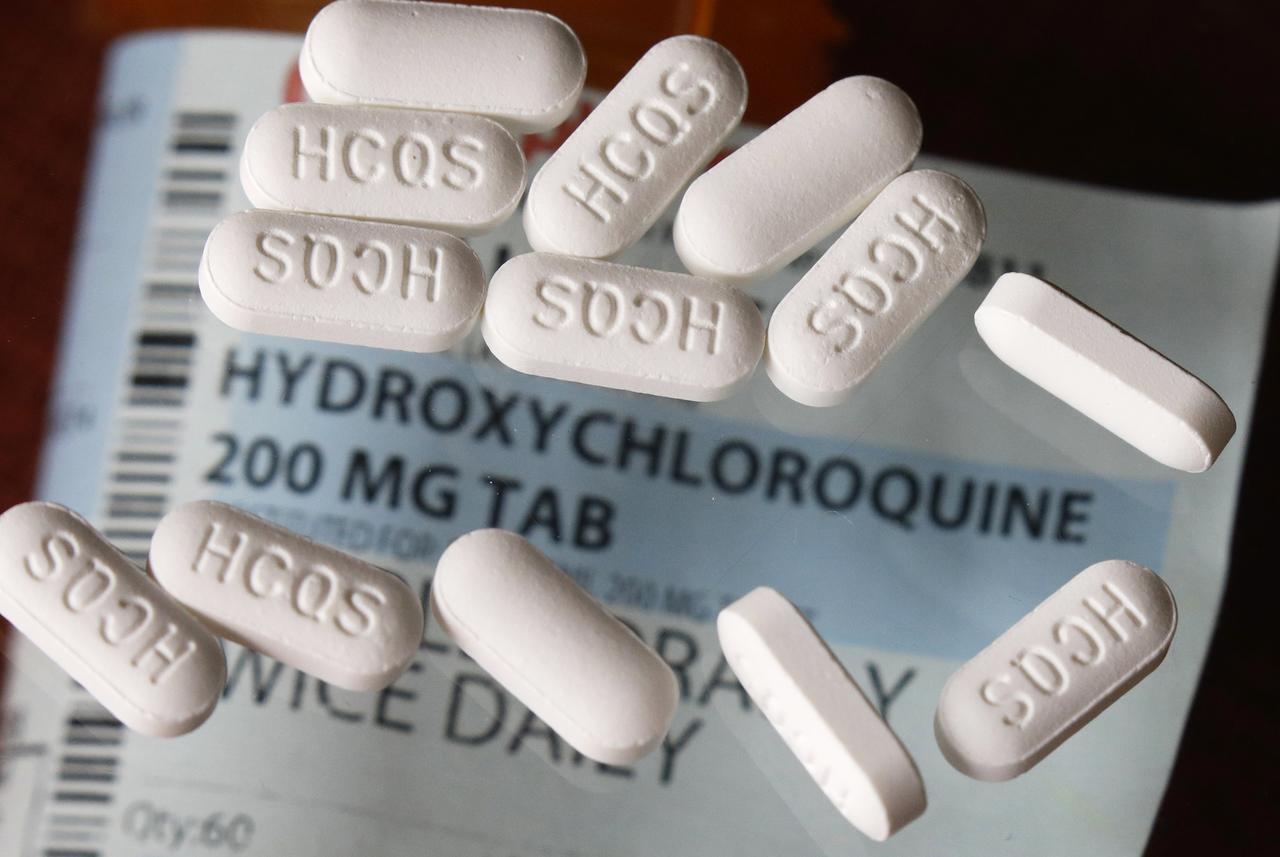 The decision – a response to a request by a Health and Human Services official to revoke the EUA – cites "new information, including clinical trial data results," which have led the Biomedical Advanced Research and Development Authority (BARDA) "to conclude that this drug may not be effective to treat COVID-19 [Coronavirus Disease 2019] and that the drug's potential benefits for such use do not outweigh its known and potential risks."
"Earlier observations of decreased viral shedding with HCQ or CQ treatment have not been consistently replicated and recent data from a randomized controlled trial assessing probability of negative conversion showed no difference between HCQ and standard of care alone," wrote FDA chief scientists Denise Hinton.
Of significant note, none of the studies cited include the use of zinc – which has been widely cited as the 'key' which HCQ provides a tunnel into cells to halt virus replication.
In fact, the FDA's letter doesn't include the word 'zinc' or its symbol, Zn.
The FDA issued the EUA in March, allowing COVID-19 patients to be treated with anti-malarial drugs from a federal stockpile.
Given all of the conflicting information on HCQ from government officials – as well as a retracted Lancet study which found HCQ did more harm than good, people aren't buying this; below are a sample of comments from MarketWatch's report on the EUA revocation.
If you haven't realized that all these agencies that are suppose to protect us from unsafe and unethical practices of big corporation have been captured by those very corporations, then you are not paying attention. The Pharmaceutical/Vaccine Industry can't make a fortune selling the world their poorly tested Covid-19 Vaccine if an existing medicine costing pennies is being used to successfully treat the virus. -Andrew Vela
This is purely a political move. Looks like the FDA has been infiltrated by the globalist cabal who want Trump gone, too. I'm no Trump fan, but I'm even lesser of a fan of bureaucrats who put politics ahead of lives. -Orange Sanders
And others are noting the retracted Lancet study:
Hydroxychloroquine has been further complicated by an inaccurate study that found the drugs harmed patients. That research was later retracted by The Lancet, a prestigious medical journal. The President said something good about the drug, but by itself it does not work against covid. the msm is against anything positive the President talks about and headline readers vote biden. -Rob Cap
So, the FDA has now revoked the use of a drug which is still undergoing clinical trials, and which has shown anecdotal efficacy when combined with zinc.
We're sure Dr. Fauci approves.
———-
Censoring HCQ- Azithromycin and Zinc as the Cure for Covid: What is REALLY Going On?
At my own peril, I have been writing articles on Hydroxycloroquine (HCQ) and how when taken with Azithromycin and Zinc is truly miraculous in treating early stages of Covid 19 and as a prophylaxis to the dreaded virus.
I say "At my own peril" because I have been punished on all social media platforms for publishing the Frontline Doctors video. The powers that be kept scrubbing that video from every social media.
And no doubt, I will be punished again for writing this. 
Finally, my husband was able to save the video into a different format, and I embedded it in one of my articles. Also, in that same article, I published a clinical trial from NIH which touted the "cocktail" (HCQ, Azithromycin and Zinc as extremely effective in reducing viral load and in many cases the viral load disappeared.
Here is that study:
From NIH
Abstract
Background: Chloroquine and hydroxychloroquine have been found to be efficient on SARS-CoV-2, and reported to be efficient in Chinese COV-19 patients. We evaluate the effect of hydroxychloroquine on respiratory viral loads.
Patients and methods: French Confirmed COVID-19 patients were included in a single arm protocol from early March to March 16th, to receive 600mg of hydroxychloroquine daily and their viral load in nasopharyngeal swabs was tested daily in a hospital setting. Depending on their clinical presentation, azithromycin was added to the treatment. Untreated patients from another center and cases refusing the protocol were included as negative controls. Presence and absence of virus at Day6-post inclusion was considered the end point.
Results: Six patients were asymptomatic, 22 had upper respiratory tract infection symptoms and eight had lower respiratory tract infection symptoms. Twenty cases were treated in this study and showed a significant reduction of the viral carriage at D6-post inclusion compared to controls, and much lower average carrying duration than reported in the litterature for untreated patients. Azithromycin added to hydroxychloroquine was significantly more efficient for virus elimination.
Conclusion: Despite its small sample size, our survey shows that hydroxychloroquine treatment is significantly associated with viral load reduction/disappearance in COVID-19 patients and its effect is reinforced by azithromycin.
Keywords: 2019-nCoV; Azithromycin; COVID-19; Clinical trial; Hydroxychloroquine; SARS-CoV-2.
Here is my article on Hydroxychloroquine in which the video of the Frontline doctors is embedded:
What is Really Going On?
Obviously, a lot of the censorship of people on Social Media is because of President Trump who has been giving rave reviews on HCQ – which he has been on as a prophylaxis.
The politicizing of this medicine is shameful.
But I do believe that it goes way beyond Trump.  There are two reasons why Bill Gates and Tony Fauci do NOT want the HCQ cocktail to be well known:
The well orchestrated plan for the "Vaccine" has been in the making for a very long time. The Pharmaceutical company Moderna seems to have won the contract for the Vaccine. But this is not just any vaccine and Moderna is not just any Pharmaceutical.
This is a Vaccine which has NEVER been tried on humans and will change the DNA (Genetic code) of every person receiving the Vaccine – forever. God is the creator of our DNA.  These mad scientists are playing God. Their reward will be received here on earth. Bill Gates has over $100 billion – certainly has been rewarded monetarily.
In eternity, if these bad actors do not wake up and turn from this evil and realize that they need Christ – they will spend eternity in a fiery hell.
The second reason is that Bill Gates (Eugenicist) is bent on depopulating the entire planet and the vehicle by which this will come to fruition IS the Vaccine. When the DNA of a person is forever changed, is the person still human?  This is a question that many scientists and doctors are asking.   No answers are coming……
From drrichswier.com
"The Communists' chief purpose is to destroy every form of independence—independent work, independent action, independent property, independent thought, an independent mind, or an independent man. Conformity, alikeness, servility, submission and obedience are necessary to establish a Communist slave-state." – Ayn Rand
"Censorship reflects society's lack of confidence in itself. It is a hallmark of an authoritarian regime." – Potter Stewart, Supreme Court Justice
"Free speech is the whole thing, the whole ball game. Free speech is life itself." – Salman Rushdie
Quite obviously, Hillary loving Dr. Anthony Fauci would prefer to make beaucoup bucks on his Remdesivir which is unproven to cure Covid-19 than promote a 65-year-old drug that has proven to be effective throughout the world in curing the Wuhan virus.  His purely political hatred of those who are promoting Hydroxychloroquine (HCQ) and Azithromycin smacks of monetary prerequisites of his approval.  Despite the fact that his National Institute of Health approved HCQ in 2005 for Covid, his leftist politics refuse to admit that lives all over the world are saved by HCQ and Z-Pacs as so many physicians have testified to.
President Trump is hated for promoting HCQ and for taking it as a preventative, despite physicians who have said it works for both.  Facebook, Google and Twitter have deleted the truth about HCQ.  Even attorney Sidney Powell who retweeted President Trump's tweet about HCQ was removed from twitter as was Donald Trump Jr.  Free speech is a core of a free society.  So, are we free?  Not hardly.
Silencing truth
Doctors Back Trump
Physicians in America have taken a stand and are backing the president's recommendation to use HCQ to treat Coronavirus.  Across America doctors are standing behind the president and announcing that it's time for America to reopen.  A group of doctors standing before the Supreme Court building in Washington DC, claimed there is no reason to keep the country locked down when we already have a cure for the virus…Hydroxychloroquine.  Dr. Simone Gold, an ER physician in Los Angeles for 20 years, who appeared with several other physicians said, "If you've gotten the virus, there is treatment and that's what we're here to tell you."  Dr. Gold said, "The American people aren't hearing from all the experts across the country.
After this video aired and was viewed millions of times, Dr. Gold was summarily fired from her job.  She has hired attorney L. Lin Wood to defend her.
Americans are being forced to take advice from doctors who have allowed their political bias against Donald Trump to stop them from treating patients they have the ability to cure.  Of course, we're speaking about the appointed head of the Coronavirus Task Force, VP Pence, whose chosen expert was Dr. Anthony Fauci.
(Koch Dark Money operative, Marc Short is Chief of Staff to VP Pence and he owns stocks that could conflict with Coronavirus response.)
Dr. James Todaro said, "If it seems like there's an orchestrated attack against HCQ, it's because there is.  When have you ever heard of a medication generating this degree of controversy? HCQ is a 65-year-old medication that has been listed as the World Health Organization's (WHO) safest medications for years and it's over the counter in many countries.  What we're seeing is a lot of misinformation."  HCQ has been prescribed to hundreds of millions of people all over the world for over a half a century with no side effects.  It has never been a controversial medicine until President Trump suggested it might be used to help Coronavirus patients and the Deep State went ballistic.
President Trump tweeted a copy of the doctors' video which went viral with over 14 million views.  Nigerian physician, Stella Immanuel is a primary care physician from Houston, Texas and her video alone reached 20 million on Facebook before it was removed. source
Brethren, the months leading up to the November presidential election will be a time when Christians must cling to the Lord as we never have before. We must not fear, and the only way not to fear is to be immersed in the Word of God and to be praying without ceasing.
The Talk with my Pharmacist
I spoke with our pharmacist 2 days ago about HCQ. He told me that he has plenty on hand and will fill any scripts for it (many pharmacists will not). He also told me that many doctors in our area are prescribing HCQ and Azithromycin.
I asked my doctor if he would prescribe this as a prophylaxis or if I got Covid 19. He answered NO – he would not. (he is part of Johns Hopkins and they are involved with Gates and Fauci.) The pharmacist told me to look for a new doctor who is not associated with a large hospital.  I plan to do this tomorrow – I will call around.
No matter what happens – even if the worst happens in November – remember that it is because God allowed it!  We must Trust Him implicitly!
Everything God allows further fulfills Bible Prophecy.
"Fear thou not; for I am with thee: be not dismayed; for I am thy God: I will strengthen thee; yea, I will help thee; yea, I will uphold thee with the right hand of my righteousness" (Isaiah 41:10).