BY TYLER DURDEN
MONDAY, MAR 27, 2023 – 10:35 PM
The transportation network of Europe's largest economy has ground to a halt as German unions begin a 24-hour "mega strike."
Workers flooded the streets of German cities as they demanded higher wages in response to the worst inflation in decades. The strike contributes to the ongoing social unrest in France, where millions protested last week against the government's unpopular pension reform.
The strike, which started just after midnight on Sunday, follows increasing protests seen across Europe over recent months as rising prices decimate household budgets.
"It is a matter of survival for many thousands of employees to get a considerable pay rise," Frank Werneke, who heads the Verdi labor union, told told Bild am Sonntag.
In February, German consumer prices surprised analysts, rising 9.3% year-over-year, slightly accelerating from the pace observed in January.
The striking workers are members of two of Germany's largest unions. Verdi boasts some 2.5 million members across the public sector, including public transport such as airports. EVG comprises nearly a quarter-million workers at national rail operator Deutsche Bahn, as well as bus lines.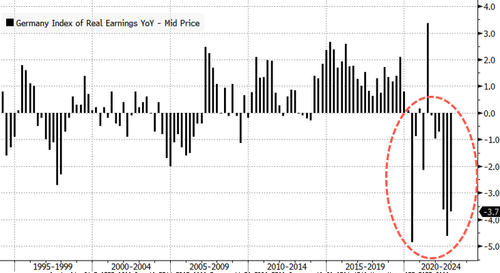 … and this is also increasing recession threat.
Verdi seeks a 10.5% across-the-board pay raise, while EVG is asking for 12%, according to BBC. German postal workers scored an 11.5% pay hike in March.
The union strikes have the potential to alienate the general public. Even before the strikes commenced, cancellations filled airport flight monitors. At Frankfurt — Germany's largest airport — all arriving and departing flights were cancelled for the entirety of Monday.
Germany's airport association estimated 380,000 air travelers will feel the effects, to say nothing of the burden on local and long-distance rail and bus users. Last week, Deutsche Bahn proactively cancelled all long-haul rail service for Monday.
The shutdown of planes, trains, buses and subways is expected to cause higher car traffic and accompanying road delays. Even the roads won't be fully spared, as Werneke says some highway tunnels will be affected.
"A labor struggle that has no impact is toothless," he added.
Central-banking-created price inflation has hit Germany particularly hard, thanks to the compounding effect of the country's reliance on Russian gas — the supply of which has evaporated in the wake of Russia's invasion of Ukraine and Western efforts to curtail Russian exports.
Even if peace breaks out, that supply is likely to be impaired for some time, thank to the destruction of Russia's Nord Stream 2 gas pipeline, an act that — if investigative journalist Seymour Hersh's detailed account is correct — was carried out by the United States government.