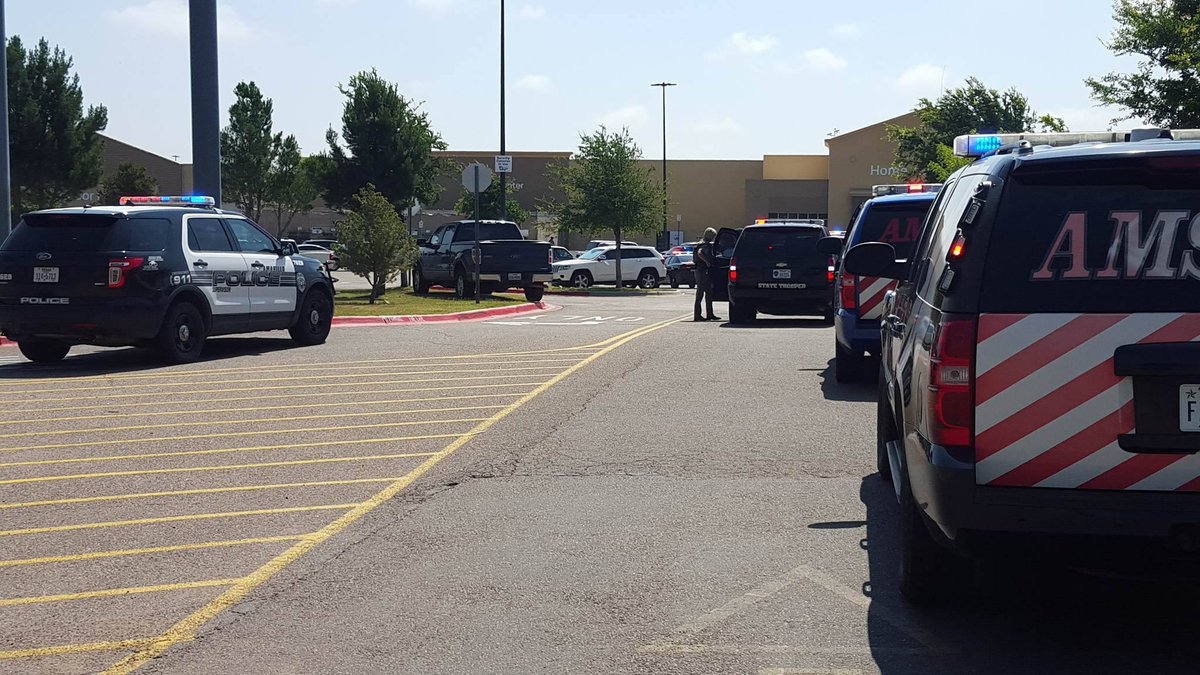 15 June 2016 
 Shoebat 
---
Amarillo (Texas) Police are on scene of active shooting with hostage situation where 1 to 3 Muslim Somalis dressed in Walmart uniforms are holding hostages at Walmart in Amarillo, TX, and SWAT is responding.
The number of Somali terrorists is unconfirmed.
AMARILLO, TX (KFDA) –
"The Amarillo Police Department is reporting an active situation at the Amarillo Walmart at 4215 Canyon Drive. Early reports indicate an armed man is inside the store.

APD and several other agencies including DPS, Amarillo Emergency Management and Randall County are on scene. There are unconfirmed reports of a possible hostage situation. Police are searching for a Somalian manwearing Kakhi pants."
Police are shutting down I-27 & Georgia Northbound frontage road. Police are asking motorists to please avoid the area so that officers can focus on the scene and not traffic.
NewsChannel10 has multiple crews on the scene and will report details as they become available.
ABC 7 news team have confirmed the Amarillo Police Department are evacuating people out of the West side of the building. The shooter is believed to have taken hostages.
A citizen tweeted that he heard on police scanner that it was 3 Somalis who were the hostage takers. The number is conflicting since "Police on scene asked for interpreter and said suspect was a Somali."
This is a developing story. Please check back for updates below.
UPDATES 
Police scanner:12:18PM Amarillo time: "There are no injuries inside the store."
Police scanner: 12:21 "Shots fired."
Police scanner: 12:27 "suspect has a colored shirt on top of his Walmart shirt is identified to be male, black."
Police scanner: 12:31 "shooter down"
Police scanner 12:33: Arabic writing and some notes found on shooter who is down and contained.
Police scanner 12:39 Police confirm Arabic language found in shooters vehicle, Toyota Avalon (green) with stolen tags parked in the disabled spot.
Police scanner 12:45 Shooter's name is Mohammed Khalid (keep in mind the spelling in English could have varieties)
Police scanner 12:48 Suspect has been shot by SWAT team and is DEAD per Randall County Sheriff's Office
 NOW THE B.S: ITS CATEGORIZED AS "WORKPLACE VIOLENCE"
**** UPDATE FROM RANDALL COUNTY SHERRIF'S DEPT ****
It has been confirmed that there is one person armed with a gun inside Walmart and at least one hostage.
We do consider this a work-place violence situation at this point.
All agencies are on scene, including Amarillo SWAT, APD, RCSO, PCSO, and DPS. The SWAT robot is currently being utilized.
Although there were reports of shots fired when officers arrived on scene, there have been no confirmed injuries.
Police scanner 1:07 Female witness questioned by police
Conclusion: a Muslim Somali takes hostages, is gunned down, leaves a note in Arabic and they concluded quickly minutes after saying it was "workplace violence" before getting an interpreter or even obtaining more data.
Amarillo police said there is currently no reason to believe the hostage situation was motivated by terrorism or political ideology, the Amarillo Globe-News reported.
The family of Glen Jones, the manager of the Walmart in Amarillo, told the Globe-News that Jones was taken hostage but was not harmed.
Article reposted with permission from Shoebat.com
NESARA- Restore America – Galactic News