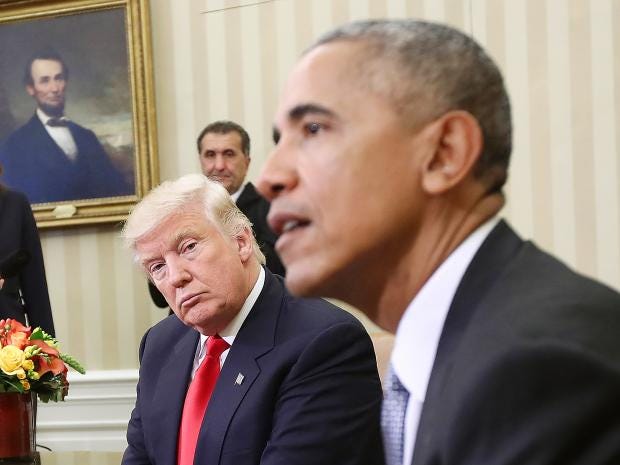 President has a history of attacking his predecessor following years of 'birtherism' claims
5 March 2017
---
Donald Trump has claimed Barack Obama ordered his offices in New York to be "wiretapped" during the US election.
The allegation – made without showing any evidence – included calling Mr Obama a "bad, or sick, guy".
"Terrible!" the President tweeted early on Saturday morning. "Just found out that Obama had my 'wires tapped' in Trump Tower just before the victory. Nothing found. This is McCarthyism!"
Soon after he added: "Is it legal for a sitting President to be "wire tapping" a race for president prior to an election? Turned down by court earlier. A new low!
"I'd bet a good lawyer could make a great case out of the fact that President Obama was tapping my phones in October, just prior to election!"
Mr Trump also suggested that Mr Obama was "sick", writing: "How low has President Obama gone to tapp [sic] my phones during the very sacred election process. This is Nixon/Watergate. Bad (or sick) guy!"
Despite the severity of the claim, Mr Trump did not immediately provide evidence that Mr Obama was responsible for surveillance on his property.
The President was tweeting from his Florida seaside resort, Mar-a-Lago, where he was scheduled to meet with Attorney General Jeff Sessions and Homeland Security Secretary John Kelly before a dinner with officials also including adviser Steve Bannon and White House Counsel Don McGahn.
Several conservative news outlets and commentators have made allegations in recent days about Mr Trump being wiretapped during the campaign, without offering any evidence.
Mr Obama's spokesman denied the allegations, saying any suggestion he or his staff had "ordered surveillance on any US citizen" was false.
Kevin Lewis added that a "cardinal rule" of the Obama administration was that no White House official ever interfered in any Justice Department investigations, which are supposed to be conducted free of political influence.
"As part of that practice, neither Obama nor White House official ever ordered surveillance on any US citizen. Any suggestion otherwise is false," he said.