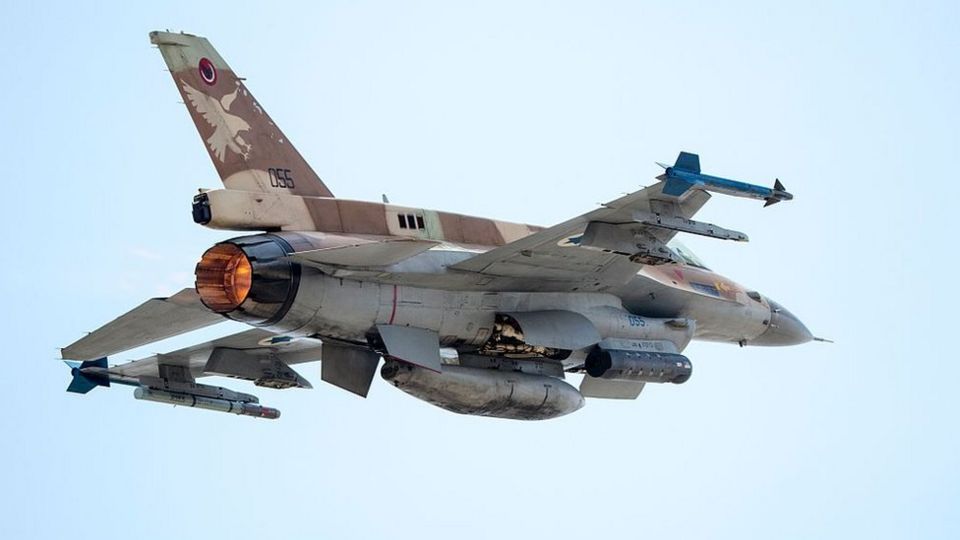 07 September 2017 Middle East BBC
---
The Syrian army says Israeli jets have attacked a site in the west of the country where Western powers suspect chemical weapons are being produced.
An army statement says rockets fired from Lebanese airspace hit a military post near Masyaf, killing two soldiers.
A monitoring group says they struck a scientific research centre and base storing surface-to-surface missiles.
Israel, which has carried out clandestine attacks on weapons sites in Syria before, has not commented.
An Israeli military spokeswoman declined to discuss the reports, saying it did not comment on operational matters.
The attack comes a day after UN human rights investigators said they had concluded a Syrian Air Force jet had dropped a bomb containing the nerve agent Sarin on a rebel-held town in April, killing at least 83 people.
Abo Rabeea says he is still suffering from the suspected chemical weapons strike in Khan Sheikhoun
Syrian President Bashar al-Assad has said the incident in Khan Sheikhoun – which prompted the US to launch a missile strike on an airbase – was a "fabrication".
He has also insisted his forces destroyed their entire chemical arsenal under a deal brokered by the US and Russia after a Sarin attack outside Damascus in 2013.
The Syrian army said rockets had struck the base near Masyaf, about 35km (22 miles) west of the city of Hama, at 02:42 on Thursday (23:42 GMT on Wednesday), causing "material damage" and the deaths of two personnel.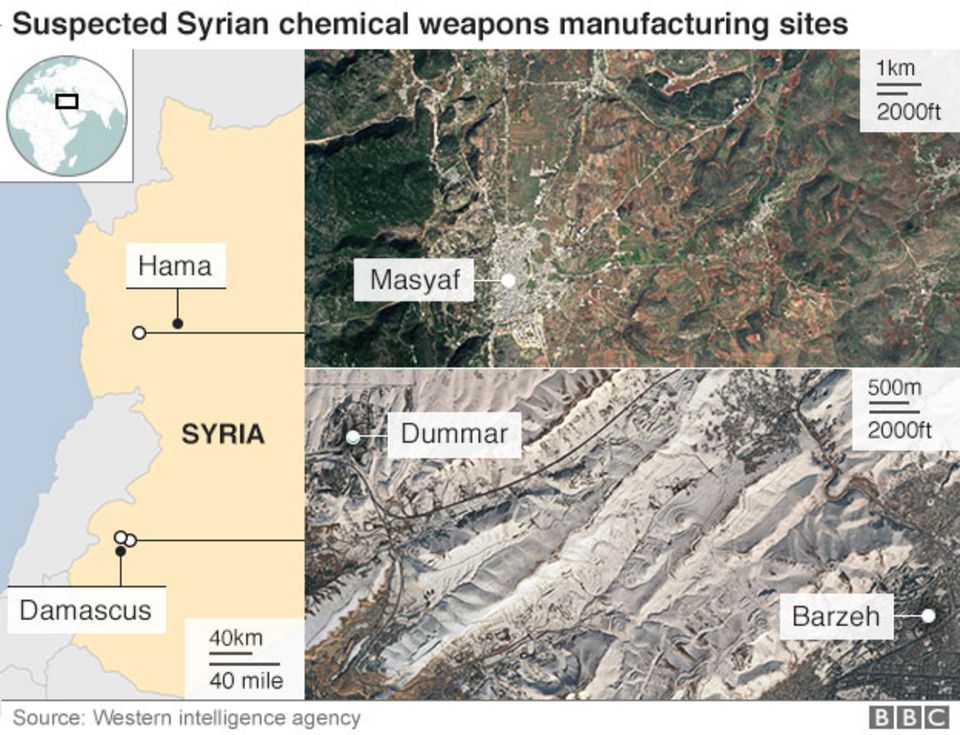 Map showing locations of suspected Syrian chemical weapons manufacturing sites
It accused Israel of attacking "in a desperate attempt to raise the collapsed morale" of the jihadist group Islamic State (IS) and warned Israel about "the dangerous repercussions of such hostile acts on the security and stability of the region".
The Syrian Observatory for Human Rights, a UK-based monitoring group, said the rockets had hit a Scientific Studies and Research Centre (SSRC) facility and a military camp nearby used to store short-range surface-to-surface missiles.
A Western intelligence agency told the BBC in May that three branches of the SSRC – at Masyaf, and at Dummar and Barzeh, both just outside Damascus – were being used to produce chemical munitions in violation of the 2013 deal.
The SSRC is promoted by the Syrian government as a civilian research institute but the US accuses the agency of focusing on the development of non-conventional weapons and the means to deliver them.
Israel has been watching events in Syria with alarm: the rising power of Iran and its Lebanese ally, Hezbollah – two of the main props of the Syrian regime – together with the reported periodic use of chemical weapons against civilians.
So this latest alleged attack sends a clear warning, not just to Hezbollah and Damascus but also to Russia – the other crucial supporter of the Syrian government.
Israel has been waging a long-running air campaign to prevent sophisticated weaponry being transferred to Hezbollah.
It is now talking about this campaign more openly; the former Israeli Air Force chief recently noting that it had carried out almost 100 air strikes over the past five years.
And with Israeli claims that Iran is building missile production facilities in Lebanon and Syria for Hezbollah, the message could not be clearer.
line
A former head of Israeli military intelligence, Amos Yadlin, tweeted that Thursday's strike on Masyaf was "not routine" and had targeted a "Syrian military-scientific centre for the development and manufacture of, among other things, precision missiles".
"The factory that was targeted in Masyaf produces the chemical weapons and barrel bombs that have killed thousands of Syrian civilians," he added.