LIBYA EXPLODING IN MILITARY ACTION – TRIPOLI TO BE ATTACKED WITHIN 24 HOURS
This report combines public info and COVERT INTEL which is for subscribers only —  Tonight, 04 April 2019, Libya is exploding in military violence. Invasion of its Capital is likely within 24 hours.   Air strikes are being ordered against attacking troops and the situation is now completely out of control.
Muammar Gaddafi former leader of Lybia, was overthrown, captured and killed on October 20, 2011.
The destruction of his government came after internal power struggles against his 42 year rein, through tribal warfare which began in earnest in 2009 and wrecked the country.  As the tumult raged, there were accusation that Qadaffi was using his military to attack and kill civilians, which brought a military response from . . .  NATO.
At the time, many say Qadaffi was planning to create a GOLD-BACKED CURRENCY for all of Africa, and the Bankers of the west, fearing a gold-backed currency would wipe out their worthless "fiat" currencies, unleashed NATO attacks to topple Qadaffi. 
Unable to defend himself or his country from such firepower, Qadaffi fled but was ultimately found and killed in the streets by mobs.
After his overthrow, clashes for power continued, but through the United Nations a "Government of National Accord (GNA) took over and was recognized (by the UN) as the only legitimate political rule for the country.  It was formed under the terms of the Libyan Political Agreement, a United Nations-led initiative, signed on 17 December 2015. The agreement has been unanimously endorsed by the United Nations Security Council which has welcomed the formation of a Presidency Council for Libya and recognized that the Government of National Accord is the sole legitimate executive authority in Libya.
On 31 December 2015, Chairman of the Libyan House of Representatives, Aguila Saleh Issa declared his support for the Libyan Political Agreement. Ever since, the General National Congress has criticized the unity government on multiple fronts as biased in favor of its rivals, the House of Representatives.
The Government of National Accord has 17 ministers and is led by Prime Minister Fayez al-Sarraj. The first meeting of the cabinet of the Government of National Accord took place on 2 January 2016 in Tunis. A full cabinet consisting of 18 ministers was announced in January 2016.
The Prime Minister of the GNA, Fayez al-Sarraj, and six other members of the Presidential Council and proposed cabinet arrived in Tripoli on 30 March 2016. The following day, it was reported that the GNA has taken control of the prime ministerial offices.
Since March 2016, conflict between the two rival governments, the Libyan House of Representatives and the General National Congress (GNC), has intensified. Despite previously supporting it, the Libyan House of Representatives withdrew its recognition of the GNA by voting against it in the summer of 2016 and becoming their rival for governing the country. Despite being backed by only parts of the GNC and without formal approval from the Libyan House of Representatives, who have called for new elections to be held by February 2018, the GNA is still recognized by the United Nations as Libya's legitimate government.
The GNA has struggled to assert its authority and has been largely unsuccessful in unifying Libya as expected. The ultimate viability of the Government of National Accord was always uncertain given that the country still remains greatly divided across political, tribal and ideological lines.
ENTER Khalifa Haftar 
Field Marshal Khalifa Belqasim Haftar is a Libyan military officer and the head of the Libyan National Army (LNA), currently engaged in a Second Libyan Civil War. On 2 March 2015, he was appointed commander of the armed forces loyal to the elected legislative body, the Libyan House of Representatives.
Haftar was born in the Libyan city of Ajdabiya. He served in the Libyan army under Muammar Gaddafi, and took part in the coup that brought Gaddafi to power in 1969. He took part in the Libyan contingent against Israel in the Yom Kippur Warof 1973. In 1987, he became a prisoner of war during the war against Chad after being lulled into a trap and captured, then a major embarrassment for Gaddafi and represented a major blow to Gaddafi's ambitions in Chad. While held prisoner, he and his fellow officers formed a group hoping to overthrow Gaddafi.
He was released around 1990 in a deal with the United States government and spent nearly two decades in Langley, Virginia [CIA] in the US, gaining U.S. citizenship. In 1993, while living in the United States, he was convicted in absentia of crimes against the Jamahiriya and sentenced to death.
Haftar held a senior position in the forces which overthrew Gaddafi in the 2011 Libyan Civil War. In 2014 he was commander of the Libyan Army when the General National Congress (GNC) refused to give up power in accordance with its term of office. Haftar launched a campaign against the GNC and its Islamic fundamentalist allies. His campaign allowed elections to take place to replace the GNC, but then developed into a civil war.
Haftar has been described as "Libya's most potent warlord," having fought "with and against nearly every significant faction" in Libya's conflicts, and as having a "reputation for unrivalled military experience."
CHAIN REACTION
In Libya since the fall of Muammar al-Qaddafi, years often pass without much change as  political deadlock continues and the economy decays. Then a moment of opportunism triggers a chain reaction. One such chain reaction has taken place this year, begun by Field Marshal Khalifa Haftar's military advance into southern Libya and seizure of key oil fields. This step seems likely to result in the fulfillment of the warlord's long-held—and increasingly internationally supported—desire to control all of Libya.
After Haftar re-emerged from his long-term exile in suburban Virginia, political competition between Islamists, Qaddafi-loyalist technocrats, ex-regime associates, and those persecuted by the regime combined with a patchwork of local conflicts and the rise of jihadi groups to spark a second civil war in 2014. This dynamic caused the politicians to be eclipsed by their armed counterparts—notably, by Haftar himself, as his military operation left militarized administrations in its wake across eastern Libya. Five years on, the country remains torn between the United Nations-backed Government of National Accord, based in Tripoli and headed by Prime Minister Fayez al-Sarraj, and the Haftar-backed administration in eastern Libya. The international community has largely stood by, detached from the reality on the ground and trying to create political unity among increasingly marginalized politicians.
In 2019, the spread of Haftar's self-declared Libyan National Army (LNA) through southern Libya has been surprisingly rapid. Under a media campaign promoting the operation as an effort to expel foreign forces and terrorists from southern Libya, the LNA (which uses foreign militias) moved quickly in February to secure Libya's el-Sharara and el-Feel oil fields, which together produce close to 400,000 barrels per day. Just as he did when he won control of eastern Libya's oil facilities in September 2016, Haftar subsumed strategically placed local forces (including those guarding the oil fields) into the LNA with the promise of a uniform and a salary.
Perhaps most revealing was the accompanying distribution of a parallel Libyan currency (which Russia has supplied in order to keep Haftar and eastern Libya's parallel government liquid over the last few years) along with flour, gas, and petroleum to the long-neglected local population. Haftar's seizure of the oil fields advertises to Libya's general populace that he can supply what Tripoli's feckless Government of National Accord cannot.
This recent move south was bold and significant. But this operation—slick as it was—will not be sufficient to break the status quo. Haftar has held the majority of Libya's oil production since 2016, not to mention his de facto control of Libya's elected legislature and its self-appointed government, which has been administering the east in opposition to the Government of National Accord in Tripoli (which was itself created by the Libyan Political Agreement).
But Haftar has failed to translate his factual control on the ground into real political currency—namely, a leadership position in the internationally recognized government.
His attempt to independently sell oil in June 2018, which could have been a game changer, was met with concerted international resistance that ultimately forced him to back down. Since that blunt power grab was stifled, Haftar and his backers have made a subtler attempt at generating influence where it matters, amongst Tripoli's de facto power holders and the international community driving Libya's political process.
This year's diplomatic efforts have focused on manufacturing a deal between Haftar and the Government of National Accord's Sarraj—essentially sidelining Libya's two legislative houses in a track aimed at formalizing Haftar's national role. It was only once these negotiations stalled that Haftar and the LNA made good on a long-standing threat to launch the southern operation, which was toasted in the United Arab Emirates, one of Haftar's main supporters.
This was quickly followed by a fresh round of diplomacy. First the chairman of Libya's National Oil Corporation was convinced to lift force majeure on the captured southern oil fields, essentially ceding control to Haftar in a recognition of his invasion as an "extraordinary event," thus legitimizing Haftar's presence there and cementing his control over Libya's oil. In late February, Sarraj and Haftar were brought together by the United Arab Emirates and the United Nations special envoy to Libya for fresh negotiations aimed at finalizing a political deal—now with Haftar bringing even more weight to the table. But Haftar still left Abu Dhabi without anything solid, suggesting that Sarraj did what he does best, stalling negotiations in an attempt to buy time. He is, however, negotiating with an increasingly weak hand.
Haftar now realistically has two ways of exchanging his recent gains for an official seat at the table: an official deal or a military imposition of the new de facto reality.  He has chosen a military solution.
MILITARY ON THE MOVE
At about 8:00 AM eastern US time today, Haftar ordered his forces to advance on Libya's capital, Tripoli.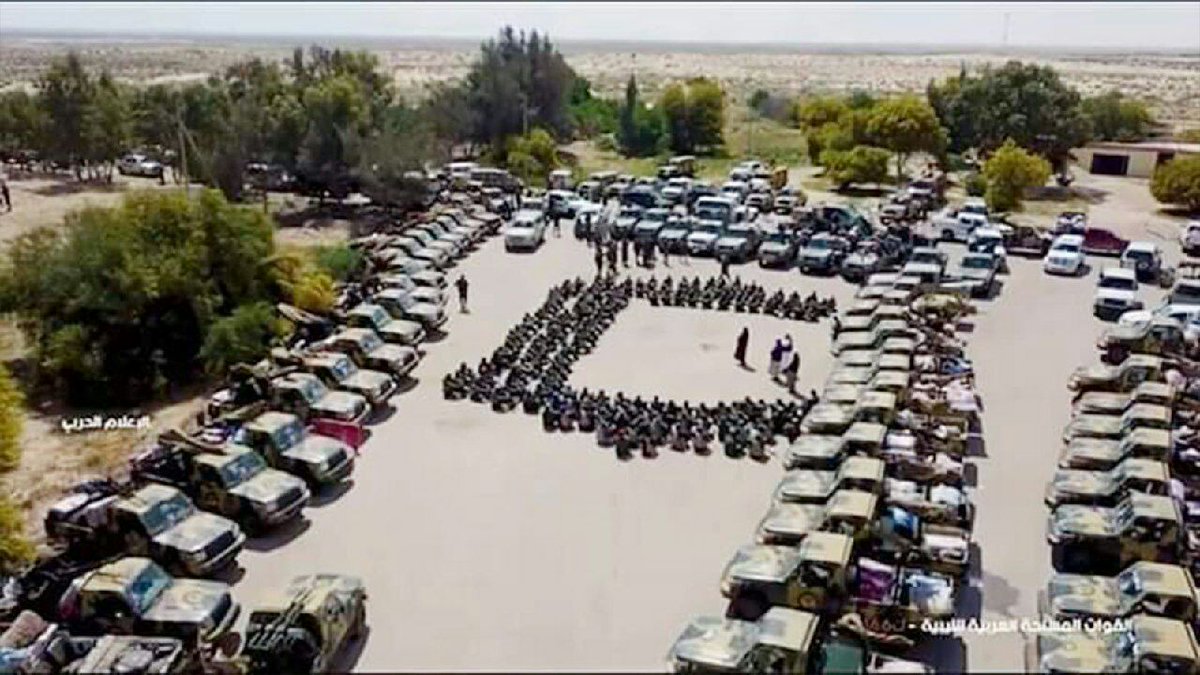 Those forces began advancing immediately.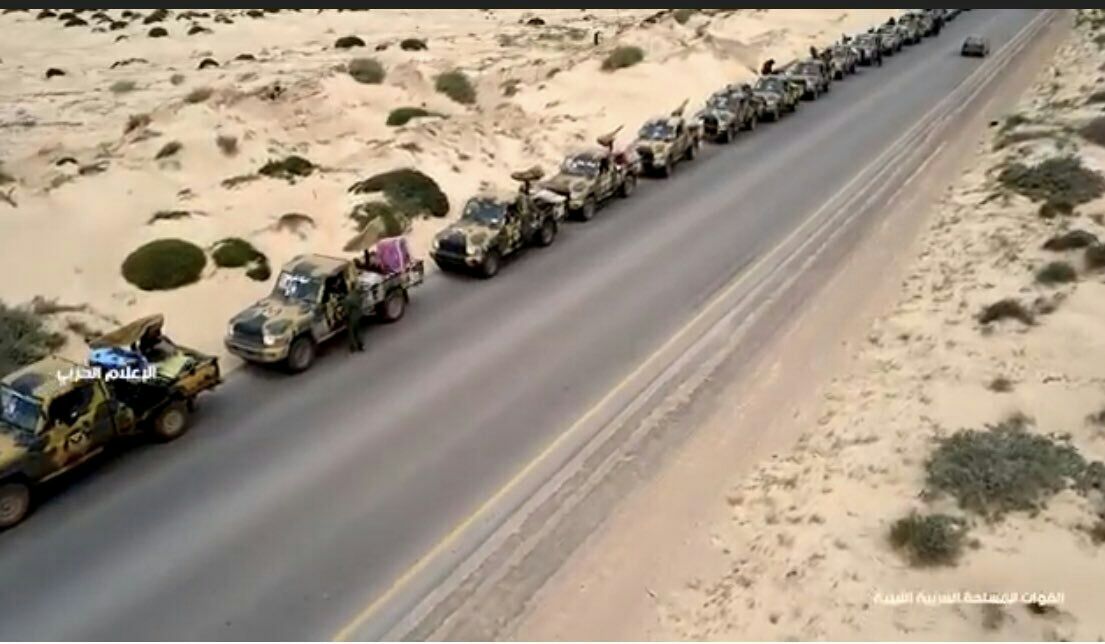 At about 11:00 AM eastern US time today, UN's secretary general expressed concern about a possible major armed showdown over Libya's capital. Comes as forces loyal to the army commander took control overnight of a town near Tripoli.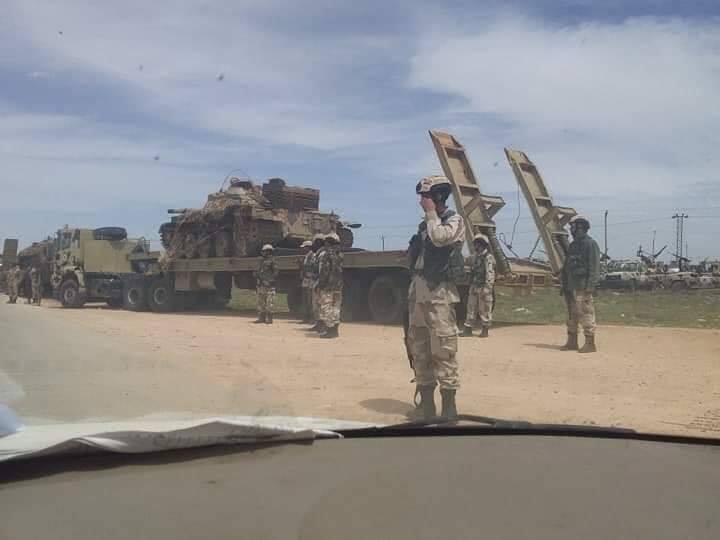 Libya's currency fell 7% today in response to Haftar forces moving towards Tripoli, in defiance of UN calls and on the day the Secretary General arrives in that city!
Upon his arrival, the Secretary General of the UN tweeted:
I am deeply shocked and moved by the suffering and despair I have seen in the detention centre in Tripoli, where migrants and refugees are in detention for unlimited time and without any hope to regain their lives. pic.twitter.com/7oM1IhojlX

— António Guterres (@antonioguterres) April 4, 2019
UN STATEMENT
The text of the following statement on Libya was released by the Governments of France, Italy, the United Arab Emirates, the United Kingdom, and the United States.
Begin Text:
The governments of France, Italy, the United Arab Emirates, the United Kingdom, and the United States are deeply concerned by fighting near Gharyan, Libya and urge all parties to immediately de-escalate tensions, which are hindering prospects for UN political mediation. At this sensitive moment in Libya's transition, military posturing and threats of unilateral action only risk propelling Libya back toward chaos. We strongly believe that there is no military solution to the Libya conflict. Our governments oppose any military action in Libya and will hold accountable any Libyan faction that precipitates further civil conflict.

We stand united behind UN Special Representative of the Secretary-General (SRSG) Ghassan Salame as the UN seeks to break Libya's political deadlock, improve transitional governance, and chart a path toward credible and peaceful elections. All Libyan actors should work constructively with SRSG Salame as the UN finalizes plans for the national conference planned for April 14–16.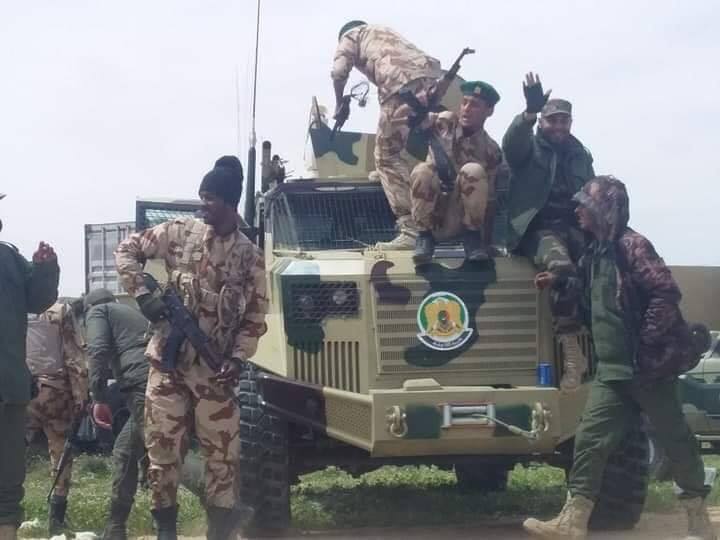 ATTACK ORDER GIVEN BY GNA
At about Noon, Eastern US time today, the Prime Minister of the Government of National Accord (GNA) issued orders to "launch air strikes against all forces targeting Tripoli."
At about 2:00 PM eastern US time today, clashes began on the outskirts of Tripoli, about 50km from the center of the Capital itself.
Just before 3:00 PM eastern US time today, it was officially announced that "Al-Zahra, 'Aziziya, Highway 28 and Highway 17 officially under the LNA control"
At a distance of just 40km from the capital, Haftar's forces have seized a major entry way into Tripoli.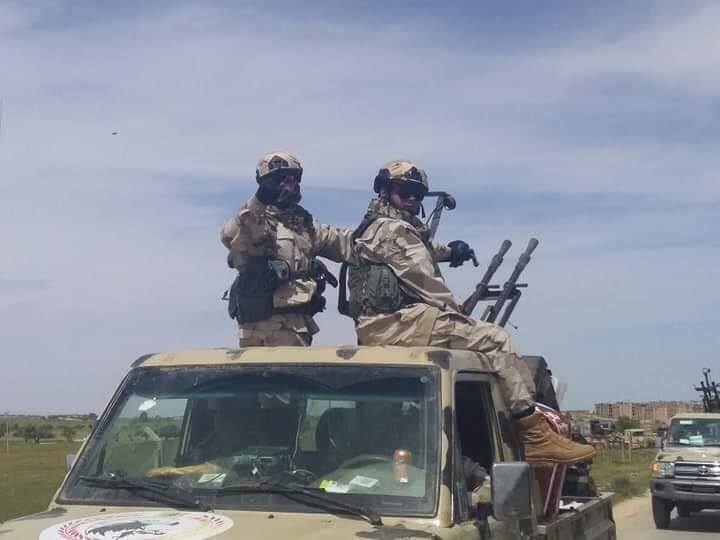 At about 3:30 PM eastern US time today, General Mabrouk Sahban of the LNA warned all airports against allowing jets targeting his forces from launching, "or else they will be bombed immediately by the Airforce."
At about 4:00 PM Eastern US time today, the EU Delegation to Libya Tweeted a statement:
Joint EU local statement on the situation in Libya #European_Union #EU #Libyapic.twitter.com/w1X0RLcwjZ

— EU DEL to LIBYA (@EUDELtoLibya) April 4, 2019
At about 4:30 PM eastern US time today, Britain called for a closed-door UN Security Council meeting on Libya.
The council is expected to hold a closed-door meeting on Friday (tomorrow).
By about 5:45 PM eastern US time today, Pro-Haftar forces were within 30 kilometers of Tripoli, according to a report by AFP which cited a military source.   Libya is 6 hours AHEAD of U.S. East Coast time.  The photo below shows Haftar's forces continuing to make rapid advance toward Tripoli: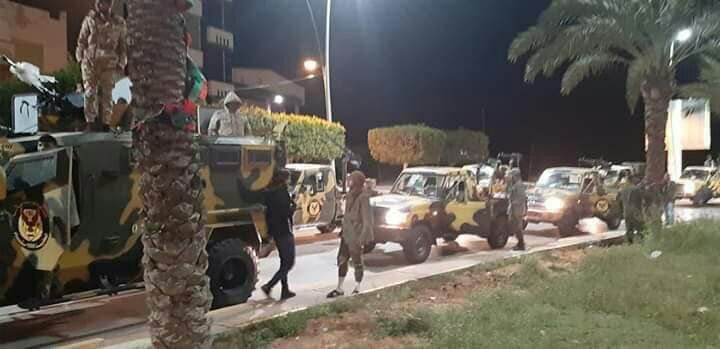 COVERT INTEL CIRCUITS ARE BLARING URGENT BULLETINS AND DIRE WARNINGS ABOUT THE ACTUAL PLAN BEING IMPLEMENTED . . . AND POINTING OUT THAT HAFTAR VISITED THE KING OF SAUDI ARABIA JUST TWO WEEKS AGO, WHERE THEY BELIEVE HE GOT THE GO-AHEAD TO TAKEOVER THE COUNTRY.
MORE:
INTEL circuits are jam-packed with information which will have utterly DIRE consequences for Europe.   I have that Intel.
I haven't followed Libya post Ghadaffi BUT the total BULLSHIT this narrative re his regime, causes of "overthrow", etc are the worst reporting I have seen on Hal's site.!!! check out Christine baby Legarde (now IMF?)youtube when Pres of Amnesty International day of " planes flying down the blouvards of Bengazi straffing citizen protesters by the thousands…" and 6 mo later "oopsie, our folks on the ground counted a total of 26 dead..yes all wearing government uniforms, yes all black.."; of day 4 when no one even knew who the "opposition" on the ground was, somebody gets recognized as official government, and get help to extract "that dictator G' gold form NY (1400 tons?) for "safe-keeping"—greatest engineering project ever? 2000+k (1500+miles) of 13′ dia pipes gushing water to the coastal populations at .03 litre vs turned-down IMF de-salination proposalat 1.35$/L!! etetcetc–Syria saw what was comingand begged pope Benedict to visit and see what was happening (not happening0 before Libya BS repeated there (as Hal has reported ) I do not like him at all (ok histoy is great but politics/economics suck) but Webster Tarply was on the ground in Tripoli when this all broke loose and AK47 were being passed out to the thousands and thousands in streets of Tripoli buy Gaddafi!!

https://www.foreignpolicyjournal.com/2016/01/06/new-hillary-emails-reveal-true-motive-for-libya-intervention/

Hillary Emails Reveal True Motive for Libya Intervention

Newly disclosed emails show that Libya's plan to create a gold-backed currency to compete with the euro and dollar was a motive for NATO's intervention…..special ops trainers inside Libya from nearly the start of protests, Al Qaeda embedded in the U.S. backed opposition, Western nations jockeying for access to Libyan oil, the nefarious origins of the absurd Viagra mass rape claim,