Original article from Caldron Pool
---
A senior analyst for the International Crisis Group has warned that Sunday's Islamic terrorist attacks will feed the sentiment that Muslims are a problem and a threat that needs to be dealt with.
Speaking to LBC presenter Eddie Mair, academic Alan Keenan said, "this sentiment has been developing over the last five years, cultivated by a radical militant group of Buddhists, including some monks.
Keenan went on to warn, "if strong action isn't taken and the right messages aren't sent by the government leaders and religious leaders of all groups, there's a real possibility of further violence."
Speaking on NPO 2, Keenan said the Muslim community should not be blamed for the attacks.
"The community as a whole should not be targeted, should not be blamed. There is a real risk, given the already high levels of suspicion, fear and demonisation of Muslims within Sri Lanka — which has close connections with the global Islamophobic discourses — in that context, there's a high risk that… the Muslim community as a whole could be targeted."
WATCH:
Academic @akeenan23 says the victims of the #SriLanka jihadist attacks could very well be Muslims because of the global "Islamophobic" discourses that are happening.
Australian Senator critical of Islam following Sri Lankan bombings
Senator Fraser Anning has claimed he was "right all along" in a furious anti-Muslim Twitter rant following the Sri Lankan bombings.
Australia Senator Fraser Anning has gone on a furious anti-Muslim rant on Twitter in the wake of the Sri Lankan bombings, which have killed 290 people and left hundreds of others injured.
The Sri Lankan Government has blamed the attacks on Islamic extremist group National Thowheeth Jama'ath.
Senator Anning wasted little time using the attacks to announce he was "right all along" about the connection between Islam and violence.
"We can no longer bury our heads in the sand about Islam. This cannot be swept under the rug," one of his tweets read.
"I was right all along. Islamic populations do indeed create violence."
The Queensland senator went on to call out New Zealand Prime Minister Jacinda Ardern who was pictured donning a hijab out of respect following the Christchurch mosque shootings last month.
"Where is all the condemnation around the world on extreme radical Islam," Senator Anning wrote.
"Our politicians are quiet. What about the New Zealand PM who is now wearing a hijab, embracing Islam and playing the Islamic call to prayer?"
The media were next in the firing line, with Senator Anning claiming mainstream news outlets have been giving less attention to the Sri Lankan bombings than they gave to the Christchurch massacre.
He then took a swipe at "egg boy", also known as Will Connolly, who gained the nickname after cracking an egg on Senator Anning's head in the wake of his controversial comments about Christchurch.
"Almost 300 dead due to Islamic terrorists in Sri Lanka. Where is egg boy now?" the tweet read.
The Islamophobic comments Senator Anning made following the Christchurch shootings were slammed by Prime Minister Scott Morrison as "disgusting".
But the widespread backlash didn't deter the senator from last night reiterating and standing by what he said.
"I also said during Christchurch, that whilst Muslims had been the victims, Muslims are usually the perpetrators in terrorist attacks," he tweeted.
Senator Anning finished off his bizarre rant by warning Australians there will be more terrorist attacks here if the government continued to allow Muslims to enter the country.
He even went as far as telling people they would "face death" if they didn't heed his advice.
Senator Anning's controversial posts have racked up thousands of comments, both from people condemning the senator's actions and from people praising him.
The question that needs to be asked is "Where is the outrage?" after this high loss of lives in Sri Lanka.
Imagine if Christians targeted mosques during Ramadan and tried to kill as many Muslims as possible.
50 Muslims are murdered in New Zealand , an awful murderous act, and there is worldwide condemnation of Islamophobia.
200+ Christians are murdered in Sri Lanka in multiple church bombings and not a single leader condemns this 'Christophobic' trend we see globally.
The academic at the top of this article has everything back to front.
Sri Lankan officials are prepared to accept that a group of "Islamic militants, in their country identified as  " National Thowheed Jamath" , was behind the attack, though no group has publicly claimed credit.
Commentator Stefan Molyneux highlighted, "The corporate media was more outraged by a kid cornered by an aggressive drummer than hundreds of Christians slaughtered in Sri Lanka."
"Compare the level of outrage with what happened in Sri Lanka with Christchurch, NZ," Imam Mohamad Tawhidi tweeted. "Triple the amount of casualties and triple the amount of injured people. It offends me and other like-minded Muslims that we get special treatment and other equal humans don't."
Dinesh D'Souza rightly said, "What we learn from the disparate coverage of New Zealand and Sri Lanka terrorist attacks is that 'news' isn't really news. Media coverage of events more often reflects ideological prejudices of the media than what's actually going on in the world."
The Sri Lanka death toll is now over 200 and involves multiple churches. A far worse terrorist attack than the one in New Zealand! Yet this is a terrorist attack against Christians.

Where is the unceasing wall to wall coverage that we got on the New Zealand attacks?
It would appear Christian lives don't matter all that much to our politicians and the media, much less those who live in non-white nations like Sri Lanka, Nigeria, the Philippines, and Egypt.
The academic above is trying to separate Islamic actions from it's prevailing ideology, and put Islam in cotton wool.
As documented in the 2018 book —  Sword and Scimitar: Fourteen Centuries of War between Islam and the West, whenever Muslims invaded Christian nations, untold thousands of churches were ritually desecrated and despoiled, their crosses and other Christian symbols systematically broken.
Think what ISIS does but on an exponential level—and not for a handful of years but for over a millennium.
The patterns between past and present attacks are virtually identical.
Reminiscent of the recent drawing of a cross in fecal matter on a French church, in 1147 in Portugal, Muslims displayed "with much derision the symbol of the cross. They spat upon it and wiped the feces from their posteriors with it." Decades earlier in Jerusalem, Muslims "spat on them [crucifixes] and did not even refrain from urinating on them in the sight of all." Even that supposedly "magnanimous" sultan, Saladin, commanded "whoever saw that the outside of a church was white, to cover it with black dirt," and ordered "the removal of every cross from atop the dome of every church in the provinces of Egypt" (all quotes from primary sources documented in Sword and Scimitar, pp. 171, 145, 162).
From the start, the intentional, widespread, and systematic targeting of churches and other Christian symbols prompted some to see Muslim invaders as motivated by a diabolical animus.
For Anastasius of Sinai (630–701), the heroes of the seventh-century Arab conquests of the then Christian-majority Middle East were "perhaps even worse than the demons." After all, "the demons are frequently much afraid of the mysteries of Christ, I mean his holy body [the Eucharist], the cross… and many other things. But these demons of flesh trample all that under their feet, mock it, set fire to it, destroy it" (Sword and Scimitar, p. 27).
Many simply don't wish to accept the historical facts that there have been centuries of this kind of evil.
In short, the overwhelming majority of persecution that these 215 million Christians experience around the world — especially the worst forms, such as rape and murder — occurs at the hands of Muslims.
If time is on the side of Christians living under Communist regimes, it is not on the side of Christians living under Islam. The center of the great Christian Byzantine Empire is now an increasingly intolerant, rapidly Islamizing Turkey. Carthage, once a bastion of Christianity — where one of Christendom's greatest theologians, St. Augustine, was born and where the New Testament canon was confirmed in 397 — is today 99% Muslim-majority Tunisia.
As what began in the seventh century comes closer to fruition and the entire world becomes more Islamic and "infidel" free, as in Iraq, confronting these uncomfortable facts is at least a welcome first step in countering the problem.
"215 million Christians experience high levels of persecution" around the world, according to Open Doors, a human rights organization. On its recently released World Watch List 2018, which ranks the world's 50 worst nations wherein to be Christian, 3,066 Christians were killed, 1,252 abducted, and 1,020 raped or sexually harassed on account of their faith; and 793 churches were attacked or destroyed.
The Islamic world had the lion's share of this persecution; 38 of the 50 worst nations are Muslim-majority. The report further cites "Islamic oppression" behind the "extreme persecution" that prevails in eight of the 10 worst nations. In short, the overwhelming majority of persecution that these 215 million Christians experience around the world — especially the worst forms, such as rape and murder — occurs at the hands of Muslims.
These Muslims come from all walks of life and reflect a variety of races, nationalities, languages, socio-economic and political circumstances. They include Muslims from among America's closest allies (Saudi Arabia #12 worst persecutor) and Muslims from its opponents (Iran #10); Muslims from rich nations (Qatar #27 and Kuwait #34) and Muslims from poor nations (Afghanistan #2, Somalia #3, and Yemen #9); Muslims from widely recognized "radical" nations (Pakistan #5), and Muslims from "moderate" nations (Malaysia #23 and Indonesia #38).
But if the World Watch List ranks North Korea — non-Islamic, communist — as the number one worst persecutor of Christians, why belabor the religious identity of Muslims? Surely North Korea's top spot suggests that Christian persecution is not intrinsic to the Islamic world but is rather a byproduct of repressive regimes and other socio-economic factors that proliferate throughout the Muslim world?
There are some important distinctions that need to be made.
While Christians are indeed experiencing a "life of hell" in North Korea, overthrowing Kim Jong-un's regime could not only lead to a quick halt to this persecution but also to a rise of Christianity — as has happened recently in Russia. Under the Soviet Union, between 12 and 25 million Christians were killed for their faith[1], and approximately 153,000 churches were shut down.[2] Since the fall of the Soviet Union in 1991, about a thousand churches have been (re)built every year, and, according to a 2014 Pew report, between 1991 and 2008, Russians identifying themselves as Orthodox Christian rose from 31% to 72%. That "South Korea is so distinctively Christian" reflects what could be in store — and creating fear for — its northern counterpart.
In the Islamic world, the fall of dictatorial regimes rarely seems to alleviate the sufferings of Christians.
On the contrary, when secular dictators fall — Saddam in Iraq, Qaddafi in Libya, and attempts against Assad in Syria — persecution of Christian seems to rise as a grassroots byproduct. Today, Iraq is the eighth worst nation in the world in which to be Christian, Syria is fifteenth, and Libya seventh. Under dictators, these countries were significantly safer for religious minorities.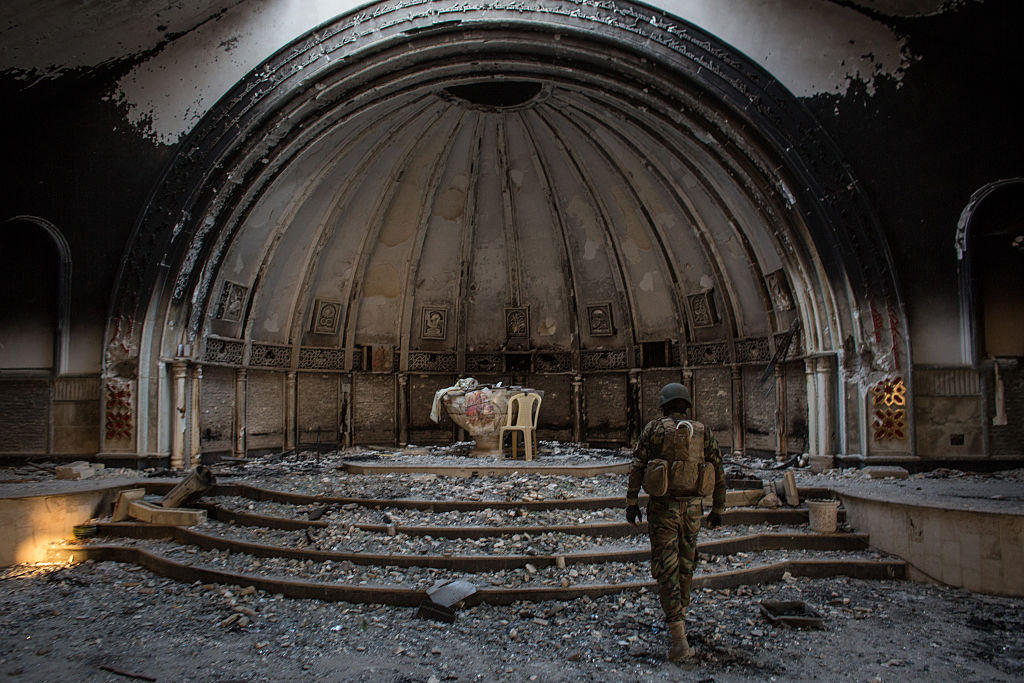 A militiaman from the Nineveh Plain Protection Units (NPU) walks through a destroyed church on November 8, 2016 in Qaraqosh, Iraq. The NPU is a militia made up of Assyrian Christians that was formed in late 2014 to defend against ISIS. Qaraqosh is a mostly Assyrian city near of Mosul that was captured by ISIS in August 2014, and liberated in November 2016. (Photo by Chris McGrath/Getty Images)
Similarly, the only countries that were part of the former Soviet Union that still persecute Christians are, rather tellingly, the Muslim-majority ones of Central Asia. These include Uzbekistan (#16 worst persecutor), Turkmenistan (#19), Tajikistan (#22), Kazakhstan (#28) and Azerbaijan (#45).[3]
The "extreme persecution" of Christians throughout the Muslim world is part of a continuum begun nearly fourteen hundred years ago. The same patterns of persecution are still prevalent — including attacks for blasphemy and apostasy, restrictions and attacks on churches, and a general contempt for — followed by the vile treatment of — "subhuman infidels."
Unlike the persecution of Christians in Communist nations, rooted to a particular regime, Muslim persecution of Christians is perennial, existential, and far transcends any ruler or regime. It unfortunately seems part and parcel of the history, doctrines, and socio-political makeup of Islam — hence its tenacity and ubiquity. It is a "tradition."
That those persecuting Christians come from a wide variety of racial, linguistic, cultural, and socio-economic backgrounds — from African, Arab, Asian, and Caucasian nations — and share little in common with one another, except for Islam, sadly only further underscores the true source of the persecution.
If time is on the side of Christians living under Communist regimes, it is not on the side of Christians living under Islam. The center of the great Christian Byzantine Empire is now an increasingly intolerant, Islamizing Turkey. Carthage, once a bastion of Christianity — where one of Christendom's greatest theologians, St. Augustine, was born and where the New Testament canon was confirmed in 397 — is today 99% Muslim-majority Tunisia. Centuries of persecution and forcing non-Muslims to live as barely-tolerated third-class residents are responsible for the demographic shift that Tunisia and other formerly non-Muslim nations are experiencing.
Long after North Korea's Kim Jong-un has gone, tens of millions of Christians and other "infidels" will still suffer persecution.
As what began in the seventh century comes closer to fruition and the entire world becomes more Islamic and "infidel" free, as in Iraq, confronting these uncomfortable facts is at least a welcome first step in countering the problem.
A TALE OF TWO ATTACKS AND HOW LIB MEDIA COVERED THEM DIFFERENTLY

Media:
While some media outlets that lean further to the right than liberal media outlets like CNN, NYT and Wapo, are accurately describing the National Thowheed Jamath as a "radical Muslim terror group," CNN managed to provide 67 updates in a 24 hour period, and according to those that have been observing those updates, only once in their lives updates did they use the term "Islamic extremists."
I scanned the entire series of live updates they've been doing since the news broke. It's all within one long story, making it easy to search for individual words, so I did. The results were depressing but expected. Even at this late hour, they still have not acknowledged the possibility that the act was committed by Islamic terrorists.

The closest they came to blaming radical Islamic terrorists in their primary coverage story was a mention in a quote by Diplomatic editor Nic Robertson in which he notes the obvious – that it has the "hallmarks" of Islamic terrorism – but then quickly notes that there are no known radical Islamic terrorist groups in the area.
The writer also searched for how many times CNN mentioned the word Muslim and found four mentions: Two in breaking down the percentage of Muslim population in Sri Lanka; Once to warned against reprisals against Muslims, and; Once to state there have been attacks against Muslims by Buddhist groups.
Following up on CNN's live updates page this morning, I did find one reference to "Radical Islamic terrorism," but only as a direct quote from US Secretary of State Mike Pompeo, who said "Radical Islamic terrorism remains a threat. The president has been very clear about that, I think I have been very clear about that. We are continuing to do real work against these evil human beings that went into places of worship on Easter Sunday."
Compare that type of coverage to how CNN described the shooter of the Christchurch mosque attacks, which CNN called a "hate-filled attack," saying his manifesto was "filled with anti-immigrant, anti-Muslim ideas."
Throughout Resurrection Day aka Easter Sunday, searches for the tragic news of Sri Lanka brought about the now familiar theme of Independent and conservative Media including the details of who has been blamed for the multiple bombings in their articles, while liberal media avoided using the factually correct terminology for as long as possible, before finally being forced to.
BOTTOM LINE
We wouldn't know it from the liberal media, but Christians and Christianity are under attack and have been for years as global attacks against Christian continue to increase as highlighted recently by Michael Snyder over at End of the America Dream website, where we find out that "average of 105 churches and/or Christian buildings are burned or attacked every month," using data from Open Doors USA.
We hear the term Christian persecution, but it isn't until we see or hear the shocking numbers and factual data that one comes to realize how prevalent the problem is on a global basis.
Below we hear that data. in a video titled "Christian Persecution rises sharply in 2019 across the Globe."
---
Raymond Ibrahim is the author of Crucified Again: Exposing Islam's New War on Christians (published by Regnery with Gatestone Institute, April 2013).
[1] James M. Nelson, Psychology, Religion, and Spirituality, 2009, p. 427.
[2] Paul Froese, "Forced Secularization in Soviet Russia: Why an Atheistic Monopoly Failed," Journal for the Scientific Study of Religion, Volume 43, Number 1, March 2004, p. 42
[3] While Open Doors ascribes the persecution of Christians in these five nations to "Dictatorial Paranoia," considering that they are all overwhelmingly Muslim majority, it seems reasonable to conclude that Islam is at least partially responsible. Open Doors itself notes that "There is a grassroots revival of Islam in Central Asia, and that means more pressure from the nationalist pro-Islamic governments and within society—causing increased persecution levels on two fronts."