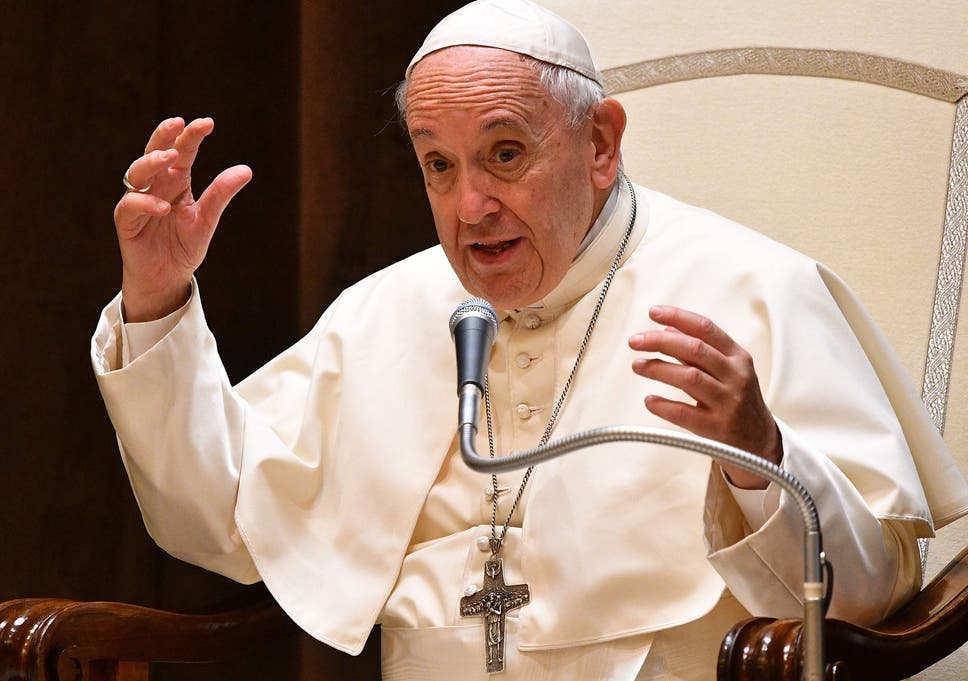 Pope Francis told senior oil company executives that the world must convert to renewable alternatives to prevent humanity being destroyed by climate change.
Speaking to the high-profile group at the end of a two day conference at the Vatican, the pontiff warned: "Civilisation requires energy but energy use must not destroy civilisation."
Pope Francis said on Friday that carbon pricing is "essential" to stem global warming – his clearest statement yet in support of penalising polluters – and appealed to climate change deniers to listen to science.
In an address to energy executives at the end of a two-day meeting, he also called for "open, transparent, science-based and standardised" reporting of climate risk and a "radical energy transition" away from carbon to save the planet.
Carbon pricing, via taxes or emissions trading schemes, is used by many governments to make energy consumers pay for the costs of using the fossil fuels that contribute to global warming, and to spur investment in low-carbon technology.
The Vatican said attendees of the closed-door meeting at its Academy of Sciences, a follow-up to one a year ago, included the CEOs of Royal Dutch Shell, Eni, BP, Repsol, Conoco Phillips, Chevron, ExxonMobil, and executives of investment funds.
"Collectively, these leaders will influence the planet's future, perhaps more than any in the world," said Father John Jenkins, president of the US University of Notre Dame, which organised the meeting.
A small group of demonstrators gathered outside a Vatican gate. One held a sign reading "Dear Oil CEOs – Think of Your Children".
Francis, who has made many calls for environmental protection and has clashed over climate change with leaders such as US President Donald Trump, said the ecological crisis "threatens the very future of the human family".
He criticised those who, like Mr Trump, doubt the science that shows human activity is causing the earth to heat up.
"For too long we have collectively failed to listen to the fruits of scientific analysis, and doomsday predictions can no longer be met with irony or disdain," Francis said. Discussion of climate change and energy transition must be rooted in "the best scientific research available today".
Mr Trump, asked in an interview if he accepted climate science, said last week: "I believe there's a change in weather, and I think it changes both ways."
He has said the United States will withdraw from the Paris accord, a 2016 global agreement to fight climate change.
Francis, who wrote an encyclical – a significant document on Church teaching – in 2015 on protection of the environment, and strongly supports the Paris accord, said time was running out to meet its goals.
"Faced with a climate emergency, we must take action accordingly, in order to avoid perpetrating a brutal act of injustice towards the poor and future generations," he said.
"We do not have the luxury of waiting for others to step forward, or of prioritising short-term economic benefits."
Oil companies have come under growing pressure from investors and activists to meet the Paris goals.
Companies including Royal Dutch Shell, BP and Total have laid out plans to expand their renewable energy business and reduce emissions. Critics say such gestures are minor parts of businesses that overwhelmingly depend on an economy that continues to pollute.
BP Chief Executive Bob Dudley said after the meeting that "the world needs to take urgent action to get us on a more sustainable path and it is critical that everyone plays their part – companies and investors, governments and individuals". (Additional reporting by Ron Bousso in London and Steve Jewkes in Milan; Editing by Catherine Evans, Kevin Liffey, Raissa Kasolowsky and Peter Graff)
Updated: June 15, 2019 04:25 AM
---
These days there is a recurring refrain from the greens to the effect that renewable power is cheaper than coal power. This is a half truth at best and the false half is the worst part.
There may well be circumstances where the unit cost of power produced by a wind or solar generator is in fact lower than the unit cost from a coal fired power plant. But the extensive intermittency of renewable power makes this cost saving irrelevant, because the cost to overcome the intermittency is astronomical.
What we are seeing is an endless stream of studies that ignore this fundamental fact, that intermittency makes renewables very expensive when it comes to providing reliable power.
The latest such study is "THE COAL COST CROSSOVER: ECONOMIC VIABILITY OF EXISTING COAL COMPARED TO NEW LOCAL WIND AND SOLAR RESOURCES" (all caps in original) from Energy Innovation and Vibrant Clean Energy.
This study is impressive in its way, because it takes a fine chained look at the whole country. In this respect it has a good bit of useful information. But its basic claim that renewable power is now cheaper than coal fired power is so misleading that it is wrong.
The study is largely based on a comparison of independent power contracts, especially for renewables. But these contracts do not provide reliable power, quite the contrary. They just provide wind and solar power when it happens to be available, in many cases even if it is not needed at the time.
When it comes to wind and solar power the facts are starkly simple. A typical wind farm produces little or no power about 25% of the time. It produces full power less than half of the time and those times are unpredictable.
Even worse, the meteorological conditions that create peak need for electricity are often long periods of low to no wind. These are stagnant high pressure systems that cause maximum hot and cold weather.
Fixed array solar power generators only produce good power around four hours a day, while moveable arrays might generate for eight hours, both centered on noon or so. Peak daily power usage is typically before or after this period. In cold weather the peak can even be at night.
What all of this means is that some other way of producing power is required, for most of the day, or even for several days. This is the intermittency problem and it is profound. The fact that when solar and wind power are available, it is relatively cheap, does not address this profound problem. Making intermittent power reliable is a big part of the high cost of wind and solar.
Of course the Energy Innovation and Vibrant Clean Energy people know about this profound problem but they slide right by it. Here is their studiously vague acknowledgement:
"Other resources will be required to complement wind and solar and provide essential reliability services, but the increasingly attractive relative value proposition for the raw energy available from wind and solar versus more expensive coal generation can generate more and more money to directly address grid challenges. Steep declines in costs for resources like battery storage will stretch that money even more."
At today's prices the cost of batteries to provide reliable wind and solar power would be well into the trillions of dollars. The fact that wind or solar power, when available, is a bit cheaper than reliable coal fired power in no way makes battery backup affordable.
Note too that many of the same people who are calling for 100% renewable power are also calling for converting our transportation system to electric power, by banning the internal combustion engine. This added demand for juice (electricity) would roughly double today's need. Let us ignore this for the moment, but keep it in mind.
Thus this study is misleading at best. They then go on to make this totally false claim:
"The data in this report provide an economic rationale for a coal phase-out in the next decade led by wind and solar, happening a lot quicker than most had imagined. It's time to get on with the coal-to-clean transition."
It is economically impossible to phase out coal using wind and solar power.