Lance Goodall 22 Dec 2019
The country's wildfires were 'God's judgment' for legalizing same-sex marriage and abortion
"They were appalling comments," Scott Morrison told 7News Australia.
"He is a free citizen, he can say whatever he likes, but that doesn't mean he cannot have regard to the grievous offence this would have caused to people whose homes have been burned down and I'm sure to many Christians around Australia for whom that is not their view at all."
Folau is suing Rugby Australia for his dismissal earlier in the year, seeking 10 million Australian dollars in compensation for what he believes was wrongful discrimination over his religious beliefs, according to the Evening Standard.
Folau clarifies bushfire comments
Israel Folau says his controversial comments that the bushfire crisis was a sign of "God's judgment" in response to the legalisation of same-sex marriage were not meant to offend but that it was a "timely reminder of God's word".
The former Wallabies fullback, who is seeking $14 million compensation after being sacked by Rugby Australia earlier this year for posting a photo to Instagram that said homosexuals were destined for hell, attempted to clarify his recent comments via a video released on his website on Saturday morning.
Earlier this month, Folau suggested the bushfires that have ripped through the country were a "little taste of God's judgment".
"Look how rapid these bushfires, these droughts, all these things have come, in a short period of time," Folau told members of his church. "You think it's a coincidence or not? God is speaking to you guys. Australia, you need to repent."
After widespread criticism, even from Prime Minister Scott Morrison and broadcaster Alan Jones, Folau has addressed the controversy.
What I was referring to in terms of the natural disasters that are happening now wasn't a direct, I guess, message to the people that are affected.

Israel Folau
Overlay footage poses the question: "Are natural disasters sent by God?" before Folau explains himself.
"What I was referring to in terms of the natural disasters that are happening now wasn't a direct, I guess, message to the people that are affected," Folau said.
"In actual fact, it was just a timely reminder of God's word and trying to point people onto the path of righteousness."
Folau then acknowledged the devastating effects of the fires.
"In saying that, my thoughts and prayers do go out to the people affected," Folau said. "It's horrible to see and you never want anyone to go through that sort of stuff but, as a Christian, you are always praying for people.
"You see the droughts today, you pray for rain and things to be restored, and that's ultimately as Christians what we're driven by and what we're bound by is God's love."
"Thus they forsook the LORD, the God of their fathers, who had brought them out of the land of Egypt, and they followed after various gods of the peoples around them. They bowed down to them and provoked the LORD to anger, 13 for they forsook Him and served Baal and the Ashtoreths. 14 Then the anger of the LORD burned against Israel, and He delivered them into the hands of those who plundered them. He sold them into the hands of their enemies all around, whom they were no longer able to resist.… "
—Judge 2:12 -14 Berean 
Judgement need not be seen in negative terms; it is an opportunity for reconciliation.
While a comprehensive study of "judgement" in the New Testament is impossible here, John's Gospel offers an illuminating approach to the topic. In John 3, the Evangelist records the words of Jesus, that "this is the judgement (krísis), that the light has come into the world", and our deeds will determine whether we love the light or darkness since we do not want our evil deeds to be exposed (John 3:19–20).
In other words, krísis ("judgement") for John is not punishment but an opportunity; it is a point of decision.
Will we come to the light, or will we hide away in the darkness, forbidding our deeds from being exposed by the light? Will we repent, or slink back into our evil until it catches up with us?
In short,judgement need not be seen in negative terms; it is an opportunity for reconciliation.
Extreme Bush Fires
Australia is grappling with massive bushfires fuelled by record-breaking temperatures and months of severe drought.
Fires in New South Wales (NSW) have burned at least 2.7m hectares (7.4m acres) this season, destroying more than 700 houses. Eight people – including two volunteer firefighters whose vehicle was hit by a tree – have died.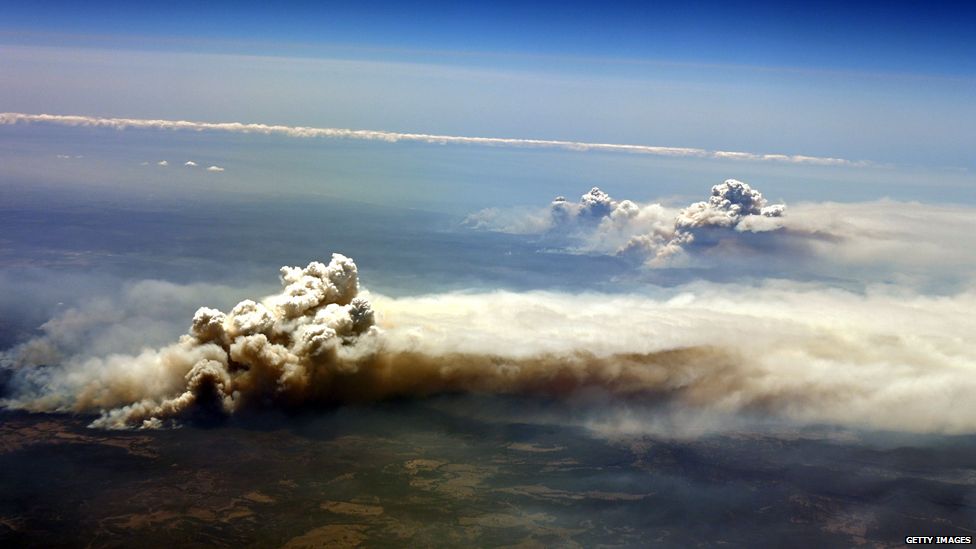 What's the situation in New South Wales?
Hot, dry weather combined with prolonged drought and strong winds have created perfect conditions for fire to spread rapidly.

Nearly 100 fires are burning across the state, with many uncontained and continuing to threaten lives.
The fires have been exacerbated by 40C temperatures and strong winds in recent days, creating difficult conditions for the 2,500 firefighters deployed in the field. Large fires are burning in the north region between Port Macquarie and Byron Bay.
Further south there are fears that the vast Gosper's Mountain fire, which originated in the Wollemi National Park, may merge with the Green Wattle Creek blaze in the lower Blue Mountains.
Smoke from these fires has periodically blown south-eastwards to reach Sydney, causing severe air pollution in Australia's largest city.

To put the fire damage in New South Wales in perspective, 1.8 million hectares burned in the 2018 California wildfires and some 900,000 hectares were lost in the 2019 Amazon fires.
Flames up to 70m (230ft) in height have been reported.
So are bushfires getting worse?
Many Australians are asking that very question and whether these fires are linked to climate change – but the science is complicated.
Scientists have long warned that a hotter, drier climate will contribute to fires becoming more frequent and more intense.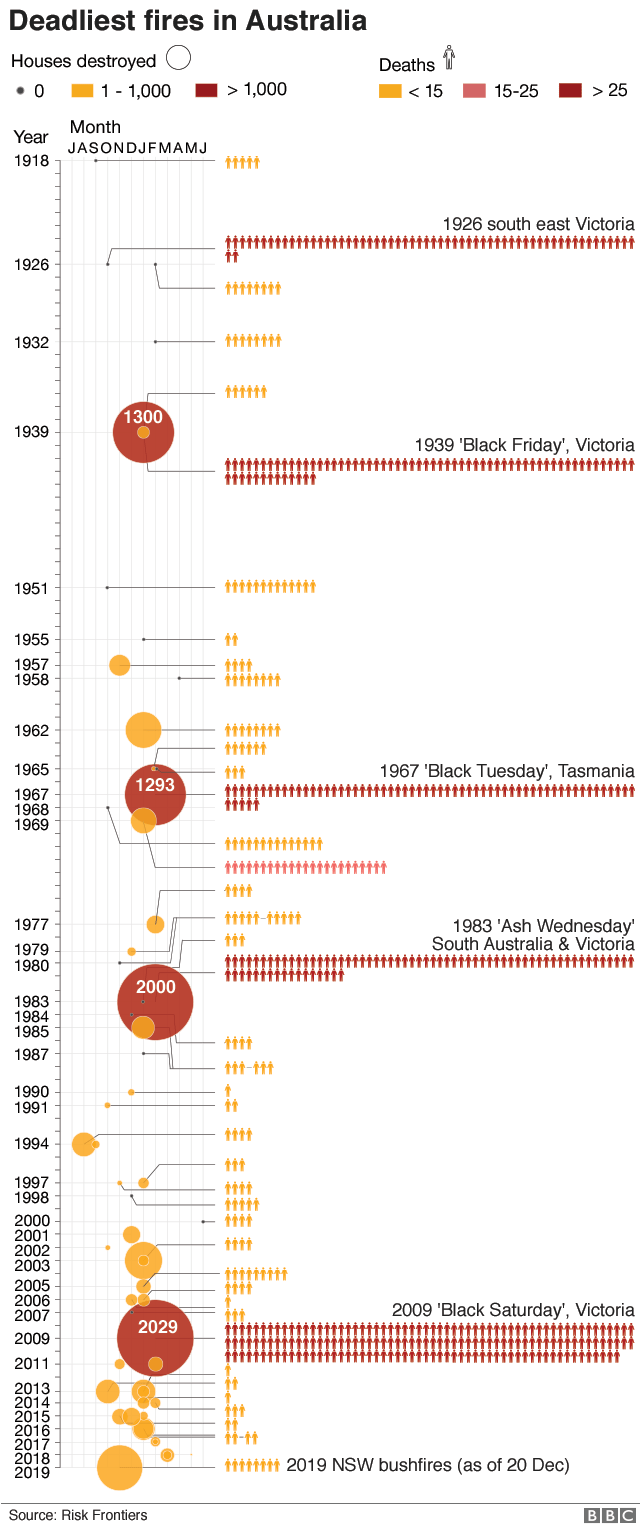 Australia's deadliest bushfire disaster was "Black Saturday" in February 2009, when some 180 people died in Victoria.
Data shows that Australia has warmed overall by slightly more than 1C since 1910, with most of the heating occurring since 1950, the Bureau of Meteorology says.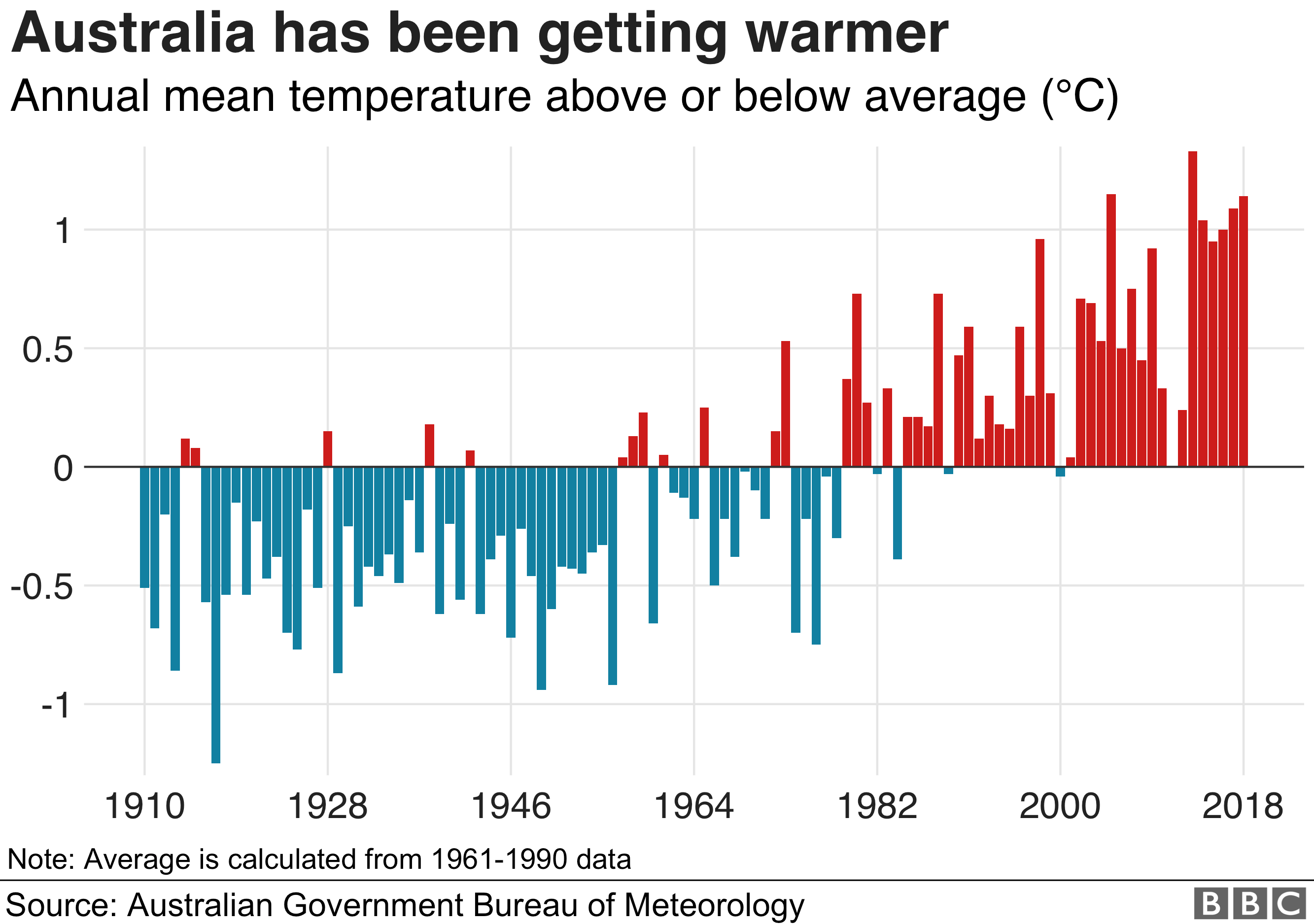 Hottest day on record
Australia broke its all-time temperature record twice this week. Tuesday's average maximum of 40.9C was broken a day later by Wednesday's 41.9C, both beating a 2013 record of 40.3C.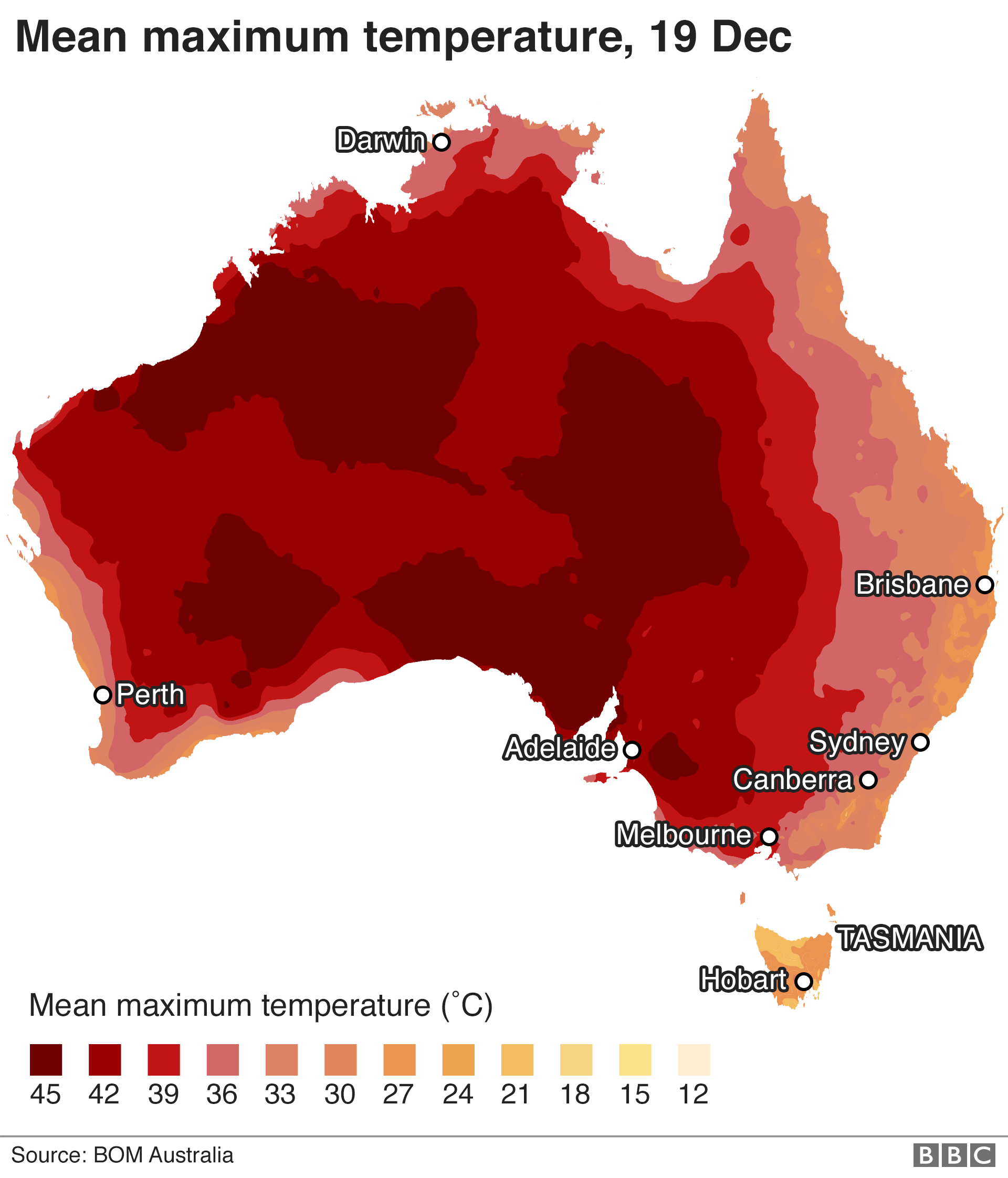 The main climate driver behind the heat has been a positive Indian Ocean Dipole (IOD) – an event where sea surface temperatures are warmer in the western half of the ocean, cooler in the east.
The difference between the two temperatures is currently the strongest in 60 years.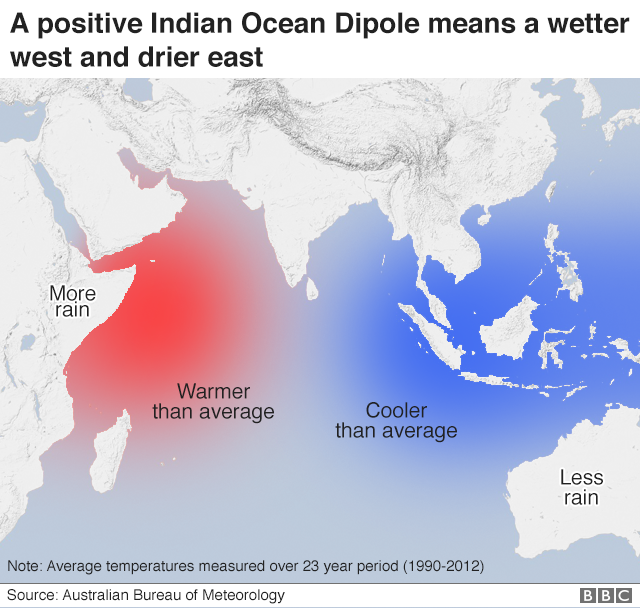 Climate Change or God's Judgement?
NSW bushfires destroy dozens of homes, leave a man missing and create thunderstorm on devastating day
Dozens of buildings have been destroyed, a man is missing and several firefighters have been injured on a "volatile" day of disastrous bushfires in New South Wales.
The NSW Rural Fire Service (RFS) said 20 buildings, including homes and businesses, have been affected along the Bells Line of Road, stretching from Lithgow to Bilpin.
Around a dozen structures have been damaged or destroyed in the Balmoral area to Sydney's south-west, along with three properties in the Currowan fire on the South Coast.
RFS commissioner Shane Fitzsimmons said a man who the RFS made contact with earlier in the day was missing in the Dargan area near Lithgow.
The man had decided to stay and fight the Gospers Mountain blaze, which has been described as a "mega fire" having consumed around 470,000 hectares of land in the two months it has burned continuously.
Late on Saturday night, residents of Bowen Mountain and Kurrajong Heights were allowed to return to inspect their properties.
Authorities have confirmed four firefighters have been injured fighting out-of-control blazes in the state, with one hit by a car on the Bells Line of Road. Paramedics treated the firefighter, who was not seriously injured.
Nearby fires at Kerry Ridge and Palmers Oaky on the Central Coast were burning at emergency level late on Saturday night.
A fire-generated thunderstorm formed over two fires burning at emergency level on the South Coast as a southerly change exacerbated bushfires on a scorching day.
The RFS warned residents the thunderstorm was "a very dangerous situation", and could also occur over the Gospers Mountain mega fire as conditions deteriorate.
Commissioner Fitzsimmons said the southerly change has not provided relief despite the lower temperatures that it brought much of the state's heatwave.
"We are mindful that we still have a number of hours to go with the volatility of behaviour while it is under the influence of the blustery southerly change, particularly on fire grounds north of Sydney," he said.
"What we need to keep in mind is that while the temperatures will drop and the humidity will rise, the vegetation, the landscape, it is so dry that we are still seeing pretty significant fire behaviour, and that is likely to continue through the evening."
As evidence of this, the Owendale and Kerry Ridge blazes were upgraded to emergency level well after the sun had set.
Mr Fitzsimmons said 3,000 firefighters and emergency services personnel battled the fires on Saturday.
Lithgow resident Simon Oken feared for his father's life when flames surrounded Boo's home on the outskirts of the area.
Mr Oken said what he thought was his final goodbye on the phone, but his father escaped by driving through a "wall of flames".
When the blaze had passed they found two sheds were destroyed, but Boo's house remained intact.
People planning to head on holidays were advised to "put your travel off" as the heatwave brought catastrophic fire danger to New South Wales.
NSW Police Deputy Commissioner Gary Worboys urged people not to be "selfish and inconsiderate" by planning to travel through fire danger zones.
"Wait another day and you will find your travel will be much safer for your family and for emergency services," Mr Worboys said.
Several major roads and highways were closed but major highways slowly opened back up to traffic.
The Great Western Highway between Lithgow and Katoomba was reopened to traffic in the afternoon, while the Hume Highway and Princes Highway were reopened in the evening.
Queensland Changes it Abortion Laws 
Bushfire Season Starts Early
More than 3,000 same-sex couples wed in Australia in first half of year
Advocates say relatively high median age of those tying the knot reflect that many couples had 'been together a long time'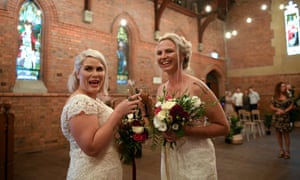 Home of Mardi Gras leads the way with the most weddings
The ABC approached the Registry of Birth, Deaths and Marriages in every state and territory to see how many same-sex weddings have been held since same-sex marriage was legalised in Australia on December 9 last year.
Most registry offices could provide statistics up to the end of November, therefore the most up-to-date and accurate figure available was 5,985 registered marriages across Australia.
New South Wales — home of the world-famous Sydney Gay and Lesbian Mardi Gras — has seen the most same-sex weddings with 2,004 registered as of November 15.
Victoria (1,552), Queensland (1,241), Western Australia (519) and South Australia (372) rounded out the top five.
Tasmania had 128 same-sex weddings for 39 male couples and 89 female couples.
In the Australian Capital Territory, where Chief Minister Andrew Barr is the only openly gay leader of any state or territory, there were 124 same-sex marriages registered up to November 30.
The Northern Territory with its smaller population had 45 same-sex weddings for 26 female couples and 19 male couples.
Australians have 'embraced' marriage equality
Australian Marriage Equality spokeswoman Shirleene Robinson said the country had embraced the change in the past year.
"I think that's the most beautiful thing to see the weddings coming out of this and loving couples being able to make that statement in front of their loved ones," she said.
"At the end of the day this was about love and equality, and when people have those wedding ceremonies it's just wonderful, there are so many of them and that's what it's all about, reinforcing that message of love, commitment and equality."
Summary 
As someone observed
Sources:
https://www.businessinsider.com.au/israel-folau-deaths-in-australia-bushfires-are-gods-judgement-2019-11?r=US&IR=T
https://www.smh.com.au/sport/rugby-union/timely-reminder-of-god-s-word-folau-clarifies-bushfire-comments-20191130-p53flw.html
https://www.bbc.com/news/world-australia-50585968
https://www.abc.net.au/news/2019-12-21/nsw-bushfires-sydney-heatwave-inflames-catastrophic-danger/11820578
https://www.bbc.com/news/world-australia-49834734
https://www.smh.com.au/environment/weather/it-s-still-winter-but-parts-of-nsw-are-now-officially-in-bushfire-season-20190801-p52cum.html
https://www.theguardian.com/world/2019/aug/04/nsw-abortion-law-reform-united-church-breaks-religious-ranks-to-back-decriminalisation
https://en.wikipedia.org/wiki/Sydney_Gay_and_Lesbian_Mardi_Gras
https://www.dailymail.co.uk/news/article-7817843/Terrifying-pictures-capture-Blue-Mountains-mega-blaze-firefighters-risk-lives-save-homes.html?ITO=applenews
https://www.theguardian.com/australia-news/2018/nov/27/more-than-3000-same-sex-couples-wed-in-australia-in-first-half-of-year
https://www.abc.net.au/news/2018-12-09/thousands-of-same-sex-couples-tie-the-knot-in-australia/10598058