Together 2016: 1M Christians, Francis Chan, Hillsong United, Pope Francis Will Pray for Revival This Saturday (Interview)
---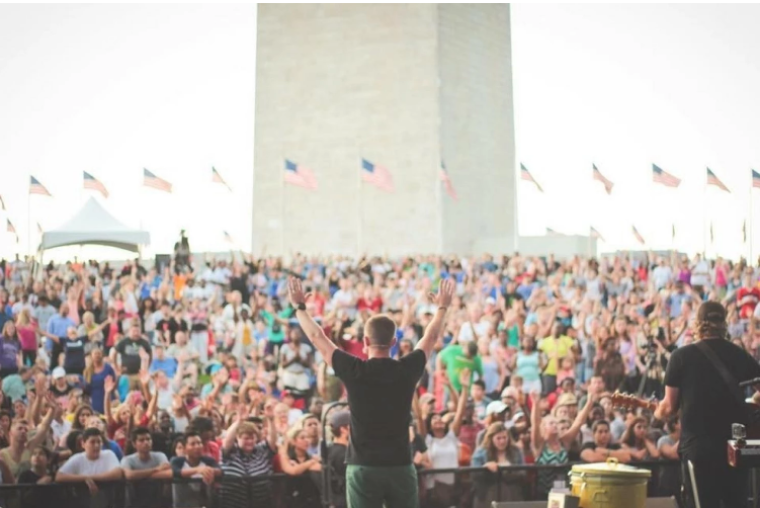 NEW YORK — Influential evangelical leaders throughout the U.S. will fly to Washington, D.C. this weekend to join a crowd of as many as 1 million Christians to pray and worship together for the nation.
Inspired by Nick Hall, founder of PULSE, "Together 2016" is a prayer and evangelism movement to empower the church and awaken the culture to Jesus. Americans are being urged to unite on the National Mall, July 16, to offer prayer that God will change the hearts of individuals and thus change the nation.
"It's a gathering for all people to come together under the banner of Jesus. The only agenda is Jesus," Hall told The Christian Post. "It's the church from all backgrounds — Lutherans, Catholics, Pentecostals. It's going to be worship, it's going to be prayer, and it's going to be lifting up Jesus and praying that He changes our hearts individually. We're talking about a reset in our lives and ultimately a reset in this generation. We really believe that there's a heart issue and that God wants our heart."
The college pastor came up with the radical idea of uniting pastors and Christian leaders from all denominational backgrounds to join 1 million people at the free event in hopes of inspiring true revival in America.
"We feel like throughout history and throughout Scripture when times get rough there's only one solution for people of faith and that's to call the people together," he said.
Hall spoke of past generations, dating back to biblical times, where the people of God gathered and prayed. He felt the need to spearhead this event because he maintained that this generation is in dark times and it has not had a gathering of this magnitude to pray.
"The Gathering is just about Jesus, there's a lot of gatherings for different causes but we really believe there's something about just dialing it back and saying, 'We need Jesus more than anything else' and [letting others know] that Jesus is for everyone and that Jesus changes everything," Hall continued.
Over 40 well-known speakers, recording artists, authors and leaders from various backgrounds will be featured at the historic event, all unified in prayer and worship.
Confirmed guest speakers and artists include: Hillsong United, Kari Jobe, Francis Chan, Lecrae, Passion, Crowder, Kirk Franklin, Ravi Zacharias, Jeremy Camp, Andy Mineo, Michael W. Smith, Lauren Daigle, Christine Caine, Mark Batterson, Tony Evans, Matthew West, Jo Saxton, Mike Kelsey, Casting Crowns, John K. Jenkins Sr., Josh McDowell, Luis Palau, Tasha Cobbs, Lacey Sturm, Trip Lee, Samuel Rodriguez, Jennie Allen, Christine D'Clario, Matt Maher, Sammy Wanyonyi, Lindsey Nobles, and others.
More than 1,000 churches nationwide have pledged to attend, and there will be 8,000 service opportunities within a 100-mile radius of Washington, D.C. during the week before and after Together 2016.
This collaboration is something Hall began to trust God for years ago.
"We started as a ministry 10 years ago in North Dakota praying for revival on our campus and in our nation. In so many ways I would say this is the result of 10 years of labor and prayer that I think just now God is answering," Hall revealed. "This idea of a reset has been going on for eight years as a message and a new way to communicate the Gospel to a generation that doesn't understand what it means to be saved or born again or discipled."
"In life I think a lot of people are longing for that, they're looking for a reset. If you think about New Year's Eve, there's such a longing for that second chance. We all gather waiting for the clock to tick, but it's a temporary fix and Jesus offers the eternal one — a supernatural reset that only comes from Him," Hall explained.
With that mindset, he and his team began canvassing the nation about four years ago with the message that God is offering a reset today through Jesus Christ. Hall toured hundreds of cities and have brought the message of a reset before millions and now he aspires to do it again, but in one location — the National Mall.
To reach a million people, Hall and his team campaigned and got involved in every major tour and conference there was to spread the message. They even wrapped their RV with a banner that said, "The Largest Jesus Gathering."
In his efforts, the radical evangelist managed to rally together believers from different denominations and backgrounds to stand in unity. He celebrated that Southern Baptists, Hispanic organizations, African-American churches and even Pope Francis will all be a part of Together 2016.
"As we were planning this vision, the prayer was always: 'We want to have the largest Jesus gathering in America's history," Hall confessed.
He admitted that setting the goal at a million people was pretty ambitious but he wanted to do something that turned people's heads. The husband and father said even some of the biggest ministries in the world have said they are encouraged by his faith to believe that this event would happen.
"I want people to look up and realize that we're praying for something so big that there isn't any one group that can do it. And really that's what we're praying for in our nation — no group can do it, no voice can do it, no organization can do it, only Jesus can do it.," he added. "There's something about Jesus' prayer in John 17. When we come together He is glorified and we see Him. That's why unity is so important in the body."
Hall said as he believed in God to do the miraculous, the doors just kept flying open. They gained clearance through homeland security, the permit for the National Mall was granted, Hillsong and Francis Chan came on board, just one thing after the other.
Hall even talked about approaching mainstream artists to be involved such as Bono and Justin Bieber.
"For us this Gathering isn't about any person that's on stage but it's about every person on stage pointing to the One who can change us," the Twin Cities leader stressed. "I think all too often we fall into this trap of thinking that the people on the platform are perfect and we get so critical of people and especially people that are in secular work. The reality is that none of us are perfect, none of us have it figured out. And so we're gathering on that day not to say that we are perfect but the gathering on that day is to say that we need Jesus."
Along with a full day of ministry through music and concerts, there will be messages that Hall said will be challenging along with testimonies of encouragement, with everything pointing toward Jesus and other things that Christians as a whole can agree on.
"We believe that the Bible is powerful and that it's a book that has supernatural power. We want to see a generation get back into God's Word. We have goals and that day we want to see more people download a Bible app and start the Bible reading plan than in any other day in history," he declared. "We want people to join us standing on the mall saying, Yeah we are going to be a generation that's going to love like Jesus, we're going to be a generation that shares Jesus and we want to be a generation that knows Jesus, that learns about Him, so we need to dive into His book.'"
Together 2016 was held from 9 a.m. to 9 p.m. on Saturday, July 16, at the National Mall in Washington, D.C. For more information on visit Together 2016.
There were water stations, and at least one fire hydrant was opened and affixed with a misting sprayer to cool the crowd, but it wasn't enough.
Together 2016, a 12-hour gathering of thousands of Christians on the Washington Monument grounds was stopped four hours early because of the extreme heat.
Unholy Row Over Holy Communion
---
A clip of a Francis Chan sermon shared by online preaching resource account SemonIndex has caught some attention as it appears to show Chan acknowledging that, historically, the Christian view of communion was dominated by transubstantiation — the belief that the bread and wine of the Eucharist are the literal body and blood of Jesus.
Francis Chan on Communion: "Everyone Saw It as the Literal Body and Blood of Christ"
"I didn't know that for the first 1500 years of Church history, everyone saw it as the literal body and blood of Christ," Chan says in the clip. "And it wasn't until 500 years ago that someone popularized the thought that it's just a symbol and nothing more. I didn't know that. I thought, 'Wow, that's something to consider."
SermonIndex.net@sermonindex
(Clip) Holy Communion, the Reason for the Gathering of the Church by Francis Chan#francischan #communion #jesus
Chan goes on to say that for most of Church history, pulpits were not used to church services in order to foster the notion of unity around Jesus, instead of around a person.
Even Relevant Magazine suggests that "On communion, Chan's history here is mostly correct. Throughout history, most of the Church held to the doctrine of transubstantiation. The belief did not meet significant, organized pushback until the 1500s, when the Book of Common Prayer popularized what's known as the "Memorialist" doctrine of Communion among Anglicans, holding that the bread and wine were outward symbols of inward devotion."
Today, the Catholic Church holds to transubstantiation while there is a huge variety of theological interpretations among other branches of Christianity, ranging from the idea that Jesus is "spiritually present" to the elements to the belief that the bread and wine merely signify a time of remembrance.
Many social media users expressed alarm at Chan's thoughts here, apparently fearing that he is bound for conversion to Catholicism. Chan himself gives no such indication, only noting that he'd recently learned something about Church history that is, as far as it goes, accurate.
Chan recently announced that he and his family would be moving to Asia to be full-time missionaries.
So Did the Early Church Teach Transubstantiation?
Estimated Reading Time: 10 min
Nathan Busenitz | April 21, 2016
This post is intended to answer an important question from a historical standpoint. However, it ought to be stated at the outset that Scripture must be our final authority in the determination of sound doctrine and right practice.
The word "eucharist" means "thanksgiving" and was an early Christian way of referring to the celebration of the Lord's Table. Believers in the early centuries of church history regularly celebrated the Lord's Table as a way to commemorate the death of Christ. The Lord Himself commanded this observance on the night before His death. As the apostle Paul recorded in 1 Corinthians 11:23–26:
For I received from the Lord that which I also delivered to you, that the Lord Jesus in the night in which He was betrayed took bread; and when He had given thanks, He broke it and said, "This is My body, which is for you; do this in remembrance of Me." In the same way He took the cup also after supper, saying, "This cup is the new covenant in My blood; do this, as often as you drink it, in remembrance of Me." For as often as you eat this bread and drink the cup, you proclaim the Lord's death until He comes.
In discussing the Lord's Table from the perspective of church history, at least two important questions arise. First, did the early church believe that the elements (the bread and the cup) were actually and literally transformed into the physical body and blood of Christ? In other words, did they articulate the doctrine of transubstantiation as modern Roman Catholics do? Second, did early Christians view the eucharist as a propitiatory sacrifice? Or put another way, did they view it in the terms articulated by the sixteenth-century Council of Trent?
In today's post, we will address the first of those two questions.
Did the Early Church Fathers Hold to Transubstantiation?
Transubstantiation is the Roman Catholic teaching that in the eucharist, the bread and the cup are transformed into the literal body and blood of Christ.
Here are several quotes from the church fathers, often cited by Roman Catholics, in defense of their claim that the early church embraced transubstantiation.
Ignatius of Antioch (d. c. 110): "Take note of those who hold heterodox opinions on the grace of Jesus Christ which has come to us, and see how contrary their opinions are to the mind of God.   . . . They abstain from the Eucharist and from prayer because they do not confess that the Eucharist is the flesh of our Savior Jesus Christ, flesh which suffered for our sins and which that Father, in his goodness, raised up again. They who deny the gift of God are perishing in their disputes" (Letter to the Smyrnaeans 6:2–7:1).
Irenaeus (d. 202): "He took from among creation that which is bread, and gave thanks, saying, 'This is my body.' The cup likewise, which is from among the creation to which we belong, he confessed to be his blood" (Against Heresies, 4:17:5).
Irenaeus again: "He has declared the cup, a part of creation, to be his own blood, from which he causes our blood to flow; and the bread, a part of creation, he has established as his own body, from which he gives increase unto our bodies. When, therefore, the mixed cup [wine and water] and the baked bread receives the Word of God and becomes the Eucharist, the body of Christ, and from these the substance of our flesh is increased and supported, how can they say that the flesh is not capable of receiving the gift of God, which is eternal life—flesh which is nourished by the body and blood of the Lord, and is in fact a member of him?" (Against Heresies, 5:2).
Tertullian (160–225): "[T]he flesh feeds on the body and blood of Christ, that the soul likewise may be filled with God" (The Resurrection of the Dead).
Origen (182–254): "Formerly, in an obscure way, there was manna for food; now, however, in full view, there is the true food, the flesh of the Word of God, as he himself says: 'My flesh is true food, and my blood is true drink'" (Homilies on Numbers, 7:2).
Augustine (354–430): "I promised you [new Christians], who have now been baptized, a sermon in which I would explain the sacrament of the Lord's Table. . . . That bread which you see on the altar, having been sanctified by the word of God, is the body of Christ. That chalice, or rather, what is in that chalice, having been sanctified by the word of God, is the blood of Christ" (Sermons 227).
How should we think about such statements?
Obviously, there is no disputing the fact that the patristic authors made statements like, "The bread is the body of Christ" and "The cup is the blood of Christ." But there is a question of exactly what they meant when they used that language. After all, the Lord Himself said, "This is My body" and "This is My blood." So it is not surprising that the early fathers echoed those very words.
But what did they mean when they used the language of Christ to describe the Lord's Table? Did they intend the elements to be viewed as Christ's literal flesh and blood? Or did they see the elements as symbols and figures of those physical realities?
In answering such questions, at least two things ought to be kept in mind:
We ought to interpret the church fathers' statements within their historical context.
Such is especially true with regard to the quotes cited above from Ignatius and Irenaeus. During their ministries, both men found themselves contending against the theological error of docetism (a component of Gnostic teaching), which taught that all matter was evil. Consequently, docetism denied that Jesus possessed a real physical body. It was against this false teaching that the apostle John declared, "For many deceivers have gone out into the world, those who do not acknowledge Jesus Christ as coming in the flesh. This is the deceiver and the antichrist" (2 John 7).
In order to combat the false notions of docetism, Ignatius and Irenaeus echoed the language Christ used at the Last Supper (paraphrasing His words, "This is My body" and "This is My blood"). Such provided a highly effective argument against docetic heresies, since our Lord's words underscore the fact that He possessed a real, physical body.
A generation after Irenaeus, Tertullian (160–225) used the same arguments against the Gnostic heretic Marcion. However, Tertullian provided more information into how the eucharistic elements ought to be understood. Tertullian wrote:
"Having taken the bread and given it to His disciples, Jesus made it His own body, by saying, 'This is My body,' that is, the symbol of My body. There could not have been a symbol, however, unless there was first a true body. An empty thing or phantom is incapable of a symbol. He likewise, when mentioning the cup and making the new covenant to be sealed 'in His blood,' affirms the reality of His body. For no blood can belong to a body that is not a body of flesh" (Against Marcion, 4.40).
Tertullian's explanation could not be clearer. On the one hand, he based his argument against Gnostic docetism on the words of Christ, "This is My body." On the other hand, Tertullian recognized that the elements themselves ought to be understood as symbols which represent the reality of Christ's physical body. Because of the reality they represented, they provided a compelling refutation of docetic error.
Based on Tertullian's explanation, we have good reason to view the words of Ignatius and Irenaeus in that same light.
We ought to allow the church fathers to clarify their understanding of the Lord's Table.
We have already seen how Tertullian clarified his understanding of the Lord's Table by noting that the bread and the cup were symbols of Christ's body and blood. In that same vein, we find that many of the church fathers similarly clarified their understanding of the eucharist by describing it in symbolic and spiritual terms.
At times, they echoed the language of Christ (e.g. "This is My body" and "This is My blood") when describing the Lord's Table. Yet, in other places, it becomes clear that they intended this language to be ultimately understood in spiritual and symbolic terms. Here are a number of examples that demonstrate this point:
The Didache, written in the late-first or early-second century, referred to the elements of the Lord's table as "spiritual food and drink" (The Didache, 9). The long passage detailing the Lord's Table in this early Christian document gives no hint of transubstantiation whatsoever.
Justin Martyr (110–165) spoke of "the bread which our Christ gave us to offer in remembrance of the Body which He assumed for the sake of those who believe in Him, for whom He also suffered, and also to the cup which He taught us to offer in the Eucharist, in commemoration of His blood"(Dialogue with Trypho, 70).
Clement of Alexandria explained that, "The Scripture, accordingly, has named wine the symbol of the sacred blood" (The Instructor, 2.2).
Origen similarly noted, "We have a symbol of gratitude to God in the bread which we call the Eucharist" (Against Celsus, 8.57).
Cyprian (200–258), who sometimes described the eucharist using very literal language, spoke against any who might use mere water for their celebration of the Lord's Table. In condemning such practices, he explained that the cup of the Lord is a representation of the blood of Christ: "I marvel much whence this practice has arisen, that in some places, contrary to Evangelical and Apostolic discipline, water is offered in the Cup of the Lord, which alone cannot represent the Blood of Christ" (Epistle 63.7).
Eusebius of Caesarea (263–340) espoused a symbolic view in his Proof of the Gospel:
For with the wine which was indeed the symbol of His blood,He cleanses them that are baptized into His death, and believe on His blood, of their old sins, washing them away and purifying their old garments and vesture, so that they, ransomed by the precious blood of the divine spiritual grapes, and with the wine from this vine, "put off the old man with his deeds, and put on the new man which is renewed into knowledge in the image of Him that created him." . . . He gave to His disciples, when He said, "Take, drink; this is my blood that is shed for you for the remission of sins: this do in remembrance of me." And, "His teeth are white as milk," show the brightness and purity of the sacramental food. For again, He gave Himself the symbols of His divine dispensation to His disciples, when He bade them make the likeness of His own Body. For since He no more was to take pleasure in bloody sacrifices, or those ordained by Moses in the slaughter of animals of various kinds, and was to give them bread to use as the symbol of His Body, He taught the purity and brightness of such food by saying, "And his teeth are white as milk" (Demonstratia Evangelica, 8.1.76–80).
Athanasius (296–373) similarly contended that the elements of the Eucharist are to be understood spiritually, not physically: "[W]hat He says is not fleshly but spiritual. For how many would the body suffice for eating, that it should become the food for the whole world? But for this reason He made mention of the ascension of the Son of Man into heaven, in order that He might draw them away from the bodily notion, and that from henceforth they might learn that the aforesaid flesh was heavenly eating from above and spiritual food given by Him." (Festal Letter, 4.19)
Augustine (354–430), also, clarified that the Lord's Table was to be understood in spiritual terms: "Understand spiritually what I said; you are not to eat this body which you see; nor to drink that blood which they who will crucify me shall pour forth. . . . Although it is needful that this be visibly celebrated, yet it must be spiritually understood" (Exposition of the Psalms, 99.8).
He also explained the eucharistic elements as symbols. Speaking of Christ, Augustine noted: "He committed and delivered to His disciples the figure[or symbol] of His Body and Blood." (Exposition of the Psalms, 3.1).
And in another place, quoting the Lord Jesus, Augustine further explained: "'Except ye eat the flesh of the Son of man,' says Christ, 'and drink His blood, ye have no life in you.' This seems to enjoin a crime or a vice; it is therefore a figure[or symbol], enjoining that we should have a share in the sufferings of our Lord, and that we should retain a sweet and profitable memory of the fact that His flesh was wounded and crucified for us (On Christian Doctrine, 3.16.24).
A number of similar quotations from the church fathers could be given to make the point that—at least for many of the fathers—the elements of the eucharist were ultimately understood in symbolic or spiritual terms. In other words, they did not hold to the Roman Catholic doctrine of transubstantiation.
To be sure, they often reiterated the language of Christ when He said, "This is My body" and "This is My blood." They especially used such language in defending the reality of His incarnation against Gnostic, docetic heretics who denied the reality of Christ's physical body.
At the same time, however, they clarified their understanding of the Lord's Table by further explaining that they ultimately recognized the elements of the Lord's Table to be symbols—figures which represented and commemorated the physical reality of our Lord's body and blood.
---
Nathan Busenitz is the Dean of Faculty and Associate Professor of Theology at The Master's Seminary. He is also one of the pastors of Cornerstone, a fellowship group at Grace Community Church.