Bill Gates at the American Association for the Advancement of Science annual meeting, delivering a wide-ranging speech about the impact of science and technology on key global issues. (GeekWire Photo / Todd Bishop)
---
The Microsoft founder warned everyone during a speaking engagement at a conference on Friday that a Covid-19 outbreak in Africa could overwhelm the continent's health services and trigger "10 million deaths," reported The Telegraph.
Gates' warning at the 2020 American Association for the Advancement of Science (AAAS) Annual Meeting in Seattle on Friday came hours before Egypt's ministry of health confirmed that a 33-year-old male foreigner who flew into Cairo International Airport had tested positive for the virus. Authorities said the infected man had 17 contacts and many interactions at the airport before testing positive.
Bill Gates spoke with broad optimism about the potential for technology to address some of the globe's biggest challenges, but struck an ominous tone Friday in discussing the threat posed by the coronavirus as the outbreak outpaces the best efforts of doctors and health workers.
The impact could be "very, very dramatic," particularly if it spreads to areas like sub-Saharan Africa and Southern Asia, the billionaire philanthropist said, addressing a standing-room-only audience during his keynote address at the American Association for the Advancement of Science (AAAS) annual meeting in Seattle. He called it "potentially a very bad situation."
As he was speaking, news broke that the first case of coronavirus had been confirmed on the continent, as a person in Egypt tested positive for the disease. 
"This is a huge challenge," Gates said. "We've always known that the potential for either a naturally caused or intentionally caused pandemic is one of the few things that could disrupt health systems, economies and cause more than 10 million excess deaths."
Gates pointed to advances in molecular diagnostic tools as one promising safeguard against such outbreaks.
"We're on the cusp, in science, of being able to make good tools to do the diagnosis, provide vaccines to provide therapeutics including antivirals," he said.
The Bill & Melinda Gates Foundation recently committed $100 million to fighting coronavirus, as part of its broader efforts in global health.
"Our foundation is very engaged in terms of the relationships we have with governments and the private sector to orchestrate and provide resources and hopefully contain this epidemic," he said.
One of the big challenges, Gates noted, is the infectious nature of coronavirus earlier in the cycle of the disease, impacting the general population. That's in contrast with earlier challenges such as Ebola, which were more dangerous to health workers attempting to treat people who were sick.
Key questions, he said, are "will this get into Africa or not, and if so, will those health systems get overwhelmed?" Later, he added, "This disease, if it's in Africa, is more dramatic than if it's in China," noting that he was "not trying to minimize what's going on in China in any way."
Margaret Hamburg, chair of the AAAS board of directors, cited the past outbreaks of diseases such as SARS and Ebola, and the cycle of "crisis, concern and then complacency," that often follows them. She asked Gates what it will finally take to ensure that adequate preventative measures are in place.
Referring to advances and price reductions in molecular diagnostic tools, Gates responded, "certainly the good news is that just the plain old horizontal advances in how we make these tools will help us."
"We have a plan to get those machines fairly pervasive in developing countries," he said, referring to the work of the Gates Foundation and its partners. Within a decade, the world will be better off due to greater capacity for diagnostics. The ability to create new vaccines should help, as well, Gates said.
"There's been a huge under-investment in therapeutics, particularly antivirals," he said, adding that he believes China could "step up" in that regard once the current crisis passes. "Hopefully," he said, "that's not too long from now."
He added that Covid-19 is more concerning than Ebola because the rate of which the disease spreads is far faster.
"Ebola is terrible, but it's not like a lightning flu," he said.

"This coronavirus has a lot of similarities to a very bad flu, in terms of the death rate, so far more like the 1957 flu outbreak," Gates said.

"This disease, if it's in Africa it's more dramatic than if it's in China, even though I'm not trying to minimize what's going on in China in any way," he said.
The risk, as Gates points out, is that the virus could spread to Africa next, where governments, even governments that have been bracing for an outbreak by readying beds and quarantines while stockpiling supplies, might still risk a rapid transmission that could lead to a health crisis far worse than China.
On Saturday, Africa Centers for Disease Control and Prevention's (Africa CDC) director Dr. John Nkengasong said Africa CDC has been working with African countries "in preparedness and response to the disease."
The Health Ministry in Eswatini, a tiny southern African country, identified its first suspected case of the deadly on Friday.
Director of Health Services in Eswatini, Dr. Vusi Magagula, said the person had been placed in quarantine, and blood samples have been taken for further analysis, reported SABC News.
"She presented with a fever and was at the hospital, then the rapid response team took over and took up the case. She came through the Ngwenya Port of Entry on February 6 having arrived from the Republic of South Africa. I don't think she was presenting with any symptoms, we only picked her up on the 14th because she was already now in hospital, ill and had to be admitted to the isolation ward. So I guess when she passed through or even through Ngwenya border post, she didn't have the symptoms."
Meanwhile, the Chinese Ambassador to South Africa warned South African nationals in China to not return for fear the virus could spread.
The African continent does not need another crisis, already battling locust plagues and food shortages.
But still the close economic ties between China and Africa are difficult to ignore.
Africa is home to nearly one million Chinese, health officials across the continent are extremely worried that it's only a matter of time before the breakout begins.
As we detailed previously, Ethiopia's Bole International airport is the leading African gateway to and from China. On average, 1500 passengers per day arrive from China. Ethiopia scans all passengers from Asia for symptoms, which essentially means taking their temperature.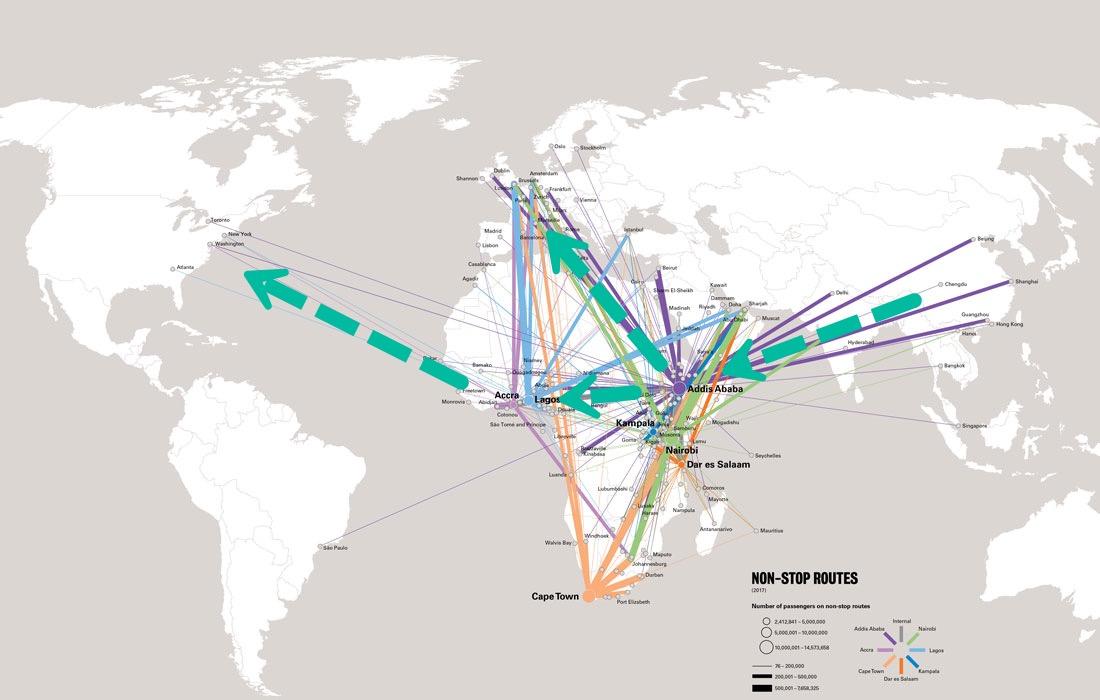 Many of those passengers then fly on to other parts of Africa, where Chinese companies are doing business, and inadvertently spreading the virus to nations along the BRI (the Belt & Road Initiative). These are 2018 figures courtesy of Brookings.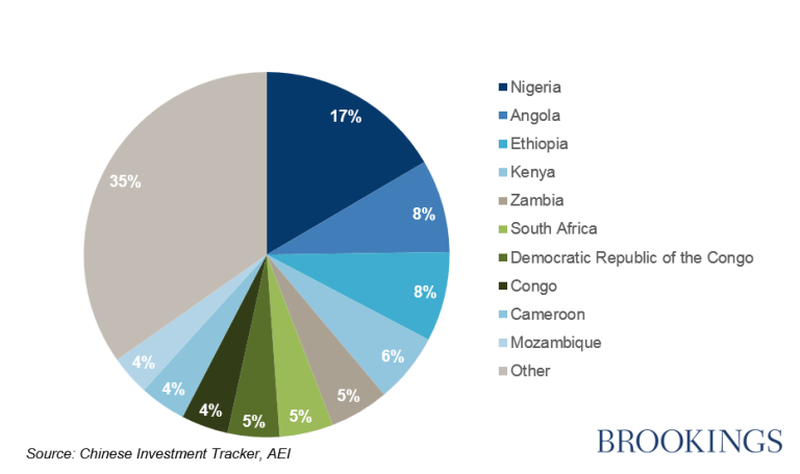 The question of why no infections have been reported in Africa was raised via twitter by Jim Bianco, of Bianco Research, earlier this month: "did anyone on the continent actually get a testing kits to look for infected people?" he asked.
To date no infections on the continent of Africa have been reported. Why?

Only today, February 7, did anyone on the continent actually get a testing kits to look for infected people.

What will this number be in two weeks? https://twitter.com/ncovperspectiv1/status/1225682760125169664 …

COVID-19 Perspective

@nCoVPerspectiv1

1. Today is a huge day for #Africa in the fight against the #coronavirus. More than half a billion people across 25 countries, will for the first time have access to #ncov2019 testing kits. We have compiled a list of the 25 countries from the @WHO map below… #coronavirusafrica
Fast forward one week: As we noted above, a case has already been confirmed in Egypt with a suspected case in Eswatini. With the understanding that Ethiopia international airport is a continental gateway for the Chinese.
This could mean super-spreaders, during the incubation period, undetected by temperature readings or showing no symptoms, have likely invaded Africa from China via Ethiopia's main airport, as it's only a matter of time before cases on the continent could start increasing.
1000 Genomes Project has published a list of various types of people with the highest risks of contracting the virus. Several countries in Africa are seen on the list: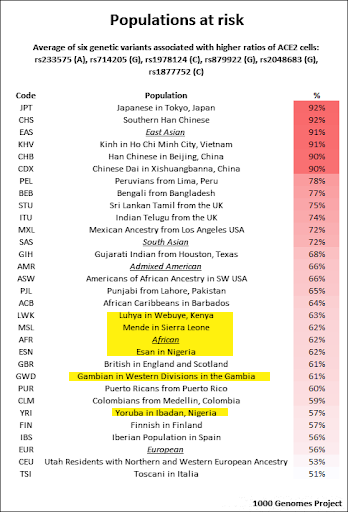 And oddly enough, Gates has been warning about how the world needs to "prepare for pandemics in the same serious way it prepares for war."
It appears the World Health Organization (WHO) finally admitting the COVID-19 outbreak is a global pandemic, along with the announcement last week that there's no vaccine for at least 12-18 months, is more than enough to recognize their "contained" narrative is BS, with new risks emerging of an outbreak in Africa.
Simultaneously, China's economy is disintegrating at the seams, producing one of the most massive economic shocks not seen since the 2008/09 financial crisis, as nearly two-thirds of its economy has ground to a halt. China was responsible for over half of the world's credit creation in the last decade, and if China decelerates, so does the world.
---