---
Head honchos at Mastercard, Walt Disney Co., and Salesforce, which all sit in the top half of the Fortune 500, are stepping aside, leaving many to speculate about the strange confluence of high-profile departures.
Robert Iger, who has helmed Walt Disney Co. since 2005, will retain the role of Executive Chairman through 2021, but will be replaced as CEO by Bob Chapek.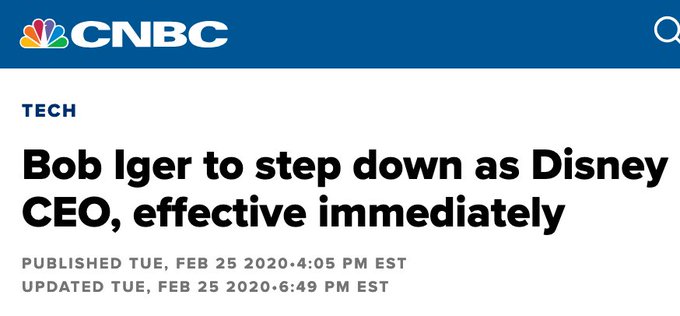 "With the successful launch of Disney's direct-to-consumer businesses and the integration of Twenty-First Century Fox well underway, I believe this is the optimal time to transition to a new CEO," Mr. Iger said in a statement released Tuesday.
"I have the utmost confidence in Bob and look forward to working closely with him over the next 22 months as he assumes this new role and delves deeper into Disney's multifaceted global businesses and operations, while I continue to focus on the Company's creative endeavors."
Mastercard's Ajay Banga will also transition from CEO to Executive Chairman effective Jan. 1, 2021, the company announced.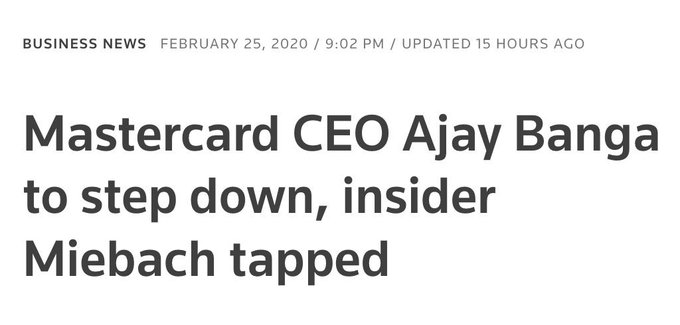 Banga will be replaced by Chief Product Officer Michael Miebach.
"Mastercard's announcement came a day after the credit card company warned the coronavirus outbreak could hit its 2020 revenue. The stock traded 1.6% lower in the premarket," CNBC reported on Tuesday.
Keith Block, who served as co-CEO of top customer-relationship management firm Salesforce, stepped down on Tuesday.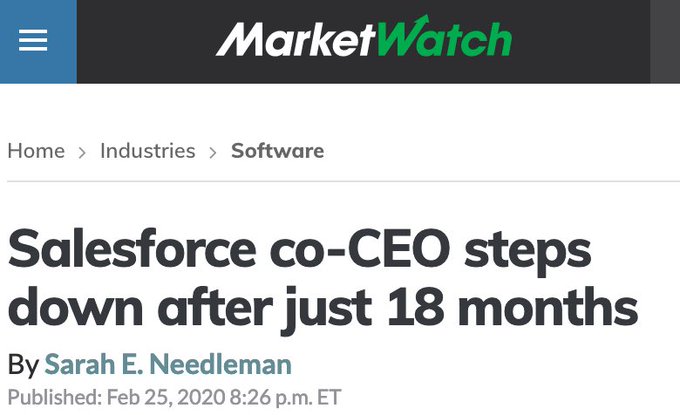 Block will remain as Advisor to the CEO, the company explained in a statement.
WHY?
Many people are now openly wondering why these top three CEO's all chose to leave on the same day?   Some people say they believe it has to do with the Coronavirus outbreak and continued spread globally.
 It is being widely RUMORED that these rich and powerful people are "bugging-out" to their bunker-type survival locations to try to survive the coming pandemic.
Others suggest these men probably know an economic crash is coming and speculate further than these men can't cash out their share options till they are gone from the jobs.
Science suggests BOTH reason may be true, and inter-related.
While the Coronavirus is killing many people who become infected with it, striking fear into a growing segment of global population, the economic impact of this situation will be significant.
China is at about ZERO Gross Domestic Product for the last five or six weeks.   Pretty much all the factories in China are closed due to the outbreak.
This lack of production is now beginning to cause troubles outside China.   Factories in other countries, which rely on Chinese-made spare parts, are suffering parts shortages and having to stop manufacturing.
Similarly, entities outside China which rely on raw materials from China have had to curtail work without shipments coming from China.
This will have a gigantic economic impact worldwide.   Some doomsday speculators claim the disease outbreak is a "Black Swan Event" to the financial sector; something no one anticipated, which causes a cascading impact and failures.
Today, February 27, is supposed to be a hell of a day according to sources.  Stay tuned.