If you liked Eric Metaxas' 2013 book 7 Men, you're probably not gonna care for my current series, 7 Broken Men, about the fragile and unlikely people God has used to glorify himself. You can find my first post in the series here.
But if you are up for it, put on your old Larry Norman or Keith Green records. It's time to hit the beaches of Southern California in the 1960s to meet the remarkable, but ultimately tragic hippie preacher, Lonnie Frisbee.
Maybe Lonnie Frisbee could have grown up to be a cult leader or serial killer if Jesus hadn't got hold of him. His early life pretty much mirrored that of his contemporary and fellow Californian Charles Manson.
Frisbee grew up in an unstable home where he was exposed to the dark underbelly of 1960s Californian society. He was sexually assaulted as a child, introduced to drugs in his teens, and at 15 he had his first homosexual encounter, which ultimately ushered him into the Laguna Beach gay scene.
School didn't take much of a priority, so by the time he was 18 and heading north to San Francisco with thousands of flower children for the Summer of Love in 1967, he could barely read and write.
Lonnie Frisbee was a hippie straight out of central casting – good-looking, wide-eyed, and mystical. He talked vaguely about becoming an artist or a dancer. But he wasn't that good at either.
He was a bearded, long-haired dreamer. People said he looked like Jesus. He preferred to describe himself as a "nudist-vegetarian-hippie". He tried his hand at hypnotism and dabbled in the occult. He talked incessantly about UFOs.
He was pretty much unemployable.
This mattered little in California in the late 60s and early 70s. Charles Manson, Hunter S Thompson and the Weather Underground all managed to exist with no visible means of support. And so did Lonnie Frisbee.
But things took a slightly different turn when Frisbee led a group of drug-addled friends on an LSD-fuelled pilgrimage into the desert outside Palm Springs. Things could've got real crazy (they did for Manson, in the same desert), but for a fateful trip he took to Tahquitz Canyon. Frisbee started reading the Gospel of John to everyone and before they knew he was baptizing his cadre of stoned hippies in the Tahquitz Falls.
An evangelist had been born!
At first the gospel according to Lonnie Frisbee included getting high, talking about flying saucers and reading the Bible, but he soon fell in with other Christians who directed him to a more conventional path.
After stints in Haight-Ashbury and Novato, Frisbee landed back in Costa Mesa, where he had grown up. Here he met a young woman, got married, joined Chuck Smith's Calvary Chapel, and started to straighten up and fly right. Kind of.
The thing was, Lonnie was gay. And filled with the Holy Spirit.
He would walk the beaches during the day, converting young people seemingly at will. Then he would bring them back to the nightly church services for lashings of groovy Christian folk-music and intense Bible teaching. Afterwards he would dispense the Holy Spirit, leaving the room looking like a battlefield as young people hit the floor, began to shake and speak in tongues.
He was a freak. A Jesus freak. And soon he became a leading light of the so-called Jesus People, an organic movement of converted hippies, yippies and surfers that sprang out of Calvary Chapel. He went on to exercise direct influence over people like Chuck Smith Jnr, Greg Laurie, John Wimber, Mike McIntosh, Derek Prince and Bob Mumford.
In fact, whether it's the charismatic movement, the Vineyard, the Shepherding Movement, the contemporary Christian music scene, or Calvary Chapel itself, Lonnie's fingerprints were all over it.
He was no ordinary hippie anymore.
But he was no ordinary Christian evangelist either.
His marriage had broken down in 1973 and he had started having sexual liaisons with men again.
Frisbee was tortured by it all. He was clearly touched by the hand of God. But he believed his sexuality was a sin. He would speak openly about the challenge of keeping his desires under check, but the dissonance between his beliefs, the evidence of the Spirit's presence in his life, and his sexual desires caused him overwhelming stress.
He was eventually asked to not be so open in public about his struggles with same sex attraction. Later still he became estranged from the very movements he helped launch. He was marginalized from the Jesus People and later written out of the histories of that period of Southern Californian Christianity.
He contracted AIDS in the 1990s and died in 1993.
Chuck Smith, his original pastor at Calvary Chapel, preached at Lonnie's funeral and compared him to the wild, marauding brute, Samson, a man used by God despite his sinfulness. Lonnie's closest friends took offense. He was no brute, they said. He was a fragile flower crushed by a church that couldn't make room for him. I'm not sure Lonnie would have seen it that way.
Today, it's reckoned that the "Jesus revolution" of 60s and 70s surpassed even the Great Awakening as the greatest ingathering of souls in American history. And dear, fragile, weird, little Lonnie Frisbee was right there at the beginning. Unremembered and unlauded, expunged from the histories of the very movements he was used by God to launch.
---
Lonnie Frisbee: The Sad Story of a Hippie Preacher
His life was a precursor to many of the ministry scandals of today
Warren Cole Smith June 4, 2021
Editor's Note: Lonnie Frisbee was born on June 6, 1949. Had he lived, he would be 72 on Sunday.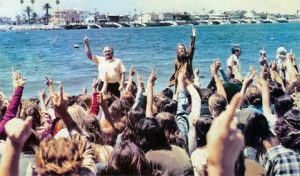 Lonnie Frisbee is a name mostly lost to history, but he could be one of the most influential persons in the modern evangelical movement. There's no doubt that he is the man who put the "freak" in "Jesus Freak." And in his life we see some of the best and worst of evangelicalism. And in the way evangelical leaders dealt with him we see a pattern of cover-up that extends even to today.
But to understand that, a bit of his biography is helpful.
Lonnie Frisbee was a quintessential baby-boomer, born in 1949 and fully immersed in the hippie movement of the 1960s. He was in San Francisco during the famous 1967 "Summer of Love," and even then, at age 18, he was a compelling figure, winning awards for his painting and becoming known in the "gay underground" for his dancing and bohemian attitudes and profligate drug use. He described himself as a "nudist, vegetarian hippie." His rootlessness may have been a result of a dark home life when he was a child. He was raped at age eight, often ran away from home as a child, and was in and out of school so much that he barely learned to read or write.
It is, then, perhaps no surprise that Frisbee's conversion to Christ included unusual circumstances. A "spiritual seeker," Frisbee would often read the Bible while tripping on LSD. He claims he became a Christian while reading the Gospel of John on an LSD-induced high while on a "vision quest" near Palm Springs, California. The group he was with baptized him in Tahquitz Falls. He later said that on a different acid trip, after his conversion, he had "a vision of a vast sea of people crying out to the Lord for salvation, with Frisbee in front preaching the gospel." (A lot of the material for this article comes from David W. Stowe, No Sympathy for the Devil: Christian Pop Music and the Transformation of American Evangelicalism, UNC Press Books, 2011.)
Access to MinistryWatch content is free. However, we hope you will support our work with your prayers and financial gifts. To make a donation, click here.
This all sounds too strange to be taken seriously, but one could argue that it is precisely at this point that American Evangelicalism goes awry. Not only was Lonnie Frisbee taken seriously as a convert, he was embraced by 60s and 70s-era evangelical leaders, and thrust into leadership positions himself.
For example, Calvary Chapel's Chuck Smith was smitten. "I was not at all prepared for the love that this young man would radiate," Smith said. Smith put Frisbee in charge of one of Calvary Chapel's ministries, "The House of Miracles," which ministered to hippies, addicts, and street people. Frisbee led a Wednesday night Bible study that quickly attracted thousands and became an "on ramp" for the early growth of Calvary Chapel. All this despite the fact that Frisbee – though by now married – continued to use drugs and engage in homosexual liaisons.
Still, Frisbee's powerful personality and speaking style had a remarkable impact. The House of Miracles grew and eventually spawned 19 communal houses. It eventually migrated to Oregon and became an important "Jesus Movement" commune, which at one time had 100,000 members in 175 homes spread across the country. Also, Frisbee was an early influence on later Calvary Chapel leaders Mike MacIntosh and Greg Laurie.
But Frisbee's demons hounded him. He became involved with the such fringe charismatic teachers as Kathryn Kuhlman. As the Calvary Chapel movement matured and started seeing the excesses of the "Jesus People" movement, Smith and Frisbee had a break in 1971. Frisbee and his wife divorced in 1973, and Frisbee became a part first of the controversial Shepherding Movement led by Bob Mumford, and then John Wimber's Vineyard Movement.
During this whole time, while he was preaching in some of evangelicalism's largest venues, his moral failings were more or less an "open secret." He would "party on Saturday night and preach on Sunday morning."
Lonnie Frisbee's lifestyle eventually caught up with him. He contracted AIDS and died of complications from the disease on March 12, 1993. Chuck Smith, to whom he had been more-or-less reconciled, preached at Frisbee's funeral, saying that Frisbee was a "Samson figure" who was powerfully anointed by God, but who was a victim of a desperately broken childhood and his own struggles and temptations.
The post-World War II evangelical movement has produced many great and godly leaders. Billy Graham, Chuck Colson, J.I. Packer, John Stott, Frances Schaeffer, Bill Bright, and many others come easily to mind.
But it has also produced more than a few men like Lonnie Frisbee. They were men who resisted transparency and accountability in their personal and public lives. We do well to remember them – and learn from their lives — if we want to have a witness to a skeptical, cynical, secular world that changes hearts and brings glory to God.