Lance Goodall 27 Nov 2016
---
I wrote briefly yesterday on the sinister work that is Hillsong Buenos Aires, where they establish a church plant based on brand and reputation.
The church meets in the infamous Vorterix Theatre the home of all things profane.
Today I wanted to highlight another aspect of this church's strategy, and other layers, and under currents.
Note above the obvious symbol in the above Hillsong banner promoting the church in the city of fair winds, that of the obelisk.
One will note this famous, (or should I say infamous) structure which appears across the globe in such strategic cities and London, New York, Rome, Washington DC, is here in Buenos Aires. They are super structures that affect the spiritual realm in these cities and dominions.
Note Hillsong has churches in London, LA, New York, Moscow and other centres which shows an interesting parallel.
In its erect position, a symbol of the Occult and Sun Worship that is highly regarded for its sacred importance. This particular Sun symbol was literally uprooted from Egypt and transplanted in Rome, as others were taken to the cities of London, Paris, Constantinople, and Central Park, New York.
Its numerous 'look a likes' are popularly used as monuments and memorials for great men, or actually any man that wants to be remembered.  A casual walk through any graveyard will vividly show you this.  But just what is the significance of the Sun symbol, this stone monument or 'obelisk' as it is called, especially in certain places where it stands erect before a Dome?
Remember too that Pope Francis hails from Argentina where he was the Jesuit Superior in the 1970s.
Of course all of this is a quite graphic.
In other words Hillsong only want to be associated with prestige, power, influence, and money.
Ask yourself with deep soul searching, what does any of this have to do with "true" Christianity?
Argentina, for much of its history and including the present day, has been an overwhelmingly 'Christian' country. The largest denomination in the country is Roman Catholicism. The historical background is very much due to the Spanish influence brought about through the newly conquered territories.
Slums house a tenth of the inhabitants of Argentina's capital, Buenos Aires.
Yet until recently they did not appear on Google or on official maps—and some still don't. On Google Maps, the neighborhoods may look like gray smudges. When you type their names into the search bar, often, nothing comes up.
Over half a million families live in 864 slums and irregular settlements in metropolitan Buenos Aires surrounding Argentina's capital. Of this number 66% have over fifteen years since founded and in 65% of them expansion either horizontally or vertically continues.
Slums house a tenth of the inhabitants of Argentina's capital, Buenos Aires.
The slums of Beunos Aires – the place where Jesus would have set up HIS church.
In addition we note that the Hillsong brand has set up shop, just down the road from Rick Warren's Saddleback Church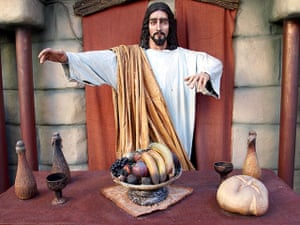 Welcome to Tierra Santa, or Holy Land, religious theme park where you can 'visit Jerusalem in Buenos Aires'.
Nothing surprises me anymore