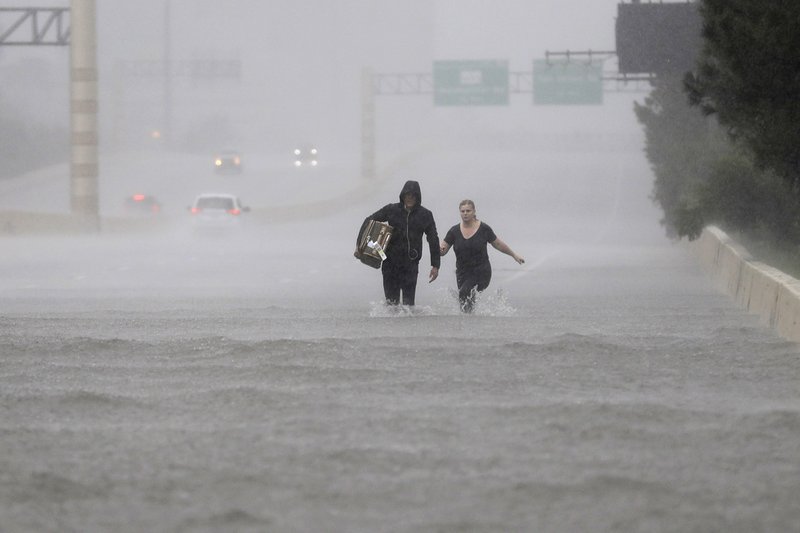 ---
The epic flooding Tropical Storm Harvey has unleashed on Houston will likely worsen as federal engineers release water from overflowing reservoirs to keep it from jumping dams and surging uncontrollably into the homes they protect, officials have warned.
Key points:
As the city braces for more rain officials have been forced to release water from dams
Thousands of people have been evacuated, services struggling to keep up with calls for assistance
Weather Service Officials predict Brazos River water could rise to 18 metres
National Weather Service officials were predicting the water could rise to 18 metres, in what has been described as an "800-year flood level".
About 30,000 residents of the nation's fourth-largest city were expected to be left temporarily homeless by Harvey, which became the most powerful hurricane to strike Texas in more than 50 years when it came ashore on Friday near Corpus Christi, about 354 kilometres south of Houston.
Death estimates vary, but at least three people have been confirmed killed by the storm, including one woman who was killed when a large tree dislodged by heavy rains from Harvey toppled onto her trailer home.
In scenes evoking the aftermath of Hurricane Katrina in New Orleans in 2005, police and Coast Guard teams have rescued about 2,000 people so far, plucking many from rooftops by helicopter.
People marooned in flooded houses were urged to hang towels or sheets outside to alert rescuers.
Texas Governor Greg Abbott activated all 12,000 members of the state's National Guard, who joined local police in the effort to rescue people before waters rise again, with another 38-64 centimetres of rain expected in the coming days.
Harvey is expected to remain over the state's Gulf Coast for the next few days, dropping a year's worth of rain in about a week.
US President Donald Trump said he would talk with Congress about how to fund what will be a very expensive recovery as deadlines loom on the US budget and federal debt ceiling.
Speaking to reporters in the Oval Office, Mr Trump lauded the efforts of Texans.
"We're dealing with Congress. As you know it's going to be a very expensive situation," Mr Trump said.
Mr Trump will visit Texas on Tuesday. He said he might return on Saturday and could stop in Louisiana where the storm is now dumping rain.
Some areas have already received about half that amount. Since Thursday, South Houston recorded nearly 25 inches (63 centimeters), and the suburbs of Santa Fe and Dayton got 27 inches (69 centimeters).
"The breadth and intensity of this rainfall is beyond anything experienced before," the National Weather Service said in a statement.
Average rainfall totals will end up around 40 inches (1 meter) for Houston, weather service meteorologist Patrick Burke said.
The director of the Federal Emergency Management Agency, Brock Long, predicted that the aftermath of the storm would require FEMA's involvement for years.
"This disaster's going to be a landmark event," Long said.
Rescuers had to give top priority to life-and-death situations, leaving many affected families to fend for themselves. And several hospitals in the Houston area were evacuated due to the rising waters.
Tom Bartlett and Steven Craig pulled a rowboat on a rope through chest-deep water for a mile to rescue Bartlett's mother from her home in west Houston. It took them 45 minutes to reach the house. Inside, the water was halfway up the walls.
Marie Bartlett, 88, waited in her bedroom upstairs.
"When I was younger, I used to wish I had a daughter, but I have the best son in the world," she said. "In my 40 years here, I've never seen the water this high."
It was not clear how many people were plucked from the floodwaters. Up to 1,200 people had to be rescued in Galveston County alone, said Mark Henry, the county judge, the county's top administrative post.
Houston's George R. Brown Convention Center was quickly opened as a shelter. It was also used as a shelter for Katrina refugees in 2005.