---
The US said on Monday that it won't extend the sanctions waivers for eight countries importing crude oil from Iran. The move could remove around 1.1 million barrels per day from the market.
Although Rystad Energy anticipated a further tightening of sanctions, the details in the announcement have led us to revise our forecast downward for Iranian crude production.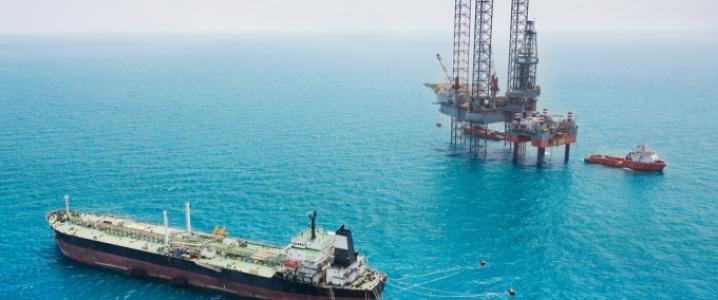 Rystad Energy forecasts that production will drop to 2.27 million bpd for the second half of 2019, reaching this level by July 2019, which equates to a drop of 0.43 million barrels per day (bpd) from current March 2019 levels.
The net effect for the oil market is bullish, as the market will lose more supply from Iran, mostly of medium-sour and heavy-sour quality.
"However, Saudi Arabia and several of its allies have more replacement barrels than what would be lost from Iranian exports in a worst case scenario. This should limit the positive impact on crude prices," says Rystad Energy Head of Oil Market Research, Bjørnar Tonhaugen.

"Since October 2018, Saudi Arabia, Russia, the UAE, and Iraq have cut 1.3 million bpd, which is more than enough to compensate for the additional loss. However, realistic spare capacity will be cut significantly, reducing room for error in Libya, Nigeria, and Venezuela," Tonhaugen added.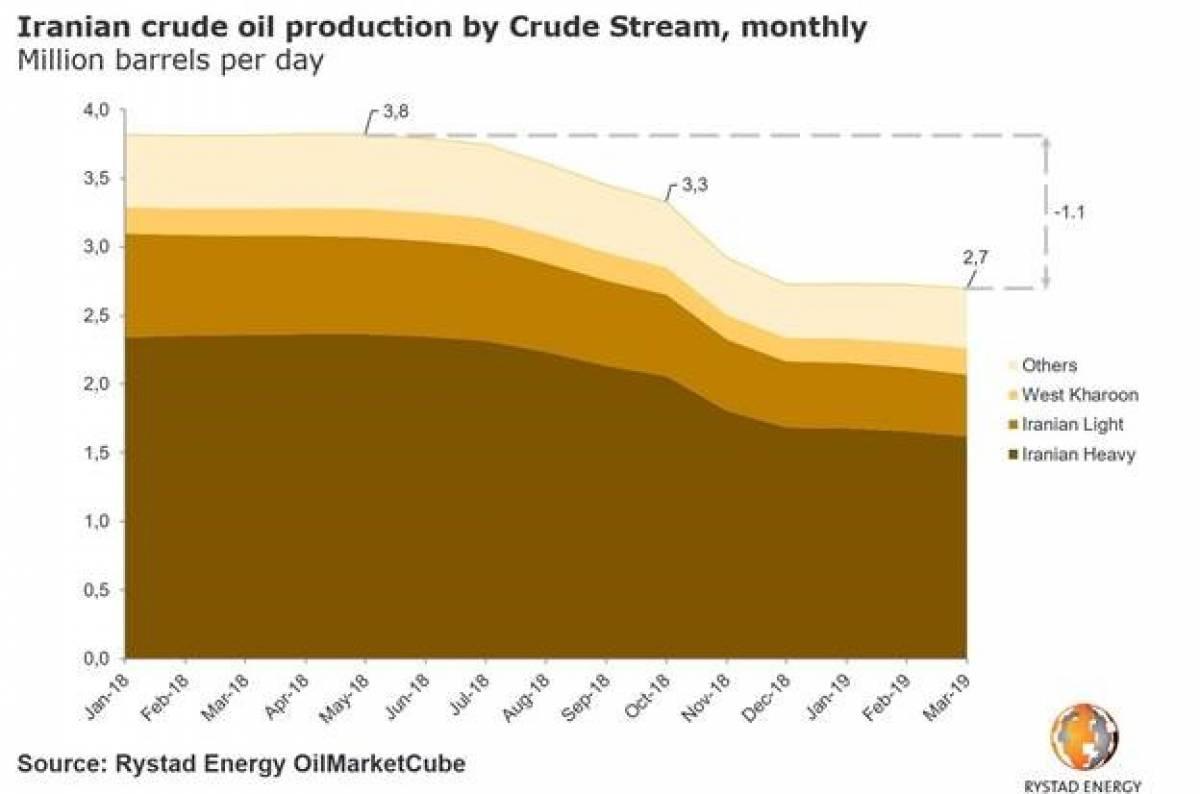 (Click to enlarge)
Rystad Energy says that Iranian crude exports have dropped from around 2.5 million bpd in April 2018 to around 1.1 million bpd currently.
"In our new base case, we no longer expect India to buy Iranian oil after May 2019, and now only expect China and Turkey to continue purchasing Iranian cargoes. We lower our Iranian crude exports estimate from 900,000 bpd to 600,000 bpd from May 2019 onwards, allocating around 500,000 bpd of exports to China and the remainder to Turkey," Tonhaugen remarked.
The density and sulfur content of the main crude grades exported by the "four cutters" –  Saudi Arabia, UAE, Iraq and Russia – are of similar quality to Iran's main export grades, Iranian Heavy and Iranian Light.
"Saudi Arabia, Russia, the UAE, and Iraq will have no problem replacing Iran's crude grades, such as Iranian Heavy, Iranian Light, and West Kharoon," Tonhaugen said. "We believe that Saudi Arabia has ample capacity of Arab Light especially, which is a grade of similar quality to Iranian crudes, due to the current production cuts. Russian Urals and Iraq's Basra Light is also comparable to Iranian crude quality, while UAE's main export grades are somewhat lighter and sweeter than Iran's."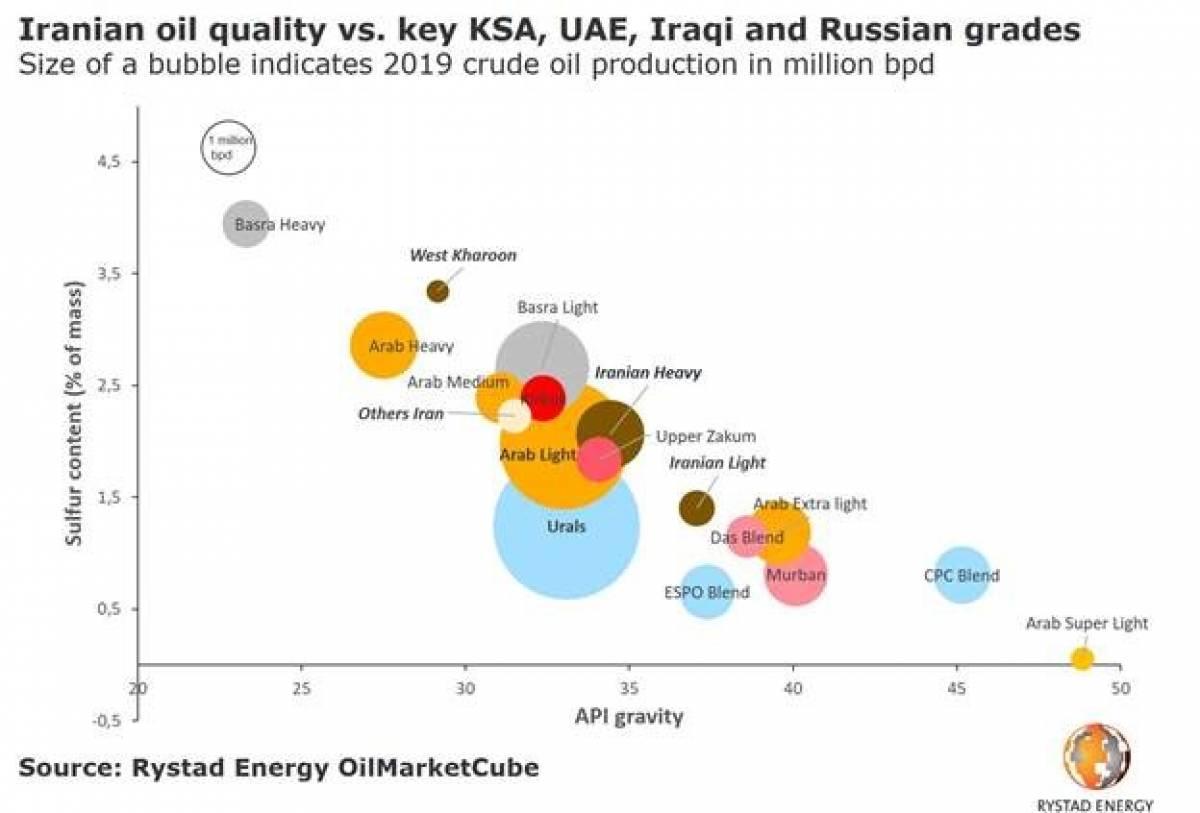 (Click to enlarge)
Bloomberg News has reported that the administration is divided over how to proceed. The unilateral sanctions introduced by the Trump administration in November have cut Iran's crude oil and condensate exports from more than 2.7 million barrels per day to an estimated 1.8 million, according to the latest data from TankerTrackers.com.
Nevertheless, National Security Advisor John Bolton wants Iranian exports halted entirely, and White House economic advisor Larry Kudlow believes there is sufficient supply in the oil market and that ending all Iranian exports will not hurt. Secretary of State Mike Pompeo, however, supports continuing the exemptions to avoid shocking the market. President Trump has shown in his words and Tweets that he prioritizes low oil prices.
Politically, Trump has little to gain from trying to zero out Iranian exports in May. In the eyes of most of his supporters, he fulfilled his campaign promise of ending Barack Obama's nuclear deal with Iran. Harsher sanctions on Tehran will not get him many more votes in 2020. Combined with his recent designation of the Iranian Revolutionary Guard Corp as a terrorist organization, a minor strengthening of them would be sufficient to demonstrate his resolve. And the Tehran regime is unlikely to engage diplomatically with the U.S. at this juncture either way. The Iranian government and Iranian people are aware of the upcoming 2020 election and the possibility that they will be dealing with a new U.S. president in less than two years.
Trump isn't wrong to be concerned about the price of oil. Global supplies are getting tighter and prices are rising.
The U.S. benchmark, WTI, is now over $60 per barrel — its highest price this year — and the international benchmark, Brent, is hovering around $70 per barrel.
OPEC oil production is at a four-year low with Saudi Arabia cutting 400,000 barrels a day since the beginning of 2019 and Venezuela down by at least 360,000. Production from Kazakhstan's vast reserves has decreased 120,000 barrels a day, and Russian production is also slowing. Ending Iranian oil exports entirely would suddenly eliminate 1.5 million barrels per day from this market. Only Saudi Arabia has the spare capacity to make up the shortfall — but has warned it will not do so.
Banning legal Iranian oil exports would also constrain the Trump administration in Venezuela and China. The U.S. imposed sanctions on Venezuela's oil exports to hamper the regime of Nicolas Maduro, but he remains in power, so the Trump administration is now pressuring India and China to eliminate their Venezuelan imports. The president cannot cut both Venezuelan and Iranian oil from the market and expect prices to remain stable.
In addition, as the White House negotiates on trade with Beijing, Trump must be aware of China's desire to continue purchasing relatively cheap Iranian oil. He cannot end the exemption for China without first trying to use it as a bargaining tool in larger trade talks.
The Trump administration should end the exemptions for Greece, Italy and Taiwan because those countries aren't importing any Iranian oil anyway. It should reduce the amount of oil and condensates India, Turkey, South Korea and Japan are permitted to import by 10 to 20 percent. It should leave China's exemption subject to greater negotiations with Beijing.
Turning off the Iranian oil tap has no domestic or foreign-policy upside for Trump. But a more nuanced move would inform Iran that the administration is holding a firm line, allow him to focus on Venezuela and China, and keep prices at the pump reasonable for U.S. voters.
President Donald Trump is no fan of high oil prices.
The administration said it had prepared for such a scenario. To avoid a shortage in oil markets, the United States, the United Arab Emirates and Saudi Arabia will adjust their own oil production, the White House said in a statement.
Trump, who just two months ago tweeted that oil prices were too high, downplayed the risks of his latest move on Monday.